This gluten free strawberry breakfast cake is light and fresh-tasting with a tender crumb and plenty of fresh strawberries. Life is short; have cake for breakfast!
What makes this a breakfast cake?
This gluten free strawberry breakfast cake is relatively low in sugar, with just 1/2 cup in the whole cake. It also has only 4 tablespoons butter total. A "regular" cake would have twice as much of each ingredient.
It's also loaded with fresh strawberries. They sweeten and moisten the cake batter as the cake bakes, so the texture is just right for a gluten free breakfast.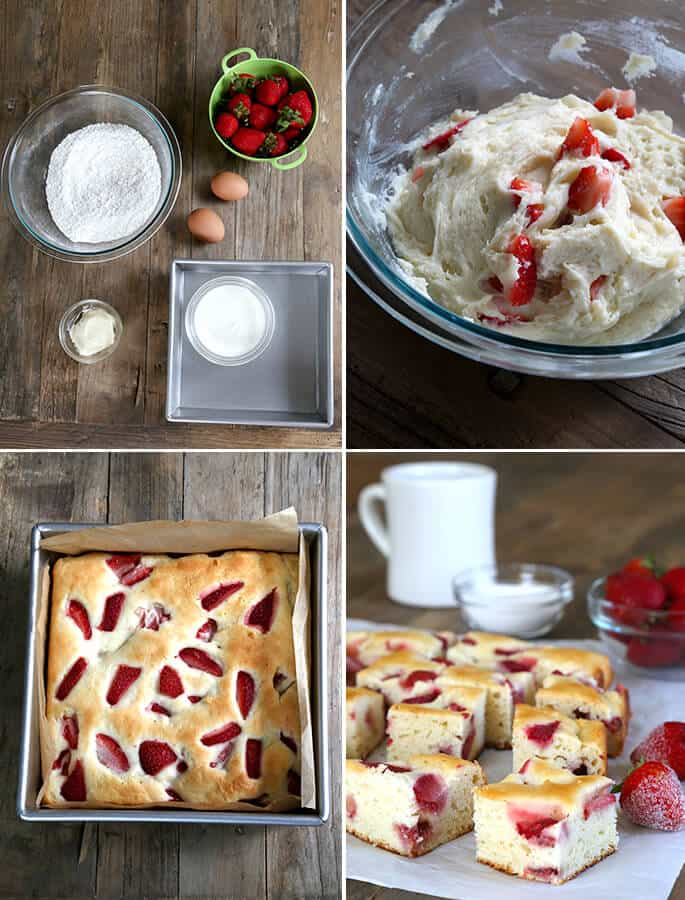 Baking with fresh berries
Strawberries can be difficult to bake into a cake, as they're so packed with moisture and they release it during baking. This cake handles the extra moisture with ease since it's properly balanced with less moisture in the batter.
You can replace baking pieces like chocolate chips and chopped nuts with one another without altering the recipe at all. But if you're baking with fresh berries, they have more moisture than nuts and chips, so you need a recipe formulated for them.
I've also made this cake with an equal number of fresh blueberries and fresh raspberries, without changing anything else. Just wash the berries quickly, pat them dry, and use them in the same manner as the strawberries.
Moist, tender and lightly sweet, and the batter is so easy to throw together that the 10-minute prep time in the instructions is really only true if you get distracted by something while you're baking. Mom and kid approved!
Ingredients and substitutions
Dairy
In place of the butter in this recipe, you can try using Melt or Miyoko's Kitchen brand vegan butter. Earth Balance buttery sticks might work, too.
In place of plain yogurt, you can use plain nondairy yogurt. My favorite brand for this ingredient is So Delicious.
Eggs
There are two eggs in this recipe, which is generally my upper limit for optimism about an egg replacer's working. Try one "chia egg" (1 tablespoon ground white chia seeds + 1 tablespoon lukewarm water, mixed and allowed to gel) for each egg in the recipe.