These classic gluten free blueberry muffins are crisp on the outside, soft and tender inside. So easy to make, and they taste just like they came from your favorite bakery!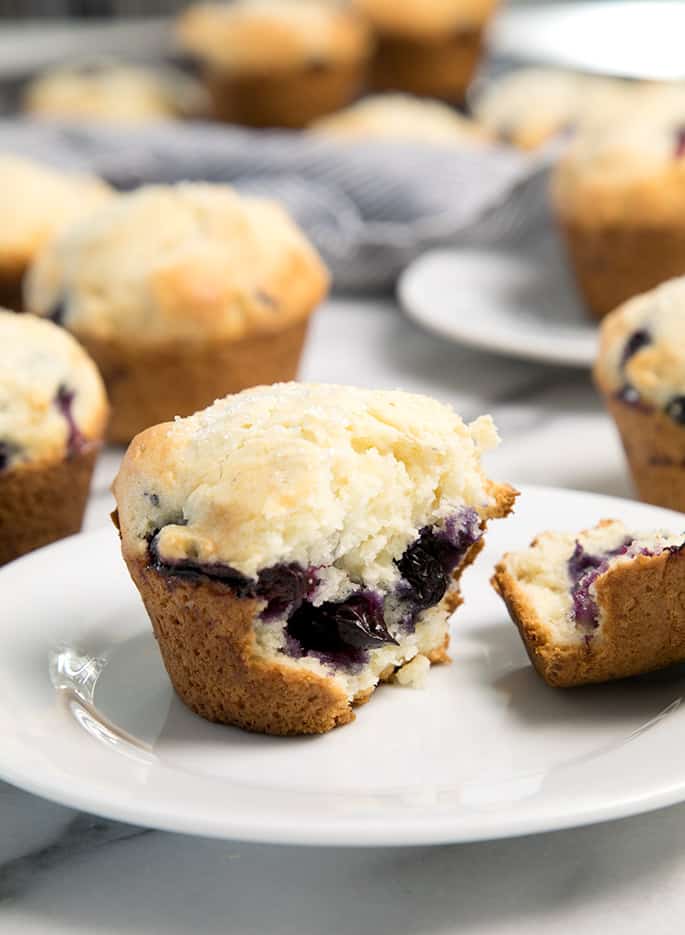 What makes these muffins special
These are my favorite gluten free blueberry muffins, studded with big fresh blueberries. They're made with plenty of butter, buttermilk, and granulated sugar for the most tender, decadent type of muffin.
Sometimes, I replace the lemon juice with pure vanilla extract. I prefer the lemon juice because it helps to balance the sweetness of the sugar and berries.
The taste is perfect, but the incredibly tender texture is the real reason I love these muffins. Resist the urge to add more blueberries, or they'll take over the whole muffin. You want to taste that sweet, moist muffin crumb for your gluten free breakfast.
How to make gluten free blueberry muffins with frozen berries
Fresh blueberries are always best for for baking. Frozen berries tend to bleed color into the muffin batter, turning it rather blue. They also tend to collapse easily when you mix them into the raw batter.
If you don't have fresh berries, you can definitely still make these muffins. I have a few tricks for preventing the berries from bleeding and being crushed.
Don't defrost the frozen blueberries. Simply rinse them with cold water before tossing them in a bit of the dry ingredients.
Keep them in the freezer until right before you're ready to add them to the muffins. Working quickly, toss the rinsed berries in the dry ingredients and add them to the prepared batter and fold them in like you would whipped cream or whipped egg whites.
Can you use other fruit in these muffins?
If you don't have blueberries, but you do have raspberries, you can make raspberry muffins. If your raspberries are fresh, follow the recipe as written, substituting that one ingredient.
If your raspberries are frozen, follow the instructions above for frozen blueberries. You might be able to make this recipe with fresh strawberries if you slice them into chunks about the size of a blueberry.
You cannot make them with frozen strawberries. They can't be sliced into proper chunks without defrosting them first and they will add way too much moisture to the raw batter.
How to make a lighter gluten free blueberry muffin
This gluten free blueberry muffin recipe started out as a "lighter" recipe when I first published it. I even gave nutrition information for the lightened up version.
But the muffins were so skimpy. It wasn't long before I started tinkering with the recipe when I made it for my family. Plus, the few grains of coarse sugar on top of each muffins caramelizes a bit in the oven, adding a lot of sweetness.
For a "lighter" recipe that is lower in fat and sugar, in place of the butter, sugar and eggs in the amounts listed in the recipe below, use the following (and leave the rest of the recipe unchanged):
7 tablespoons (98 g) unsalted butter, at room temperature (in place of 10 tablespoons butter)
3/4 cup (150 g) granulated sugar (in place of 1 cup (200 g))
3/4 cup (170 g) Greek-style plain yogurt, at room temperature (addition)
1 egg (50 g, weighed out of shell) + 2 egg whites (50 g), at room temperature (in place of 2 eggs)
Ingredients and substitutions
Dairy
It's always best to use actual honest-to-goodness buttermilk from the dairy case at your grocer. It's not just sour.
Real buttermilk is thicker and creamier than milk that's simply had some lemon juice added to it. If you've run out of buttermilk, use half plain yogurt or sour cream + half milk by volume.
This recipe calls for 6 fluid ounces buttermilk. You can use 3 fluid ounces milk + the rest of the volume with yogurt or sour cream. Just mix well.
For a dairy-free buttermilk replacement, use half plain nondairy yogurt and half unsweetened almond milk. In place of butter, try using Melt or Miyoko's Kitchen brand vegan butter.
Earth Balance buttery sticks might also work. Use less salt, though, since Earth Balance is quite salty.
Eggs
Since this recipe only calls for 2 eggs in 12 generously-sized muffins, you should be able to replace each with a "chia egg." I really prefer recipes that are developed without eggs to using an egg-replacer, but this is the best I can do right now.
For each chia egg, place 1 tablespoon ground white chia seeds plus 1 tablespoon lukewarm water in a small bowl. Mix and allow the mixture to sit until it gels.
Corn
In place of cornstarch, try using arrowroot or potato starch. If you're using a high-starch all purpose gluten free flour blend like Cup4Cup, use an extra 36 grams Cup4Cup in place of cornstarch.