These light and airy glazed yeast-raised gluten free donuts taste like they're from your favorite bakery from way back when. Now, you can fry them in oil, or make them in your Air Fryer with almost no oil. Either way, don't forget the glaze!
There's no shortage of gluten free donut recipes on this blog. But these old fashioned donuts needed an upgrade!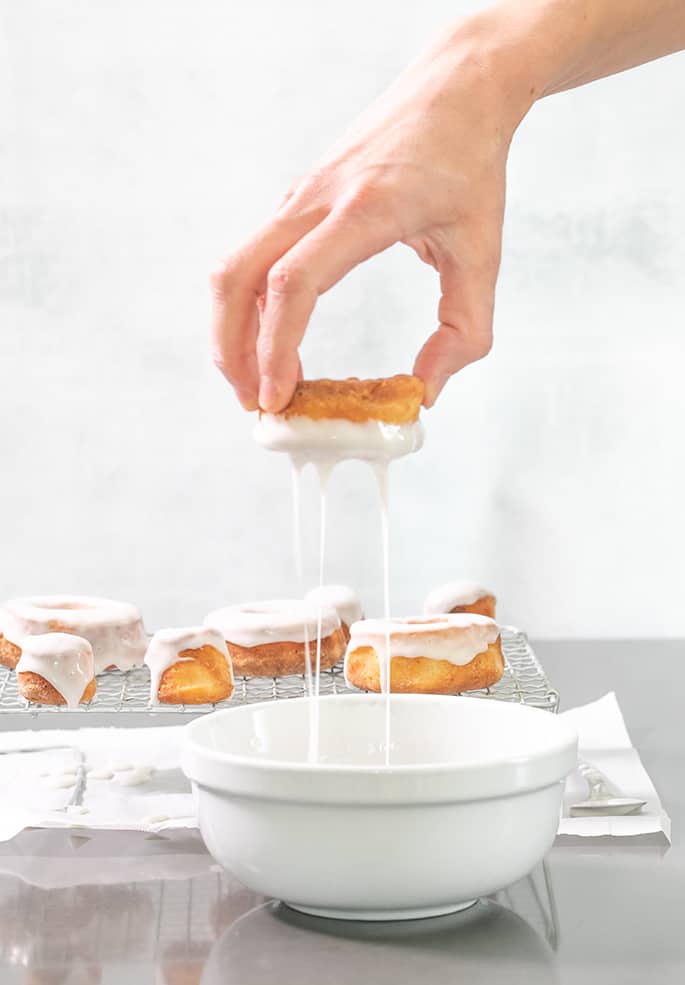 Air frying versus oil frying
Oil frying
Old-fashioned donuts like these yeast-raised gluten free donuts are meant to be fried, not baked. If you'd like to begin with baked donuts, I've got plenty of recipes for cake donuts from classic gluten free vanilla donuts to gluten free chocolate cake donuts.
When you bake a yeast-raised donut, it mostly tastes like, well, a really light bagel. Deep-frying can be messy and time-consuming, but it shouldn't result in oily donuts at all.
Just be sure your oil is hot enough, and the outside of the donut will seal quickly once it hits the oil. Then, the inside of the donut will just cook evenly and without any oil for the rest of the time.
Oil that is not quite clean is best for frying. Frying a few chunks of old bread in the oil before using it for the doughnuts will help all of your doughnuts come out golden brown and delicious. They brown quickly.
I first published this donut recipe way back in 2012, long before I had ever even heard of an Air Fryer. I fried them, and many of you who have made them over the years have done the same.
The original photo of the fried donuts is just above. They are a bit more tender inside and crisp outside when they're deep fried in oil. An air fryer is so incredibly easy, though…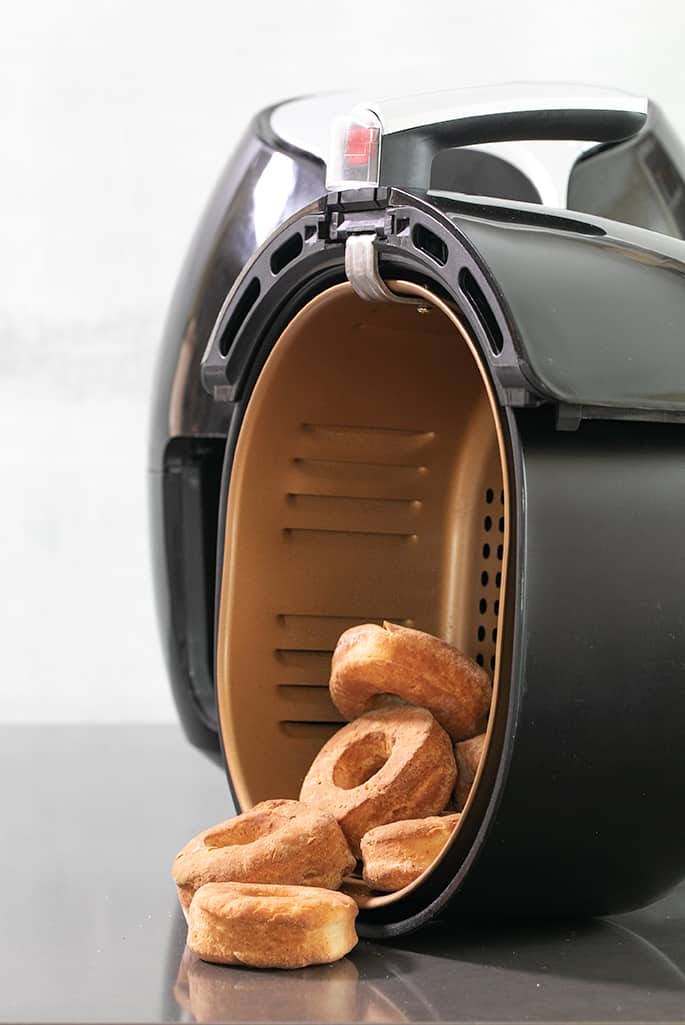 Air frying
As we discussed when we made our gluten free chicken nuggets in the Air Fryer, an Air Fryer is not really created to "fry" anything at all. I think of it more as a very efficient, rather small convection oven.
But by making fried wontons in the Air Fryer, I learned that you can make foods that taste sufficiently like they were, in fact, deep fried in the Air Fryer. Of course, you don't use nearly as much oil as you do in deep frying, where you use oil by the quart.
You can still give food cooked in the Air Fryer that "fried" taste. Just spray or brush the food generously with nonaerosol cooking oil spray
You can also use another high-heat-safe cooking oil, like avocado oil. It's just easiest to evenly distribute it on the food when it's in spray form. You'll still be using far less oil than you otherwise would.
Should I let the dough rise twice?
I now recommend allowing this donut dough to have the first rise in a sealed container in the refrigerator. But when I first made this recipe, I honestly didn't bother.
At the time, gluten free yeast bread dough wasn't considered stable enough to shape properly. Ever since I developed the recipes for Gluten Free on a Shoestring Bakes Bread, though, I'm more inclined to let yeast dough rise twice.
The first rise, ideally, is slowly in the refrigerator. I find that it not only makes the dough easier to shape, but it allows the dough to develop that yeasted flavor that I really love.
Ingredients and substitutions
Dairy
I've made these donuts dairy free quite easily by replacing the unsalted butter with virgin coconut oil and using unsweetened almond or coconut milk (in the carton). Those substitutions work perfectly well.
You can also replace the butter with Melt VeganButter or Spectrum nonhydrogenated vegetable shortening, each melted and cooled.
Eggs
Since there are only one egg and one egg white in this recipe, you can try replacing the egg with a "chia egg" (1 tablespoon ground chia seeds + 1 tablespoon lukewarm water, mixed and allowed to gel).
Try replacing the egg white with aquafaba (the brine from a can of chickpeas). I haven't tried either of these substitutions, so you'll have to experiment!
Apple cider vinegar
In place of apple cider vinegar, you can another neutral or full-bodied vinegar. I would not use a particularly bright, tart vinegar, like white wine vinegar.
White balsamic vinegar is rather mellow. That works well in place of apple cider vinegar. You can also use freshly-squeezed lemon juice.
Sugar
The donut dough is only lightly sweet, with a mere 1/4 cup of granulated sugar in the whole batch. If you'd like to make the donuts without refined sugar, you can try.
I recommend replacing the granulated sugar with an equal amount, by weight, of coconut palm sugar. The donuts will be darker in color.
If you'd like to try using a sugar replacement, I recommend Lankato monkfruit white sweetener or Swerve granulated sugar replacement. You may have to add some more milk as those sugar replacements tend to be drying.
The glaze is essentially all sugar confectioners' sugar. If you can't have refined sugar, I recommend just eliminating it entirely.
Glazed Yeast-Raised Gluten Free Donuts
Ingredients
For the donuts
2 1/2 cups (350g) all-purpose gluten-free flour (I used Better Batter), plus more for sprinkling
1 1/2 teaspoons xanthan gum (omit if your blend already contains it)
1/2 teaspoon kosher salt
1/4 teaspoon cream of tartar
1/4 teaspoon baking soda
1/4 cup (50 g) granulated sugar
2 1/2 teaspoons (8 g) instant (breadmaker or rapid rise) yeast
1/2 teaspoon fresh finely-ground nutmeg (optional)
1 teaspoon apple cider vinegar
1 egg (50 g, weighed out of shell), plus 1 egg white (25 g)
1 cup + 2 tablespoons (9 fluid ounces) milk (any kind, just not nonfat), at room temperature
4 tablespoons (56g) unsalted butter or virgin coconut oil, melted and cooled
Oil for frying or non-aerosol oil spray for Air Frying
For the glaze
1 cup (120 g) confectioner's sugar
2 tablespoons (42 g) Lyle's Golden Syrup (or honey)
2 to 4 tablespoons water
Instructions
In the bowl of your stand mixer, place 2 1/2 cups flour, the xanthan gum, salt, cream of tartar, baking soda and sugar. Whisk to combine well. Add the yeast and optional nutmeg, and whisk again to combine well. Fit the mixer with the paddle attachment. Add the vinegar, egg, egg white, milk and melted butter, and mix to combine. Mix on low speed until the liquid is absorbed by the dry ingredients, then turn the mixer speed to high and mix for about 2 minutes or until very well-combined. The dough will be wet but should scrape easily off the sides of the mixer with a spatula.

For best results, cover the inside of a lidded bucket or bowl with cooking oil spray, scrape the donut dough into the container, and cover the bucket or bowl. Place in the refrigerator to rise and chill for about an hour, or up to 2 days. You can work with the dough immediately, though, if you prefer. It will just be stickier and a bit harder to handle, and will have less flavor.

When you're ready to work with the dough, turn it out onto a lightly floured surface. Line rimmed baking sheets with unbleached parchment paper and set them aside. Sprinkle the dough lightly with some extra flour and turn over on itself a few times to create a smoother dough. Press the dough into a disk, sprinkle lightly with more flour, and roll it out about 1/2 inch thick. Flour a doughnut cutter or biscuit or large round cookie cutter, and cut the dough into donut shapes. If you're using a large round cutter, use a much smaller cutter to cut out donut holes from the rounds. Place the shapes on the prepared baking sheets about 1 1/2-inches apart. Gather scraps and reroll, then cut more shapes. Cover the baking sheets with oiled plastic wrap, and place in a warm, draft-free spot and allow to rise to about 150% of their original size.

Air Fryer Instructions. Spray the bottom of the Air Fryer basket with non-aerosol cooking oil spray. Place as many donuts and holes as will fit comfortably in the basket of your Air Fryer in a single layer, without crowding. Spray or brush the tops of the nuggets generously with cooking oil, and place in the Air Fryer. Set the machine to fry at 380°F for 12 minutes. Allow to cook for about 6 minutes. Remove the basket carefully from the fryer and, using heat-safe tongs, flip each of the nuggets over. Spray or brush again generously with cooking oil, and return to the fryer. Finish frying until lightly golden brown all over. Remove the donuts and place on a wire rack to cool. Repeat with the remaining donuts and holes.

Deep-frying directions. In a large, heavy-bottom stock pot, heat at least 2 inches of oil to about 350 degrees F. Once the oil reaches temperature, fry a few old chunks of bread in the oil. They will blacken pretty quickly. Discard them. Fry doughnuts and holes in the hot oil in small batches, about 1 minute (or less) per side, until golden brown all over. Remove with a slotted spoon and drain on a wire rack lined with paper towels.

While the doughnuts are cooling briefly, make the glaze. In a small-to-medium-sized bowl, place the confectioner's sugar. Add the syrup or honey, and mix to combine into a thick paste. Add water, a teaspoon at a time, and mix well until you have achieved a smooth and thickly pourable glaze. Dip the top of each donut and donut hole in the glaze, allowing any excess to drip off, and then return to the wire rack to set, glazed side up.

Originally published on the blog in 2012. Some photos, Air Fryer instructions, and video all new. Recipe ingredients unchanged, method simplified.