These healthy gluten free oatmeal muffins have very little added sugar and plenty of whole grains. They're a kid-approved easy make-ahead breakfast!
I love a good make-ahead gluten free breakfast. I just … do. Make my weekday mornings easier and I'll love you forever.
Today's addition to the line-up is so simple, healthy and hearty that I predict it will quickly become a family favorite. I can't even count how many times I've already made these naturally gluten free oatmeal muffins.
Just look at how few ingredients there are! A note about bananas, first. Bananas, like scallions, Bartlett pears and avocados, are ingredients that you have to catch at just the right moment or have them lost to you forever.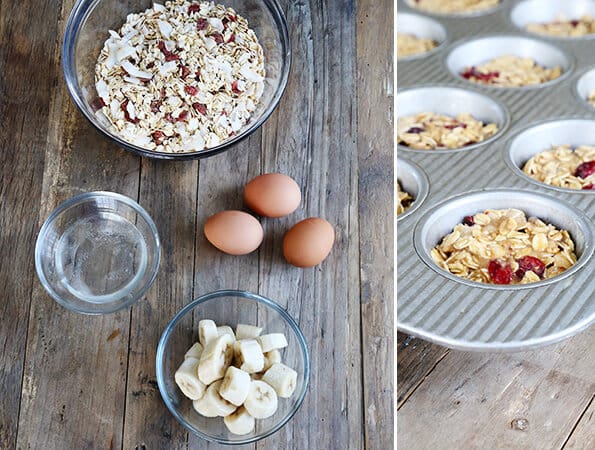 How to have bananas on hand for baking
I loathe throwing out food (who doesn't?!). But I never, ever throw out bananas, now matter how many I buy.
I buy a bunch, and the moment they reach peak ripeness (for me, that's yellow with a few freckles), I get them ready for the freezer. I peel them, chop them into 1-inch chunks and freeze them in a single layer on a lined baking sheet.
Then, I pile them into a zip-top bag and return them to the freezer. For a recipe that calls for mashed bananas, like this one, I either let the proper amount of bananas thaw at room temperature or I microwave them for about one minute at 60% power. Then, mash away!
Ingredients and substitutions
These muffins are a lot like baked oatmeal in muffin cups. They're very adaptable. Here's how to change things up, if you need or want to:
Coconut oil: You can easily swap out the virgin coconut oil for an equal amount, by weight, of butter (tried it; loved it) or vegetable shortening (tried it; loved it more with butter). I haven't tried straight-up liquid oil, though, and I really don't recommend even trying olive oil as the flavor is just too strong.
Bananas: You must use bananas, as they give the muffins sweetness and structure. Often, applesauce will work similarly, but here it won't work properly.
Mix-ins: The dried fruit and/or coconut flakes can be substituted out for any sort of mix-in you like (chocolate chips?).
Sugar: The couple tablespoons of sugar can be left out completely, since there's so little and the recipe is so simple. I've tried them both with and without the sugar. I certainly prefer them with it but it doesn't affect the texture at all to leave it out.
Oats: Oats are safe to eat on a gluten free diet if you use certified gluten free oats. But if you can't have oats, you can actully replace the old fashioned oats in this recipe with flattened (or beaten) rice. For a full discussion, please see this post about replacing oats in gluten free baking.
You'll even find a photo in that post of a batch of our gluten free oatmeal chocolate chip cookies made with beaten rice. They look perfect, and although the texture isn't identical to oats, it's closer than I ever thought I'd get for oat-free oatmeal cookies!
Eggs: Normally, I'm optimistic about replacing each egg in a baking recipe with one "chia egg" (1 tablespoon ground chia seeds + 1 tablespoon lukewarm water, mixed and allowed to gel). But this recipe has 4 eggs, and I'm afraid that's too many to replace successfully.
Easy Gluten Free Oatmeal Muffins
Ingredients
2 3/4 cups (275 g) certified gluten free old-fashioned rolled oats
5/8 cup (50 g) unsweetened coconut flakes
1/4 teaspoon kosher salt
1/2 teaspoon ground cinnamon
3 tablespoons (30 g) coconut palm sugar (optional!)
5/8 cup (100 g) small dried fruit (I have used raisins, dried cranberries and diced dried apricots)
5 tablespoons (70 g) virgin coconut oil, melted and cooled
3 ripe bananas (300 g), mashed
4 eggs (200 g, weighed out of shell) at room temperature, beaten
Instructions
Preheat your oven to 350°F. Grease the wells of a standard 12-cup muffin tin and set it aside.

In a large bowl, place the oats, coconut flakes, salt, cinnamon, optional sugar and dried fruit, and mix to combine well. Create a well in the center of the dry ingredients and add the coconut oil, mashed bananas and eggs, mixing to combine after each addition. The batter should be thick, but soft. Divide the batter evenly among the prepared wells of the muffin tin, and smooth the tops with a wet spoon or spatula.

Place the tin in the center of the preheated oven and bake until the muffins feel firm when pressed gently in the center (about 20 minutes). Remove from the oven and allow to cool in the pan until firm (about 10 minutes) before transferring to a wire rack to cool completely. A toothpick or small offset spatula can be useful in removing the muffins from the wells.

Serve immediately or wrap tightly and store at room temperature for up to 3 days or in the freezer for longer storage. Defrost in the refrigerator overnight or at room temperature before serving.

Recipe originally published on the blog in 2015. Recipe amounts scaled up slightly, recipe otherwise unchanged. Photos and video all new.