These healthy oatmeal muffins have very little added sugar and plenty of whole grains. Naturally gluten free, and kid approved!
I love a good make-ahead gluten free breakfast. I just … do. Make my weekday mornings easier and I'll love you forever.
Today's addition to the line-up is so simple, healthy and hearty that I predict it will quickly become a family favorite. I can't even count how many times I've already made these naturally gluten free, easy oatmeal muffins.
Just look at how few ingredients there are! A note about bananas: Bananas, like scallions, Bartlett pears and avocados, are ingredients that you have to catch at just the right moment or have them lost to you forever.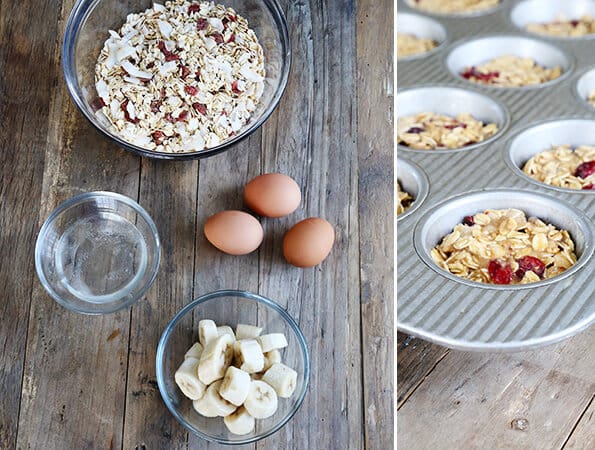 I loathe throwing out food (who doesn't?!). But I never, ever throw out bananas, now matter how many I buy.
I buy a bunch, and the moment they reach peak ripeness (for me, that's yellow with a few freckles), I get them ready for the freezer. I peel them, chop them into 1-inch chunks and freeze them in a single layer on a lined baking sheet.
Then, I pile them into a zip-top bag and return them to the freezer. For a recipe that calls for mashed bananas, like this one, I either let the proper amount of bananas thaw at room temperature or I microwave them for about one minute at 60% power. Then, mash away!
Watch this short video of me making these incredibly easy oatmeal muffins
Not sure they're as easy as I say? Push play ▶️ and see for yourself.
These simple muffins are very adaptable. Swap out the virgin coconut oil for an equal amount, by weight, of butter (tried it; loved it) or vegetable shortening (tried it; loved it more with butter). I haven't tried straight-up liquid oil, though, and I really don't recommend even trying olive oil as the flavor is just too strong.
You must use bananas, as they give the muffins sweetness and structure (applesauce won't work properly). The dried fruit and/or coconut flakes can be substituted out for any sort of mix-in you like (chocolate chips?).
Even the couple tablespoons of sugar can be left out. Imagine that! I've tried them both with and without the sugar. I certainly prefer them with it but it doesn't affect the texture at all to leave it out.