This soft and tender gluten free strawberry bread is lightly sweet and packed with strawberry flavor. A perfect alternative to banana bread, and it can even be made with frozen berries.
Even though my children never seem to tire of asking, you're not going to make a sandwich for lunch on a couple of thick slices of this gluten free strawberry bread. But it's not exactly cake, either.
Cake is much sweeter, and lends itself to being frosted. This strawberry quick bread isn't at all that type of loaf. It's not at all very sweet, and you can serve it for breakfast with total confidence. I bet it has less sugar than most cereals, and it's definitely more satisfying. And that's not just because it's homemade.
I am a big believer in frozen berries and frozen vegetables. They're picked at the peak of freshness and frozen right away. The peak! How often do you buy fresh fruits and vegetables and have to rush to use them immediately, lest they commit vegetarian self-destruction when you're not looking?
Frozen berries are always big and beautiful, and they're always willing to wait for you as long as you like. What's not to love?
All that being said, frozen berries do post their own challenges when it comes to baking. You can bake this bread with frozen berries, but you'll find that the batter does behave differently in the oven. The loaf won't rise quite as high, since it will be heavier, and it will take a few extra minutes to bake. I've included full instructions for precisely how to make that fresh-frozen switch below, in the recipe ingredients list.
If you have some fresh strawberries and want to help them go a long, long way, I recommend using only 1 cup of fresh berries and the rest defrosted, frozen berries.The first 3/4 cup of strawberries is blended with the wet ingredients in the recipe before being mixed into the dry ingredients. The 1 cup is chopped up and folded into the batter, and really benefits from being fresh.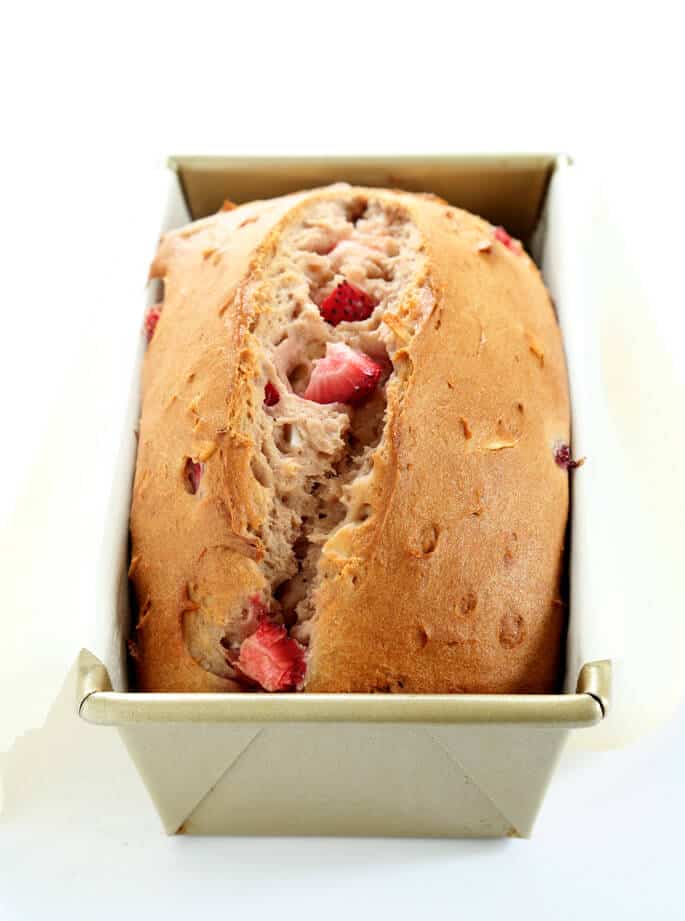 The gluten free strawberry bread loaf that's made with fresh berries will be a bit more beautiful, like you see here. But I've made this recipe with all manner of fresh and frozen permutations, and they're all simply delicious. A moist and tender loaf with an unmistakable strawberry flavor.
Long live perfect gluten free quick breads!
Links:
How To Use Frozen Berries in Baking
All About Strawberry Season
One Bowl Gluten Free Banana Bread
Gluten Free Strawberry Bread
Ingredients
2/3 cup (150 g) plain whole milk yogurt (nondairy is fine)
1 3/4 cups (245 g) chopped fresh strawberries*
8 tablespoons (112 g) unsalted butter, melted and cooled
2 eggs (100 g, weighed out of shell), at room temperature
3/4 cup (150 g) granulated sugar
2 cups (280 g) all purpose gluten free flour (I used Better Batter)
1 teaspoon xanthan gum (omit if your blend already contains it)
1 teaspoon baking powder
1/2 teaspoon baking soda
3/4 teaspoon kosher salt
1/4 teaspoon ground cinnamon
1/2 cup (40 g) coconut chips (or chopped raw pecans or walnuts)
Whipped cream and chopped strawberries, for serving
*You can make this bread with frozen strawberries, but it will not rise as high and may take a bit longer to bake. Defrost frozen whole strawberries at room temperature until soft but not mushy. Follow the recipe instructions for blending 3/4 cup (105 g) of the berries with the yogurt, butter and eggs, but include all of the liquid in the blender. Chop the remaining whole berries carefully with a very sharp knife before tossing with sugar and folding into the remaining batter, as directed in the recipe as written.
Instructions
Preheat your oven to 350°F. Grease and line a standard 9-inch x 5-inch loaf pan, and set it aside.

Place the yogurt, 3/4 cup (105 g) of the strawberries, butter and eggs in a blender or food processor, and blend until smooth. Set the mixture aside. Place the remaining chopped strawberries in a medium-size bowl, add 1/4 cup (50 g) of the granulated sugar, and toss to coat the strawberries in the sugar. Set the bowl aside.

In a large bowl, place the flour, xanthan gum, baking powder, baking soda, salt, cinnamon, and remaining 1/2 cup (100 g) granulated sugar, and whisk to combine. Add the coconut chips and mix to combine. Create a well in the center of the dry ingredients and add the yogurt mixture. Mix until just combined. The mixture will be thick but soft. Add the chopped strawberries and sugar, and fold the strawberries into the batter carefully, taking care not to smash the berries.

Scrape the batter into the prepared pan smooth the top with a wet spatula. To create a dome shape, run a wet spatula along the edges of the pan and pull the batter toward the center. For a uniform split down the center as the bread rises in the oven (instead of a more haphazard split), slash down the center of the loaf with a sharp knife, about 1/4-inch deep in one swift motion.

Place the pan in the center of the preheated oven and bake for 30 minutes. Reduce the oven temperature to 325°F, and continue to bake for another 20 minutes, or until the top of the loaf springs back when pressed lightly and a toothpick inserted in the center comes out with, at most, a few moist crumbs attached. Remove from the oven, place the loaf pan on a wire rack and allow to cool in the pan for 15 minutes before transferring the bread from the loaf directly onto the wire rack to cool completely. Slice once cool and serve with more berries and whipped cream.