In my second book, Gluten Free on a Shoestring Quick & Easy, Chapter 8 is filled with every recipe imaginable for Make-Your-Own baking mixes—or at least at the time I thought it was every mix recipe imaginable. That's kind of the way it goes with writing a cookbook. You think you've squeezed every possible recipe out of a subject (which generally means not a lot more than 100 recipes, in my experience), but once the dust clears and some time passes after the book is out in the world, you always end up thinking—how did I not include a recipe for that?! No worries, though. That's what food blogs are for, right? Which brings me to this recipe for Gluten Free Jiffy-Style Corn Muffin Mix—just like that blue box, but gluten free … and made in two seconds in your own kitchen with just a few basic pantry ingredients.
So welcome back to D.I.Y. Fridays, an occasional blog series where we D.I.Y. a basic recipe or other ingredient that you otherwise might be inclined to buy. As always, we'll aim to save you money, plus the bother of running to the store for every little thing.
Jiffy may not make a gluten free corn muffin mix, but these days plenty of other companies do. If you have a natural foods section of your local grocery store, chances are you'll find at least 2 or 3 brands of corn muffin mixes. I'll be honest—I haven't tried any of them. But with the intense mark-up of all gluten free mixes, and their general poor quality, I'm willing to bet you'll welcome a D.I.Y. version!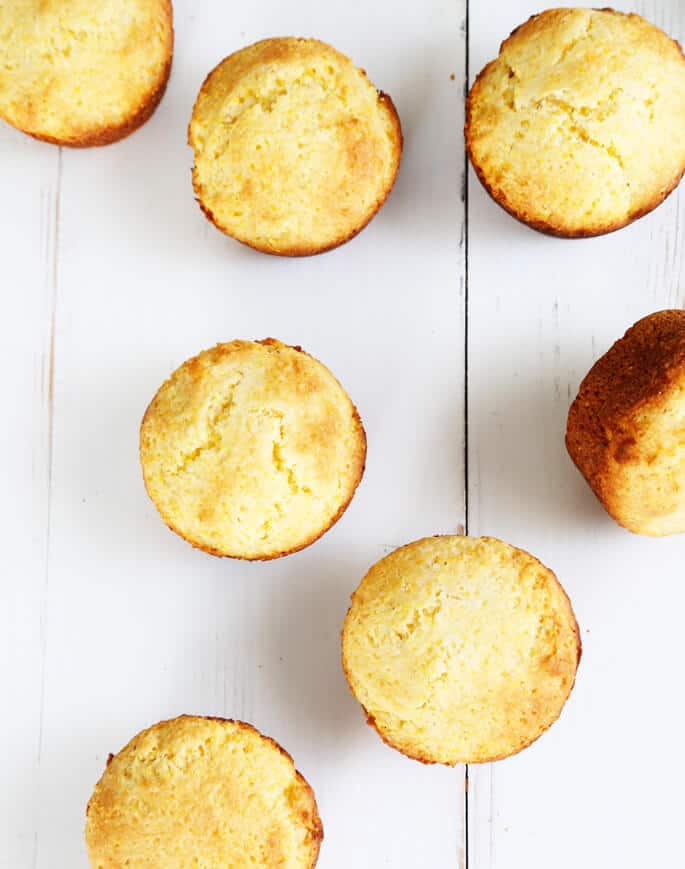 Just like the Jiffy mix itself, this recipe for a gluten free Jiffy-style corn muffin mix is very forgiving, and very versatile. I have made muffins from this mix with and without cupcake liners (muffins and cupcakes always bake more evenly with muffin tin liners), at 375°F (which you see above—they bake faster and they are crustier, more like a skillet cornbread) …
… and at 350°F (for a more tender, less crusty muffin)—both with and without corn kernels mixed in. My personal favorite is the kind you see above: baked in muffin liners, with frozen corn kernels mixed in and baked at 350°F for 15 minutes. Keep in mind that this recipe makes 17 ounces of the dry mix, double the traditional 8.5-ounce Jiffy box. You can of course always cut the mix in half straight down the middle of every ingredient.
I love having this mix on hand, though. It's perfect for serving alongside a hot bowl of chili at your Super Bowl Party this weekend, or just for a snack or light breakfast. And with this mix, you'll have the batter ready before your oven has even finished preheating!
D.I.Y. Friday: Gluten Free Jiffy-Style Corn Muffin Mix
Yield:
Mix for 12 muffins
Ingredients
Jiffy-Style Corn Muffin Dry Mix*
1 1/3 cups (187 g) all purpose gluten free flour (I have used my Better Than Cup4Cup and Better Batter)
1/2 teaspoon xanthan gum (omit if your blend already contains it)
1 1/4 cups (165 g) gluten free coarsely ground yellow cornmeal
6 tablespoons (75 g) granulated sugar
4 1/2 teaspoons baking powder
1/2 teaspoon kosher salt
1/4 cup (48 g) vegetable shortening (I use Spectrum nonhydrogenated vegetable shortening)
To Make Muffins*
2/3 cup + 2 tablespoons (6 1/3 fluid ounces) milk, at room temperature
2 eggs (120 g, weighed out of shell) at room temperature, beaten
1 cup (140 g) frozen (or fresh) whole kernel corn
*For the traditional 8 1/2-ounce size Jiffy-style corn muffin mix, simply halve all of the dry mix ingredients, and then the wet ingredients, to make 6 muffins. Since these muffins freeze really well and I don't have a 6-muffin tin, a 12-muffin mix just makes more sense to me!
Instructions
To make the dry mix, in a large bowl, place the flour, xanthan gum, cornmeal, sugar, baking powder and salt, and whisk to combine well. Add the shortening and, with well-floured hands, a pastry cutter or the tines of a fork, break up the shortening evenly until the mixture resembles coarse sand. Store in a sealed container in a cool, dry place until ready to use. For longer storage, place in the refrigerator or freezer and allow to come to room temperature before using.

When you are ready to make corn muffins, preheat your oven to 350°F (for lighter, more delicate muffins) or 375°F (for darker, firmer muffins). Grease or line a standard 12-cup muffin tin, and set it aside. Place the dry mix in a large bowl. Create a well in the center, add the milk and eggs and mix until just combined. The mixture should be thick but soft. Add the (optional) corn and mix just until the corn is evenly distributed throughout. Allow the batter to sit for at least 5 minutes before dividing it evenly among the prepared wells of the muffin tin and smoothing the tops gently with wet fingers.

Bake the muffins. Place the tin in the center of the preheated oven and bake until a toothpick inserted in the center of a muffin comes out with a few moist crumbs attached (about 15 minutes in a 350°F oven; about 12 minutes in a 375°F oven). Remove from the oven and allow to cool in the pan for 10 minutes before transferring to a wire rack to cool completely.