These extra tender gluten free donut muffins with jam filling taste like an old-fashioned cake donut, but they're baked easily in a muffin tin.
Unlike yeasted donuts, these donut muffins are baked simply in a standard 12-cup muffin tin, never fried. These donut muffins are extra tender, with the fragrance of freshly grated nutmeg and cinnamon in the batter, and satisfy your fresh donut cravings the easy way.
How are these donut muffins different than regular muffins?
Waaaay back in 2011 (nearly a lifetime in Internet years), I created a recipe for gluten free donut muffins for what was then called Living Without Magazine. It's still out there and actually ranks quite well in search results so if you're interested you can still find it.
When you write for a magazine, you tend to have very little creative control. The recipe works, of course, or I wouldn't have allowed them to put my name on it. But it's just not my favorite donut muffin recipe.
But what makes a gluten free muffin recipe different from a gluten free donut muffin recipe? A donut muffin should taste more like a cake donut than a lightly sweet mini cake (which is largely what a muffin is).
To me, that means more moist and tender than a regular muffin, with a lighter texture. Plus, the jam in the center of these muffins gives them an entirely different texture and flavor. It gives the muffins more moisture, which leads to more tenderness—and a more ragged top.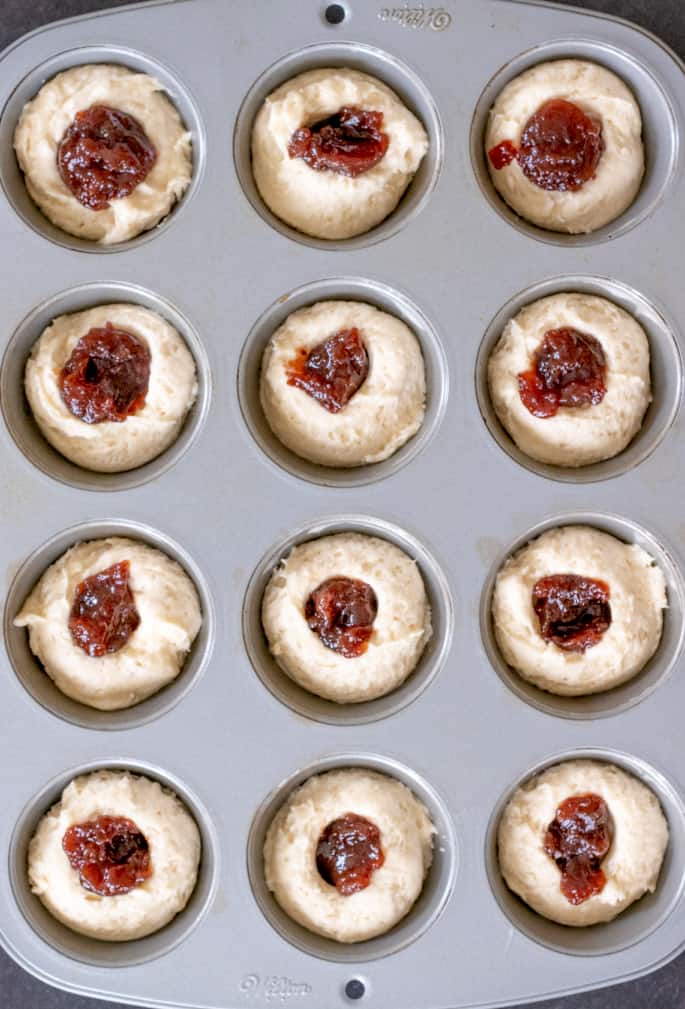 How to make these gluten free donut muffins
You can take almost any plain muffin recipe, add a bit of jam to the very center, and call it a donut muffin. But if you only have a tiny dab of jam in the center you won't even reach the jam in the first bite. ?
Unlike our vanilla cake donuts which we dip in melted butter and sugar after baking, I sprinkled these donut muffins with coarse sugar before baking. It still creates a nice bakery-style crust on top, but makes the muffins easier to freeze as a make-ahead breakfast.
Also unlike our versatile mix-in muffins, these donut muffins aren't made in one single bowl. The dry ingredients (flour, baking powder, salt, cinnamon, nutmeg) are whisked together in a medium-size bowl and set aside.
Then, the wet ingredients (butter, sugar, eggs, vanilla) are placed in a large bowl and beaten until light and fluffy. Finally, the dry ingredients are added with the buttermilk, alternating between the two and beating until just combined.
How to get the jam filling to stay in place?
Since the batter is quite thick, it's able to absorb some additional moisture from the jam in the center. Using a wet index finger or wooden dowel, create a well in the center of the batter in each muffin well. Place the jam inside, then top with a bit more muffin batter.
Smooth the tops of the muffins, sprinkle with coarse sugar, and bake until mostly firm to the touch. A toothpick inserted in the center of a muffin should come out with no more than a few moist crumbs attached. But you'll want to avoid poking it into the jam, which will remain wet even once the muffins are fully baked.
Ingredients and substitutions
Dairy-free: To make these muffins dairy-free, you have to replace both the butter and the buttermilk. Good news, though! You should be able to replace each of them quite easily.
Try replacing the butter with my favorite vegan butter replacement, either Melt brand or Miyoko's Kitchen brand. Since each of those has more moisture than butter, you may need only 2/3 cup of liquid, rather than the full 3/4 cup that the recipe calls for.
Instead of buttermilk, a mixture of half unsweetened nondairy milk and half nondairy plain yogurt should work well. If you can have dairy but don't have buttermilk on hand, using half milk and half unsweetened plain yogurt is a great substitute for buttermilk as well.
Egg-free: Since there are 3 full eggs in this recipe, it's a tough as to make the recipe dairy-free. You can try using a "chia egg" (1 tablespoon ground white chia seeds + 1 tablespoon lukewarm water, mixed and allowed to gel) in place of each egg, but I'm afraid I'm not too optimistic.
Jam, jelly, preserves filling: You can use any jam, jelly, or preserves as the filling in the center of these donut muffins. Keep in mind, though, that if you use a filling that is loose and thin, your muffins may take longer to bake and be a bit more unstable.
If you're using strawberry, raspberry, or blackberry filling, be sure it's seed-free or you'll have an unwelcome crunch in the center of each muffin.
Coarse sugar: I really like adding coarse sugar crystals to the top of muffins, cookies, and sometimes even cakes. They create a really lovely sugar crust with just a few grains. I have found it difficult to source a white coarse sugar crystal that is reliably gluten free, though.
Sugar in the Raw brand coarse sugar is great, but I really prefer white crystals. The brand I've found online that I love is Chef's Select Granulated Sugar Crystals (that's an affiliate link, but shop around!).
Gluten Free Donut Muffins | Jam Filled
Ingredients
2 cups (280 g) all purpose gluten free flour (I used Better Batter)
1 teaspoon xanthan gum (omit if your blend already contains it)
1 tablespoon baking powder
1/2 teaspoon kosher salt
1/4 teaspoon ground cinnamon
1/4 teaspoon freshly grated nutmeg
8 tablespoons (112 g) unsalted butter, room temperature
3/4 cup (150 g) granulated sugar
3 eggs (150 g, weighed out of shell) at room temperature, beaten
2 teaspoons pure vanilla extract
3/4 cup (6 fluid ounces) buttermilk, at room temperature
1/4 cup seedless jam or preserves
Coarse sugar, for sprinkling
Instructions
Preheat your oven to 350°F. Grease or line a standard 12-cup muffin tin and set it aside.

In a large bowl, place the flour, xanthan gum, baking powder, salt, cinnamon, and nutmeg, and whisk to combine well. Set the bowl aside. In a large bowl, place the butter and sugar, and beat with a handheld mixer or in the bowl of a stand mixer with the paddle attachment until fluffy. Add the eggs and vanilla, and beat until smooth and lighter in color. The batter may appear a bit curdled, which is fine. Add the dry ingredients and the buttermilk to the butter mixture, alternating between the two and beginning and ending with the dry ingredients. Once you add the final dry ingredients, the mixture will be quite thick and a hand mixer may not be able to handle it. Just mix by hand until combined.

Fill prepared wells of muffin tin half full, then press a small hole in the batter with a moistened fingertip or dowel. Place 1 heaping teaspoon of jam in each hole, and then divide the remaining batter evenly among the wells, on top of the jam. Using wet fingers, spread the batter into an even layer and sprinkle each lightly with coarse sugar. Bake until mostly firm to the touch and a toothpick comes out with no more than a few moist crumbs attached (other than the jam, of course), about 22 minutes.

Allow the muffins to cool in the tin for about 5 minutes, and then transfer them to a wire rack to cool further. They will sink a bit as they cool. Serve them warm.