This easy homemade muesli recipe is made with just a few basic pantry ingredients, and you can use it to make a cooked porridge or enjoy it as a breakfast topping. It's also one step removed from granola, if that's what you're feeling.
Is muesli good for you?
It never fails. I place a recipe in front of my oldest child, she eats it. My first clue that she likes it is if she asks the question…
Is this good for you?
I love that she cares about health and nutrition. Unfortunately, I'm not a nutritionist, but I do want to give her the answer to the question she's really asking: can I eat this often and not feel bad about it?
Some recipes, like traditional chocolate cake and chocolate chip cookies, just aren't good for you and aren't meant to be. They're treats, and whether you eat them once a year or every day, you know that you're not feeding your body what it needs. And it's really o-kay.
But there are plenty of recipes that fall into the middle ground between healthy … and not. Sometimes it's a matter of what else you eat throughout the day that determines the health of a particular meal. Other times, it's a matter of what you pair it with. Eating a salad covered in cheese, dressing, and croutons just is not going to help your overall health.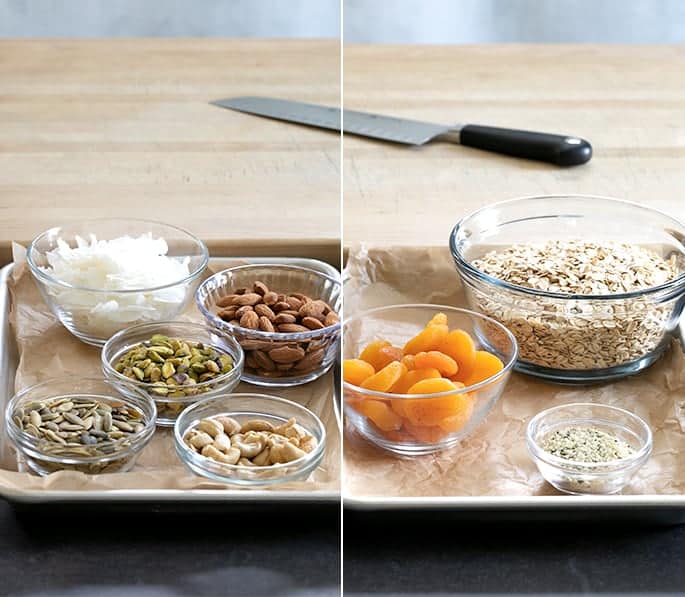 Whether you consider this muesli to be healthy also depends upon what sort of eating rules you're trying to stick to. This muesli recipe is, indeed, healthy as it's packed with healthy fats, whole grains and has no added sugars, refined or otherwise.
The dried apricots add natural sweetness, but you can limit those as much as you like. Same goes for the honey, which is just a serving suggestion. And this muesli is really satisfying and should keep you full for quite a while.
If you're following Weight Watchers, this recipe is better than adding sweetened granola to your milk or yogurt. But the nuts are relatively high in SmartPoints, so you'll want to sprinkle just a handful on top of your fat-free plain yogurt.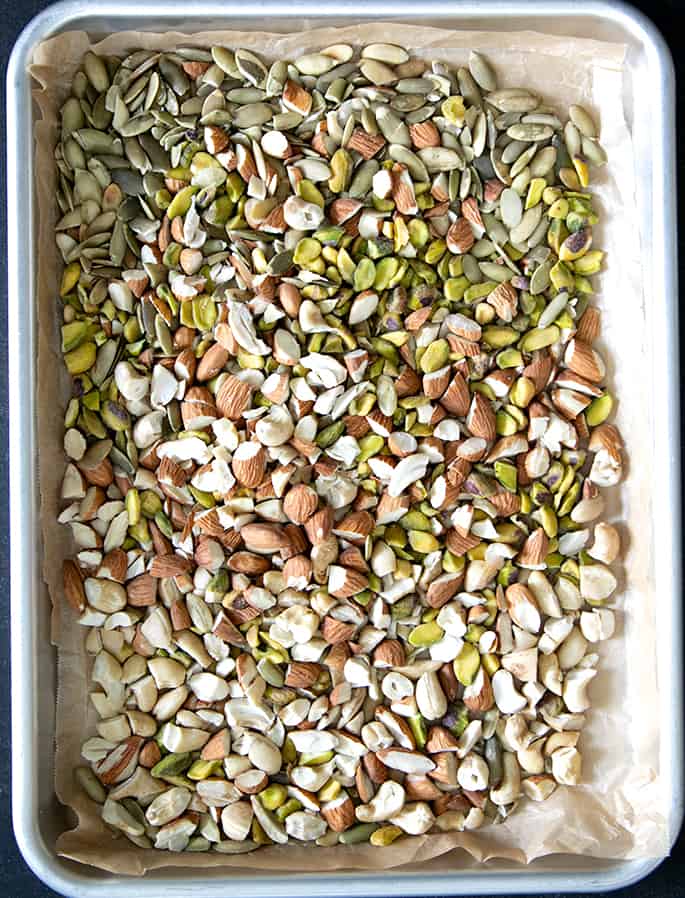 How do you prepare muesli?
In its most basic form, muesli is like a Swiss granola. But rather than the clumpy, stickiness of granola, muesli is typically made from raw or near-raw individual nuts, seeds, and rolled oats.
Typically, the individual ingredients in muesli are combined, stored and served together. I prefer to combine the nuts and seeds together for toasting in the oven, and store them together. But I keep the toasted coconut chips separate, as I do the chopped, dried fruit.
In the instructions of this recipe, I toast and store the hemp seeds together with the oats. But they could just as easily be toasted and stored with the nuts and other seeds.
The nuts and seeds are chopped with a knife, rather than a food processor. You want them to remain crunchy, and a food processor has a tendency to turn nuts and seeds into dust rather quickly.
If you can find them, buy raw nut pieces rather than whole nuts. They're less expensive and it saves you the trouble of having to chop them!
Muesli can be served cold, by soaking it for about 10 minutes in milk or water, or overnight in the manner of overnight oats. It can also be served hot, by cooking on the stovetop as you would oatmeal.
I always serve muesli cold unless I cook the toasted oats separately in water on the stovetop (I like a 1 cup of oats to 1 1/2 cups of water ratio) until creamy. Then, I add the other ingredients to the top when serving.

What is the difference between muesli and granola?
Both muesli and granola are a combination of oats, nuts and seeds and are traditionally eaten for breakfast. The main difference between muesli and granola, though, is that muesli is loose and largely unsweetened in its pre-served state.
Granola is typically seasoned with salt and spices. It's made with sweeteners such as honey and maple syrup, and baked until it clumps and holds together.
Muesli is a mixture of loose, unsweetened ingredients. I don't mix all of the ingredients until I'm ready to serve them. I have a family of 5, and everyone has their own tastes and preferences.
Keeping most of the ingredients separate allows each family member to customize their breakfast. More choices means less whining. And less whining is the key to my peace of mind. ✌️
Can you use muesli as the basis to make a granola bar?
Yes, you can use muesli as the basis for a simple granola bar recipe! Since the ingredients in granola and muesli are so similar, but muesli is the simpler of the two recipes, I'm more likely to make muesli than granola.
If I have muesli, I can toss it with some oil and sweeteners and make maple almond granola in no time. I can sprinkle it on top of my morning yogurt.
And I can also use it as the base for my no bake granola bars. Just measure out 2 cups of the toasted oats, add 1/2 cup oat flour, toasted coconut flakes, and the honey, coconut oil, brown sugar, salt and vanilla.
You can either use the crisp rice cereal as directed in the recipe or replace it by volume with a combination of toasted nuts and seeds. Since the recipe is no-bake, most of the bulk-forming ingredients are interchangeable. For a more complete discussion of how granola bars are made, have a look at my master granola bar recipe.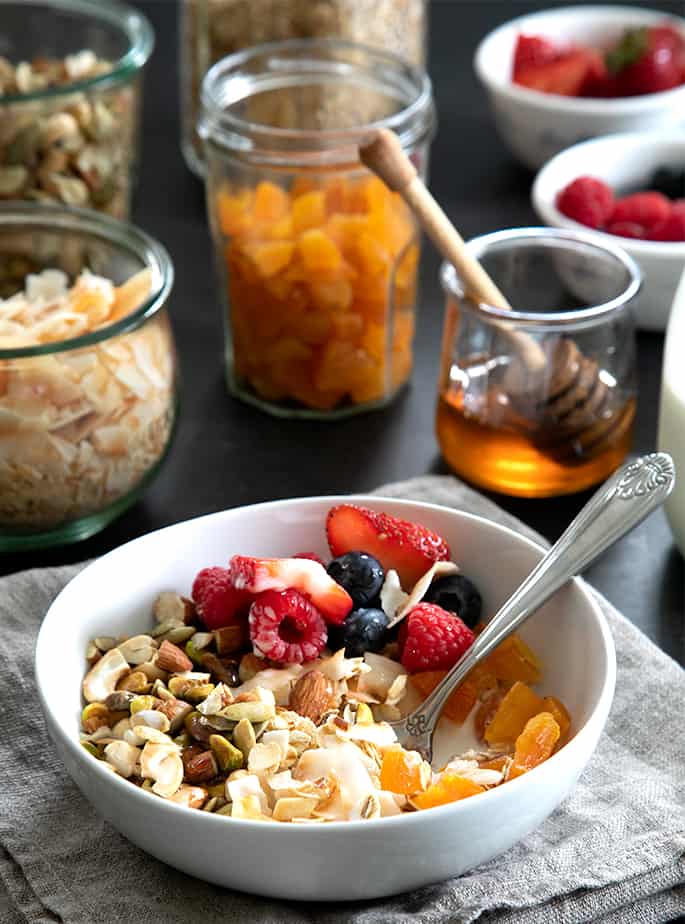 Ingredients and substitutions
The fresh fruit, honey, and milk at the end of the ingredients list are all optional ingredients that can be replaced with whatever you like, or left out entirely. This recipe can be customized by replacing or eliminating many of the ingredients below, within the guidelines listed here:
Nuts and seeds: I've grouped nuts and seeds together, even as I've kept most of the other ingredients separate from one another in toasting and storing. As long as they're all chopped into similar sizes, and are all raw and unsalted, nuts and seeds are interchangeable with one another in this recipe.
Pumpkin seeds and sunflower seeds are nut-free alternatives to nuts, so feel free to use tons of those. Roasted, unsalted soybeans are also a great addition, but I'd buy them already roasted. Otherwise, you'll have to soak, dry and then roast them. That's a lot of work for one ingredient in a multi-ingredient recipe!
Coconut flakes: Coconut flakes add a really nice depth of flavor when they're toasted, and they're really beautiful, too, when served toasted. If you want or need to replace them, you can use more oats, or more nuts and seeds.
Hemp seeds: Hemp seeds can be replaced with any number of small seeds, like flax, chia or sunflower seeds. They add texture and tons of nutrition to this muesli recipe.
Oats: This recipe is naturally gluten free as long as you use certified gluten free oats, but if you're not following a gluten free diet, you can use any sort of oats you like. If you're not comfortable eating oats on a gluten free diet, or simply can't have them, you can replace them in any recipe that calls for oats.
In this recipe, if I were to replace oats, I'd likely use beaten rice, or poha. You can also replace the oats with more coconut flakes. Crisp rice cereal can also be toasted in the oven in the manner described for toasting coconut flakes and used for bulk. Just don't soak the muesli in milk, yogurt or water before serving it.
Dried apricots: I chose chopped, dried apricots for this recipe because I love the way they taste, and their color. They add a chewy texture, too, that balances out the other ingredients whether you soak the muesli or not. You can, of course, use any other dried fruit that you like.
Dried blueberries, cranberries or golden raisins are all great choices. Of course, they're all already small in size, there's no need to chop them.
Easy Muesli Recipe
Ingredients
3/4 cup (90 g) raw almonds
1/2 cup (60 g) raw pistachio nut meats
1/2 cup (60 g) raw cashews (pieces are fine)
3/4 cup (60 g) raw pumpkin seeds
3 cups (300 g) old-fashioned rolled oats (certified gluten free, if necessary)
2 tablespoons (20 g) raw hemp seeds
1 cup (60 g) unsweetened coconut chips
3/4 cup (180 g) dried apricots
Fresh berries, honey, and milk, yogurt, or water, for serving (optional)
Instructions
Preheat your oven to 325°F. Line 3 medium-sized rimmed baking sheets with unbleached parchment paper and set them aside.

Using a sharp chef's knife, roughly chop the almonds, pistachios, cashews and pumpkin seeds, and place on one of the baking sheets. Toss the nuts together with your hands and spread into an even layer on the baking sheet. Place in the center of the preheated oven and toast for about 15 minutes, or until very lightly toasted and fragrant. If the baking sheet is small and the nuts are in a relatively thick layer, they will take longer to toast. Remove them from the oven and set aside to cool and place in a sealed glass jar.

On a second prepared baking sheet, place the oats and hemp seeds, and toss them to combine. Place in the center of the preheated oven and toast, stirring occasionally to prevent burning, until very lightly golden brown (about 12 minutes). Remove from the oven, set aside to cool and place in a sealed glass jar.

On the third prepared baking sheet, place the coconut chips, and spread them into an even layer. Place in the center of the preheated oven and toast until very lightly golden brown (about 5 minutes). Remove from the oven, set aside to cool and place in a sealed glass jar. Using a sharp chef's knife or sharp kitchen shears, roughly chop the apricots. Place in a sealed glass jar.Store the prepared ingredients in their individual sealed jars at room temperature for up to a week. Alternatively, the ingredients can all be tossed together to combine and stored in a large glass jar.

Serve by layering in a bowl, adding fresh berries, honey, and just enough milk, water or yogurt to cover the muesli. Allow the muesli to soak in the liquid for about 10 minutes (or in the refrigerator, covered, overnight) until the toasted oats are softened.