These flourless chocolate peanut butter muffins are unbelievably moist and tender and packed with chocolate and peanut butter flavor. You simply won't believe this gluten-free and even grain-free recipe, made without added butter or oil!
Why this flourless muffin recipe with peanut butter and chocolate works so well
When I first developed this recipe in 2016, I had been failing off and on for years. And then you loved it as much as I do, so I doubled down on flourless baking recipes.
At the start, I tried to make flourless chocolate peanut butter muffins without banana. But banana helps add moisture, plus lots of natural sweetness.
The structure of the muffin comes from the smooth nut butter and eggs. Even the mashed banana helps.
The moisture and sweetness from the honey and banana.
The flavor comes from honey, cocoa powder, and peanut butter.
The result is these amazingly moist, tender and even light grain-free flourless peanut butter breakfast muffins.
They taste great, aren't very sweet, and are still super filling. A staple of the gluten free breakfast rotation in my house.
What makes this grain free chocolate peanut butter muffin recipe the best—even if you don't like banana
If you compare this flourless recipe to my recipe for flourless chocolate peanut butter breakfast cookies, you'll find that the real difference is the addition of mashed banana here.
If you really don't like the taste of bananas, you don't even taste them. I do like bananas, but I'm still sensitive to the taste because I only want things like our gluten free banana muffins to taste like them.
If you scroll down, though, I do have some suggestions for replacing the mashed banana. And you can always try our recipe for flourless Paleo muffins, which are much more neutral-tasting.
What makes these chocolate peanut butter muffins healthy?
Most grab-and-go breakfast foods aren't healthy at all. Even if they fill you up for the moment, you'll probably crash pretty soon after.
These chocolate peanut butter muffins are healthy because they're made with smooth peanut butter as a base, and much of the sweetness comes from mashed bananas. If you've ever been running low on energy and grabbed a spoonful of peanut butter as a snack, these muffins are a more satisfying alternative.
Ingredients and substitutions for chocolate peanut butter muffins
As long as you're using dairy-free miniature chocolate chips (or simply leaving them out of the recipe), these muffins are naturally dairy-free.
Here are some educated guesses about other allergenic ingredients you may have to eliminate. If none of them suits you, don't forget there are so many other gluten free breakfast ideas here on the blog.
Egg-free chocolate peanut butter muffins

There are 3 eggs in this recipe, as it's been scaled up to make more generous muffins, which is generally too many eggs to successfully replace in a recipe.
Before you try replacing each egg with a "chia egg" (1 tablespoon ground white chia seeds + 1 tablespoon lukewarm water, mixed and allowed to gel), I recommend scaling the recipe back down to call for only 2 eggs.
The other ingredients would be as follows:
1 cup (256 g) peanut butter
2 mashed bananas (200 g)
2 "chia eggs"
4 tablespoons (84 g) honey
1/2 cup (40 g) unsweetened cocoa powder
1/2 teaspoon baking soda
1/4 teaspoon baking powder
1/4 teaspoon kosher salt
1 ounce miniature dark chocolate chips (optional)
Follow the remaining recipe instructions as written. The recipe should only make 8 chocolate peanut butter muffins.
No banana flourless muffins recipe suggestions

I love bananas, but I know not everyone shares my heart here. I really really believe that you cannot taste the bananas in this recipe.
One more pitch for including them: The banana flavor is completely overshadowed by the chocolate and peanut butter flavors.
But if you simply will not bake with mashed bananas, try replacing them with an equal amount, by weight, of unsweetened smooth (jarred) applesauce.
For a different, but similar recipe, try our flourless quinoa chocolate cupcakes recipe instead.
Making flourless muffins without honey
If you'd like to make vegan chocolate peanut butter flourless muffins, you'll need to make them egg-free (see above) and without honey.
I don't usually have success replacing honey in baking with pure maple syrup. Syrup is much thinner than honey.
To match honey's sweetness and viscosity, try Lyle's Golden Syrup instead. If you can't find Lyle's, I think light corn syrup (which is not at all the same as the dreaded high fructose corn syrup) should work, too.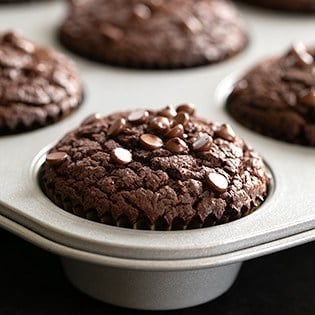 Flourless Chocolate Peanut Butter Muffins | A Magical Recipe
This flourless chocolate peanut butter muffins recipe makes them moist and tender with no grains, no dairy, no flour, & only a touch of honey.
Print Recipe
Save
Saved!
Pin Recipe
Ingredients
1 ½

cups

(

384

g

)

no-stir smooth peanut butter

(or almond butter)

3

(

300

g (weighed after peel is removed)

)

ripe bananas

mashed

3

(

150

g (weighed out of shell)

)

eggs

at room temperature, beaten

6

tablespoons

(

126

g

)

honey

¾

cup

(

60

g

)

unsweetened cocoa powder

natural or Dutch processed

¾

teaspoon

baking soda

¼

teaspoon

baking powder

¼

teaspoon

kosher salt

1 ½

ounces

miniature dark chocolate chips

optional
Instructions
Preheat your oven to 350°F. Line the wells of a standard 12-cup muffin tin and set it aside.

In a large bowl, place the peanut butter, bananas, eggs and honey, and beat with a handheld mixer until very well-combined. Add the cocoa powder, baking soda, baking powder and salt, and mix with a spatula until just combined.

Beat the mixture again with a handheld mixer until very well-combined. The batter should be thick but soft and as smooth as possible.

Divide the batter evenly among the prepared wells of the muffin tin, and shake the tin back and forth to distribute the batter in an even layer in each well. Sprinkle the optional miniature chocolate chips evenly on top of the batter in each well.

Place the tin in the center of the preheated oven and bake until the tops of the muffins are puffed and spring back and feel relatively firm when pressed gently in the center (about 25 minutes).

Remove from the oven and allow to cool for 10 minutes in the tin before transferring to a wire rack to cool completely. They freeze exceptionally well when placed in a well-sealed freezer-safe container. Defrost at room temperature or in the microwave.
Notes
Originally published on the blog in 2016; recipe scaled up to make more generous muffins, many photos, video, and much of the text new.