The secret to making the perfect gluten free quiche is a light and flaky crust (or go crustless!), and a creamy egg custard filling. With the right ratio of eggs to milk, you'll make the perfect quiche every time!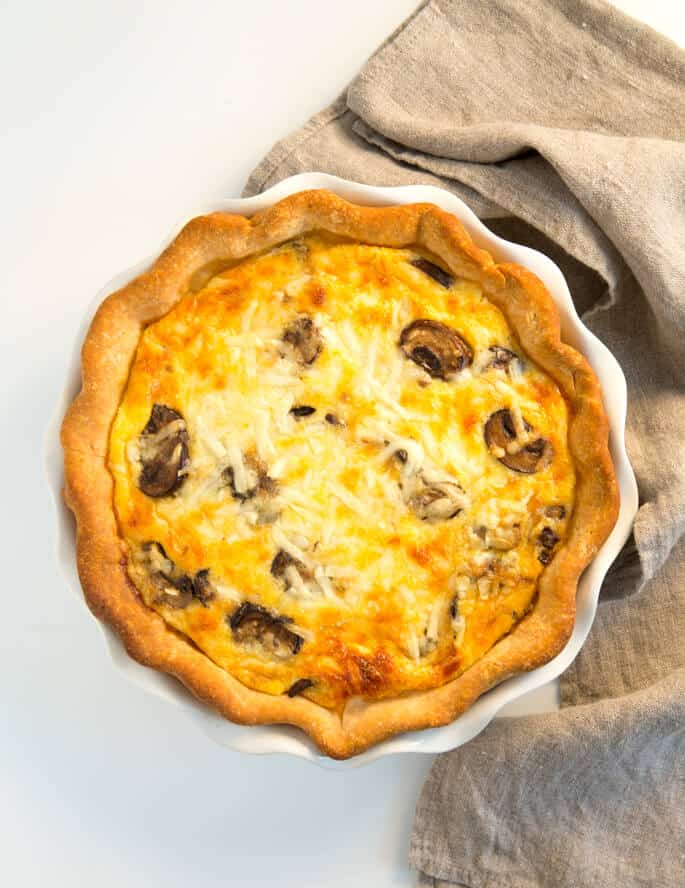 Whether you call it a gluten free breakfast for dinner, brunch or just a lovely Frenchie breakfast, mastering the art of the perfect gluten free quiche will come in very handy indeed. There's not a whole lot you need to know, but whatever I know, I've detailed right here.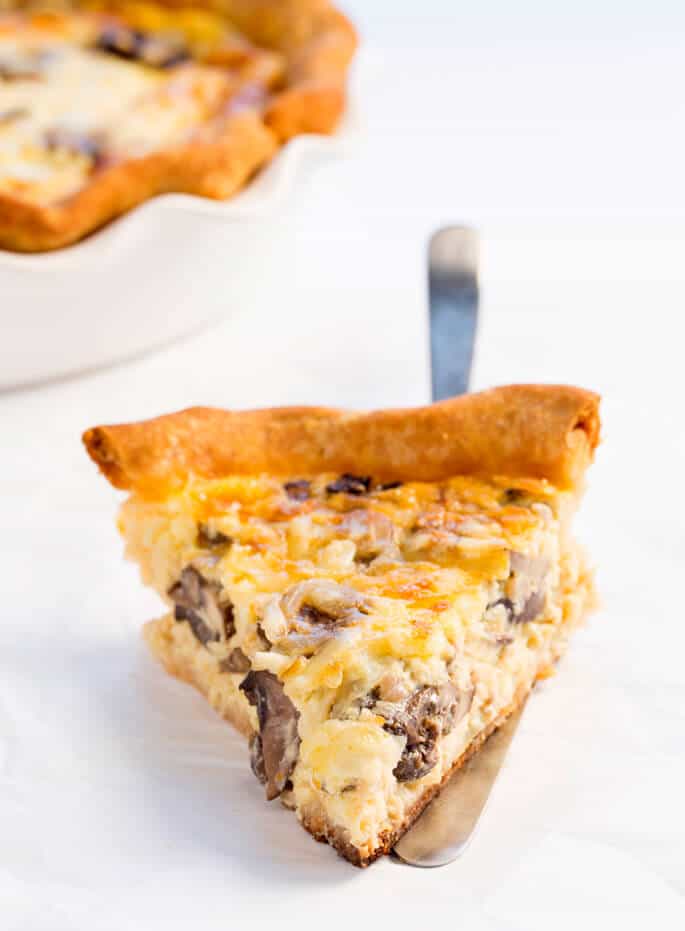 The most lovely quiches start with a light and flaky pie crust. I have two favorite pie crust recipes here on the blog: my standard gluten free pie crust (with a how-to video!), and my extra flaky sour cream gluten free pie crust. You'll need a half-recipe of either one, since we are only making a single crust.
Of course, you can make a quiche entirely crustless. Simply skip the ingredients and instructions that relate to the crust, and bake the filling right there in a greased pie plate. The baking time for the filling will not differ. But won't you try with the crust at least once?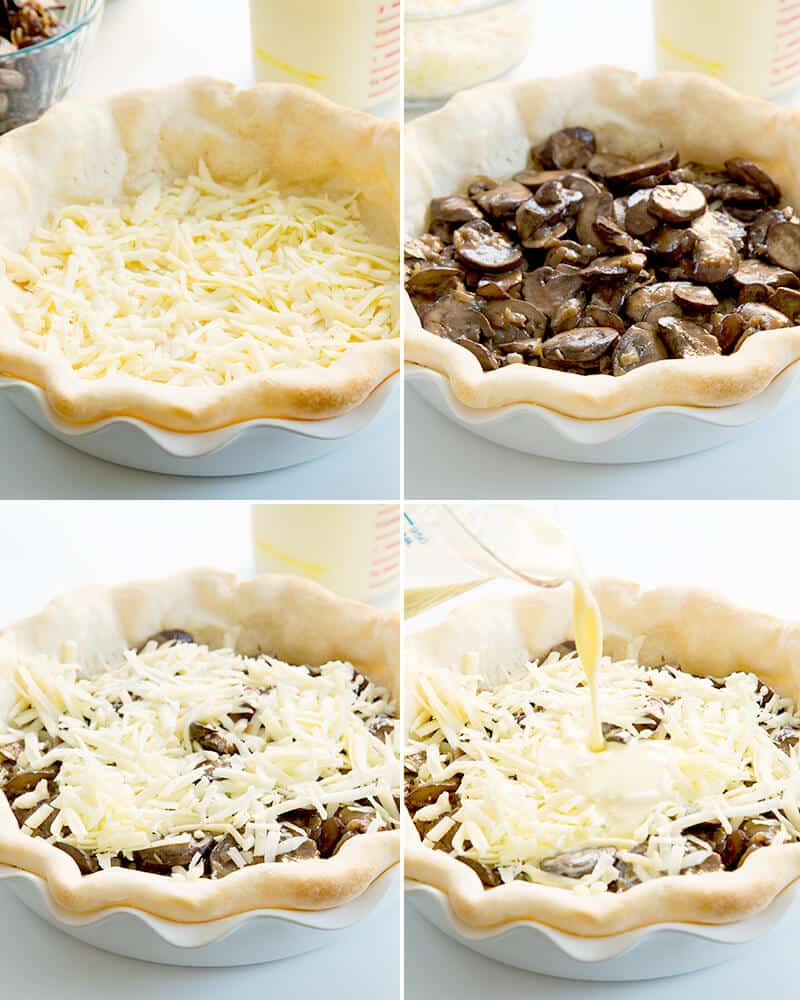 I've made this quiche with a mushroom and cheese filling, since it's a classic, lovely combination. The key to any proper quiche filling, though, is in the ratio of eggs to milk or cream (see below)—and in the absence of too much moisture in the remaining filling.
If you're using mushrooms as I have, you must cook down the mushrooms so they release their moisture, and then leave the moisture behind. If using a blanched vegetable (frozen broccoli and/or cauliflower work beautifully), be sure to blot it dry before adding it to the filling. Failure to heed these moisture warnings will result in a sad, soggy quiche that never quite sets up!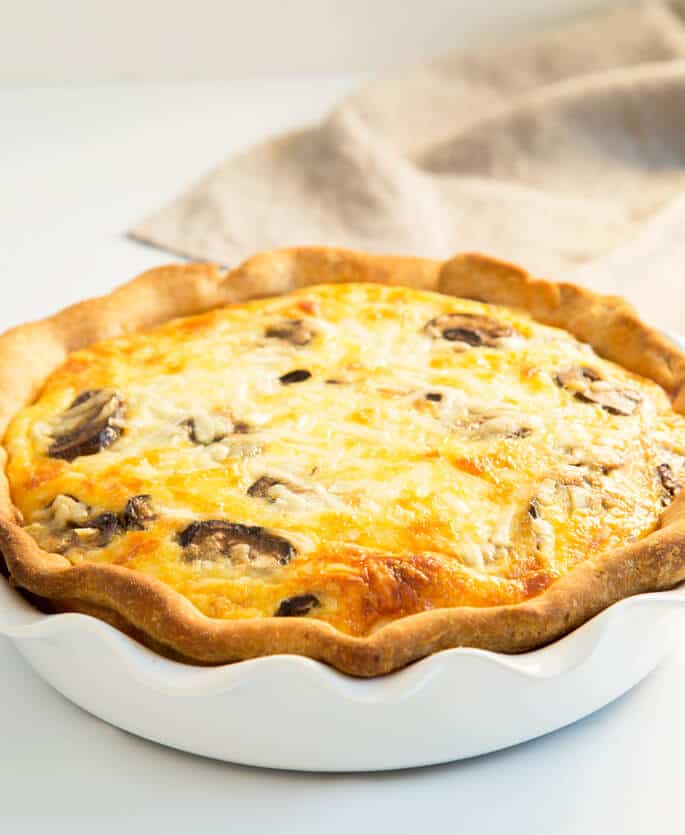 The proper filling is a simple ratio or formula, with only 4 main ingredients in proper proportion:
For every 1 egg;
1/4 cup (2 fluid ounces) milk or 1/3 cup (2 2/3 fluid ounces) half-and-half;
1/2 cup not-too-wet cooked (or at least blanched) vegetable; and
2 ounces semi-hard cheese, grated.
Everyone in my family cheers for a quiche, and it's even the stuff of birthday dinner requests around here. Serve it with a nice green salad, and you've got a meal to remember, elegant in its delicious simplicity.