This chewy homemade granola bar recipe is endlessly customizable with different mix-ins and nuts. Perfect for school (or work) lunchboxes!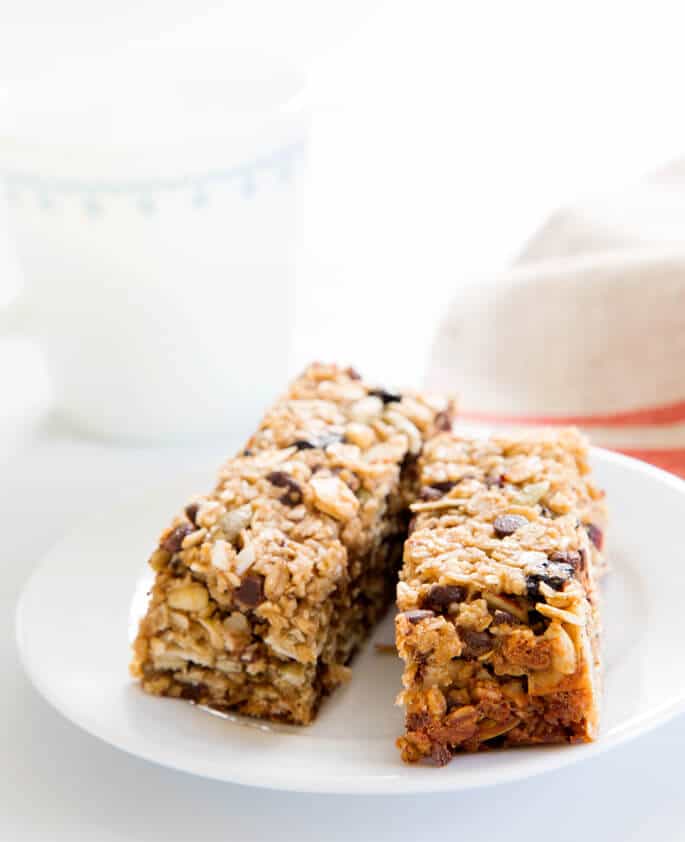 A good granola bar recipe is flexible. This is a good homemade granola bar recipe. There are a few variable elements to a proper granola bar, and they're all here. As long as each element is present in its required relative amounts, you can easily make it your own, to suit your family's tastes.
The elements of a proper homemade granola bar
Oats (certified gluten free oats, assuming you're gluten free): the base.
Nuts/seeds/dried fruit/dried coconut/chocolate chips: for texture, taste and appearance purposes (really). You really can use any combination. I've listed my favorite combo below.
Sugars: 100% necessary, as they not only provide sweetness, but they hold the bars together.
Fat: A fat that is soft-solid at room temperature, like butter or virgin coconut oil works best.
Egg: for baked, chewy bars like these, the egg is a binder and a texture-enhancer. I bet a "chia egg" would work well here in its place, if necessary.
The result is my favorite homemade granola bar recipe, one of my favorite gluten free breakfasts and quick snacks. The combination of partially processed rolled oats and oat flour creates just the right texture and helps the bars hold together while maintaining their chewiness.
The delicate balance of mini chocolate chips (not too many!) and dried fruit keeps things interesting. And a mix of honey, maple syrup and molasses, plus brown sugar, provides just the right sweetness without becoming cloying. And all of that moisture keeps them chewy even once you've browned them nicely in a moderate 325°F oven.
I almost always double the recipe, and bake them in two separate square pans to ensure proper browning. You can also make a double recipe in a 9-inch x 12-inch baking pan. Try baking the bars for about 35 minutes, and then turning down the oven to 300°F and continuing to bake until the center is lightly browned and set. Before removing the bars from the pan, cool on the counter for 20 minutes and then chill in the refrigerator.
P.S. In a hurry? Try my no-bake granola bar recipe!