Sweet, tender gluten free cinnamon rolls made with an all purpose gluten free flour and instant yeast. Make weekend mornings special!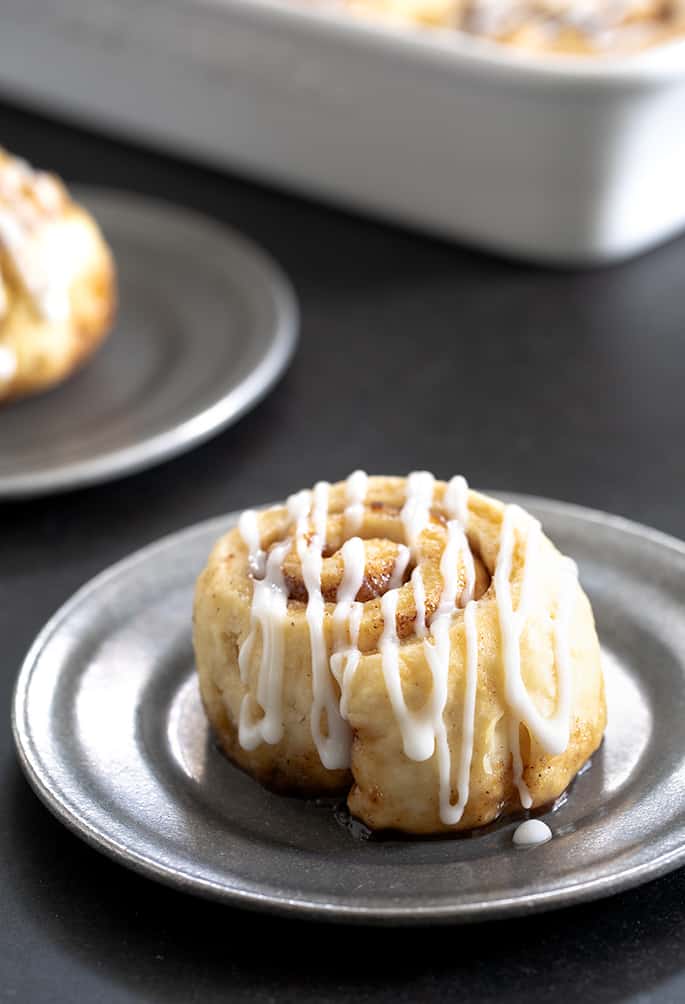 A family tradition
Rolls a lot like these warm, fluffy gluten free cinnamon rolls were a family staple of mine growing up. They were homemade, but we didn't make them. ?
I had an aunt from Sweden who made the best cinnamon rolls. They used to call them "Bia's buns," and everyone thought that was hysterical. I had no clue why, but I laughed like I was in on it (I got the "Bia part, because that was her name). I just wanted the rolls.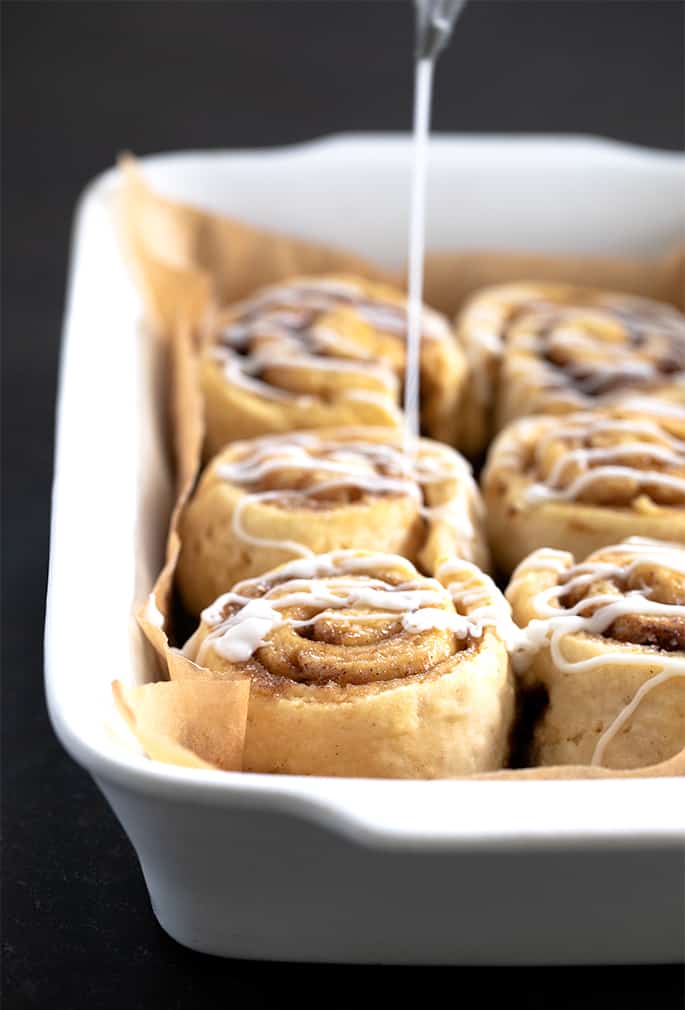 Bia's buns were packed with cinnamon and cardamom, and she used to make them in these round disposable tins. She'd parbake them about halfway, and we'd stick them in the deep freezer when they were nice and cool. They'd be so perfect for a whole gluten free breakfast spread…
Then, we'd defrost them at room temperature and then finish baking until they were piping hot. Bia's buns most definitely had plenty of gluten in them. This recipe is adapted from a very early recipe on this site for gluten free pretzel rolls, and they remind me of those buns from long ago…
It's easy (promise)
Are you reluctant to bake with yeast? Maybe you're afraid you won't get it to rise or that it just won't taste good to you. I get it. If you just can't take the plunge, I have a recipe for yeast free gluten free cinnamon rolls that you'll love. Start there.
If you're ready to make the leap to yeasted dough, though, there are some secrets to success that I'll share with you. I think that will help. I also have a full page of Yeasted Bread FAQs, but most of those questions are about the type of recipes in Gluten Free on a Shoestring Bakes Bread.
They use my recipe for "gluten free bread flour" which combines an all purpose gluten free flour blend (usually Better Batter or my mock Better Batter) with whey protein isolate and Expandex modified tapioca starch. This recipe for gluten free cinnamon rolls is in the old school style, the one that relies upon a batter-style dough.
This cinnamon roll dough is an enriched dough, with an egg and butter. An enriched dough is much easier to handle than a so-called lean dough, which is mostly just flour, water, and yeast.
Secrets to making a yeasted dough
Patience
If you only take away one piece of advice about baking with yeast, it's should be the importance of patience. Of course, you don't want your rolls to overproof (or over-rise), as they'll break apart even before they bake in the oven. But yeast takes time to grow.
Baking with yeast is also very environment-dependent. If the environment is cooler, the yeast will continue to grow, albeit much slower.
Temperature and time
Extremely high temperatures and extremely low temperatures can kill the yeast. But if the air temperature in your kitchen is either that high or that low, you probably aren't spending time baking cinnamon rolls!
Once the dough is about 50% larger than when it started rising, it's considered fully risen. Unlike my recipes that call for gluten free bread flour, this batter-style gluten free yeast dough won't usually double in size during the rising phase. Before it reaches a true doubling, it will start to get pock-marked and overly soft.
The bulk rise, which is the only necessary rise for this dough, should take about 1 hour. I usually turn on my oven to 300°F and set the covered and shaped dough on top. But if it takes longer than an hour, let it go longer.
Overproofing happens when the dough has proofed too much, not when it's sat for "too long." There is no "too long" for proofing unless the dough has over-proofed. But if you don't let the dough rise for long enough before baking, it will be dense after baking.
One more note about temperature: this dough is easiest to work with when it's cold. If you can, place the raw dough in a tightly sealed container (plastic is fine) and refrigerate it for at least 30 minutes before working with it.
When the dough is cold, you'll be much less likely to incorporate a lot of extra flour into it during shaping. And that will help with our next tip (moisture)…
Moisture
Another key to successful baking with yeast is moisture content. If the dough isn't moist enough, the yeast simply won't grow. Yeast thrives in a wet environment.
That's why we always cover the shaped dough with oiled plastic wrap as it rises. If it dries out during the rise, it will simply stop rising.
Since these batter-style doughs are pretty moist by nature, even if you live in a dry climate you should be fine with the exact amount of liquid specified in the recipe below.
If you're at all worried that your climate is very dry, try adding an extra tablespoonful of water to the dough initially. And be sure not to work very much additional flour into the dough during shaping.
I'm concerned that my kitchen is a bit dry, especially in the middle of the winter, I'll spray the shaped rolls with a bit of water before covering them and allowing them to rise. It certainly doesn't hurt their rise.
Measuring by weight
Another one of the reasons that baking with yeast can seem so intimidating is the precision that is necessary for (really all) successful baking. But since moisture is so important in yeast bread baking, precision in measurement becomes even more important than usual.
Water is the one liquid for which the volume measurement is equivalent to the weighted measurement. So 1 fluid ounce of water (a volume measurement) is equal to 1 ounce (a weight measurement) of water. I measure water on a digital kitchen scale, by weight.
Volume measurements are inherently unreliable. They aren't standardized, so 1 "cup" from one manufacturer can be significantly larger or smaller than another. Plus, user error is inevitable. For all of us! It's not a judgment, just a statement of fact.
So measure by weight if at all possible. Trust the recipe, and trust yourself. I promise you can do this, and the yeasted flavor and tenderness of these amazing, tender and fluffy gluten free cinnamon rolls makes it all worthwhile.
Ingredients and substitutions
Flour blend: You really must use one of my recommended gluten free flour blends for this recipe. All of my gluten free recipes are designed to be made with one of my recommended blends, but yeast bread in particular is even more sensitive to flour substitutions.
My preference in this recipe is for Better Batter (or my mock Better Batter) gluten free flour blend. I have successfully made this recipe with both Cup4Cup and my Better Than Cup4Cup blends, though, and the rolls just don't brown quite as much but the recipe still works.
Dairy-free: The buttermilk blend can be replaced with powdered coconut milk. The butter in both the rolls and the filling can be replaced with a vegan butter that softens nicely at room temperature, like Melt brand or even Earth Balance buttery spread.
Earth Balance is pretty high in moisture, though, so the filling is more likely to leak out of the rolls during baking.
Cider vinegar: The cider vinegar and the baking soda combine during baking to give the rolls a bit more lift along with the yeast. Think of them like insurance. In place of apple cider vinegar, you can use freshly squeezed lemon juice.