The perfect fluffy gluten free waffles made with yogurt and just a touch of sugar, with a lightly crisp outside.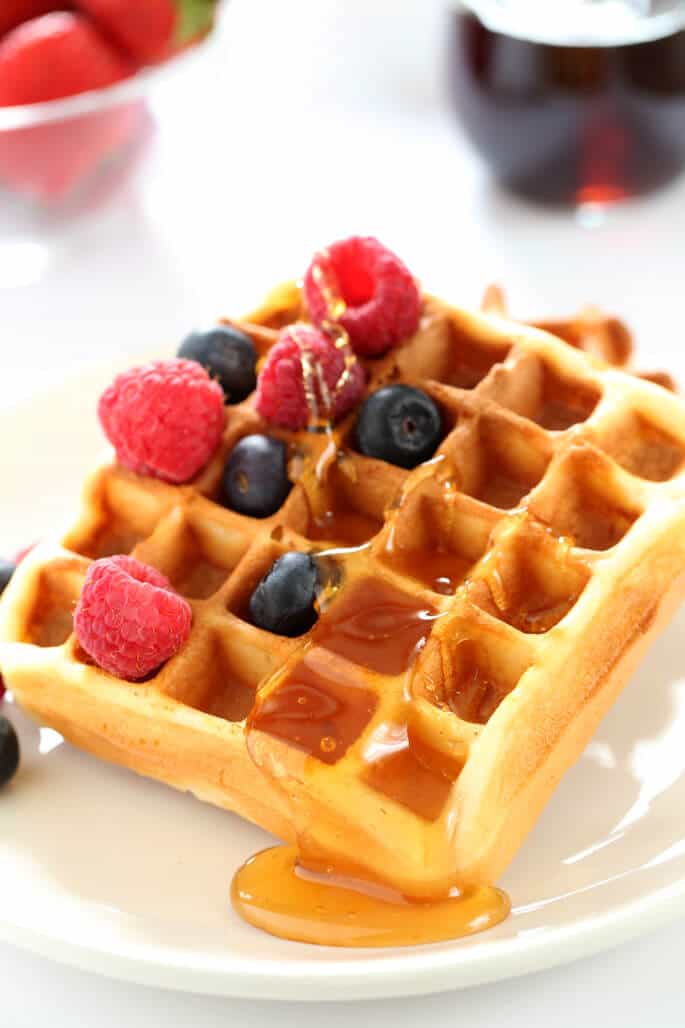 Pancakes vs. waffles
Is it pancakes all the way for you, or are waffles more your style? In my family, when I make pancakes I'm kind of gluten free breakfast hero.
But when I make waffles, my kids practically throw me a ticker tape parade. I'm thinking it's the built-in syrup cups in waffles?
Separating the eggs, whipping the whites
The main difference between waffles and pancakes is in the method. When making gluten free waffles (or any waffles, for that matter), the eggs are separated and the whites are beaten separately before being folded into the rest of the batter.
I've been making a variation of this recipe for years, and I always take the extra few minutes to treat the eggs just right. Although the yolks beat best at room temperature, it's easiest to separate eggs that are still cold. I recommend separating the eggs when they're cold, then letting the yolks sit for a bit if possible.
But do beat the whites. Even dense waffles will have those lovely syrup pockets, but they won't be crips on the outside, soft and fluffy inside. If you're breaking out the waffle iron, let's go all the way.
There aren't too many ingredients in this recipe, but the plain yogurt is really important. Oh, and in my experience waffles work best with oil instead of butter, as oil is nearly pure fat and butter has a fair amount of water in it. It makes for much neater waffle-iron-cooking.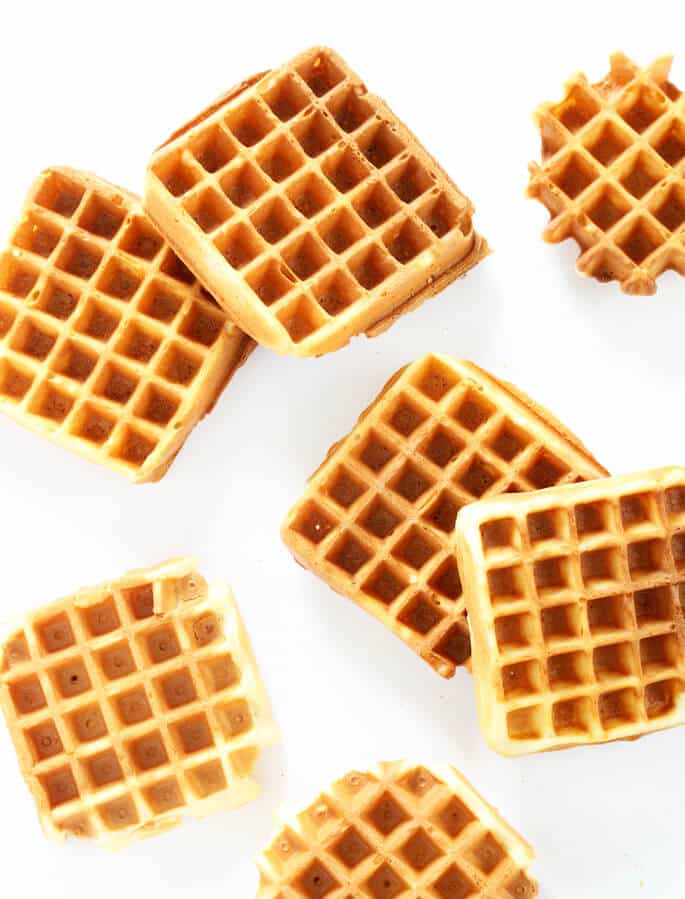 How to get the perfect waffle shape
If you're a perfectionist, you'll want each and every waffle to be a perfect shape. For Belgian waffles, that means the whole circle, and not a 'cup' missing. For square waffles, that means no rough edges.
Leave a 1/4-inch clean border around the edge of the iron. That will give the waffles a bit of space to expand during cooking, but without overflowing the sides.
For the fluffiest waffles, be sure to blend the oil and egg yolks first until creamy before adding the other ingredients, and then folding in the whipped egg whites.
The flour blend matters
Made with the flour blend as directed, you can spread the batter all the way to the edges of the mold without worrying that it will pour out during cooking. If you use one of my all purpose gluten free flour blends instead of the gum-free blend as specified, the batter will be much, much thicker and will expand quite a bit more during cooking.
I really do recommend using the blend specified in the recipe, though. The batter is much simpler to work with, and the waffles are even fluffier.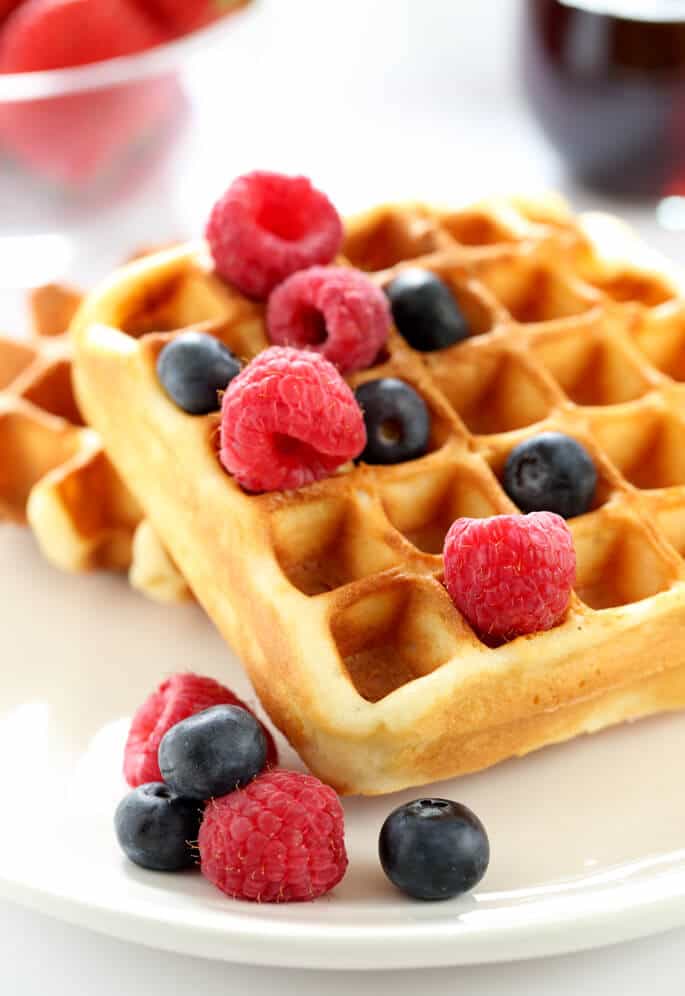 Which waffle maker is best?
I've tried many, many waffle makers over the years, and I've finally settled on two favorites.
For Belgian waffles, I'm partial to the Presto Flipside Waffle Maker (aff. link). It cooks very evenly and as long as there's a light coating of oil, the waffles never stick. And the price is very fair.
For traditional square waffles, I absolutely love the waffle maker I bought years ago at Kohl's, but I'm sorry to say that they don't sell it any longer! It's The Food Network brand, and I've loved everything I've ever bought under that label.
Ingredients and substitutions
Dairy
These waffles are quite simple to make dairy-free. The plain yogurt can be plain nondairy yogurt (I like Silk brand), and the milk can be your favorite unsweetened nondairy milk (I like unsweetened almond milk).
Waffles work best when the fat used isn't butter anyway, but rather something that contains less moisture. That's why I really like coconut oil or even a liquid oil like grapeseed.
Eggs
Since you really need to separate the eggs and whip the whites, a "chia egg" or similar egg substitute won't work. If I were to try to replace the eggs here, I'd use 1 1/2 tablespoons (21 grams) more oil in place of the yolks, and 1/4 cup aquafaba, whipped until it holds soft peaks, for the whites.
Aquafaba is the name given to the liquid from a can of chickpeas. One can typically yields 1/2 cup brine, or aquafaba. Be sure to fold in the whipped aquafaba just as directed with the whipped egg whites in the recipe.
Fluffy Gluten Free Waffles
Yield:
8 square or 4 Belgian waffles
Ingredients
2 cups (280 g) gum-free gluten free flour blend (185 g superfine white rice flour + 62 g potato starch + 33 g tapioca starch/flour)
1/4 teaspoon xanthan gum
2 tablespoons (24 g) sugar
1 1/2 teaspoons baking powder
1/2 teaspoon baking soda
1/2 teaspoon kosher salt
2 eggs (120 g, out of shell) at room temperature, separated
3 tablespoons (42 g) virgin coconut oil, melted and cooled (or a neutral liquid oil, like vegetable or canola)
1 cup (227 grams) plain whole milk yogurt, at room temperature
3/4 cup (6 fluid ounces) milk, at room temperature
Instructions
Preheat and prepare your waffle iron according to the manufacturer's directions.

In a large bowl, place the flour blend, xanthan gum, sugar, baking powder, baking soda and salt, and whisk to combine well. In a separate bowl, whip the egg whites with a hand mixer (or in a stand mixer fitted with the whisk attachment) until stiff (but not dry) peaks form. Place the egg yolks and oil in a separate large bowl and blend with a hand mixer (or in a stand mixer fitted with the paddle attachment) until creamy. Add the yogurt and milk, and blend until well combined. Add the dry ingredients, and blend again. The mixture will be smooth and thickly pourable. Fold the beaten egg whites gently into the large bowl of batter until only a few white streaks remain.

Pour or scoop about 3/4 to 1 cup of batter into your prepared waffle iron (more or less depending upon the size and shape of your iron), and spread the batter into an even layer. Close the lid and cook until steam stop escaping from the waffle iron, between 4 and 5 minutes, depending again upon the capacity of your waffle iron. Remove the waffle from the iron and serve immediately. Repeat with the remaining batter.

If you do not serve each waffle as soon as it is made, refresh the waffles by placing them in a toaster oven at 400°F for about 3 minutes. Waffles can also be cooled completely, wrapped tightly and frozen, then defrosted and refreshed in a similar manner before serving.

First published on the blog in 2013. Recipe updated slightly (recommended flour blend modified), photos replaced, video added 2017.