This easy gluten free muffins recipe is perfect for adding mix-ins like chocolate chips or topping with a simple crumble. They freeze beautifully, and will impress your guests!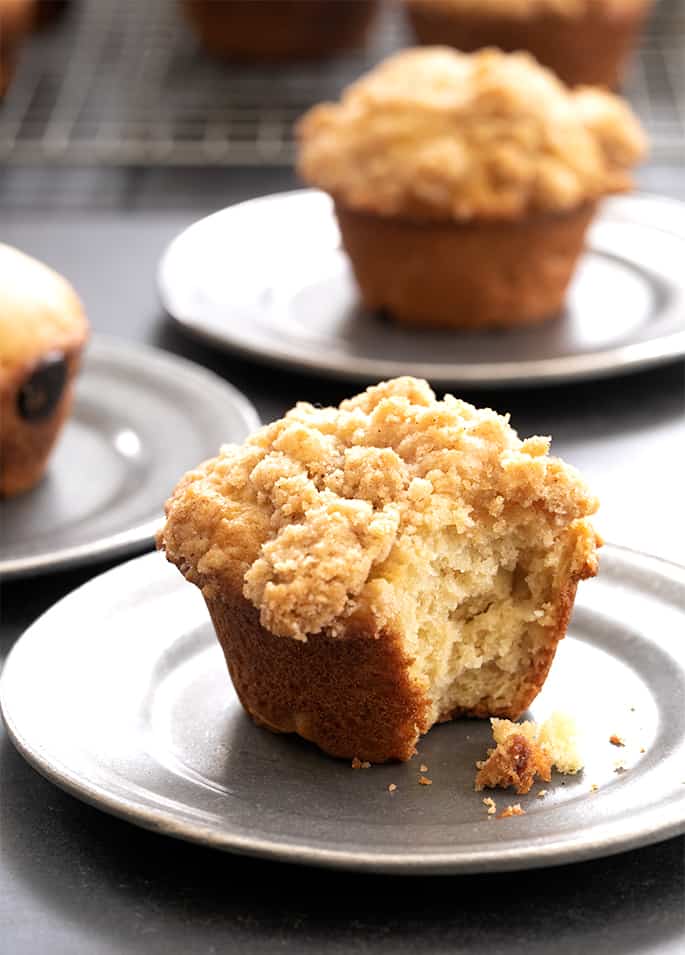 Cakes and pies are wonderful, of course. But unless it's a holiday or a birthday celebration, I'd almost always rather make muffins, bars, or cookies. They're easier to transport as a hostess gift, and it's easier to freeze any leftovers. Plus, there's no fighting about portion size when your muffin was made in its own well!
I always have a stack of really sweet little bakery boxes of different sizes on hand. They're ready to fill with something like these beautiful muffins. It's much harder to do that with a cake!
The mix-in options
There are quite a few gluten free muffin recipes here on the blog. But none of them is a truly "basic" gluten free muffin recipe like this one (which is adapted from the mix-in muffin mix recipe my second cookbook, Gluten Free on a Shoestring Quick and Easy).
This basic mix-in muffin recipe, though, isn't the only gluten free muffin recipe you'll ever need. It's perfect for mix-ins that hold their shape and don't add moisture, like chocolate chips or miniature dried fruit like raisins.
This isn't the right recipe for adding fresh (or frozen) blueberries. For that, you'll need my bakery-style gluten free blueberry muffin recipe. Blueberries burst in the oven and add moisture to the surrounding batter. Chocolate chips don't!
This is the perfect recipe if you'd like a "plain" muffin, a chocolate chip muffin, or a muffin with pistachio or other chopped nuts mixed in. It's also perfect if you'd like to keep the batter plain, but add a crumble on top. Oh, a crumble topping is just the best, isn't it?
A word about muffin tins
Whenever I share a gluten free muffin recipe, the instructions state to grease or line the wells of a standard 12-cup muffin tin (or a standard 24-cup miniature muffin tin, if they're for miniatures). But the truth is that, like volume measurements for ingredient amounts, there's no real standardization in muffin well sizes and shapes.
Some muffin wells are larger than others. That means that if you divide the batter among the wells you might be filling them all the way full, and I might be filling mine 3/4 of the way full.
Some muffin wells have straight sides, and others have angled sides. That can also affect the capacity of each well. Some muffin tins are dark, others are more neutral. Dark colored muffin tins and other pans will bake the outside of baked goods faster than neutral-colored ones.
Since I want my recipes to be as flexible as possible, I don't like to specify a particular muffin tin. You should use what you have. But you may have to make certain adjustments, depending upon the size, shape and color of your pans.
For dark colored muffins tins
If your muffin tins (or really any baking pans) are dark, you'll need to adjust the baking time and sometimes even the baking temperature. For that reason, I generally advise against using any dark colored tins and pans for baking.
But if avoiding dark pans isn't an option, try reducing the oven temperature by about 25°F. That should allow the outside of the muffins to bake more slowly and not burn before the inside is fully baked.
Otherwise, the muffins may rise too quickly and then fall as they cool. That's also the same fate your baked goods will suffer if your oven runs hot, so be sure you're using an oven thermometer, as most ovens are improperly calibrated (including mine!), so they run hot.
For smaller muffin tins
If your muffin tins don't seem to be as large as mine, if you can tell from the photos, it probably won't matter. My recipes always specify whether you're going to divide the batter among the wells of the tin, or fill them only 2/3 or 3/4 of the way full. Here's how I decide.
When we're looking to bake muffins or cupcakes with a flat top, like in a recipe for gluten free cupcakes, the recipe will generally be one that isn't written to rise too high. And I will also specify to fill the wells, for example, only 2/3 of the way full.
In this recipe for easy gluten free muffins, like in my recipe for gluten free blueberry muffins, we're making bakery-style muffins that rise high into a dome. The recipe specifies dividing the batter evenly among the wells of the muffin tin. If your muffin tin is slightly smaller than mine, it won't matter.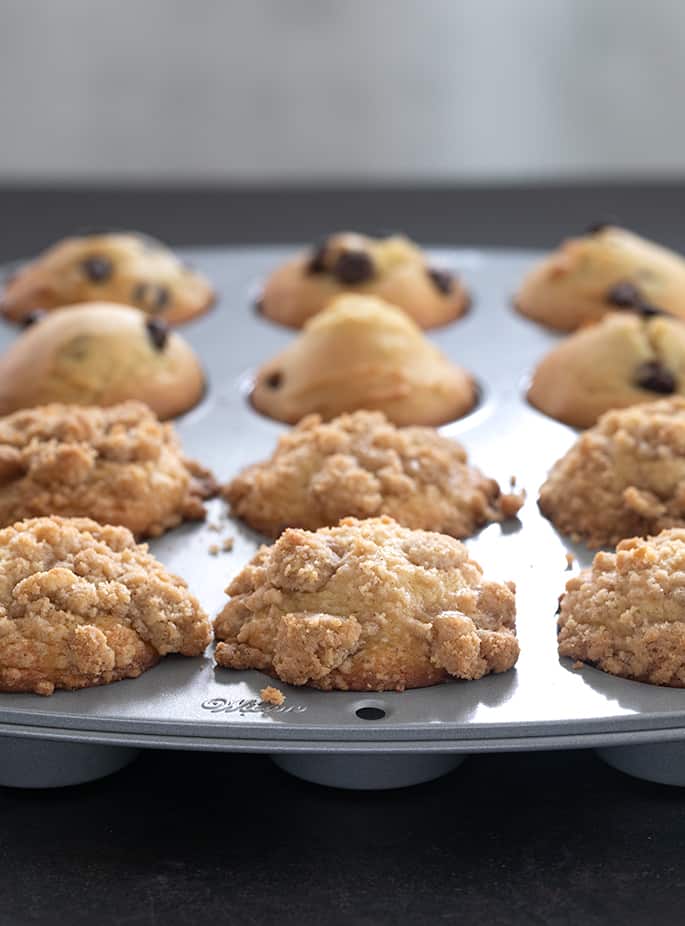 Ingredients and substitutions
Since there are a few other major allergens in this muffin recipe, I'm providing my best educated guesses about how to eliminate them with substitutions. Please understand, though, that this recipe is only guaranteed to work when made exactly as written! Each substitution takes you further away from the recipe as written.
Dairy-free: I've made these simple gluten free muffins dairy-free very easily. I replaced the butter with my favorite vegan butter replacement, which for me is either Melt brand or Miyoko's Kitchen brand.
There is more moisture in those butter replacements than there is in the "real" thing, so I found that I only needed 2/3 cup of liquid, rather than 3/4 cup. Instead of buttermilk, I used a mixture of half unsweetened nondairy milk and half nondairy plain yogurt.
For the crumble, I recommend using shortening in place of butter, and about 1 tablespoon less gluten free flour. If you're making chocolate chip muffins, just be sure you're using dairy free chocolate chips. Your dairy-free muffins won't brown as much as your muffins made with dairy, and that's fine. They'll still taste great.
Egg-free: Since there are 3 full eggs in this recipe, it would be a challenge to make it egg-free. You can try using a "chia egg" in place of each egg, but I'm afraid I'm not too optimistic. I make a chia egg by mixing 1 tablespoon ground white chia seeds with 1 tablespoon of water.
Sugars: These are sweet muffins, in all their different varieties. If you're looking to eliminate all the refined sugar, try our recipe for gluten free savory muffins. You'll love it!