[pinit] These days, I'm in heavy-duty stock-the-freezer-for-breakfast mode. During the summertime, I don't go out of my way to make a hot breakfast most days. Mostly, they eat cereal with almond milk. They're o-kay with it, but there are definitely some grumbles as they are very food-spoiled. But on school days? You're not leaving my house without a hearty, stay-with-you-all-morning breakfast and that's that. The easiest way to make that happen is with something like these healthy gluten free zucchini muffins, made with just 1/2 cup of brown sugar in 24 muffins (that means about 1 teaspoon of sugar in each muffin), healthy coconut oil fat, and whole grain oat flour. Not to mention allll the zucchini (and/or yellow squash) in there. They're a riff on the Carrot Muffins in Gluten Free on a Shoestring Bakes Bread, since, well, I've got zucchini coming out of my ears these days and I thought maybe you did, too.
I made mine with raisins, and not too many of them at that, but you could of course replace the raisins with anything from chopped pecans or almonds to chocolate chips.
Fill those muffin cups about 2/3 of the way full, and then pop them in the oven. The batter mixes up very easily—but you do have to squeeze much of the water out of the zucchini or you'll end up with batter that's way too wet. It would expand quickly in the oven, and the muffins would sink in the middle as they cooled. Not good.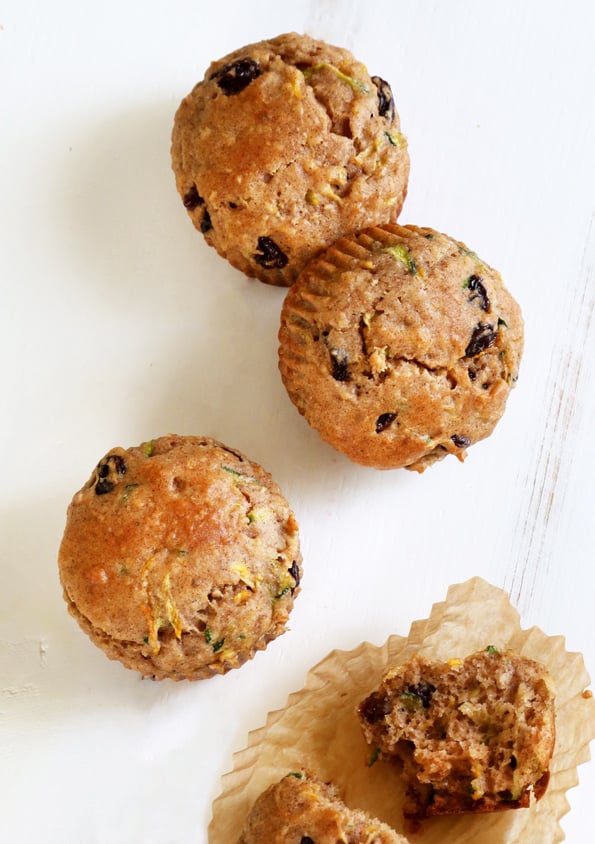 These healthy muffins are moist, tender, only lightly sweet and still really flavorful. Breakfast is served!