These soft gluten free cut out sugar cookies with a meringue-type frosting are in a class by themselves. They'll hold any shape you like, and they're absolutely scrumptious with that thick layer of buttercream frosting.
You know those soft frosted sugar cookies at the store? I don't mean to brag, but I've basically got a Lofthouse copycat recipe here — except better! No one will know these gluten free sugar cookies aren't the "real thing"!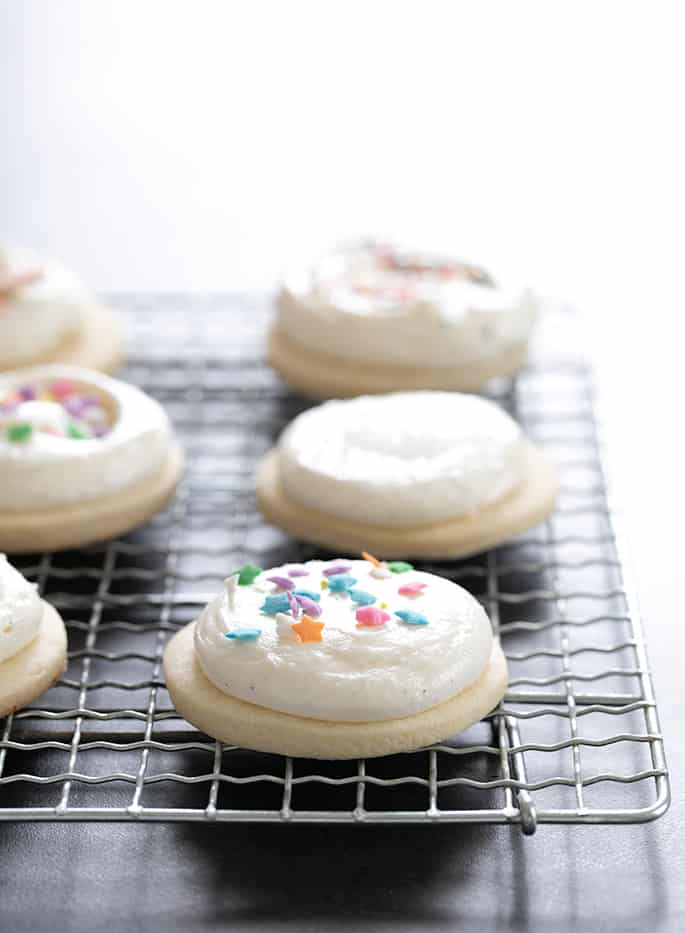 Gluten free cut out cookies with clean edges
Every holiday and every season needs its own cookie: St. Patrick's Day, Easter, Spring celebrations, Christmas, New Year's, Valentine's Day… need I go on? We all need gluten free cookies that can hold their shape so we can use whatever cookie cutter we please.
These gluten free sugar cut out cookies are seriously so easy to make from scratch. The dough has very few ingredients so it comes together very quickly.
It's super simple to roll out, and it's stable enough that it's even simple to cut out shapes and transfer them to the baking sheet. There is nothing fragile about the dough, but once you bake the gluten free sugar cookies, they're tender and light as could be.
Remember Lofthouse cookies?
Whenever I go into the grocery store, those soft frosted sugar cookies in the bakery catch my eye, the little vixens. They're in a plastic clamshell case, stacked in that half-overlap manner, thick (usually pink) frosting above a pillow-soft, light, and sweet cookie.
I might just be there for some bananas, lettuce and maybe an avocado, some spices, and say, some rice and beans. You know, exciting stuff. But those soft frosted sugar cookies are right there, right as you walk in.
I know what sort of foods are good for me and my family. I know those sugar cookies do not qualify as healthy. But there's just something about biting into that impossibly soft sugar cookie with the thick icing that says celebrate!
The best gluten free flour blends for this sugar cookie recipe
I've perfected this gluten free sugar cookies recipe using Better Batter all purpose flour. It's the gluten free flour blend I use most often for baking because it's always produced amazing results.
If you're looking for an alternative, you can also try Cup4Cup, or one of my "mock" all purpose gluten free flour blends that are just as good as the brand-name gluten free flour blends.
Both of these gluten free flour blends already contain xanthan gum, so you can leave that ingredient out of the gluten free cookie recipe below.
I haven't tried any other gluten free flours for these sugar cookies, so I can't vouch for any other methods. I highly recommend that you use Better Batter, but if you don't have access to it, you'll need to experiment with others on your own.
Whatever you do, be sure you're using a flour blend — single flours like almond flour or coconut flour don't have binders and will require totally different moisture ratios.
Tips for making the best gluten free sugar cookies
No matter for what occasion you're making these gluten free roll out cookies, they're sure to be a hit. To ensure you achieve the perfect soft frosted sugar cookies, follow my tips below.
Measure your ingredients by weight for the perfect sugar cookie dough
This cookie dough can be made, rolled out, cut out, and baked without any change in temperature (no chilling the cookie dough!) because the moisture balance is just right.
You'll find that the dough resembles moist crumbs and clumps, and you might be tempted to add more moisture.
Please don't add anything extra — but do make sure you're measuring your ingredients by weight, not volume, since the right balance of ingredients is essential to this simple recipe.
Knead your sugar cookie dough by hand or machine
Once you reach a uniform mixture that resembles moist crumbs and clusters, knead the dough with clean hands to bring it together before rolling it out.
If you're planning to make a double recipe, you may want to use a stand mixer fitted with the paddle attachment instead of a bowl and spoon. A stand mixer will make quick work of bringing the dough together into a cohesive whole, ready to be rolled out.
Don't frost your gluten free sugar cookies until they're cool
To keep your frosting from becoming a melty, runny mess, be sure your gluten free sugar cookies are completely cooled before you start decorating.
I recommend you use the buttercream frosting that I share below, but if you have something else you'd like to try, experiment and let me know in the comments how it went.
Buttercream frosting for easy gluten free sugar cookies
This frosting recipe is super thick, and unlike what I would generally use to frost cupcakes. It's very stable because we add a touch of meringue powder to the mixture.
Like Lofthouse cookies, these gluten free cut out sugar cookies can travel. If you don't have meringue powder, you can leave it out, and the frosting will be softer.
How to decorate sugar cookies
To pipe frosting, you can do it in a classic cupcake-style swirl, which is easy enough using a medium-sized open piping tip.
You can also begin with a simple mound of dough piped onto the cookie with the same medium-sized open piping tip.
I also use the swoop, which is one of my favorites. It's made with a moistened teaspoon that is inserted into the center of the frosting at an angle and then swirled lightly in a circle.
The classic Lofthouse-style shape is the flattened top, made using a small moistened offset spatula or a simple wide butter knife. Simply use the spatula or knife to flatten the mound of frosting into a disk and smooth the top as evenly as possible.
For all these shapes, allow the frosting to set at room temperature until it becomes semi-hard. That will allow you to transport the cookies if needed. You can even layer them if you place a sheet of waxed or parchment paper gently between layers.
For a truly hard surface, use royal icing in place of frosting. Simply click the link in the previous sentence for a royal icing recipe with complete instructions.
I used a #4 piping tip to outline and then "flood" the center, sprinkling decorations immediately before the icing has dried at all.
Coloring the frosting for gluten free sugar cookies
You can, of course, add some food coloring to the frosting or to the royal icing. I recommend gel coloring because liquid food coloring will alter the moisture balance and make the frosting soft and weepy.
AmeriColor brand gel food colorings are reliably gluten free, and the colors are super vibrant.
I left out the coloring here because the anti-food-coloring people seem to expect more from a gluten free recipe than I think they would of a conventional recipe. If you want to speak out against food coloring, feel free to do so elsewhere on the Internet!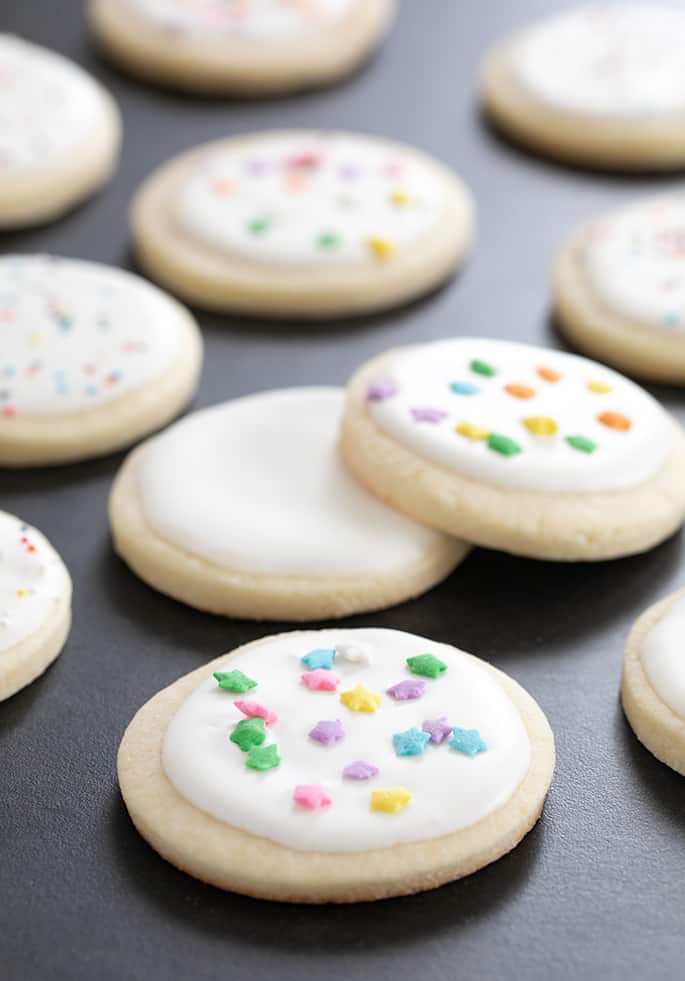 Easy gluten free sugar cookies for every holiday
Seriously, there is no time of year when these gluten free cookies wouldn't be a good idea.
Valentine's Day? Check.
Fourth of July? Yes, please!
Gluten free Christmas cut out cookies in the shapes of Santa, snowmen, stockings, stars, and more? Of course!
This recipe yields the perfect gluten free holiday sugar cookies, but if you're looking for more meals and desserts to round out the menu on your special occasion, check out my archive of gluten free holiday recipes for more ideas.
Gluten free sugar cookies ingredients and substitutions
If you or a loved one suffers from food allergies, check out my suggestions below to eliminate dairy and eggs from my gluten sugar cookies recipe.
Gluten free dairy free sugar cookies
There is butter in both the gluten free sugar cookie recipe and in the frosting recipe. I have successfully replaced the butter in the cookie dough with Melt brand vegan butter.
The edges of the gf sugar cookies aren't quite as blunt and clean as they are when you make the recipe exactly as written, but the recipe still turns out and tastes great.
The butter in the frosting recipe can be replaced most effectively with Spectrum brand butter-flavored nonhydrogenated vegetable shortening. It has quite a lot less moisture than butter, though, so you might not need as much confectioners' sugar to reach the proper consistency.
For the milk in the frosting, you can use any unsweetened nondairy milk. My favorite is unsweetened almond milk, but nearly any will do here.
Gluten free egg free sugar cookies
There is only one egg in the cookie recipe, so you should be able to replace it with a "chia egg" (1 tablespoon ground white chia seeds + 1 tablespoon lukewarm water, mixed and allowed to gel).
In such pale cookies, you may see some flecks of chia in the cookies. Cover them with frosting and no one will even know!
About the meringue powder in this gluten free sugar cookie frosting
Meringue powder is made of egg white powder, sugar, a starch, and some stabilizers. You can try using egg white powder in its place, but it won't work exactly the same way.
If you can't have eggs, I'd just eliminate meringue powder as an ingredient altogether. The frosting will just be a bit softer. I don't know of any egg free alternative to meringue powder for making royal icing.
Gluten free nut free sugar cookies
There are no nut products in my gluten free sugar cookie recipe, so if you have an allergy, these treats are safe to enjoy.
If you deviate from my recipe by using a different flour blend or other ingredients, be sure to check product packaging and ingredients lists to be sure the substitutions are also nut free.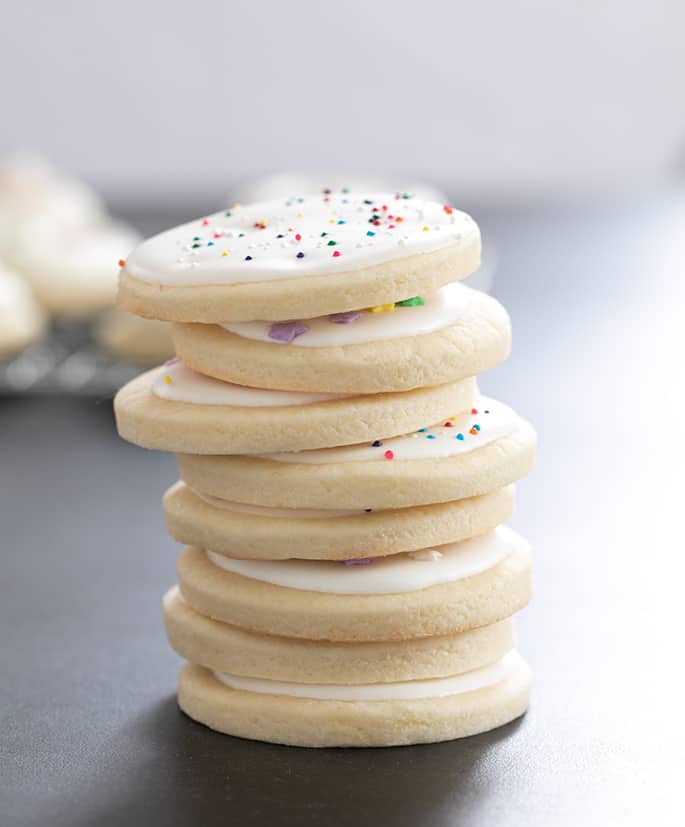 Storing your gluten free sugar cookies
Whether you've got some leftovers or you've made gluten free cookies for gift giving, proper storage will ensure they can be enjoyed for days to come.
The secret to maintaining fresh-tasting cookies is to keep them away from air and moisture. That means waiting until your cookies are completely cooled before storing them and then keeping them in an airtight container.
You can use an airtight cookie jar or other food storage container if you have it. But in a pinch, throwing cookies in a ziptop bag also works.
If you're giving away the cookies, put them in a ziptop bag and then place that bag inside of a decorative plastic airtight container for a more finished presentation.
If you need to store your cookies for longer than a few days, you can pop them into the freezer. When you're ready to eat, just snack straight from the container or let your cookies sit on the counter for a few minutes to defrost.
FAQs
Why is my sugar cookie dough so crumbly?
If you've got the right ratio of ingredients, you'll find that your dough resembles moist crumbs and clumps. However, if you're off in your measurements or have you used a different kind of gluten free flour, your dough may come out excessively crumbly.
I don't like recommending that you mess with the ratios in the sugar cookie recipe, but you can try adding one to two tablespoons of water and kneading again to achieve the right consistency.
Why is my sugar cookie dough so sticky?
On the other side of the spectrum, a sugar cookie dough that's too sticky to roll out is the result of too much moisture.
To fix this issue, you can try one of two things. First, place your dough in the refrigerator for a couple of hours to help it firm up.
If that doesn't help enough, add a tablespoon of your gluten free flour blend and knead again.
Why are some of my gluten free sugar cookies hard and others soft?
Most likely, you rolled out your sugar cookie dough a bit unevenly. That means some cookies came out thinner, cooking faster and becoming crispier, while others didn't cook as much, resulting in a softer gf sugar cookie.
To achieve a more consistent result, just be more careful with your rolling. Your goal is to roll the gluten free cookie dough to about 1/3-inches thick.
Can you freeze these gluten free sugar cookies?
You can definitely freeze this gluten free sugar cookie dough so that you always have some on hand.
Prepare the sugar cookie recipe as instructed, making sure that you can roll it out. Once you've achieved the perfect consistency, shape the dough into a ball or a log.
Wrap your sugar cookie dough in three layers of plastic to create an airtight seal. The dough will last two to three months in the freezer.
When you're ready to make cookies, defrost the dough by leaving it on the counter for about an hour or keeping it in the refrigerator overnight. Once it's pliable, roll it out and get to baking!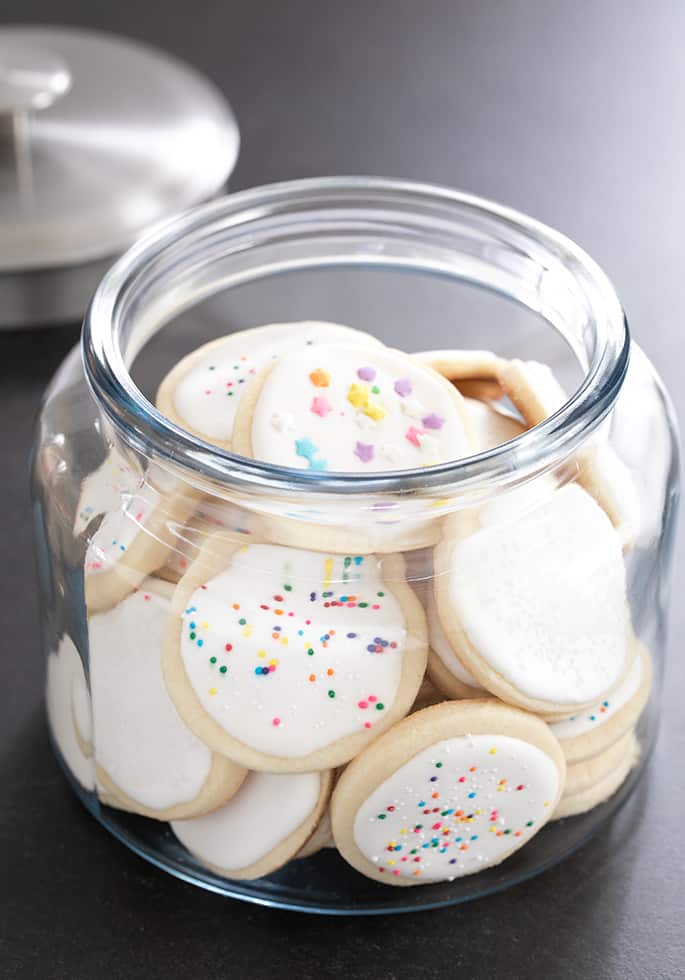 The Best Gluten Free Cut Out Sugar Cookie Recipe
Best Gluten Free Sugar Cookie | Cut Out Cookies for Celebrations!
Skip the Lofthouse sugar cookies at the store, and make these delicious gluten free sugar cookies instead. These cut out cookies are perfect for holidays and more!
Equipment
Stand mixer or handheld mixer
Ingredients
For the cookies
2

cups

(

280

g

) all purpose gluten free flour blend

(I used Better Batter), plus more for sprinkling

1

teaspoon

xanthan gum

omit if your blend already contains it

¾

teaspoon

baking powder

¼

teaspoon

kosher salt

½

cup

(

100

g

)

granulated sugar

3

tablespoons

(

22

g

)

confectioners' sugar

8

tablespoons

(

112

g

)

unsalted butter

at room temperature

1

(

50

g (weighed out of shell)

)

egg

at room temperature, beaten

1

teaspoon

pure vanilla extract
For the frosting (see recipe notes for alternative)
10

tablespoons

(

140

g

)

unsalted butter

at room temperature

¼

cup

(

2

fluid ounces

)

milk, at room temperature

1

tablespoon

pure vanilla extract

⅛

teaspoon

kosher salt

2

teaspoons

meringue powder

LorAnn and AmeriColor brands are gluten free

4

cups

(

460

g

)

confectioners' sugar

Seeds from one vanilla bean

optional

Sprinkles

optional
Instructions
Make the cookies
Preheat your oven to 350°F. Line rimmed baking sheets with unbleached parchment paper and set them aside.

In a large bowl, place the flour, xanthan gum, baking powder, salt, granulated sugar and confectioners' sugar and whisk to combine well.

Add the butter, and mix to moisten the dry ingredients with the butter, until the mixture looks sandy, pressing down on the butter with the back of the mixing spoon.

Add the egg and vanilla, and mix to combine, until the dry ingredients are all moistened with the wet.

With clean, dry hands, knead the mixture together to form a cohesive dough. It will be thick and relatively stiff.

Place the dough on a clean, flat surface, and roll it into a round a bit less than 1/3-inch thick, sprinkling very lightly with flour to prevent the rolling pin from sticking.

Using a 2 1/2-inch round cookie cutter (or whatever shape you like), cut out shapes from the dough and place them about 1-inch apart on the prepared baking sheets.

It can be helpful to remove the surrounding dough from the cutouts, and then peel the shapes off. Gather and reroll the scraps and repeat the process until you've used all the dough.

Place the baking sheet in the center of the preheated oven and bake until the cookies are just set on top, 6 to 8 minutes, depending upon size and shape. The edges of some cookies may brown slightly.

Remove them from the oven before there is any significant browning, and allow them to cool on the baking sheet until set before transferring them to a wire rack to cool completely.
While the cookies are cooling, make the frosting.
In the bowl of your stand mixer fitted with the paddle attachment, place the butter, milk and vanilla, and mix on medium speed until combined. Increase the mixer speed to high and mix until creamy.

Add the salt, meringue powder and about 3 1/2 cups of confectioners' sugar. Mix slowly until the sugar is incorporated. Turn the mixer up to high and beat until it becomes uniformly thick.

Add the optional vanilla seeds and as much of the rest of the confectioners' sugar as necessary to thicken the frosting, and beat to combine well.

Once the cookies are completely cool, pipe or spoon a generous amount of frosting onto the top of each, and spread into an even layer with a wide knife or offset spatula. Scatter sprinkles, if desired.

Allow the cookies to set at room temperature until the frosting hardens a bit. Store any leftovers in an airtight glass container at room temperature. Freeze any plain cookies for longer storage.
Notes
Alternative to frosting: royal icing 
Originally posted on the blog in 2012. Recipe unchanged, photos mostly original, video new.