These stained glass gluten free sugar cookies are the easy way to dress up cutout cookies for the holidays. You can even hang them from the tree!
This holiday season, I'm only tasked with making 4 boxes of cookies to gift to my husband's team. He's got a new job with a much smaller team that he works with locally in New York. I won't say I'm sorry about it!
I always like to make sure there's at least one shining star (pun intended ?) in each box of cookies. These stained glass gluten free sugar cookies tick ✔️ all the boxes.
They're beautiful (see for yourself), simple and easy to make (the soft sugar cookie dough is made in one single bowl; the dough is not chilled before baking), and tender with just the right amount of sweetness.
I like to make the holes in the center the same shape as the cookies themselves, for dramatic effect. But you can certainly make round cookies and stamp out the center hole with whatever small cookie cutter you like best. You can even use a round center cutout and call them round ornaments!
Which hard candies work best in these cookies?
Almost any hard candy that you crush and place in the center of these cookies will melt in the oven in then firm right back up once cool. There are a few "rules" to follow though to ensure beautiful cookies. These amazing cookies taste great, of course, but their main role is to dress things up. ?
Jolly Rancher hard candies are my favorite hard candy to use as "stained glass" in these cookies because the colors are the most vibrant—both before baking and after. Like any mixing of colors, if they're combined they'll melt into another color and it likely won't be pretty. So keep those colors separate.
I've also successfully used Lifesavers hard candies in these cookies. The original flavors work best, since the colors are simple and bright. For the sake of taste, I'd love to try using butterscotch candies, but they tend to be a bit softer which might make them difficult to break into chunks.
How to crush the hard candies
You'll want to crush the hard candies without turning them to dust, since the dust is almost impossible to keep confined to the center hole. Keep in mind that any candies that aren't in the center will stain the cookies themselves. Plus, very small pieces of candy will melt more quickly and may burn before the cookies have baked completely.
Jolly Rancher hard candies in particular are relatively easy to crush into chunks. Simply place a few unwrapped candies of each color (or your favorite color) in a zip-top plastic bag, seal the bag, lay it flat on a hard surface, and hit it a few times quickly with a meat tenderizer or mallet.
Don't use a rolling pin, or the hard candies will damage the rolling pin. Ask me how I know that. Ask me if my husband caught me and tried unsuccessfully to stop me first. ??✋?
How to make gluten free sugar cookies that are soft but don't crumble
These cookies are so beautiful that even just one at the top of a gift box of holiday cookies will impress your friends and family. But the cookies themselves should taste good and as intended. These cutout sugar cookies, one of the favorite recipes especially this time of year, never disappoint.
They're made with a combination of gluten free flour, granulated and confectioners' sugars, only a touch of baking powder, butter, just one egg, and a bit of vanilla. The dough doesn't even need to be chilled to hold its shape during baking.
The secret to having tender cookies is to use room temperature butter and egg, and a gluten free flour blend that has superfine rice flour so there is absolutely no grit in your cookies. If you're using one of my preferred flour blends, you're all set.
Butter and sugar are both tenderizers in baking, too. There isn't a ton of sugar in these cookies, so the butter does much of the work. The single egg holds the cookies together enough that they won't crumble but rather have that soft bite.
Ingredients and substitutions
Dairy: You can replace the butter in the cookie recipe with Melt brand vegan butter. The edges won't be quite as clean, but the recipe still turns out.
Egg: There is only one egg in the cookie recipe, so you should be able to replace it with a "chia egg" (1 tablespoon ground white chia seeds + 1 tablespoon lukewarm water, mixed and allowed to gel). You may see some flecks of chia in the cookies, though.
Hard candies: Please see the full discussion above!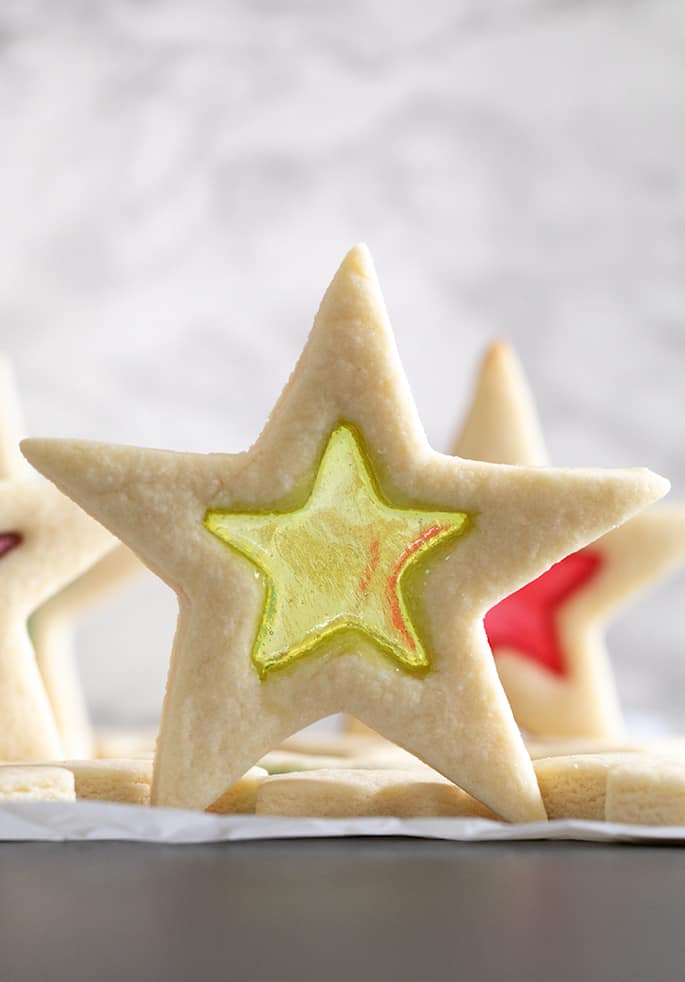 Stained Glass Gluten Free Sugar Cookies
Yield:
About 16 cookies, depending upon size
Ingredients
For the cookies
2 cups (280 g) all-purpose gluten-free flour (I used Better Batter), plus more for sprinkling if necessary
1 teaspoon xanthan gum (omit if your blend already contains it)
3/4 teaspoon baking powder
1/4 teaspoon kosher salt
1/2 cup (100 g) granulated sugar
3 tablespoons (22 g) confectioners' sugar
8 tablespoons (112 g) unsalted butter, at room temperature
1 egg (50 g, weighed out of shell) at room temperature, beaten
1 teaspoon pure vanilla extract
For the stained glass centers
About 16 Jolly Rancher or Life Savers hard candies, crushed into chunks
Special equipment
Pairs of cookie cutters in graduated shapes (suggested shapes: large and small stars, large and small Christmas trees, large and small hearts)
Instructions
Preheat your oven to 350°F. Line rimmed baking sheets with unbleached parchment paper and set them aside. If you haven't already, unwrap and crush the hard candies by placing a few of each color in a sealed plastic bag and tapping with a meat tenderizer or mallet. Don't crush the candies too far in advance or the chunks will begin to stick to one another. Set the candies aside.

In a large bowl, place the flour, xanthan gum, baking powder, salt, granulated sugar, and confectioners' sugar and whisk to combine well. Add the butter, egg, and vanilla, and mix to combine. The dough will be thick and relatively stiff, and you may need to squeeze it together with your hands to bring all of it together.

Roll the dough between two sheets of unbleached parchment paper or on a very lightly floured surface into a round a bit less than 1/3-inch thick. Using the larger of a pair of cookie cutters, cut out shapes from the dough and place them about 1-inch apart on a prepared baking sheet. Place the smaller, matching cookie cutter in the center of each shape and cut out a matching hole, removing the center. Fill the center of each hole with chunks of one color of the candy. Gather and reroll scraps and repeat the process with another pair of matching shapes. To make the cookies into a holiday decoration, poke a small hole (the smaller end of a chopstick works great) into the dough near the top of each cookie.

Place the baking sheet in the center of the preheated oven and bake until the cookies are set and the candies have melted completely, about 10 minutes, depending upon size. The melted candy will be bubbling, but will settle as the cookies cool. Allow the cookies to cool completely on the baking sheet. Peel the paper away from the back of the cookies to remove them from the baking sheets.

The basic cookie recipe is our recipe for gluten free cutout sugar cookies. Our cream cheese sugar cookie recipe can also be used for the base cookie, with the same method and crushed candies.