The list of best recipes for gluten free cookies of 2017 comes but once a year, and I plan for it all year long. Each gluten free cookie recipe hopes to make the cut, but only 15 will. Is your favorite here?
Every year, we review the year's best gluten free cookies here on the blog. We've done it before (2012 is here and here; 2013 is here; and 2014's best is here and who could forget 2015's best here or 2016's best here). We're doing it now—and we'll do it next year and the year after, too.
I've been blogging since 2009, but I guess nothing was the best back then. You know what certainly wasn't the best back then? My food photography. The recipes were still solid, but the aesthetics were not.
As with this compilation every year, these are not the only gluten free cookies published on the blog in 2017. But they're the best gluten free cookies of 2017 on the blog, just in time for Christmas. Every one of the 15 cookie recipes here in this collection freezes beautifully. Even though we're in the final stretch for baking cookies, rest assured that you can make a double batch or two, for your freezer stash.
This cookie-palooza showcases the gluten free cookies for 2017 that will prove, once and for all, that gluten free cookies are as good, if not better, than their conventional counterparts.
Over the years, many of you have asked if/when I planned to do a gluten free cookbook with just cookies cookies cookies. Although the answer is that a traditionally published cookie book is not possible. But I'm thinking about an eBook for December 2018 that I sell myself, right here through the blog. I've never done that before, but I just love cookies so much and I'd love to gather the very best from the beginning of blog time. Selfishly, I'd love to have it myself for my own reference!
For now, the best cookies of 2017 will have to do. Please click each photo, or the link below each photo, to see the full recipe for that particular cookie.
These gluten free snickerdoodles are the classic, super-soft cookies you remember, with that classic, crisp cinnamon-sugar crackle outside. They might just be the perfect cookie, and not everyone (gasp) loves chocolate, but I've never met a soul who doesn't love cinnamon and sugar. Well played, snickerdoodle. Well played.
These gluten free snowball cookies, also known as Russian tea cakes and Mexican wedding cookies are super tender butter cookies, made with chopped nuts and always covered in powdered sugar. Crumbly but never dry. A Christmas miracle?
These thin and chewy gluten free chocolate chip cookies are made with plenty of brown sugar, and an extra egg yolk. They're simply perfect for snacking in bed. No crumbs!
Seriously, though, you really need to try these. I don't mean to hurt the feelings of all my other gluten free chocolate chip cookie recipes, but these might just be my ultimate.
These gluten free whipped shortbread cookies are light as air and melt in your mouth. They're the best shortbread cookies in the world—and made with only 4 basic ingredients!
They're delicate, though, so no shipping these across the country, or sadly even across town. And be sure to measure by weight and no sub-par flour blends or the recipe simply won't work.
These soft and chewy cheesecake cookies are made by dressing up a vanilla cake mix with cream cheese and eggs. The chocolate chips are optional but highly recommended. 
I'm seriously considering making these with a sugar replacement and even with low carb flours like almond flour so that I can enjoy them even in January when my better angels don't allow me such regular indulgences. Wouldn't that be a New Year's dream come true?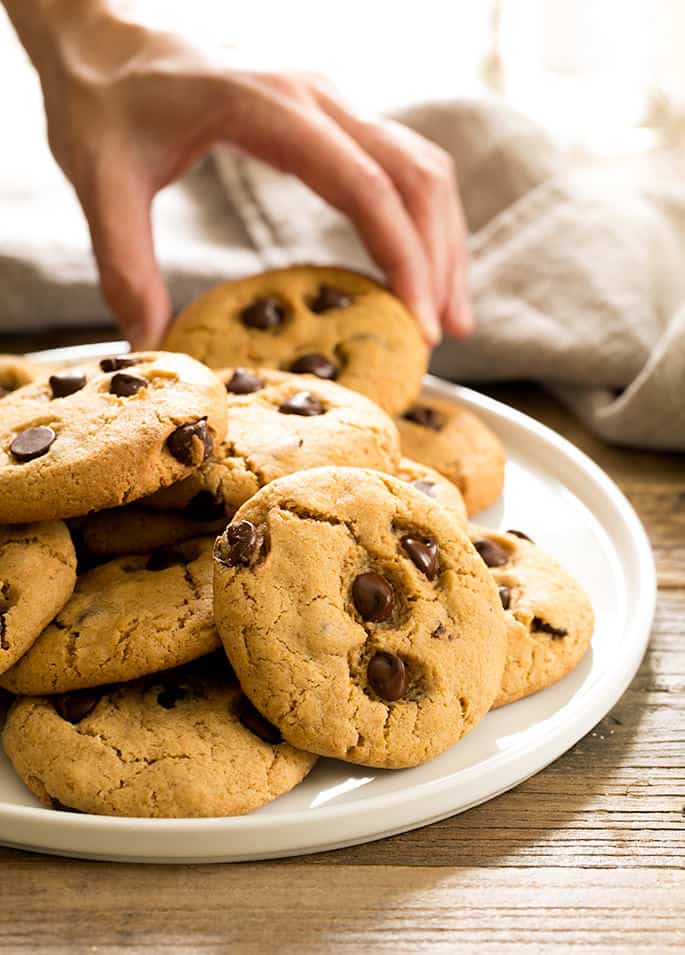 Traditional gluten free chocolate chip cookies get an upgrade with this recipe for bakery-style pumpkin chocolate chip cookies. Packed with fall flavors!
Crispy outside, soft and chewy inside, these coconut macaroons are only as sweet as you want them to be. Whether you think you love coconut or not, you'll love these cookies!
Rich and chocolatey, but never fudgy, gluten free chocolate chocolate chip cookies. The secret is adding both melted chocolate and cocoa powder to the cookie dough. Shhhh…. Don't tell. (okay fine tell everyone)
If you love soft and tender chocolate chip cookies, you're going to love these gluten free soft batch chocolate chip cookies. They really do taste like they just came out of the oven—even when they have not, in fact, just come out of the oven.
I want to specify that they taste like they just came out of the oven—even when they haven't. One of the comments that I've gotten about these cookies is, so what that they taste like they just came out of the oven. Can't you eat any cookie at all right after it comes out of the oven? Why yes, you can. But when they cool, most don't still taste as soft. That's the thing!
These 3 ingredient Nutella cookies are tender and rich, and couldn't be easier. Make the quick cookie dough in a food processor, and they're ready to eat in about 15 minutes, start to finish.
Oh, and good news! A reader emailed me and explained that there's a dairy-free hazelnut spread that's just as good as Nutella, if not better!
It's called Nocciolata Organic Dairy Free Hazelnut & Cocoa Spread, and I ordered a bunch from Vitacost.com because my oldest child is currently dairy-free and she loooooves Nutella. I can't wait to try making these cookies with the dairy-free spread—and just handing the jar with a spoon, too.
Be sure to search around for the best price. Amazon.com was selling it for nearly $10 a jar, and no thank you for that. I paid just under $6 a jar on Vitacost—and shopped through eBates for more money back!
Incredibly fudgy, rich chocolate black bean cookies have absolutely no flour of any kind. They'll never know about the beans if you don't tell them. Seriously, don't tell them. You don't want anyone to yuck your yum, right?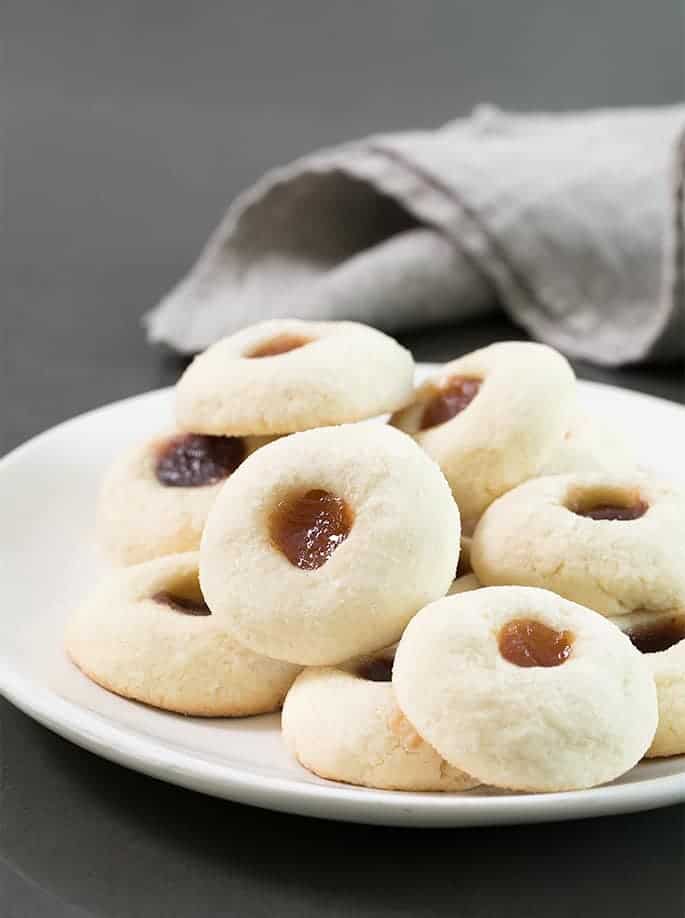 These easy jam thumbprint cookies are simple butter cookies made with flour, sugar, butter and egg yolks—and a dollop of jam on top. The best cookies are often the simplest ones. And they're even pretty enough to be the star of your cookie plate!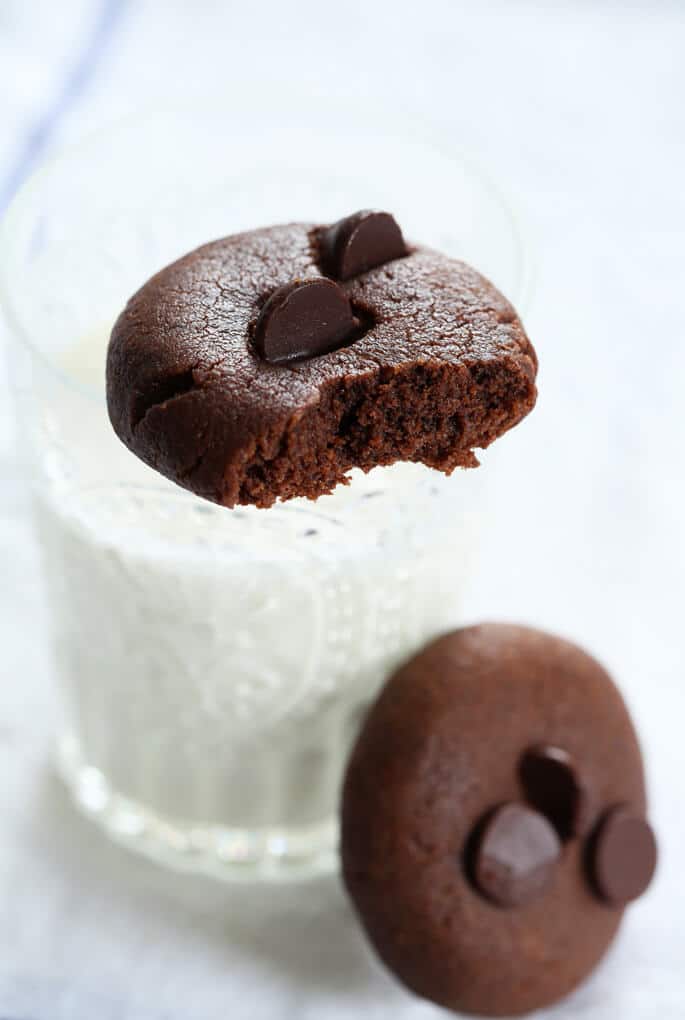 These flourless peanut butter cookies are gluten free, grain free, dairy free, low in sugar, and packed with protein. Just 6 simple ingredients—and that's even including salt!
I make these alllll the time and store batch after batch in the freezer. I've committed the recipe to memory solidly enough that I could probably make them if I were half asleep. Sometimes I eat them for breakfast, or a late afternoon snack. And I don't even always share them with the children. ?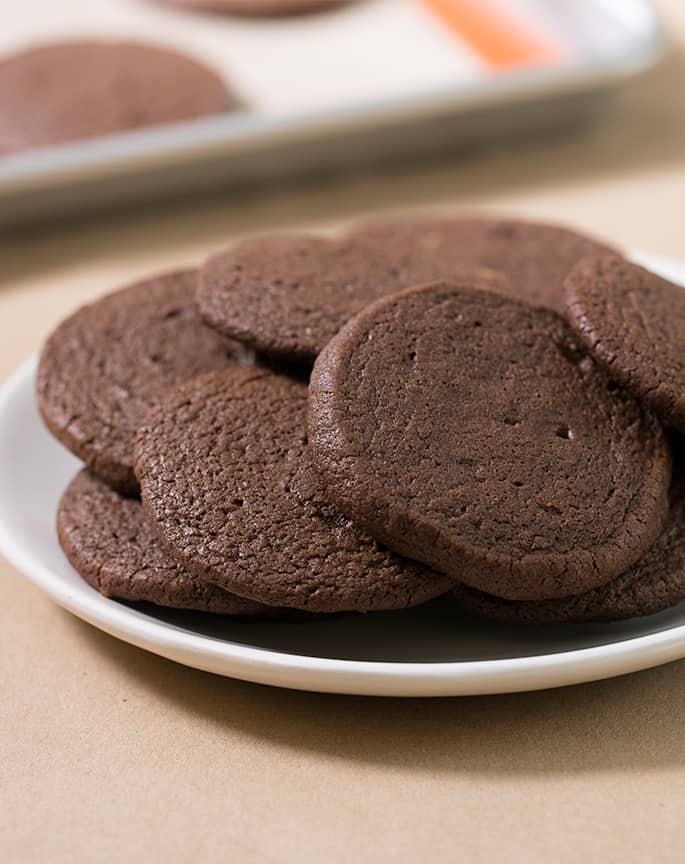 These gluten free brownie cookies have all the richness of brownies in a soft, chewy and tender cookie. They're made without chocolate chips because they don't need them. Brownies only wish they were as lovely as these cookies.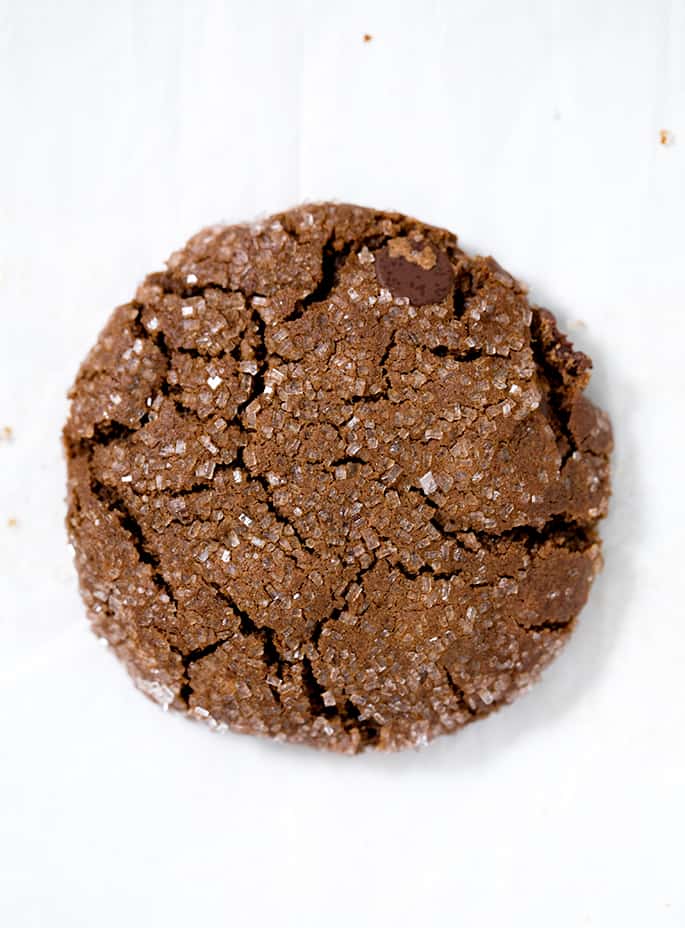 These chewy ginger molasses cookies, made with plenty of warm spices plus melted chocolate and cocoa powder, are really something special. They might just be your next "signature" cookie! You know, the one that people ask you to bring when they invite you over. And you wonder, are they just inviting me so I'll bring "my cookies"? And then you shrug your shoulders and remember that you don't care why you were invited after all. Eat, drink and be merry!
From my gluten free family to yours, happy holidays of all kinds. Now get out there and teach everyone how good gluten free baking really should be!