A simple lemony shortbread crust with a tart, refreshing lemon custard, these gluten free lemon bars are so easy to make. Perfect for any occasion, from potlucks to bake sales.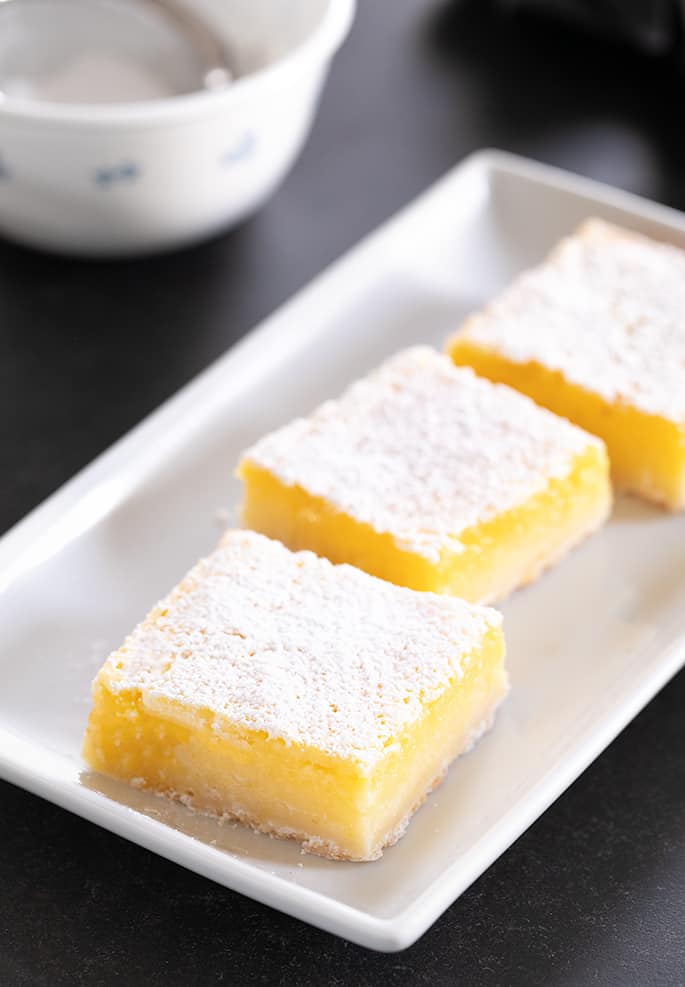 Smooth, creamy and tart classic gluten free lemon bars seem to be beloved by nearly everyone. If you don't love them, or anything lemon flavored, then this recipe is not going to be for you.
But if you're a lemon lover (and if you are, then you have to try our lemon pound cake and our lemon meltaway cookies), you are going to love these bars. The crust is the perfect blend of chewy and crunchy, and the custard is lemony cool and fresh.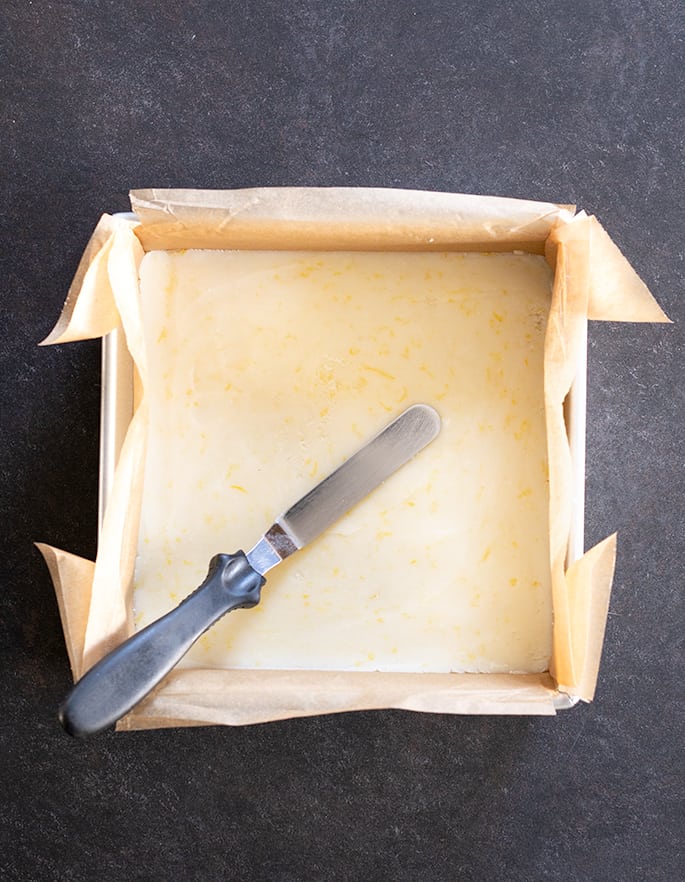 Promise you'll use freshly squeezed lemon juice
Conventional lemons are available year-round, but we do tend to get the best ones in the dead of winter. A little sunshine for an overall dreary season, I guess! ?Meyer Lemons, which are thought to be a cross between oranges and lemons, aren't available year-round. They seem to be most plentiful in the middle winter through the very early spring (why do I always want to capitalize 'spring' but leave winter as is?)
All this is to say … there is really just no excuse for using bottled lemon juice. I'll never be able to grow my own lemons, but I'll bake with them forever and ever because lemon-flavored things are almost as universally loved as chocolate-flavored things.
I vow never to use bottled lemon juice in baking (or otherwise for that matter). Baking and cooking mean applying heat, and heat intensifies flavors. If the flavor isn't great at the start, just wait until you bake with it.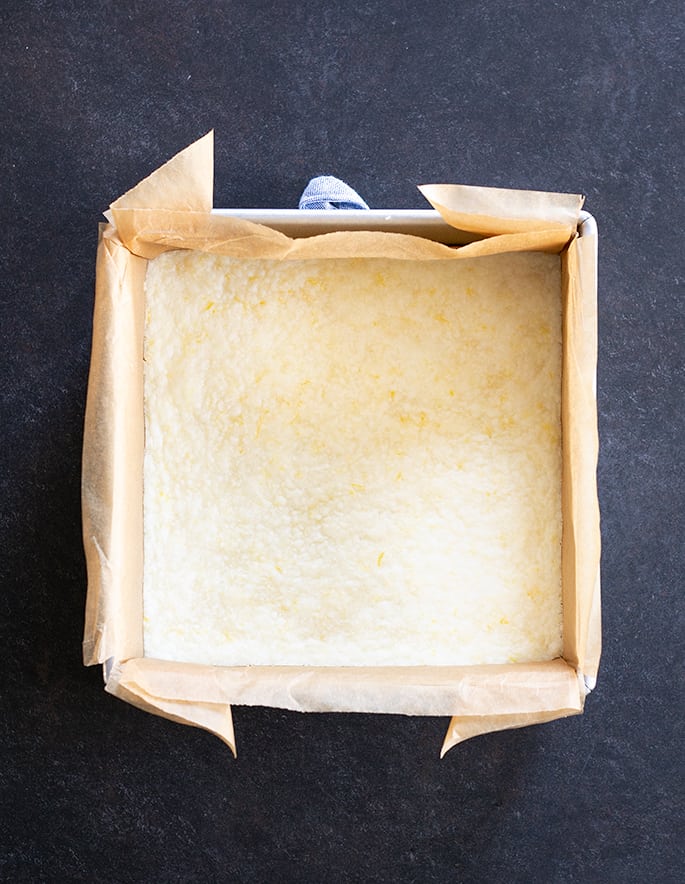 Anyway, you'll need at least one fresh lemon for the lemon zest so your crust, and not just your filling is pucker-worthy. These lemon bars are no joke. You'll never confuse them with any other flavor. I believe the term is ROBUST. ?
If you've ever had lemon curd, which is similar to a lemon pudding or custard, this filling will taste similar. Unlike lemon curd, though, the filling in these bars is baked, not cooked. It will be firm enough to bite into once it's set in the refrigerator.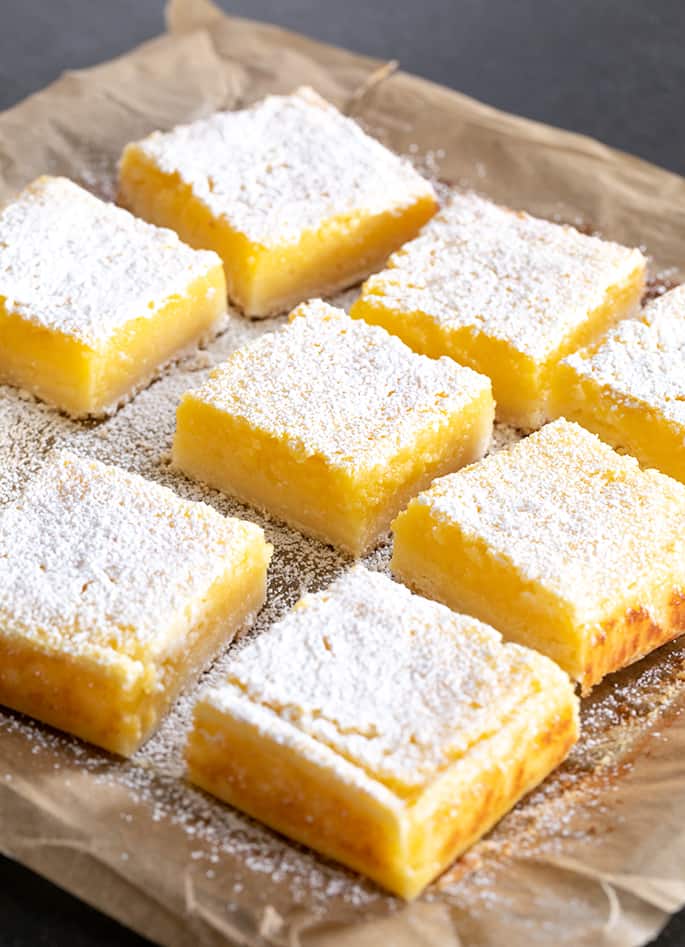 How to make these gluten free lemon bars
To make these bars, you will have to place the pan in the oven twice. I promise it's not a big deal, though.
The crust is a relatively sticky dough that's made with gluten free flour, confectioners' sugar (to keep it light), lemon zest, salt, and melted butter. Just press it into the pan with an offset spatula (or even just a spoon) and bake it just until it's set.
There's no leavening in the crust, so it won't rise very much at all. Baking it alone prevents it from getting soggy when you add the filling.
As the crust is cooling, make the filling by whisking eggs, granulated sugar, baking powder and lemon juice. Pour the filling right on top of the blind-baked crust and pop it back in the oven to bake until the filling barely jiggles when it's shaken from side to side.
As the filling is baking, if you peek in the oven (not advisable, but if you can't help it) before the last 7 or 8 minutes, you'll think that the bars will never actually set. It will seem almost like a liquid for most of the baking time. As long as you haven't changed the recipe and your oven is at the proper temperature, it will set.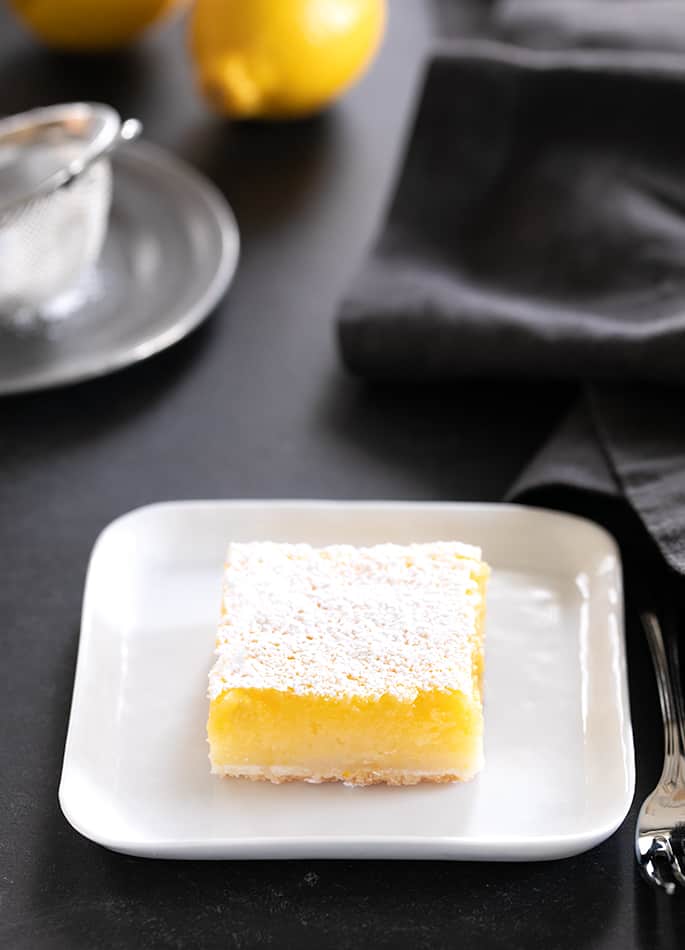 Ingredients and substitutions
There are dairy, eggs, and two types of sugar in these decadent lemon bars. I don't regret any one of those ingredients, but if you can't have one of them, here's what I'm thinking:
Dairy
The only source of dairy in these bars is the butter in the crust. That's good news if you're dairy-free. The crust should still turn out if you replace the butter with half Earth Balance buttery sticks and half Spectrum brand nonhydrogenated vegetable shortening.
You can also use Melt Vegan Butter or Miyoko's Kitchen Vegan Butter in place of the butter entirely. Watch the salt, though, since butter replacements tend to be quite salty (unlike shortening, which contains no salt).
Eggs
There are 4 eggs in this recipe. I'm afraid I don't believe that you can replace all 4 of them with an egg substitute and achieve anything like the texture of these smooth, creamy custardy bars. So sorry!
Sugar
The confectioners' sugar should be able to be replaced with Swerve brand powdered sugar replacement. That tends to work quite well. You can try replacing the granulated sugar with Swerve brand granulated sugar substitute or Lankato monkfruit granulated sweetener.
Sugar replacements tend to be drying, though, so you may have to add some moisture to the filling. Try another tablespoon of freshly squeezed lemon juice.
Lemons
Since you've already promised to use freshly squeezed citrus in this recipe, we don't have to revisit that point. If you'd prefer a lime-flavored bar, try my key lime pie bars. They're similar in texture, and simply amazing.
Gluten free flour blends
I do specify my gum-free gluten free flour blend for this recipe, which is made with a mix of mostly superfine white rice flour, with potato starch and tapioca flour/starch. There is no xanthan gum in this recipe.
I've found that it makes for an almost chewy, gummy filling. It's not nearly as important for the crust as it is for the filling.
You do need a scale to make the blend, but if you must purchase a blend to use, I'd try using Cup4Cup. It contains xanthan gum, but much less and is a very light, starchy blend.