A simple lemony shortbread crust with a tart, refreshing lemon custard, these gluten free lemon bars are so easy to make. Perfect for any potluck!
Smooth, creamy and tart classic gluten free lemon bars are one of summer's rites of passage, and around here we're all about rites of passage. If you used to have it before you went gluten free, then I want you to have it again.
At the very least, I want you to see that you can have it if you like. And these smooth and creamy gluten free lemon bars are a perfect case in point.
So, yes. There's sugar in these lemon bars. Like there's sugar in every recipe for classic lemon bars—unless you're talking about sugar-free lemon bars, I guess!
I don't want to go on and on, but when the traditional treat is a sugary one, so will my recipe be. No more, even sometimes less (hello Weight Watchers-style Lemon Brownies, I'm looking at you).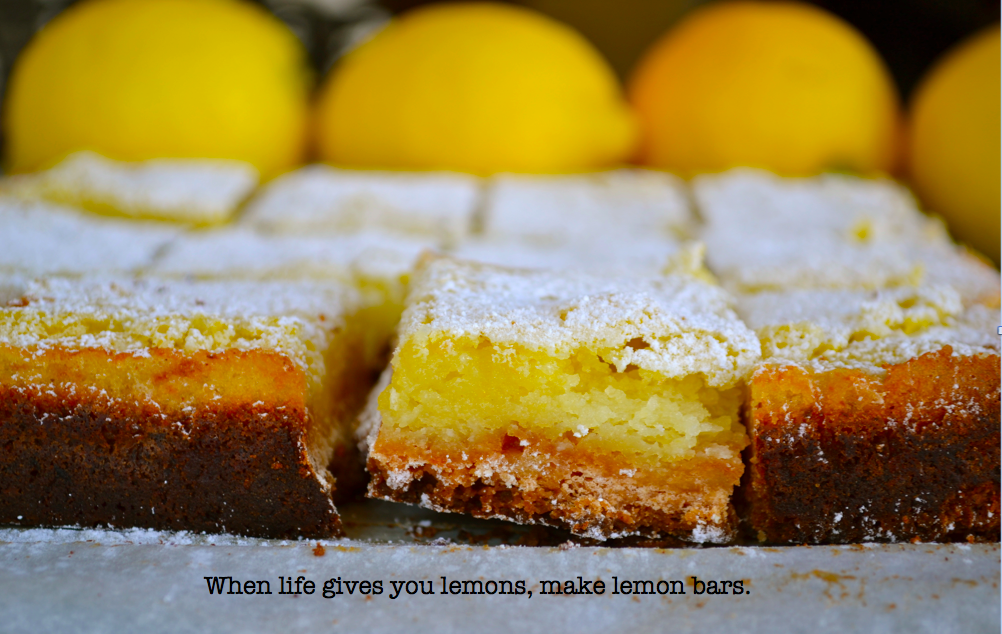 I first posted a version of this recipe way, way back in June 2011. Since then, I've modified it a bit and I really think it's better now. It was good then, but better now.
Now, there's more filling (double!), a slightly more delicate shortbread crust that's also made with lemon zest for extra lemon goodness, and a smoother and creamier custard.
These gluten free lemon bars are simple as ever to make, though. They're even better if you make them ahead of time and chill them in the refrigerator.
The crust is the perfect blend of chewy and crunchy, and the custard is lemony cool and fresh. And my gluten free son adores them.
May the gluten free people in your life remember that we're on a mission: if they can make it with gluten, we can make it without!