These gluten free drop sugar cookies are simple, sweet and buttery, plus they're stable enough for mailing clear across the country if that's your holiday thing! Dress them up in lots of different ways.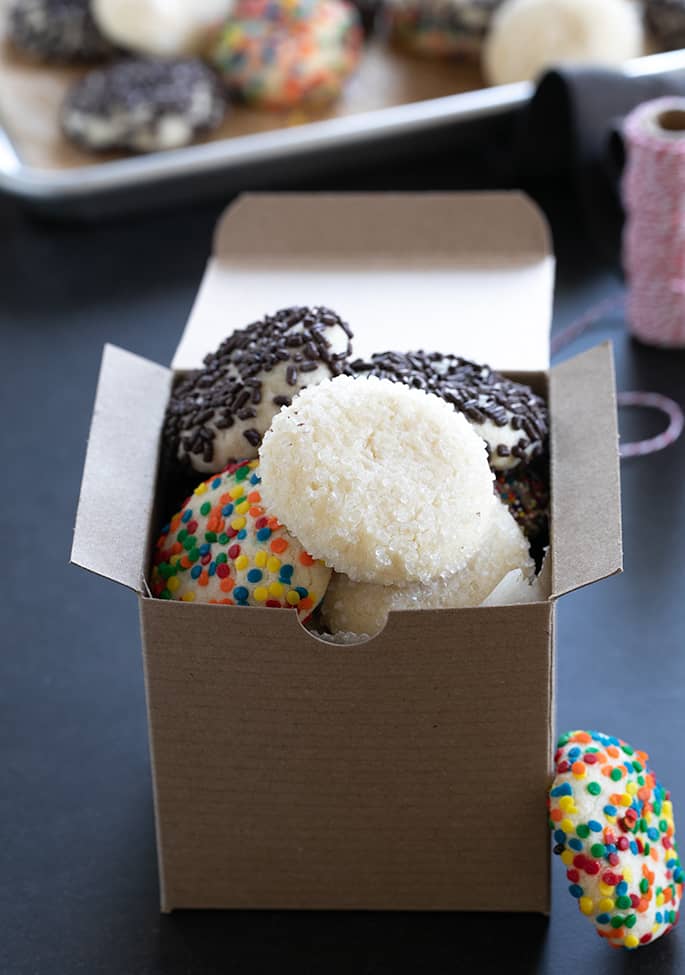 Start with a drop cookie
When someone is new to baking, or new to gluten free baking, or just plain new, they often ask me where they should begin. My answer is always the same: drop cookies.
Drop cookies are so-named because there's nothing to roll out (unlike soft frosted sugar cookies), nothing to chance. Like chocolate chip cookies, you simply drop the dough on the baking sheet and let the oven do its job.
These gluten free drop sugar cookies are your basic soft-inside vanilla cookies. They're the kind that you would love to send to your friends and family ?for the holidays because they're simple enough to survive a trip by mail and special enough to show how much you care.
Make sure your decorations are GF
This cookie recipe isn't naturally gluten free, so if you're reading this post, you're baking gluten free—even if it's just this once. You're using an all purpose gluten free flour blend, and a good GF blend doesn't just happen to be in everyone's pantry.
So if you're making these cookies, you want to get them right. That means using gluten free decorations. Of course, you can bake these cookies without any decorations at all, but they're so much more fun dressed up.
If you get distracted during baking and set the dough aside for a bit before you shape and/or decorate it, you may find that the decorations tend not to stick properly to the cookie dough. Simply wet the outside of the cookies generously with a finger bowl of lukewarm water.
Wetting the dough won't change the way the cookies bake at all, and the decorations will stick beautifully. Now to make sure those decorations are all safely gluten free…
Gluten free sprinkles, nonpareils, and edible confetti
Signature Brands makes both Cake Mate and Betty Crocker brand sprinkles and nonpareils, and at least in the U.S. as of this writing, those products are gluten free. I can usually find their products in my regular grocery store.
If you can't find them in a grocery store, you can certainly find them online. I really like ordering baking supplies like those from the online site GlobalSugarArt.com.
Global Sugar Art carries CK Brand sprinkles and nonpareils, and those tend to be gluten free. Always check the product label and manufacturer's website for current information, though.
For rainbow confetti, which I find impossibly adorable, I love Americolor brand since it's reliably gluten free. It can be difficult to find, though. Sometimes I can find it on Amazon, sometimes not. When I do find it, I buy a few tubs of the stuff.
Gluten free coarse sugar
I have had some serious difficulty finding coarse sugar crystals that are true white in color and reliably gluten free. It seems like such a simple thing, but it's been difficult to find.
For years, I used Sugar in the Raw brand, which is readily available and tastes great. But the crystals aren't white. They have a natural yellowish-brown color. Natural is great—but sometimes you just want artificially pretty! Extra festivity points if you use some white, some brightly colored coarse sugar, too!
The brand I've found online that I love is Chef's Select Granulated Sugar Crystals (that's an affiliate link, but shop around!). Chef's Select also makes a similar container of gluten free rainbow sprinkles (or jimmies, if you're from Philly ?).
UPDATE: I'm afraid these sugar crystals seem to be out of stock on Amazon. I believe that this is the same brand, though. So disappointing if they're no longer readily available!
Ingredients and substitutions
Dairy-free: To replace the butter in this recipe, I'd try Melt brand or Miyoko's Kitchen brand vegan butter alternative. If you use virgin coconut oil, the cookie dough will be too soft and the cookies won't hold their shape properly.
Egg-free: Since there is only one egg in this recipe, I'd recommend trying one "chia egg" (1 tablespoon ground white chia seeds + 1 tablespoon lukewarm water, mixed and allowed to gel) to make the recipe egg-free.
Corn-free: At first glance, this recipe doesn't have any corn, but confectioners' sugar is typically made with cornstarch to keep it from clumping. Look for a corn-free confectioners' sugar if you can't have corn.
Shortening: You need a mix of butter and shortening (Spectrum nonhydrogenated vegetable shortening is not the unhealthy mess that Crisco is) to get the texture and shape of these cookies just right. If you use all butter, the cookies will spread way too much.
Fancy Gluten Free Drop Sugar Cookies
Yield:
About 18 cookies, depending upon size
Ingredients
1 3/4 cups (245 g) all-purpose gluten free flour (I used Better Batter)
3/4 teaspoon xanthan gum (omit if your blend already contains it)
1 teaspoon baking powder
1/2 teaspoon kosher salt
1/2 cup (58 g) confectioners' sugar
1/2 cup (100 g) granulated sugar
5 tablespoons (70 g) unsalted butter, at room temperature
5 tablespoons (60 g) nonhydrogenated vegetable shortening (Spectrum brand), melted and cooled
1 egg (50 g, weighed out of shell) at room temperature, beaten
2 teaspoons pure vanilla extract
Coarse sugar, nonpareils or sprinkles, for coating (optional)
Instructions
Preheat your oven to 350°F. Line a rimmed baking sheet with unbleached parchment paper and set it aside.

In a large bowl, place the flour blend, xanthan gum, baking powder, salt, confectioners' sugar and granulated sugar, and whisk to combine well. Add the butter, shortening, egg, and vanilla, and mix well to combine. The dough will seem crumbly until it comes together. It will be soft but should hold together well when squeezed. Scoop the dough by about the heaping tablespoonful, roll each piece into a ball and press into a disk about 1/4 inch thick. The cookie dough should seem tacky to the touch on all sides. If it appears to have dried out at all, moisten the outside of each piece with lukewarm water. Press each disk carefully but firmly into coarse sugar, nonpareils or sprinkles until the decoration adheres to the dough all around. Place the disks of dough on the prepared baking sheet, about 1 inch apart from one another.

Place in the center of the preheated oven and bake for 10 minutes, or until the cookies are very lightly golden brown on the edges and set in the center. Remove the baking sheet from the oven and allow the cookies to cool on the baking sheet for 5 minutes before transferring to a wire rack to cool completely.

Originally posted on the blog in 2013. Photos and video new; recipe unchanged except for some clarification in instructions.