These almond flour cookies are low carb and naturally sweetened and taste like buttery shortbread, but without any butter at all. Make them with chocolate chips or your favorite mix-in.
We've made thick and chewy Paleo chocolate chip cookies before here on the blog. I remember working so, so hard to get the crisp edges and thick and chewy center that I love about the chocolate chip cookies I've been making for nearly half my life.
These almond flour cookies aren't really chocolate chip cookies. Sure, they have a few miniature chocolate chips thrown in, but they're more like buttery shortbread than chocolate chippers.
I describe below in the ingredients and substitutions section that you can make them with all blanched almond flour instead of a mix of almond flour and tapioca starch. But I think you're going to want to try them just like this.
To me, the perfect marriage of Paleo flours is a balance of blanched almond flour and tapioca starch, like in these cookies and in my bakery-style Almond Flour Muffins. Here, if you use too much tapioca starch, the cookies are unpleasantly dry.
Almond flour itself has lots of good, healthy fats which makes it possible for us to use only 2 tablespoons of additional fat in the recipe. If you remove too much of the almond flour, the cookies lose their delicate balance. The almond flour does also give the cookies a bit of a buttery taste, much like it does in my low carb almond flour tortillas.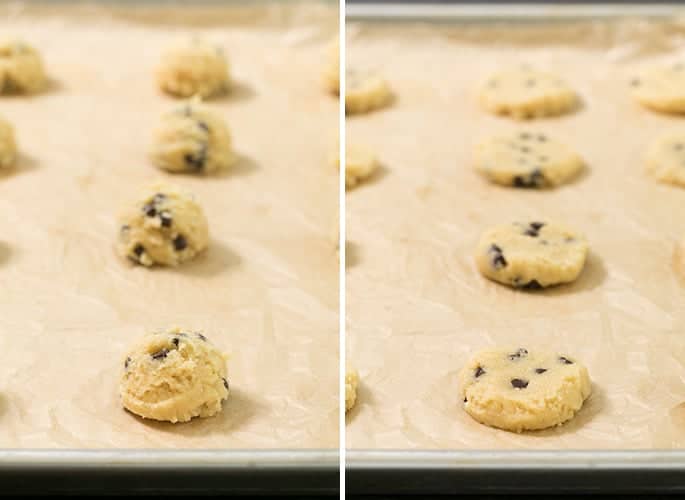 The miniature chocolate chips add some sweetness to these delicate cookies. Bake them a bit longer, and they almost taste like I imagine those shortbread-style chocolate chip cookies by Alison Roman taste. Maybe add a bit more salt?
I don't know, those cookies just seem like brown sugar shortbread cookies with some chocolate chips. I'm all for a fun cookie fad, but that one just seems even a little too silly for me to pine for.
Oh, and since these cookies are pretty virtuous, as far as cookies go, I let my children eat them as an after-school snack. Okay, I've even let them grab a few for breakfast as they run out the door. They're packed with protein and good fats, and have way less sugar than any regular cookie.
Since I tried the recipe so many different ways, I had dozens upon dozens of them in the kitchen. They're not going to eat themselves!
Ingredients and substitutions
These almond flour cookies are already gluten-free, grain-free and dairy-free. I've tried a few substitutions, but honestly, they haven't worked out very well. Here are my best-educated guesses about how you can modify this recipe to suit any additional dietary needs:
Egg-free: Since there is only one egg in this recipe, I'd try a "chia egg," which is just 1 tablespoon ground chia seeds + 1 tablespoon lukewarm water, mixed and allowed to gel.
Maple syrup: If you'd prefer to use another sugar, agave will work just as well as pure maple syrup. You do need a liquid sweetener, though. When I tried replacing the maple syrup with coconut palm sugar, the cookie dough was tough to handle, and the cookies were too dry.
My next step would be to grind 3 tablespoons of coconut sugar into a finer powder and then dissolve it in 3 tablespoons of hot water, and then use that in place of maple syrup. That should work much better.
Almond flour: These are almond flour cookies and especially since they're so lightly sweet, a large part of the flavor comes from the almond flour itself. If you can't have almond flour, you can try cashew flour. Almond meal is made from almonds that still have their skins on and isn't very finely ground. It won't work in this recipe.
Tapioca starch/flour: Adding some tapioca starch/flour to this recipe lightens the texture considerably and helps the cookies hold together really well. You can replace the tapioca starch/flour with more almond flour, but the cookies will be heavier. You could also try replacing the tapioca starch/flour with arrowroot.
Watch this 30-second how-to video of almond flour cookies
Just push play ▶ and then make your own!
Almond flour cookies
Ingredients
1 1/2 cups (180 g) blanched almond flour
1/2 cup (60 g) tapioca starch/flour
1/2 teaspoon baking soda
1/4 teaspoon kosher salt
2 tablespoons (28 g) virgin coconut oil or nonhydrogenated vegetable shortening, melted and cooled
1/4 cup (84 g) pure maple syrup
1 egg (50 g, weighed out of shell) at room temperature, beaten
1 teaspoon pure vanilla extract
1 to 2 ounces miniature chocolate chips
Instructions
Preheat your oven to 325°F. Line a large rimmed baking sheet with parchment paper and set it aside.

In a large bowl, place the almond flour, tapioca starch, baking soda and salt, and whisk to combine. Add the melted oil or shortening, syrup, egg and vanilla, and mix to combine. The cookie dough will be thick. Add the miniature chocolate chips, using as many or as few as you like, and mix until the chips are evenly distributed throughout the dough. Scoop the dough by the tablespoonful onto the prepared baking sheet in mounds about 1 1/2-inches apart from one another. With wet fingers, press each mound of dough into a disk about 1/4-inch thick.

Place the baking sheet in the center of the preheated oven and bake until set in the center and very lightly brown around the edges, about 10 minutes. For slightly crunchier cookies, bake for about 12 minutes. Remove the cookies from the oven and allow to cool on the baking sheet until firm, about 10 minutes.

Store in a sealed glass container at room temperature for a few days or wrapped tightly and in the freezer for longer storage.

Adapted from this recipe for grain free cookies.