A soft graham cracker crust with the simplest cheesecake filling makes these cheesecake cookie cups the perfect cookie plate surprise.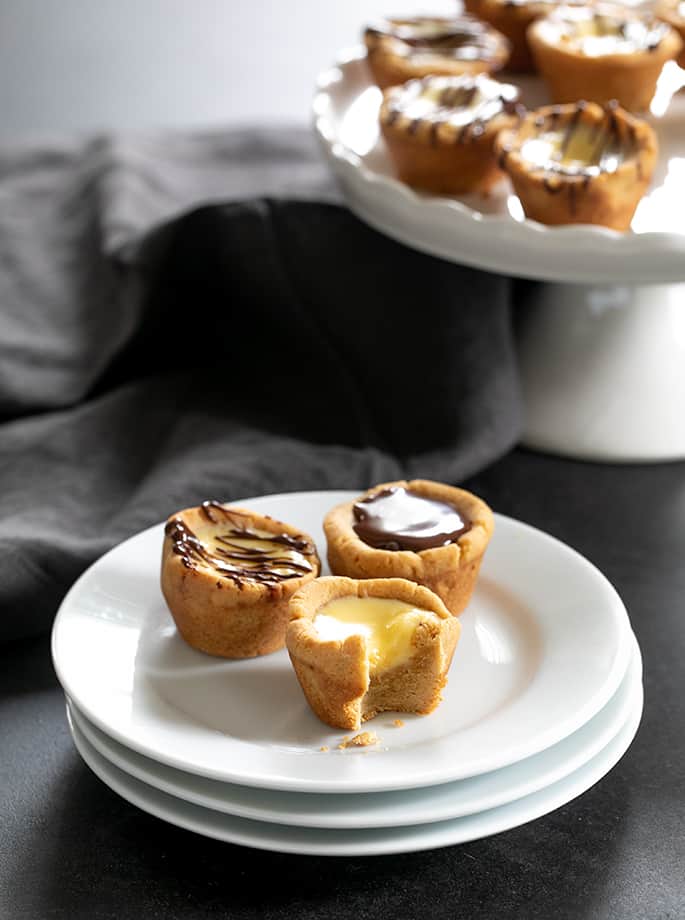 Especially during the holiday season, I crave everything with cinnamon and other warm spices. Bonus points for cookies with molasses in them, like graham crackers and our super soft chocolate ginger molasses cookies.
Nothing goes with those spices better than cheesecake, but I've got cookie gift boxes to fill and cheesecake just doesn't travel. I remember years ago making soft graham cracker cookies to make copycat moon pies, and they were a huge hit. One local parent actually asks me about them nearly every time I see him. For real.
Why bake them in a muffin tin?
I started out making almost these exact cookies but as thumbprints. You can actually bake the cheesecake filling right in the middle of the thumbprints, and it does work.
But you just can't get enough cheesecake filling in there to satisfy. Instead of thumbprints, though, I was sure I could bake these cheesecake cookie cups with a deeper well, and bake a true cheesecake filling together with the cookie dough.
I learned long ago how to make a cookie recipe into cookie cups. I baked them empty and fill them with no-bake cheesecake or whipped cream and berries soon before serving. They make such an impressive presentation but are super easy once you get the technique.
The beauty of baking these in a muffin tin is that the cheesecake filling and the cookie dough rise together in the oven. I use very little leavening in the cookie dough and only an egg yolk in the filling instead of a whole egg. That helps the cookies keep their shape and form. And the filling is deep enough to actually taste like cheesecake.
You don't want someone to bite into one of these cookie cups and say, "Tastes great. What did you say was in the center?"
What is the dough like to work with?
This cookie dough is not dry, but it's not wet, either. The ingredients are balanced just right, which makes it especially important that you bake by weight, not volume (and use one of my recommended all purpose gluten free flour blends).
When you mix the dough, it will stay in wet crumbs until you knead it together with your hands. In that way it's similar to our strawberry white chocolate chip cookies. Trust the process, though. There are no mistakes in the recipe.
A word about mini muffin tins
We talked about miniature muffin tins when we made our two bite gluten free brownies, but it bears repeating here. They are not all created equal.
You can use any miniature muffin tin to make these cheesecake cookie cups. You can even shape them similarly to how you would using the muffin tin, and bake them (filled) on a baking sheet (they will flatten a bit, though).
But you'll have the best luck with these if you can make them in a miniature muffin tin with relatively deep wells and gently sloped walls (not entirely vertical). I usually use a USA Pans brand miniature muffin tin, but I just bought some "Good Cooks" brand that I'm kind of hopeful about (You know the brand you often find in grocery stores? I really like it!).
My current favorite standard muffin tin is a nonstick pan made by Wilton that isn't too dark and isn't too light. I'm tempted to try their miniature muffin tin, but it's not like anyone is begging me for mini muffin tin recommendations so it's hard to justify yet another tin!
Ingredients and substitutions
I've got good news and bad news about substitutions, but mostly bad news. ?Let's jump right in.
Dairy-free: First, the good news is that you can make the cookie cup portion of this recipe dairy-free by replacing the unsalted butter with half (56 g) Earth Balance Buttery Sticks and half (56 g) nonhydrogenated vegetable shortening. You could probably also try using all Melt brand vegan butter. It's worth experimenting.
The cheesecake filling is an entirely different story. Cheesecake is the third rail of dairy-free baking. I've tried soooooo many recipes and variations of recipes, and absolutely nothing has tasted like actual cheesecake to me.
Absolutely none of the dairy-free cream cheeses taste authentic to me. I've tried them all. I've also tried cashew-based dairy-free cheesecake fillings. Some taste pretty good, but they're just not cheesecake to me. I'm so sorry to disappoint!
Egg-free: This is a hurdle, too. Both the cookie cups and the cheesecake filling call for egg yolks. Egg whites can often be replaced by aquafaba, and whole eggs with a "chia egg." But egg yolks are hard. I've never had much luck. If you have a favorite egg-free egg yolk substitute, please let us know in the comments!
Mini Cheesecake Cookie Cups
Ingredients
For the cheesecake filling
4 ounces cream cheese, at room temperature
6 tablespoons (75 g) granulated sugar
1/8 teaspoon kosher salt
1 egg yolk (25 g) at room temperature
For the cookie cups
2 2/3 cups (375 g) all purpose gluten free flour (I used Better Batter)
1 1/2 teaspoons xanthan gum (omit if your blend already contains it)
1/2 teaspoon baking powder
1/4 teaspoon kosher salt
1/3 cup (67 g) granulated sugar
2/3 cup (145 g) packed light brown sugar
8 tablespoons (112 g) unsalted butter, at room temperature
3 tablespoons (63 g) honey
2 tablespoons (42 g) unsulphured molasses
1/2 teaspoon pure vanilla extract
2 eggs yolks (50 g, weighed out of shell) at room temperature
Lukewarm water by the half-teaspoonful, as necessary
Melted chocolate, for drizzling (optional)
Instructions
Preheat your oven to 350°F. Grease the wells of a 24-well miniature muffin tin and set it aside.

First, make the filling. In a medium-size bowl, place the cream cheese, sugar, and salt, and beat with a handheld mixer (or a whisk, vigorously) until light and fluffy. Add the egg yolk and whisk by hand until just combined. Cover the filling and set it aside.

To make the cookie dough, in a large bowl, place the flour, xanthan gum, baking powder, salt, and granulated sugar, and whisk to combine well. Add the brown sugar and mix, breaking up any lumps. Create a well in the center of the dry ingredients, and add the butter, honey, molasses, vanilla, and egg yolks, and mix to combine. The dough should come together and be thick but soft. If necessary to bring the cookie dough together cohesively, knead in some lukewarm water by the half teaspoonful.

Scoop the dough into portions about 2 teaspoonfuls each, roll each mound of dough into a ball between your palms, and place in the center of each of the prepared wells of the miniature muffin tin. With a clean index finger, press a hole into the center of each ball of dough. Using your index finger and thumb, pinch the dough to thin the sides and press them toward the edges and bottom of the muffin well. Using a small spring-loaded ice cream scoop or two spoons, fill each of the wells about 3/4 of the way full with the cheesecake filling. Repeat with the remaining balls of dough and cheesecake filling. You will need to repeat the process with about 6 more wells of the muffin tin in a second round.

Place the muffin tin in the center of the preheated oven and bake until the cookie cups are just beginning to brown around the edges and the filling is mostly set (about 12 minutes). Do not overbake. Remove from the oven and allow to cool on the baking sheet for at least 10 minutes or until firm. To remove the cookie cups from the muffin tin, twist them in the wells to loosen them, then pry them out with a toothpick inserted gently on the side of the cookie cups. Chill the cookie cups until the filling is firm, about 1 hour. Drizzle lightly with melted chocolate, if desired.

These cookies can be frozen in a single layer on a rimmed baking sheet, then piled into a freezer-safe zip-top bag for longer storage. They don't actually freeze completely solid, so in a pinch, they can be eaten right out of the freezer. What? Don't judge.