These soft gluten free chocolate cutout cookies roll out so easily and hold their shape perfectly during baking. Perfect for any holiday!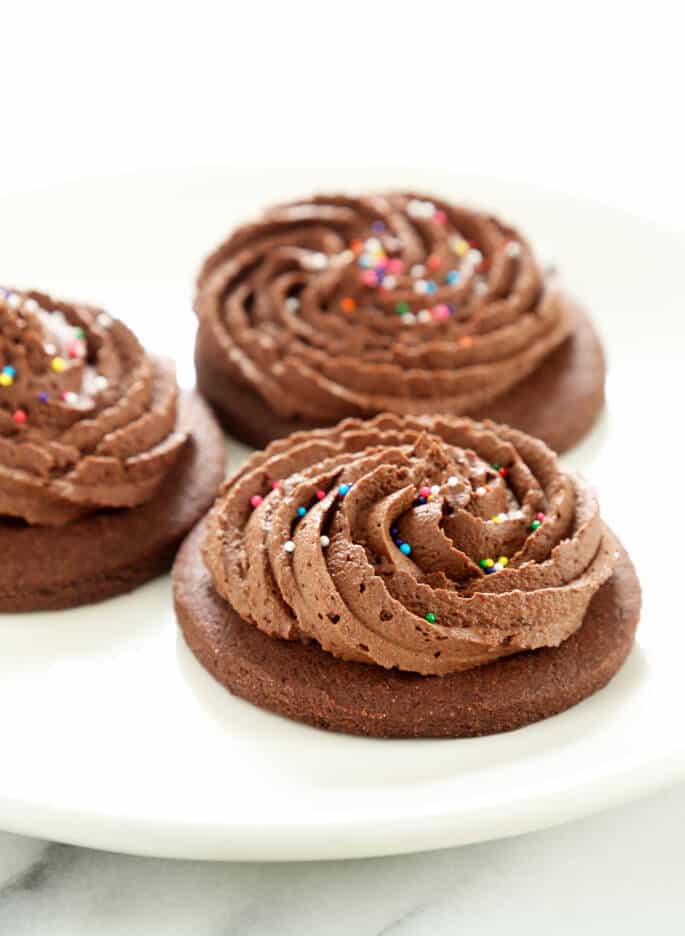 Whatever the season, whatever the occasion, a good cutout sugar cookie recipe is a must, don't you think? It might be that Easter is coming, and you're itching to use that cut little bunny cookie cutter. Or it's Christmas, and Santa needs a plate of cookies shaped like snowmen or stars. Or you're missing Lofthouse cookies now that you're gluten free, and soft, tender round sugar cookies topped with thick frosting are what you're after. Since we already have the definitive recipes for classic gluten free cutout sugar cookies and cream cheese cutout sugar cookies here on the blog, it's time we settled on the perfect recipe for soft gluten free chocolate cutout cookies. Well, maybe "settle" is the wrong word…
These extraordinary sugar cookies are super easy to make, roll out like a dream and hold their shape perfectly.
The dreamy chocolate frosting is, of course, completely optional, as are the nonpareils. But I've never been able to resist nonpareils. If you're in the U.S. like I am, Signature Brands makes Betty Crocker and CakeMate nonpareils and sprinkles (jimmies?), and they're safely gluten free.
About half the time, I load the frosting into a piping bag and pipe a lovely swirl of chocolate frosting with a 1M or similar open star tip, and the other half I just spoon a mound on there. For you, though, I swirled. You're worth it. And in case you're wondering, the cookies themselves do freeze beautifully for months. I wouldn't freeze the raw dough, though, as it will take quite a while to defrost enough to be rolled out. And the dough is so easy to make that I'd make it fresh, then roll out the dough, cut your shapes, bake, cool and then freeze.