Once you've learned how to bake the best gluten free cookies at home, you might wonder what the best way is to ship cookies to friends and family, have them stay fresh without breaking, what the best cookies are for shipping, and whether you can ship them in hot weather.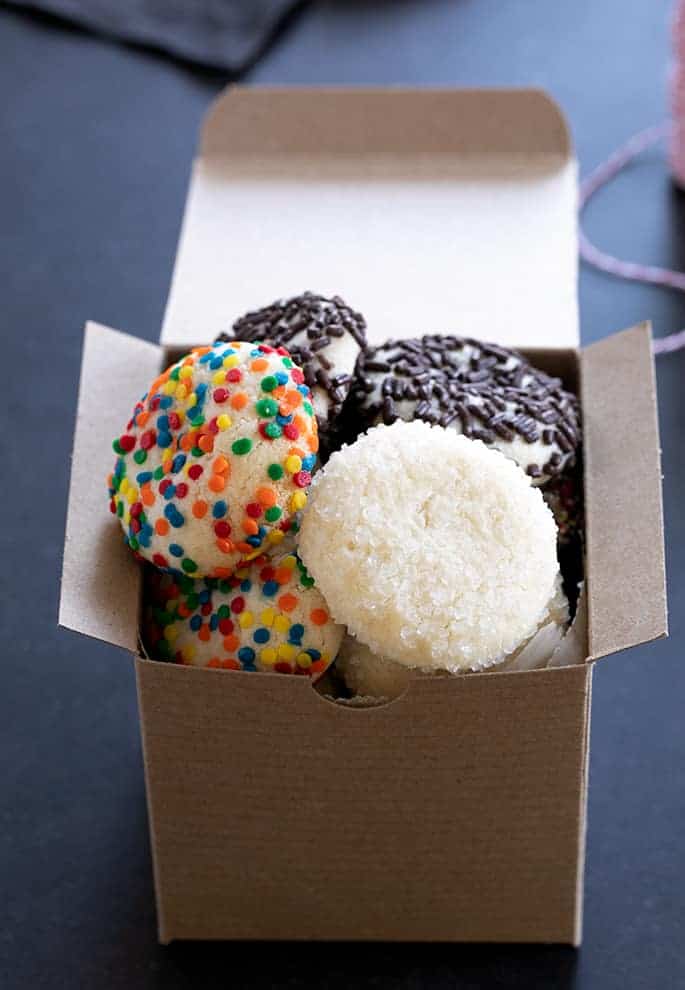 Basic rules for mailing homemade gluten free cookies
Since this advice is only for home bakers who want to share their creations with loved ones, not for business owners, these are the basic rules for shipping "regular" gf cookies—not fancy decorated cookies that are like little works of art.
Here's a summary of the basic rules that I live by when I'm packing and shipping my gluten free cookies for gluten-eaters and gluten-free eaters alike:
Temperature matters: ship cold cookies, in a cold environment
Ship sturdy, not fragile, cookies only
All decorations should be baked in or painted on—not dusted
Avoid cookies with strong smells
Ship fast!
Crowd your cookies in the container
Fill any open spaces in the container, and in the shipping box
Before we get to the details about sending your gf cookie creations in the mail, allow me to establish my bona fides on this very important subject…
How I learned to ship gluten free cookies
My strength in this area comes from developing recipes for and baking so very many cookies—and transporting them wherever I go. Cookies are my go-to dessert when I don't want to go empty-handed, pretty much anywhere. I have some Kraft bakery-style boxes, and I'm not afraid to use them.
I've also had a few nearly traumatic experiences making a dozen types of cookies more than a month ahead of time for a photo shoot—and then transporting them to the shoot. Let's just say that you don't ever want to transport cookies that have just been piled into a zip-top plastic bag.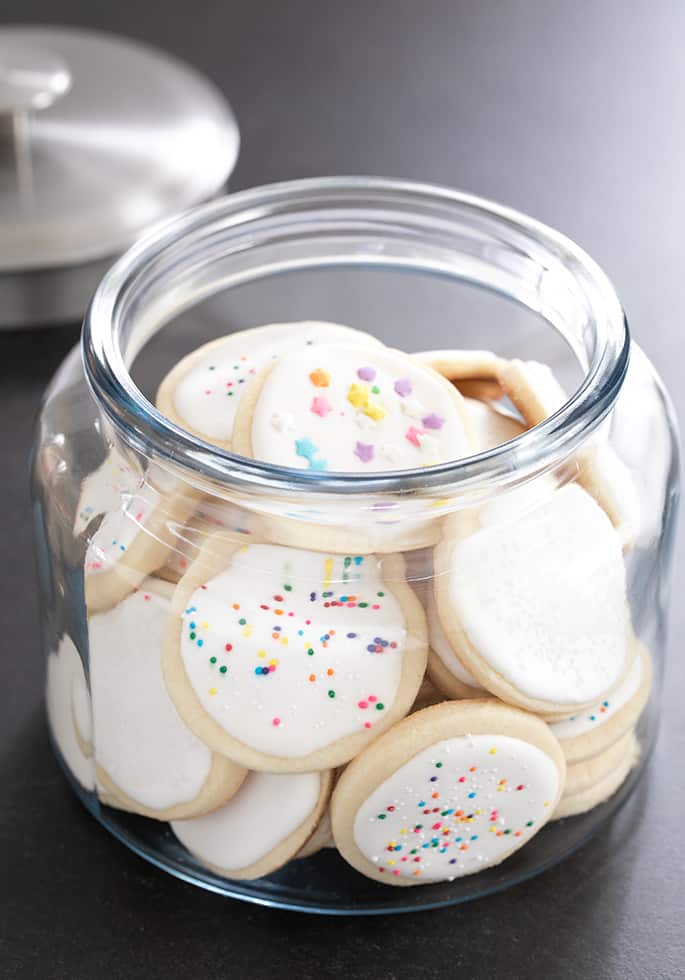 The 7 rules for mailing gluten free holiday cookies
Here are the rules I live by when I'm going to be stepping out of my home with cookies in nearly any form. This could mean that I'm going to someone's home with some cookies in my lap, sending them into school for a celebration, or mailing them across the country.
Temperature is everything
Here, we're talking about the temperature of your cookies, and the temperature they will be surrounded in while traveling.
Of course, be sure that your cookies themselves are completely cooled before you pack them.
But even if your cookies are cold, I would not attempt to ship cookies in the warm weather, at least not without some dry ice. That starts to get really expensive. You have to ask yourself how dedicated you are to this endeavor.
These rules assume that the weather in transit is and will remain cool if not cold. I like to begin with frozen or near-frozen cookies, for some insurance.
Don't ship fragile cookies
The general idea is to select cookies that are at least 1/4-inch thick and don't bend when you hold them horizontally on one side, with your fingertips. Our Mrs. Fields-style gluten free chocolate chip cookies are an ideal choice.
If your cookies are cutouts that hold distinct shapes, make sure that nothing that protrudes from the center is thin and delicate. For example, our gluten free gingerbread men cookies are fine, because their arms and legs are relatively chubby.
You may prefer to send the crispy gluten free gingerbread men cookies, though, since those are a bit more stable. Still, no (wo)men with thin, delicate necks. They'll lose their heads long before they arrive.
Oh, and oddly cookie bars don't tend to travel as well as actual cookies, because their crumb is more delicate. The same goes for anything truly "soft-baked," unless it has a very, very firm underside that will keep things in order.
This is no time to be a hero. Don't try to ship anything super delicate that breaks when you so much as look at it. Lace cookies are a good (bad) example.
If you absolutely must ship thin and crispy cookies (I'm a big fan of them, so I get it), I'd recommend selecting only cookies that aren't all lumpy on top. This way, you can pack them very close to one another, like chocolate wafer cookies in a cookie sleeve.
Scroll down for some of my favorite gluten free cookies to make with the intention of shipping them by mail.
All decorations should be baked in or painted on (don't dust)
I love dusting cookies with powdered sugar, or sprinkling a nice thick layer of granulated sugar on top before putting cookies in the oven, like snickerdoodles. But unless you want everything in the box to be covered in the dustings, don't dust.
Sprinkles, nonpareils and coarse sugar that are baked into the dough are fine. Royal icing that's been painted on and allowed to dry fully works beautifully. That stuff is like a rock once it's dry.
Avoid powerful smells
Something else to think about is smells. Some cookies, like peanut butter, are like smell bullies. They make everything around them lousy with their stink.
I love peanut butter cookies, but they should only be gifted on their own. I've sent peanut butter blossoms, and it worked great. But they were alone, as they should be.
Crowd your cookies
Place your cookies in their immediate shipping container standing up, so they're vertical, back to back, and finally up against the wall of the container.
When I'm hand-delivering cookies, I have these 4-inch x 4-inch x 4-inch Kraft paper boxes I love. I usually buy them from Amazon (that's an affiliate link, but shop around!), and they store flat, so I can have them on hand all the time. The 4-inch square boxes fit well and snugly into shipping boxes, particularly if you're sending an even-numbered multiple of them.
I even have striped bakery string because I'm annoying and like to make people wonder about their cookies' origin story. (Did they get these from a bakery?)
If you're packing cookies to send by mail, the container that the cookies actually sit in must have firm sides. A metal tin, ideally one in a rectangular shape, works so well since cookies are happiest when they are up against the wall, and against one another.
Pack the cookies into a metal tin tightly, back to back. I've bought metal tins at The Container Store, on Etsy.com, at my local craft store, and as a set of metal tins or two at Amazon, of course.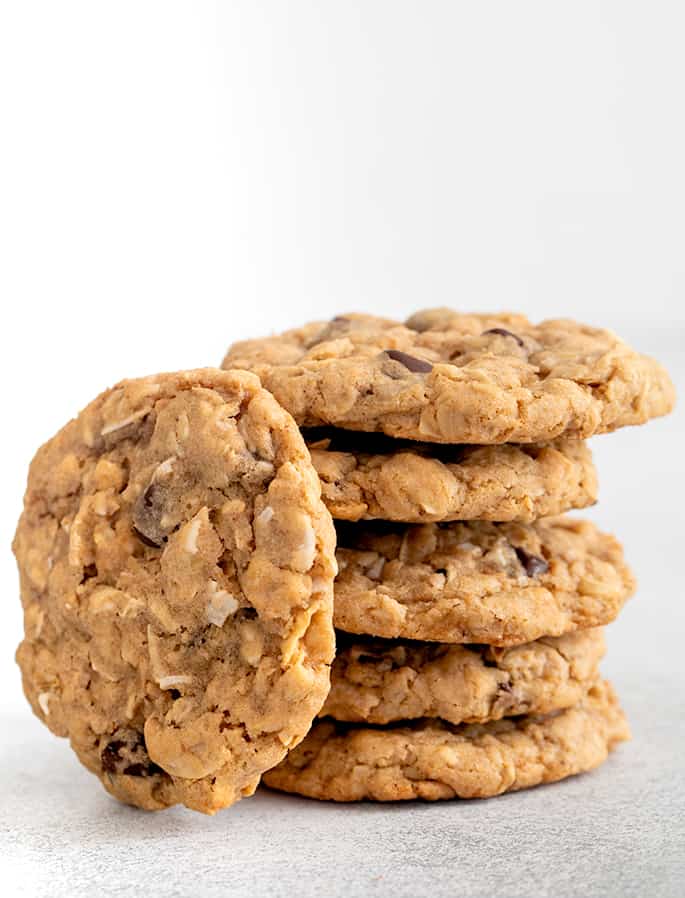 Fill any open spaces
If you're using a paper box and hand-delivering, fill empty head space in your box with more cookies, placed horizontally, in vertical stacks. Don't pack them in tightly, or they'll crack when you close the container—or when someone picks it up with their thumb on top.
If you're using a metal box and shipping, pack all of your cookies vertically. The empty space on top, still in the container, should be filled with crumpled paper. Waxed paper, thinner parchment paper, and waxed paper work really well. So does bubble wrap, if you already have some of that.
When you're shipping the box, place it in an outer box that has as few open spaces surrounding the box as possible. Then, fill in the unavoidable open spaces between the tin and the shipping box with crushed newsprint or other thin but relatively stiff paper.
Shake the box gently from side to side, and listen. You shouldn't hear a thing.
Ship your cookies fast and mark fragile/perishable!
The longer your cookies spend in transit, the more chance they're going to get thrown around and perhaps broken. So use the most reliable fast shipping method you can afford. And don't forget to say "yes" when they ask if there's anything fragile or perishable in the package. They'll mark it for special handling.
FAQs
There's nothing particular, really, about gluten free cookies to make them more prone to spoiling or becoming stale, provided, of course, you're using a good gluten free cookie recipe.
That being said, here are a few frequently asked questions about shipping and handling gluten free cookies—and my best answers:
Do you need to take extra care when handling certain types of gluten free cookies?
When you're selecting cookies to ship, the only cookies that might require some extra care but are still appropriate for shipping are cookies that are fragile when they're still warm from the oven. If they're still fragile once they're completely cool, they're not a good choice for packing up and transporting them very far.
Do chewy gluten free cookies stand up to the rigors of shipping better than crispy ones?
Yes, thick and chewy cookies tend to travel better, since they're less prone to breakage than especially thin and crispy cookies. Avoid any pillow-soft cookies, like our gluten free pumpkin cookies, since they tend to stick to one another and bend under pressure.
How do you prevent gluten free cookies from absorbing moisture or going stale during shipping?
If all the cookies in each container you're shipping have a similar texture to one another, they probably have a similar moisture content to one another. That way, the more crispy cookies won't absorb moisture from other cookies and lose their texture. And be sure you're baking with a high quality all purpose gluten free flour blend that contains xanthan gum, which keeps baked goods fresher, longer.
Can I ship frosted cookies?
Don't ship anything that will melt if it's not kept refrigerated, like ganache filling. Anything that naturally keeps its shape, even if it melts slightly in the oven, is fine (like chocolate chips, Hershey's kisses, chocolate disks). No frosting on your cookies, but royal icing that has dried fully should arrive fully intact.
Should you wrap each gluten free cookie separately?
I don't wrap the cookies individually, no. Much of the advice you'll find about shipping cookies includes a recommendation to wrap each cookie separately in plastic wrap before packing it in a container. But I don't like this advice.
Plastic wrap isn't usually sturdy enough to prevent your cookies from moving around during shipping. But if you want to wrap them, try wrapping them in sets of 2, with the bottoms facing each other.
What are the best gluten free cookies for shipping by mail?
Here's a short group of my favorite gluten free cookies to ship by mail. We're trying to share something delicious, but also make a pretty presentation most of the time. It's festive!
Unless otherwise indicated, these cookie recipes can be mixed and match, and sent in the same box together:
Easy Gluten Free Drop Sugar Cookies
These simple, delicious, vanilla drop sugar cookies are easy to make, and can really dress up a cookie box without adding any fragility. Just bake those sprinkles, edible confetti, or coarse sugar right on top of the cookie.
Click for the recipe
Celebration gluten free pinwheel cookies
Make any holiday or occasion special with these gluten free celebration pinwheel cookies. They taste like sugar cookies, but, well, just look at them! Don't ship them with anything else especially soft, though, or they may wilt in the container.
Click for the recipe
Mrs. Fields-style gluten free chocolate chip cookies
The chewiest of the thick-and-chewy chocolate chip cookies, these Mrs. Fields-style drop cookies are rich with the molasses flavor of plenty of brown sugar, made with chocolate disks for extra chocolate flavor, and will always make the trip in one piece!
Click for the recipe
Cutout gluten free sugar cookies with royal icing
These soft, simple gluten free cutout sugar cookies will hold literally any shape you can dream of (try making them into stained glass cookies, even), and make a beautiful presentation. Avoid the thick frosting, though, which won't make the trip, and top them with royal icing instead.
Click for the recipe
Gluten free cookie breakup
Made with 5 simple ingredients, these shortbread-style cookies are, well, already broken! If you're short on time, or you're extra concerned that your packaging skills might not be up to the job, make these simple breakup cookies and begin with them as relatively larger pieces. Go with the flow!
Click for the recipe
Crispy gluten free gingersnaps
These snappy little gluten free gingersnaps have all the right warm spices with a little bite from a touch of black pepper travel really well since they're so stable. They shouldn't be packed up with particularly chewy cookies or anything with a neutral vanilla flavor as they'll share their spices with their neighbors. Try packing them up with some gluten free graham crackers, instead.
Click for the recipe
Gluten free peanut butter blossoms
These pb blossoms are kind of like thumbprint cookies, but even easier and more stable (P.S. please don't try to ship thumbprints!). But they are loaded with peanut butter flavor which means 2 things: do not ship them in the same container as any other flavor of cookie, and make sure your recipient loves (and can safely eat) peanut butter!
Click for the recipe
Merry merry, happy happy! Baking and gifting is one of my favorite things in life. Let's keep doing it, as often as possible. Be known as The Cookie Person.