This easy classic gluten free cheesecake is made simply with cream cheese, sugar, and eggs. With or without a graham cracker crust (I vote ✋?in favor of the crust!).
Anything but plain
This classic gluten free cheesecake is technically a "plain" cheesecake, but the taste and texture make it anything but plain. It's smooth and silky, and each bite tastes light and creamy.
It's just rich enough and sweet without being overwhelming. If you'd like to turn up the vanilla flavor, you can use vanilla bean paste (I really like Nielsen-Massey brand) in place of pure vanilla extract. The seeds of a vanilla bean never hurt, if you happen to have some of those on hand.
If you like lemon flavoring in your cheesecake, I recommend adding 1 tablespoon of finely grated lemon zest and replacing half of the vanilla extract with freshly-squeezed lemon juice. Just add the zest to the cornstarch and toss it to coat. That will keep it from clumping in one part of the batter.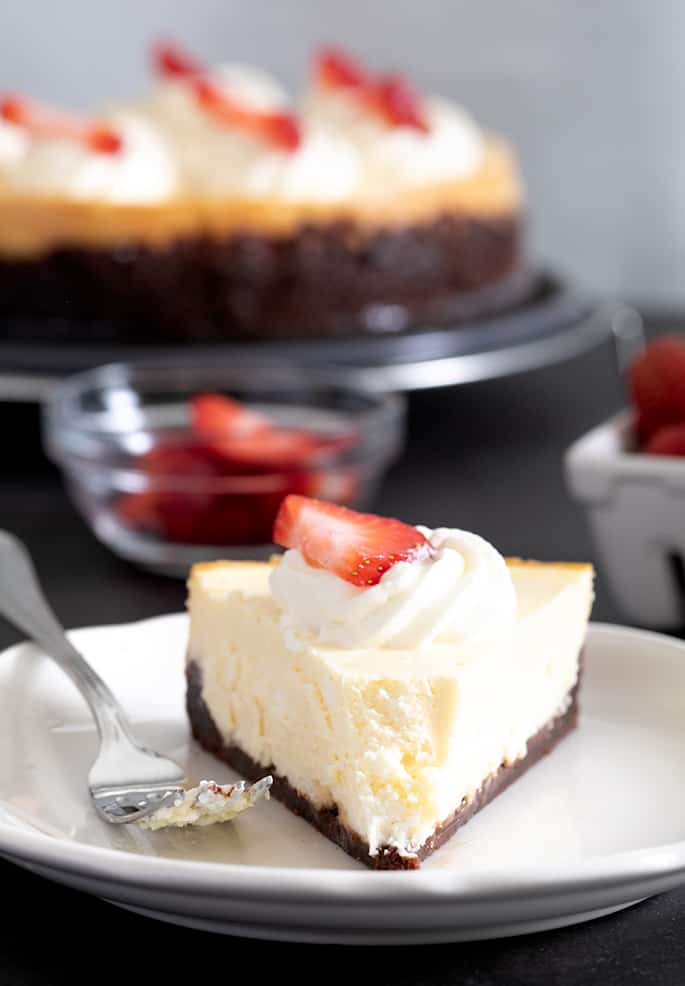 Crust or no crust?
The simple ingredients in this recipe are perfectly balanced, so if your pan is properly prepared you can bake the cake without the graham cracker crust. I really prefer the cake with the cookie crust, though, since the contrasting textures balance each other just right.
To make the crust here, I used my chocolate graham crackers. But classic gluten free graham crackers or really any crunchy cookie (like Trader Joe's gluten free Joe Joe's) will work great, too.
I don't recommend adding sugar to the cookie crust, though. The secret to a cheesecake that is flavorful but not overwhelming is to keep the sweetness at just the right level. The elements should complement, and not outshine, one other.
No water bath needed—and still no cracks
I don't think it's necessary to bake the crust separately before adding the filling. I used my friend Mel's method for baking cheesecake without a water bath, and the crust is never soggy. And my life is easier in general. ?
The purpose of a water bath is to create a moist environment in your oven so that the cake bakes evenly and slowly. Drastic changes in temperature in either direction (too hot or too cold) lead to cracks in the cake.
Tips on making cheesecake with the perfect texture
You'll also notice that all the ingredients in the cheesecake except for the eggs are beaten vigorously first. Then, the eggs are added and beaten just until the mixture is smooth. Mel also taught me that too much air incorporated into the batter will also lead to cracks in the cheesecake.
When the filling is transferred to the pan, you'll smack the bottom of the pan flat on the counter a few times. That will break up any large air bubbles that we created, despite our best efforts to avoid them.
I do have to remind you that cracks are really not a huge deal, though. They don't change the taste of the cheesecake, and if your cheesecake ends up with cracks you can always make it into miniature cheesecake bites and cover your failure in chocolate.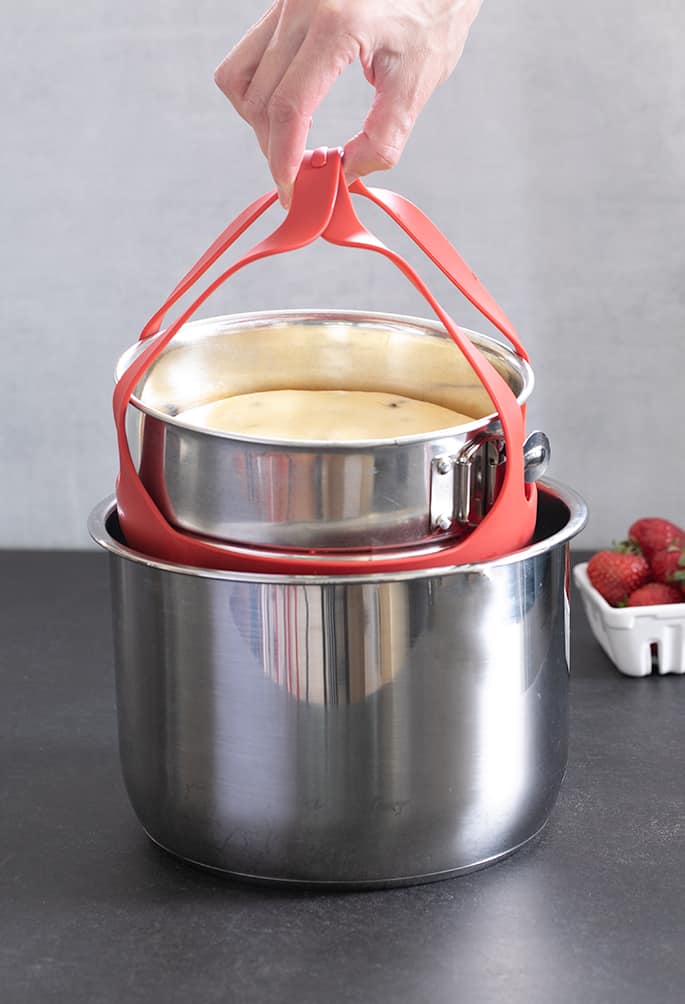 How to make a cheesecake in the Instant Pot
If you've baked anything in an Instant Pot electronic pressure cooker, or even considered it, you've probably made or thought about making a "foil sling" to help lift the cake out of the pan gently. That sounded way too complicated to me. It still does.
But I was shopping at Kohl's the other day, and browsing through the housewares department. I really like the Food Network-branded products and can't seem to stay away. I usually walk away empty-handed, though, since I generally have a fully-stocked kitchen.
But then I saw that OXO brand has a "silicone pressure cooker sling." Since you can see in the photo above that I'm using that very sling, you know that I caved. OXO products were on sale—and I had a 30% off coupon. I'm pretty sure I ended up paying around $9 for the sling. And it worked beautifully.
Step by step tips for Instant Pot cheesecake
If you'd like to make a cheesecake in your electronic pressure cooker, now I can tell you how to do it. Simply grease and line an Instant Pot-sized springform pan, and prepare this same recipe (but reduced all of the ingredients by 1/3 to accommodate the smaller pan).
Place about 1-inch of water in the bottom of the Instant Pot pan and cover the top of the springform pan with foil to prevent condensed water in the pan from dripping on the top of the cake. Place the prepared pan in the silicone baking sling and lower it into the pan on top of the water.
Cover the Instant Pot and set the vent to sealing. Push the "manual" button and increase the time to 32 minutes. When the pot beeps to indicate the cooking time is up, turn the pot off and allow the pressure to release naturally for 20 minutes.
Release any remaining pressure from the pot manually, open the lid and remove the pan from the pot using the sling. Remove the pan from the sling and place it on a wire rack to cool to room temperature. Chill and serve as usual.
Make a cheesecake simply
I have to say that it was very easy to make a cheesecake in the Instant Pot and certainly took less time overall. It's also nice to keep the oven free if you're preparing a meal at the same time.
But I do prefer the texture of the cheesecake when made in the oven. I find that it's less dense and creamier.
Plus, you are more likely to have a crack or two in your Instant Pot cheesecake since there really isn't a way to allow the cheesecake to cool very slowly as there is when you can allow the cake to sit in the oven with the door ajar.
If you're looking for the absolute easiest recipe without any of the fuss, you could also try our no bake cheesecake with gelatin. It's creamy smooth, and sets up in 2 hours or less in the refrigerator.
Ingredients and substitutions
So far, this has all been a good news post. Make the cake in the oven without a water bath! Make it in the Instant Pot! With or without a crust! It's all up to you.
Now comes the bad news, if you're looking for tips on how to make this classic gluten free cheesecake recipe without dairy or eggs. I'm afraid I just don't know how to do that reliably.
For about a year, my oldest daughter was dairy-free. She's back on dairy now (looooong story), and she ate this cheesecake happily and without incident. But she loves cheesecake, and I tried so many times to make a really good dairy-free cheesecake.
I failed over and over again. A cashew based cheesecake just does not taste like cheesecake. And I know that some of you may disagree, but I don't find any of the dairy-free cream cheeses (and I have tried them all) to taste quite right.
If you have a cream cheese replacement that you love, try it in this recipe by all means! I just don't feel like I can recommend that myself since I just am not convinced by any of them. And I really wanted to love some of the ones you love—for the cheesecake, and for my daughter. I just couldn't make it happen. ?
Since cheesecake contains so few ingredients, replacing any of them is kind of a big deal. I haven't had success making a cheesecake egg-free either for that reason. Eggs provide structure and richness.
If you need to make the recipe corn-free, you can replace the cornstarch with arrowroot. That's easy enough. And sugar-free is probably possible with a granulated sugar replacement like Lankato monkfruit sweetener. You may need to add some liquid, though, since those sugar replacements tend to be drying.