These 9 recipes for gluten free cutout cookies are all you need to cut cookies into any shape, for any holiday at all. They hold their shape during baking, so get as creative as you like!
Around the holidays especially, I'm often asked what my favorite cutout cookie recipe is. I think what you really want to know is, which cutout cookie recipe will really hold its shape.
The 9 cutout cookie recipes below will all really hold their shape. Scout's honor!
Maybe you want to make a gingerbread house. Or a Santa-shaped cookie, a wise man, or a reindeer (why didn't I ever think of that?!). An Easter bunny? I know. An ornament. Whatever it is, you want the cookies to hold their shape, and still taste just right and be tender but not crumbly.
I get it. All of these cookies fit the bill. They will not fail you. I will not fail you in your hour of cookie need!
First, my favorite. These soft and tender gluten free cream cheese cutout sugar cookies taste like cheesecake in a cookie. With or without a simple cream cheese frosting, it's the perfect cutout cookie.
Did I mention that they taste like cheesecake in a cookie? And of course, they hold whatever shape you like.
Delicate and not too sweet, these simple gluten free chocolate shortbread cookies are made with only 6 basic pantry ingredients. Unlike most shortbread cookie recipes, they'll actually hold their shape during baking.
Just be sure to chill the dough right before baking, and don't roll the dough too thin. There's even a how-to video where you can watch me make these little stars.
Ah, the men. How can you have a holiday season without gingerbread men?
These gluten free chewy gingerbread men cookies are soft and perfectly spiced for all your holiday cookie-baking needs—or any time of year. The dough is a little sticky, but be sure to use one of my recommended flour blends and measure by weight. You'll do great!
Don't they look so happy? They don't know you're about to eat them.
In case you're just not a soft and chewy sort of person, we have crispy and snappy gluten free gingerbread men cookies, too. Spiced with cinnamon and ginger, and flavored with just a touch of molasses.
If texture is all the same to you, I'd go with these crisp cookies for more intricate shapes as the dough is a bit easier to handle.
But what if you're Paleo? These crunchy Paleo chocolate cookies are like a Christmas miracle, as they'll hold their shape amazingly well.
Filled with Paleo 7-minute frosting to satisfy your sweet tooth, and still stay on your Paleo diet.
These delightfully soft cutout maple sugar cookies are packed with pumpkin flavor and simple to make. They don't spread at all during baking, and they're a nice change of pace from everything gingerbread.
The ultimate in cut-out holiday shapes: a gluten free gingerbread house. I've long searched for a super easy way to make a gingerbread house. This is it.
All you need are two different shapes of gingerbread cookies, and plenty of icing. I've seen plenty of you making this recipe and posting photos on Facebook of your handiwork. You're spreading the good word about how easy it really is!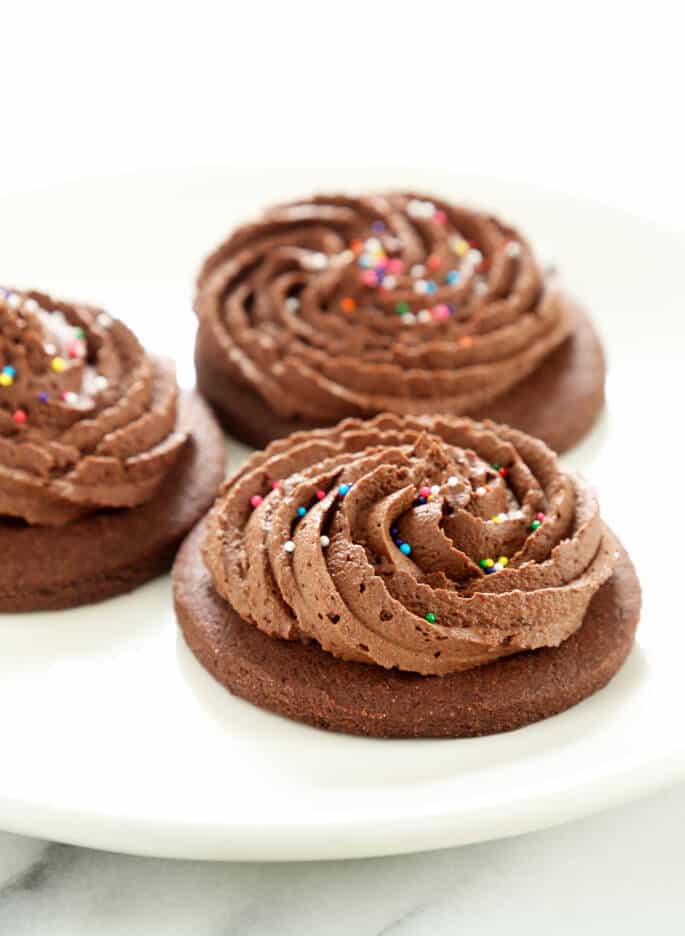 These soft gluten free chocolate cutout cookies roll out so easily. And they're chocolate, which isn't nearly as common in a cutout cookie as it probably should be.
And finally, a true classic gluten free cutout cookie. These soft gluten free sugar cookies with a meringue-type frosting are in a class by themselves.
This is the recipe that I've made for years and years for winter and spring holidays alike. They filled my holiday cookie boxes this year, too. They never, ever fail me! And I promise never, ever to fail you. ??☃️??