This gluten free pastry flour blend is a lightened and enriched version of our all purpose gluten free flour blend. Use it in everything from gluten free pie crust and scones to biscuits and puff pastry. You can even make it dairy-free!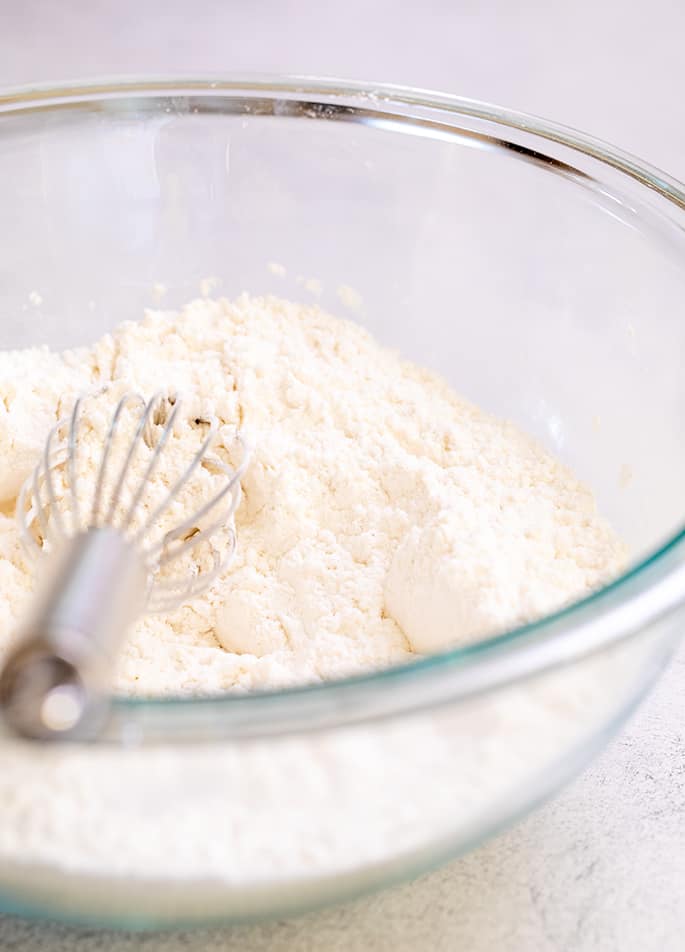 Why use gluten free pastry flour in baking pastry?
Whenever I make gluten free pastry, not in recipe development but in my life, and for myself and my family, I use this recipe for gluten free pastry flour. My two basic recommended all purpose gluten free flour blends are Better Batter (the original blend) and Cup4Cup.
I almost always use Better Batter in my everyday baking. It is an all purpose flour, and isn't designed specifically for pastry or any other specialty application.
Cup4Cup is, at base, a pastry flour. It has a lot of starch, and a lot of milk powder. If you use it (or my mock Cup4Cup blend), then that's your pastry flour, just as it is.
But using Better Batter and building on it to make cake flour (with cornstarch and salt) or pastry flour (with cornstarch and milk powder) simplifies my baking life. And simplicity is always welcome.
You'll notice that most of my recipes for different types of pastry here on the blog call for an all purpose gluten free flour, not for pastry flour. Sometimes, I'll add cornstarch and milk powder as additional ingredients, but often I don't.
Using an all purpose GF flour in most recipes keeps things simpler and more approachable—and it works. But if you want to take your pastry-baking to the next level, and do it easily, use this formula.
This way, you'll turn Better Batter into pastry flour. Then, use that in place of Better Batter in all types of pastry recipes here on this site that call for an all purpose gluten free flour, like the ones below.
You must use a kitchen scale
Building any sort of blend requires you to use a digital kitchen scale for precise measurements. Volume measurements are inherently unreliable from unavoidable human error and lack of standardization in volume measuring tools like cups.
For consistent results in baking, you need the right ingredients—measured accurately. The flour blend you use in any recipe is the foundation of your success. It must be measured right.
How to use gf pastry flour
In conventional baking, pastry flour has less protein (in the form of gluten) than all purpose flour. That makes more tender baked goods.
In gluten free baking, our flour blend has protein from rice flour, but it also has xanthan gum as a binder. That's why an all purpose flour like Better Batter performs like an all purpose flour.
But rather than playing with all the proportions of Better Batter, here we add more starch to lighten the blend. And we add milk powder to soften it and create browning and flakiness.
Make classic gluten free pie crust
Our most classic gf pie crust is made with gluten free pastry flour, baking powder, salt, cold butter, and ice water. If you watch the how-to video in this post, you'll see me make the pastry flour, and then the raw pie crust.
Above, you see the bottom crust for our gluten free apple slab pie. Both recipes call for an all purpose gluten free flour blend, but ideally you'd use pastry crust.
Pastry crust will enhance every aspect of a light and flaky crust that browns beautifully and is tender in the center. Of course, you'll still have to use the proper cold ingredients and handle them with a light touch, as with all pastry.
Make laminated gluten free biscuits
These gluten free buttermilk biscuits are made by laminating the dough similarly to how you would make puff pastry. Lamination refers to the process of folding a packet, or chunks, of butter into flour, over and over to create the layers that you see in the biscuit above.
You can make this recipe, like the others, with a classic all purpose gluten free flour blend. But if you instead make it with pastry flour, your biscuits will be both tender and more flaky.
Of course, pastry flour is perfect for our gluten free drop biscuits, too. Just replace both the all purpose gluten free flour blend and the cornstarch in that recipe with this pastry flour blend, gram for gram.
Make a gluten free puff pastry tart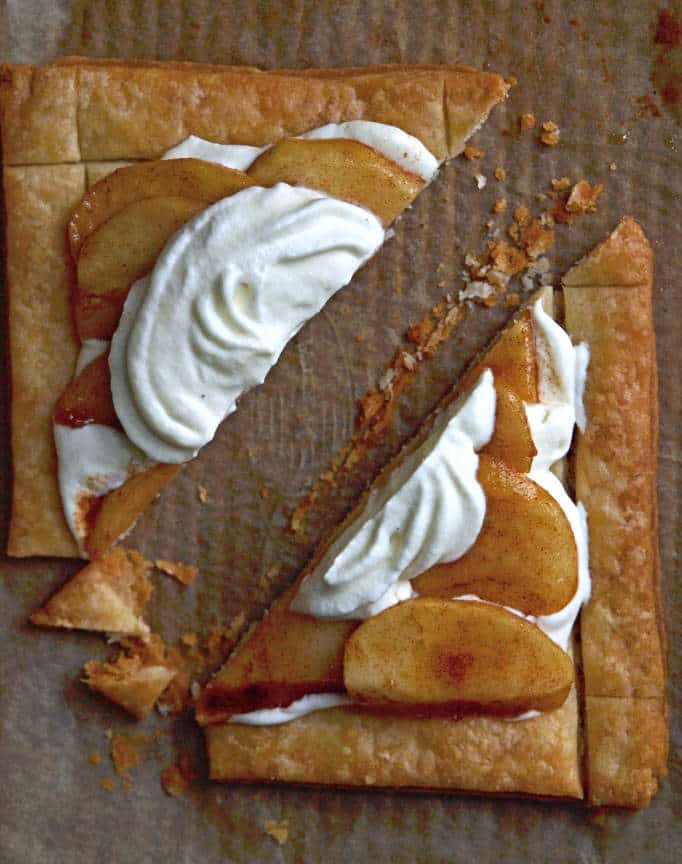 The ultimate laminated gf pastry dough is gluten free puff pastry. The simple apple tart above is made with a small sheet of puff pastry that's been scored, docked, and baked until golden brown and super flaky.
Making puff pastry is not difficult, but it does take time—even though most of the time is inactive time. You have to chill the dough in the refrigerator after each step, in between each "turn."
The very idea of puff pastry can be very intimidating to make from scratch, so the flour I called for is an all purpose gluten free flour. It makes a lovely puff pastry—but all its best qualities are enhanced with pastry flour instead.
Make simple gluten free scones
These petite gluten free vanilla scones are made with a bit less butter than usual for a scone, but they also have an egg in the dough. The egg adds richness, and also structure to the scones.
This recipe calls for all purpose gluten free flour, plus dry milk powder and cornstarch. I often include the elements of pastry flour (cornstarch, milk powder) as separate ingredients, because the mention of "pastry flour" can feel overwhelming.
In any recipe that calls for these ingredients separately, you can replace all of those ingredients with pastry flour, gram for gram. So in these scones, that would mean 284 grams total gluten free pastry flour (227 g + 30 g + 27 g). That's only slightly more than 2 cups of pastry flour.
Ingredients and substitutions
Dairy
In place of the cow's milk powder in this recipe for gluten free pastry flour, you can use powdered nondairy milk. I like Native Forest brand coconut milk powder best.
If you'd like to avoid milk powder entirely, you can use superfine blanched almond flour. You'll need different proportions. For one cup of nondairy gluten free pastry flour, the proportions are:
105 grams Better Batter all purpose gluten free flour blend (75% of total)
18 grams cornstarch (13% of total)
17 grams superfine blanched almond flour (12% of total)
Corn
If you can't have cornstarch, you can try using arrowroot or even more potato starch (not potato flour).