This gluten free vegan pancakes recipe makes super fluffy eggless pancakes in one bowl, in just minutes. Even if you're a vegan, you can still enjoy pancakes!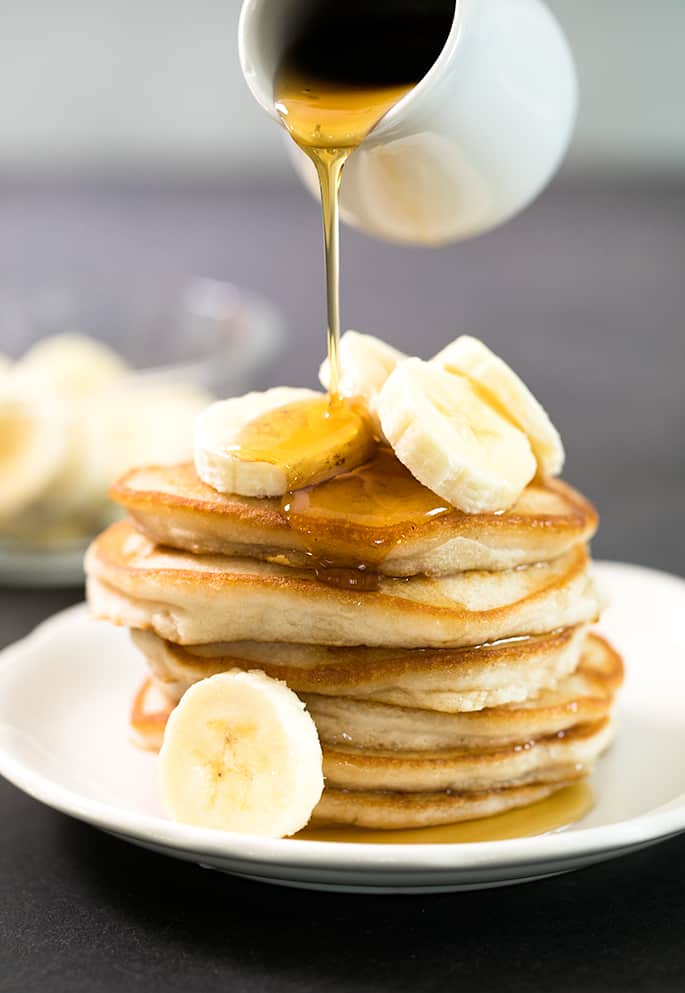 Eggless wonder
As long as I've been writing gluten free recipes, I've been conscious of whether or not I was including dairy. I know that, although most people who are gluten free can tolerate dairy, some can't—especially when they first go gluten free. My gluten free son could not tolerate any dairy when he first went gluten free and his body was still healing.
I try to provide as many substitution suggestions and information on the ingredients in my recipes as possible, but they're never all going to be dairy free—or vegan. But a funny thing happens when you start testing more and more ingredient substitutions.
You get a taste of the challenge, and you become certain that you can do it better than before if you just try one more thing! That's how this vegan pancakes recipe was born.
Typically, my suggestion for making a recipe eggless is to use a "chia egg" (1 tablespoon chia flour + 1 tablespoon lukewarm water, mixed and allowed to gel). It usually works reasonably well when you only replace up to 2 eggs that way. I do not like Ener-G's egg replacement. Generally, I'll stick with a chia egg.
But when I tried chia eggs (and flax eggs—which have a strong, unpleasant taste to me), not only did I not love the flavor, but they really just didn't work to make fluffy vegan pancakes. And that just wasn't good enough.
So instead of chia eggs, or a mix of chia eggs and applesauce (I'm telling you, I really tried everything!), I hit pay dirt when I used a combination of applesauce (the pectin provides some structure and it provides moisture), my gum-free gluten free flour blend (my simplest, most incredibly useful blend ever) and xanthan gum itself.
I know you're going to want to know if you can just use one of my all purpose gluten free flour blends since we're using xanthan gum anyway. But you really can't! I tried. I tried it all. And I tell you all about it in the "Ingredients and Substitutions" section just below.
Ingredients and substitutions
Since these pancakes are vegan and gluten free, there isn't a whole lot that I can imagine you'd need to substitute. But here are a few guesses at what you might ask, and my answers to your unasked questions ;).
Applesauce: I tried these pancakes every which way. Like, really, with every possible substitution (except for adding gluten to them!). I was able to replace the applesauce with an equal amount, by weight, of finely mashed banana (about 1/2 a medium banana).
I served alllll of the varieties to my children without explaining a thing. They could taste the bananas, and 1 out of 3 of them did not care for the switcharoo. But the pancakes were still light and fluffy. So it's definitely an option.
Flour blend/xanthan gum: Originally, I made these pancakes without xanthan gum completely, and instead with "chia eggs" (and even with "flax eggs," although I do not care for that substitution but it felt like the right vegan thing to do). With chia eggs and with flax eggs, they were flat—whether I used xanthan gum or not. I really recommend using xanthan gum.
This question is one I know is coming: if you're adding xanthan gum to the gum-free flour blend, can't you just use Better Batter or another gum-containing gluten free flour blend? Well, I tried that, too. And the pancakes were gummy and more fragile. Mysteries abound! ?? I do not recommend using an all purpose gluten free flour blend with xanthan gum.
Rice flour: You simply cannot make this recipe without rice flour. If you're not vegan, but need dairy free gluten free pancakes, try my recipe for Paleo Pancakes made with almond flour or my recipe for Coconut Flour Pancakes.
Non-vegan (hey, if someone can ask how to make a banana bread without bananas, someone can ask how to make vegan pancakes non-vegan, right?) If you're not vegan, try my recipe for Gluten Free Buttermilk Pancakes, or my recipe for DIY Gluten Free Pancakes Mix.
The Best Vegan Pancakes Recipe
Yield:
About 8 pancakes, depending upon size
Ingredients
1 1/4 cups (175 g) basic gum free gluten free flour (115 g superfine white rice flour + 40 g potato starch + 20 g tapioca starch/flour)
1/2 teaspoon xanthan gum
2 teaspoons baking powder
1/2 teaspoon baking soda
1/2 teaspoon kosher salt
2 tablespoons (24 g) granulated sugar
1 cup (8 fluid ounces) unsweetened nondairy milk, at room temperature (my favorite is unsweetened almond milk)
1/4 cup (64 g) smooth applesauce
1 teaspoon pure vanilla extract
2 tablespoons (28 g) vegan butter, melted and cooled
Sliced bananas and maple syrup for serving (optional)
Instructions
In a large bowl, place the flour blend, xanthan gum, baking powder, baking soda, salt, and sugar, and whisk to combine well. Add the milk, applesauce, vanilla, and melted vegan butter, and mix to combine well. The mixture should be thick but smooth.

Heat a griddle or nonstick or cast iron skillet over medium heat. Grease it lightly, and pour or spoon portions of about ¼ cup of batter onto the hot griddle. Spread each into a round about 1/4-inch thick. Allow the pancakes to cook until large bubbles begin to break through the top of the batter in each pancake and the edges are set (about 2 minutes). With a wide, flat spatula, carefully flip over each pancake, and continue to cook until set (about another 30 seconds). Remove from the skillet, and repeat with the remaining batter.

The cooked pancakes can be kept warm in a single layer on a lined baking sheet in a 200°F before serving, then topped with sliced bananas and maple syrup before serving warm. They can also be cooled completely, stacked, wrapped tightly and frozen until ready to use. Defrost in a warm toaster oven before serving.