This Paleo pizza crust tastes just like the real thing, but is made without gluten, grains, or dairy. It's the perfect primal canvas for all your favorite toppings!
What's different about this gluten free pizza
Cauliflower and other veggie-based crusts are great, but sometimes you need something a little closer to classic pizza to satisfy your cravings. This Paleo pizza dough bakes up into a gorgeous pie with just the right amount of crunch around the edges.
The middle of the pie is more chewy than crispy, but holds its own well enough to not sag under the weight of whatever toppings you choose. You'll just need two Paleo-style flours to make this Paleo pizza crust, and it will fool your friends with how close it tastes to traditional pizza.
How we achieve that traditional pizza crust chew and flavor
Almond and tapioca flours work together to mimic all-purpose flour for this recipe, and yeast gives the dough that characteristic pizza crust flavor. Instead of sugar, honey is mixed with the yeast to get the process started.
Olive oil provides a hint of richness and the egg, coupled with the tapioca flour, gives the dough plenty of elasticity, so it's easy to work with. The dough only requires one forty-five minute rise, making it a viable option for weeknight dinners.
Once the dough has risen, it's easy to pat out by hand on a piece of parchment—no rolling pin necessary. Preheat a baking sheet (use the back to give the pizza more room), brush the dough with a little olive oil, and pop the crust in the oven.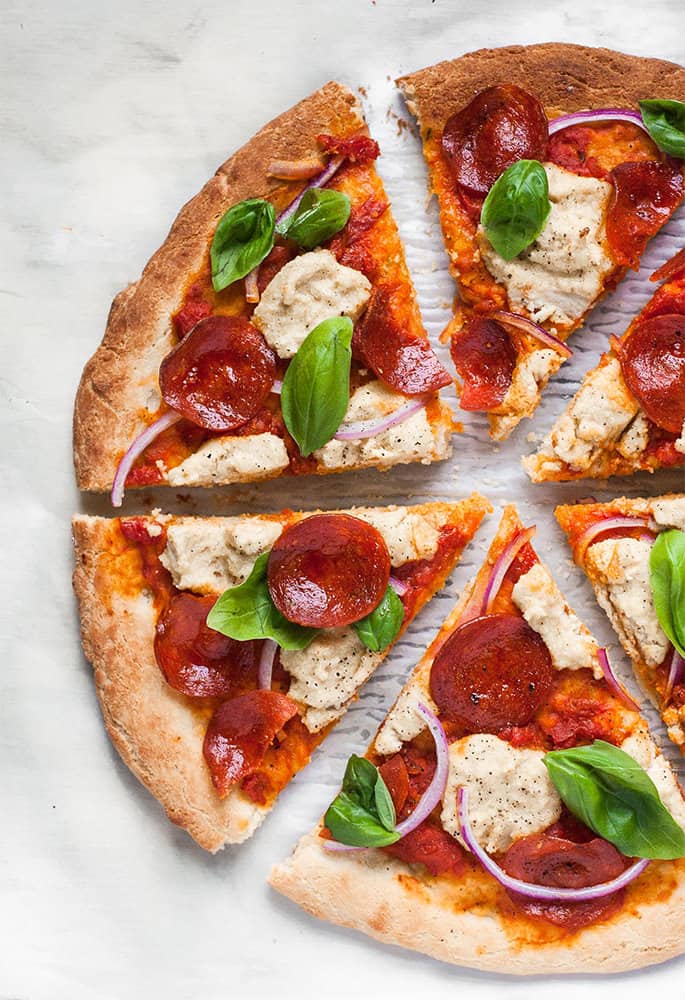 Which pizza toppings are Paleo?
After baking for eight minutes, the partially-baked pizza is ready for toppings. The photos above are taken by Becky of A Calculated Whisk (she developed this recipe for me).
Above, you can see that Becky used marinara sauce, pepperoni, thinly sliced red onion, and dollops of cashew ricotta. The red onion and basil leaves look like they were added after baking, so they're still raw.
Since I've started Paleo baking, the rules seem to have changed a bit and some dairy seems to be allowed. If you eat traditional cow's milk dairy, just use your favorite cheese or other pizza toppings. Anything you might use for a traditional gluten free pizza crust will work just as well here.
I've used everything from store-bought dairy free cheese, like Miyoko's Kitchen brand dairy free mozzarella-style cheese, to my own homemade version. In the how-to video in this post and in the image above, the shredded cheese is one I made using using Nora Cook's recipe for shreddable vegan mozzarella cheese.
If you'd like to make Nora Cook's or Miyoko's homemade vegan cheese, you'll need something called kappa carrageenan. It's a vegan gelling agent that is used frequently to make nondairy cheese, and it's relatively easy to order online.
Kappa carrageenan doesn't add any taste or odor to the homemade vegan cheese, and it does an amazing job of creating a cohesive texture for your homemade cheese. I'd like to try using it in place of xanthan or guar gum in gluten free baking.
After adding toppings, the pizza goes back into the oven for five more minutes. Once out of the oven, you can add a handful of fresh basil leaves and a few grinds of black pepper before slicing and serving.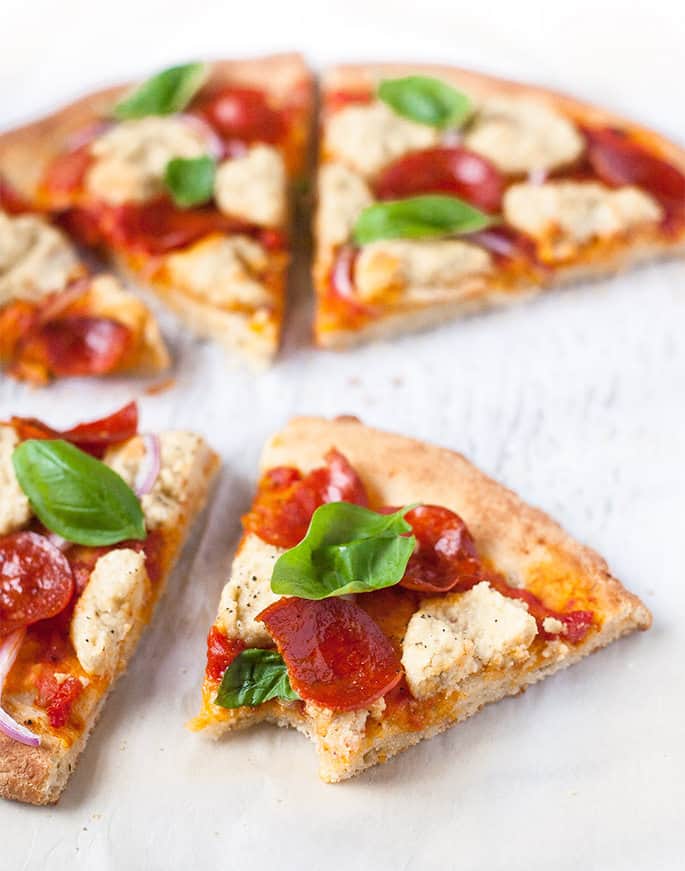 Ingredients and substitutions
Since this a Paleo recipe, it's already necessarily dairy-free, gluten-free and even grain-free. There are a few additional potential allergens, though.
Almond flour
If you can't have nuts, then I don't recommend making this recipe. Try our recipe for dairy-free cauliflower pizza.
If you simply can't have almonds, I think the recipe would work with blanched, finely ground hazelnut flour. Be sure that whatever nut flour you're using, it's not a nut "meal," which is made with nuts that still have their skins, and are coarsely ground.
Egg
Since there's only one egg in this recipe, you should be able to replace it with a "chia egg" (1 tablespoon ground white chia seeds + 1 tablespoon lukewarm water, mixed and allowed to gel).
In the comments to this post, you can see that others have had success replacing the egg with a "flax egg." Generally, I don't like flax eggs unless they're made by boiling flax seeds and extracting the gel. That method eliminates most of the flavor of the flax seeds, which is strong.
Tapioca starch/flour
Tapioca starch (also called tapioca flour) is essential to the success of this recipe. It's the bulk of the flour used in the recipe, and it provides stretch that almond flour simply can't.
There is no Paleo replacement for tapioca starch. If you aren't Paleo but you'd like to make this recipe without tapioca starch, try using superfine sweet white rice flour (also called "glutinous" rice flour, made from short grain white rice) in its place.
Yeast
You can't make this recipe without any yeast. It calls for instant yeast, which is also called breadmaker or rapid-rise yeast.
If you would like to replace the instant yeast with active dry yeast, multiply the number of grams of instant yeast by 1.25. Here, that means 6 grams x 1.25, or 7.5 grams.
I recommend just using 8 grams of active dry yeast. It has a thicker coating around the grains, so you'll need to soak it in the water in the recipe first. Once it's bubbling, proceed with the recipe and add the yeast and water when the instructions call for adding the water alone.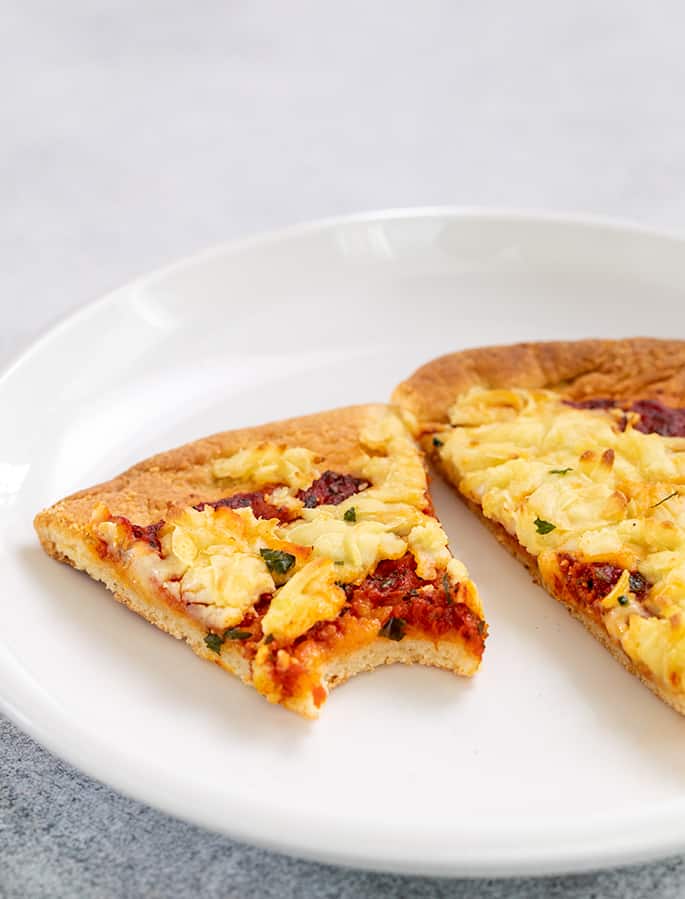 Authentic Paleo Pizza
Yield:
1 12-inch pizza crust
Ingredients
1 cup (120 g) finely ground, blanched almond flour
1 ¾ cups (210 g) tapioca starch/flour, plus more for dusting
2 teaspoons (6 g) instant yeast
½ teaspoon kosher salt
⅓ cup (2 2/3 fluid ounces) warm water
3 tablespoons (42 g) extra virgin olive oil, plus more for brushing
1 tablespoon (21 g) honey
1 egg (50 g, weighed out of shell) at room temperature, beaten
Pizza toppings, as desired
Instructions
In a large bowl or the bowl of your stand mixer, place the almond flour, tapioca starch, and instant yeast. Whisk to combine well with a separate, handheld whisk. Add the salt, and whisk again to combine. Add the water, olive oil, honey, and egg, and mix until a sticky batter forms. If you're using a stand mixer, mix until a uniform batter forms with the paddle attachment and the mixer on medium-high speed. Otherwise, switch to a spatula or wooden spoon, and mix until a uniform, but shaggy, dough forms.

Dust your hands with a little tapioca flour and press the dough into a ball, kneading it a bit to get any floury bits mixed in. Return the ball of dough to the bowl, cover it with plastic wrap, and set it in a warm place for about 45 minutes or until the dough swells to about 150% of its original size. Place a pizza stone or large, overturned rimmed baking sheet in the oven and preheat your oven to 375°F.

Place a large sheet of parchment paper on a flat surface, and, with lightly tapioca floured hands, transfer the ball of dough to the parchment. Pat the dough out into a circle about 12 inches in diameter, pushing out toward the edges to form a puffy rim of crust.

Drizzle the top of the raw dough with olive oil and brush or spread it with clean hands evenly across the top of the crust, including the edges. Pierce the top of the dough (excluding the crust) with the tines of a fork.

Carefully transfer the parchment with the dough onto the pizza stone or sheet pan and bake for 8 minutes or until the pizza dough is set and just beginning to brown.

Remove the dough from the oven and add your desired toppings. Return to the oven and for about 5 minutes more or until your toppings are melted and/or bubbling and the edges of the pizza are golden brown.

If desired, set the oven to broil and broil the pizza for up to two minutes until browned. Remove from the oven, slice, and serve hot.

Original recipe posted on the blog in 2017. Recipe and original images by Becky Winkler of A Calculated Whisk. Video and some photos new; recipe method simplified but otherwise unchanged.