Serve these hearty & satisfying gluten free Swedish meatballs with gravy as the classic appetizer, or over a plate of rice or gluten free egg noodles for a complete meal.
Are the Swedish meatballs at IKEA gluten free?
First things first: No, the Swedish meatballs from IKEA are not gluten free. 🙁
When we went to IKEA with the kids when they were little, we were always surprised by how few gluten free foods they had in their cafeteria. Not that everyone has to offer gluten free food, but it just seemed like they would.
I first had Swedish meatballs as a kid, whenever we went to my Swedish aunt's house for a meal. I had no idea what was in those tender, flavorful mini meatballs with the deep savory flavors.
Then, they started popping up at buffets and as hors d'oeuvres as my husband and I aged into the wedding circuit time of our lives. Those never really measured up to my aunt's, but the meatballs from IKEA at least smell like the ones from childhood, so no wonder everyone seems to love them.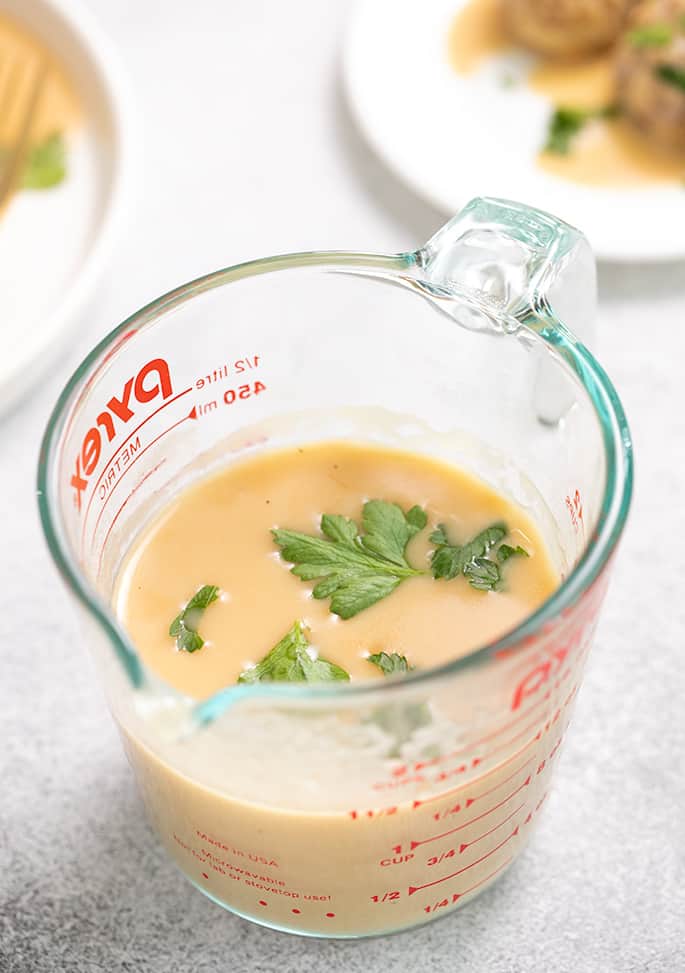 What makes these gf Swedish meatballs special?
There are a few tweaks that make these glutenfreeswedishmeatballs more flavorful than the sort of gluten free meatballs that I serve with tomato sauce.
The meatballs are a little different
The meatballs have a touch of allspice (unless you really really hate allspice, leave it in you'll love it), and a whole grated onion. That perfumes the whole mixture.
And of course, they have a mixture of ground pork and ground beef. But I've swapped out the ground pork with ground chicken and even ground turkey with good results, so the meat mixture isn't as crucial.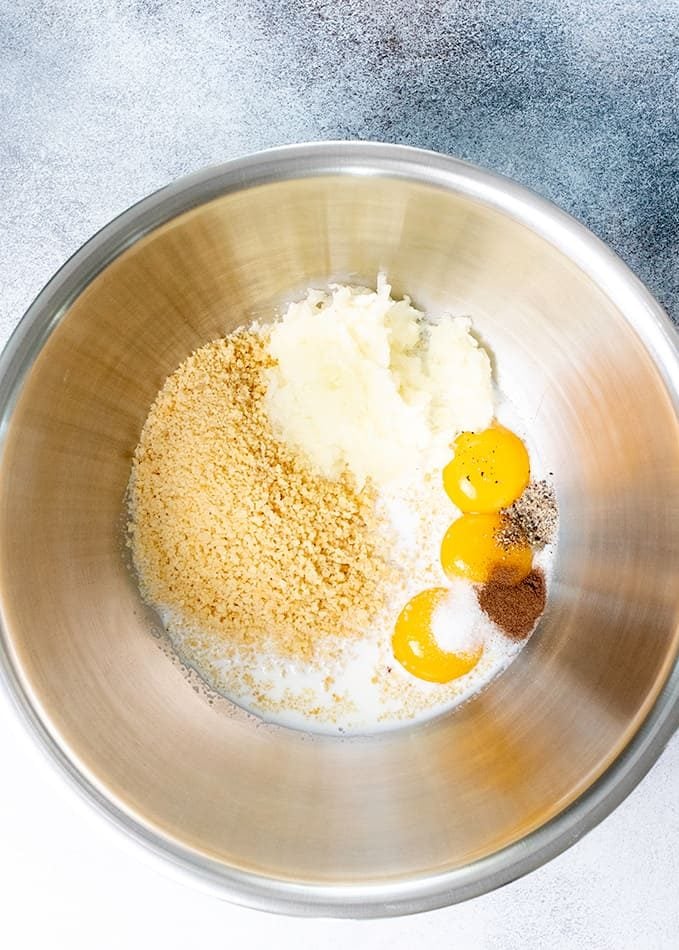 The gravy is so savory
The gravy begins as usual, with a simple gluten free roux made from butter and a basic gluten free flour blend. Whatever you do, don't use xanthan gum or you'll have a gummy gravy. Plus, we use less flour than we do in gluten free sausage gravy.
What makes the biggest difference is one tablespoon of gluten free soy sauce or tamari and ½ teaspoon (a touch!) of apple cider vinegar in a smooth, silky gravy. Just that bit of umami and acid, along with a few tablespoons of cream at the very end, make a light brown gravy that you'll want to pour all over everything.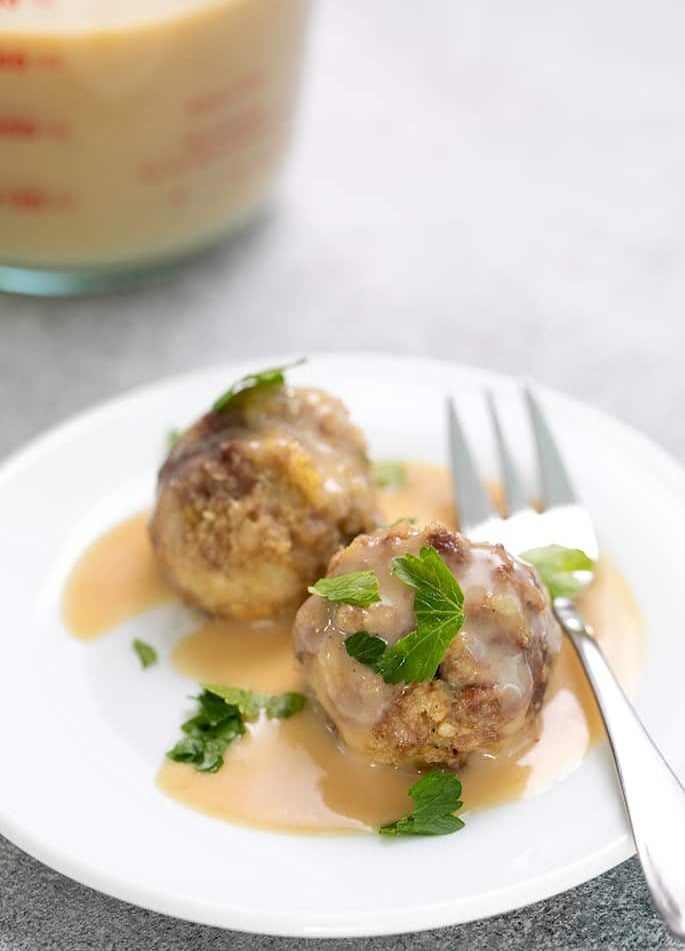 Ingredients and substitutions
Dairy
There isn't a lot of dairy in this recipe, and it should all be relatively easy to replace. The sources of dairy are: milk in the meatballs; butter and heavy whipping cream in the gravy.
For the milk in the meatballs, if you can't have dairy you can use any unsweetened nondairy milk. Something with fat is always preferred, like unsweetened almond milk.
In place of the butter, try using vegan butter. Melt and Miyoko's Kitchen brands are best, but even Earth Balance buttery sticks are fine here.
For the heavy whipping cream, you can either leave it out, or replace it with some sort of thicker, creamier nondairy milk. Canned coconut milk is the best consistency, but it will provide a bit of a coconut flavor.
Egg yolks
The three egg yolks provide richness, and also help to bind the meatball mixture together. You could try using melted butter for the richness, and increasing the bread crumbs a bit for the binding properties. You'll have to experiment!
Meat
Swedish meatballs are typically made with a combination of half ground pork and half ground beef. I like lean ground beef since these are relatively soft meatballs and higher fat ground beef is softer.
I often use ground chicken in place of ground pork, though, and you can barely taste the difference. You certainly can't taste the ground chicken.
Gluten Free Swedish Meatballs
Yield:
About 3 dozen mini meatballs
Ingredients
For the meatballs
1 small onion
3 egg yolks (75 g), at room temperature
1/2 cup (4 fluid ounces) milk, at room temperature
1 cup (120 g) panko-style gluten free bread crumbs (homemade or store-bought; See Recipe Notes)
1 teaspoon kosher salt
1/4 teaspoon freshly ground black pepper
1/4 teaspoon ground allspice
1 pound ground pork (see Recipe Notes)
1 pound 90% lean ground beef (See Recipe Notes)
For the gravy
2 tablespoons (28 g) unsalted butter
3 tablespoons (27 g) basic gum-free gluten free flour blend (See Recipe Notes)
1 tablespoon gluten free soy sauce or tamari
1/2 teaspoon apple cider vinegar
3 cups (24 fluid ounces) chicken stock
3 tablespoons (1 1/2 fluid ounces) heavy whipping cream
Fresh flat leaf parsley, chopped
For serving (optional)
Fluffy white rice or gluten free egg noodles
Notes
For the bread crumbs
There are a number of panko-style (coarsely ground) gluten free bread crumbs you can buy. Of course you can also make your own with the recipe I have linked in the ingredient list.
I really like Ian's gluten free panko-style bread crumbs, and tend to buy the bags in great numbers when I find them on sale. I use them every week in at least one recipe.
For the meat
In place of ground pork, you can use ground chicken or turkey. If you use a higher fat ground beef, the meatballs will be softer and more likely to leak fat during baking.
For the gluten free flour blend
For 3 tablespoons our basic gum-free gluten free flour blend, combine 18 grams superfine white rice flour, 6 grams potato starch, and 3 grams tapioca starch/flour.
If you'd prefer, you can also use 27 grams superfine sweet white rice flour, also known as glutinous rice flour. Cornstarch leaks as it cools, so it's not my preference here.
Instructions
Preheat your oven to 350°F. Line a large rimmed baking sheet with unbleached parchment paper, and set it aside. Peel and grate the onion on a standard size cheese grater. Squeeze out the excess moisture.

In a large bowl, place the egg yolks, milk, bread crumbs, prepared grated onion, salt, pepper, and allspice, and mix to combine well. Break up the ground pork and ground beef with your hands, so it's a bit loose, and add it to the bowl. With a large mixing spoon, mix everything together gently but completely, taking care not to squeeze the meat too much.

Using a small spring-loaded ice cream scoop or wet hands, portion the meatball mixture into golf ball-size balls and place on the prepared baking sheet about 1-inch apart from one another. Shape gently with wet fingertips to ensure that the balls are relatively round.

Place the baking sheet in the center of the preheated oven and bake for about 20 minutes or until firm to the touch and at least 160°F in the center when probed with an instant read thermometer. Remove the meatballs from the oven.

To make the gravy, place a large sauté pan over medium-high heat and melt the butter. Add the flour blend and cook, whisking constantly, until it has begun to thicken and brown very slightly and smells nutty (about 1 minute). Add the soy sauce and vinegar, whisking constantly. The mixture will bubble up.

Add the chicken stock slowly, whisking constantly; bring to a simmer and cook until the sauce has begun to thicken (about 6 minutes). This isn't a very thick gravy. Finish by adding the cream, whisking constantly. Return the mixture to a simmer.

Add the cooked meatballs to the sauce and cook until heated through, or place the meatballs on a plate and pour the hot sauce over the meatballs. Sprinkle the meatballs with the chopped fresh parsley and serve hot with optional white rice or noodles.

Adapted from Gluten Free Small Bites: Sweet and Savory Handheld Treats for On-the-Go Lifestyles and Entertaining. Excerpted by arrangement with Da Capo Lifelong Books, a member of the Perseus Books Group. Copyright © 2016.