Gluten free egg noodles, made with just 4 basic ingredients, can be made with a pasta roller or by hand. Just right for your homemade soup!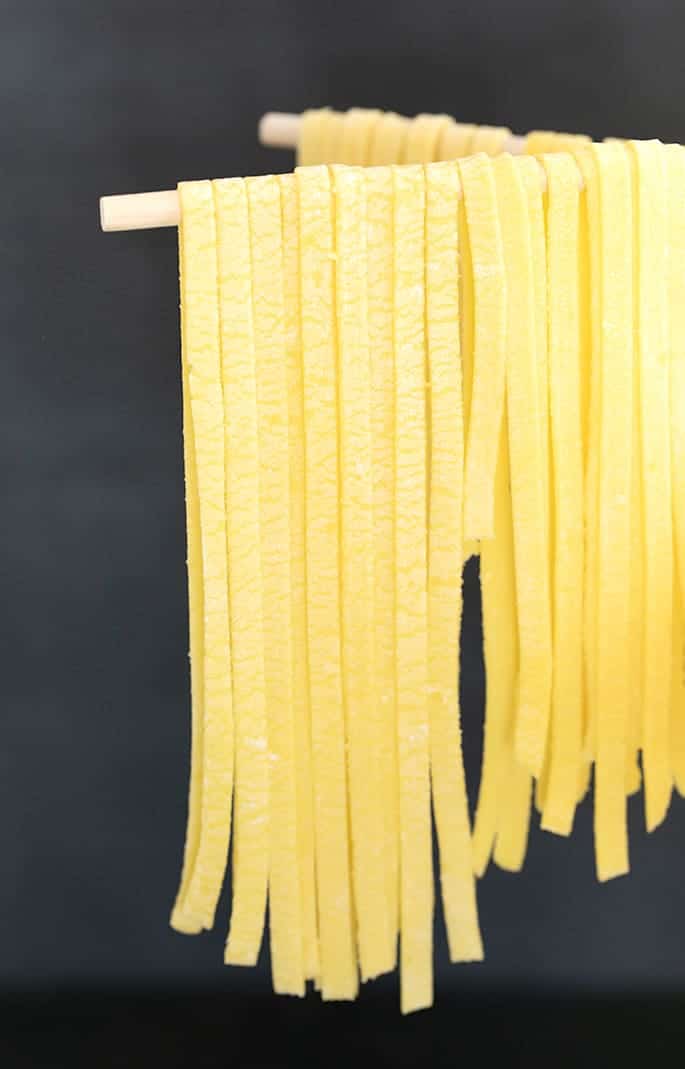 What makes homemade egg noodles special?
Most homemade pasta is made with eggs. Gluten free egg noodles are similar to our recipe for classic homemade gluten free pasta—but they're much richer and smoother in taste.
There are so many dried gluten free pastas to buy, and many of them are quite good. But the only brand of dried gluten free egg noodles I've ever seen is Manischewitz, and they're as terrible in taste and texture as they are expensive.
And they're really expensive.
There are even some fresh gluten free pastas that you can buy at stores like Whole Foods—but they're ridiculously expensive. I have picked up a package in the store, considered it, then put it back so. many. times.
If you want good-tasting gluten free egg noodles, you're going to have to make them yourself. It takes a bit of time, but that fresh pot of homemade gluten free chicken noodle soup is going to be an instant family favorite.
Do you need a food processor to make pasta dough?
Yes, I believe that you need a food processor to make this recipe for gluten free egg noodles properly. Even a miniature food processor will work (I've tried).
When I say this, I know that many of you don't have a food processor and will attempt to make this recipe with a bowl and a spoon. This isn't a prohibition against trying!
I try to require as little special equipment as possible in my recipes, since I want everyone to join in the fun. But I will say that, if you don't follow the recipe as written, your results are far from guaranteed.
It's not uncommon for readers to make adjustments to a recipe, often assuming they're insignificant and find that the recipe hasn't worked as described. You are free to do so, but it's not fair to leave a comment saying that you "followed the recipe to a T" and it "didn't work at all."
If you don't use a food processor here, your ingredients are unlikely to be combined properly. That means your dough won't be like mine.
The same goes for using ingredient substitutions. Recipes are like scientific formulas, and I try to build in resilience, but every formula has its limits.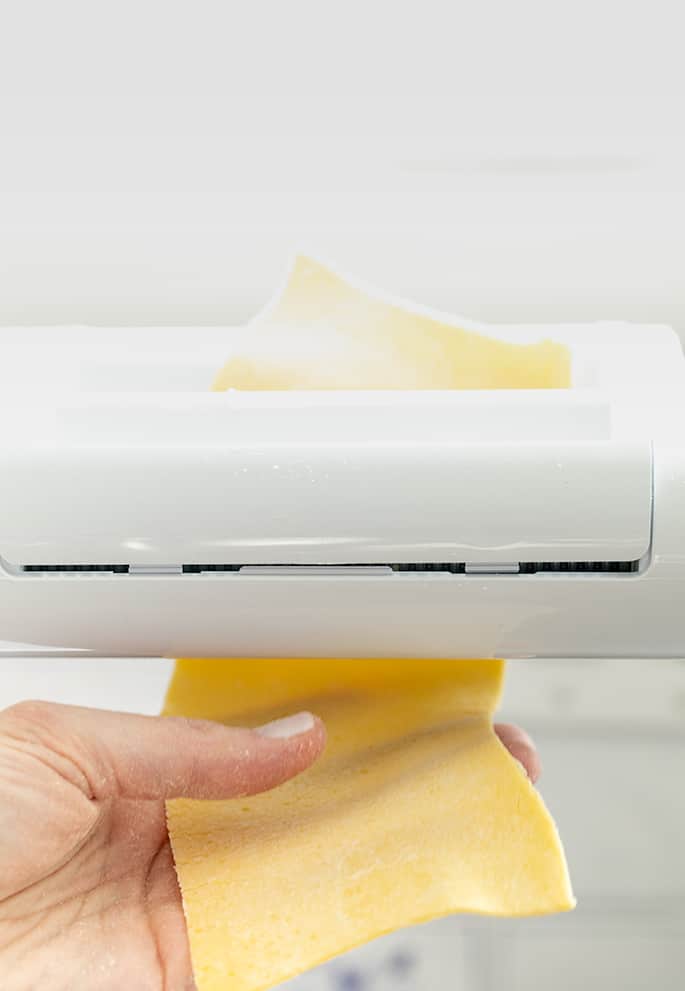 Do you need a pasta roller to make gluten free egg noodles?
You absolutely do not need a pasta roller/machine to make homemade pasta of any kind. So there's all good news here!
I like to use a combination of hand rolling and machine rolling. Hand rolling allows me to control the moisture in the egg noodles as I go along.
We begin this recipe with a relatively tacky dough, since gluten free flours tend to absorb more moisture. But if we don't control for the excess moisture, the raw noodles won't hold their shape.
Rolling the pasta in a machine helps me achieve a uniform thickness throughout the dough. And it also makes cutting into ribbons a snap.
Do I need a pasta drying rack?
Also, no! You don't need a pasta drying rack. They're handy for drying pasta without overlapping it too much.
But it is really just as effective to create nests of raw pasta ribbons and allow them to dry a bit that way. When you boil the pasta, it will separate as long as the ribbons have been dusted with flour—no matter how they dried.
When I published our classic homemade gluten free pasta recipe, I coiled the cut raw ribbons into nests. If you'd like to see how that looks (or just to make a less rich pasta), click over there.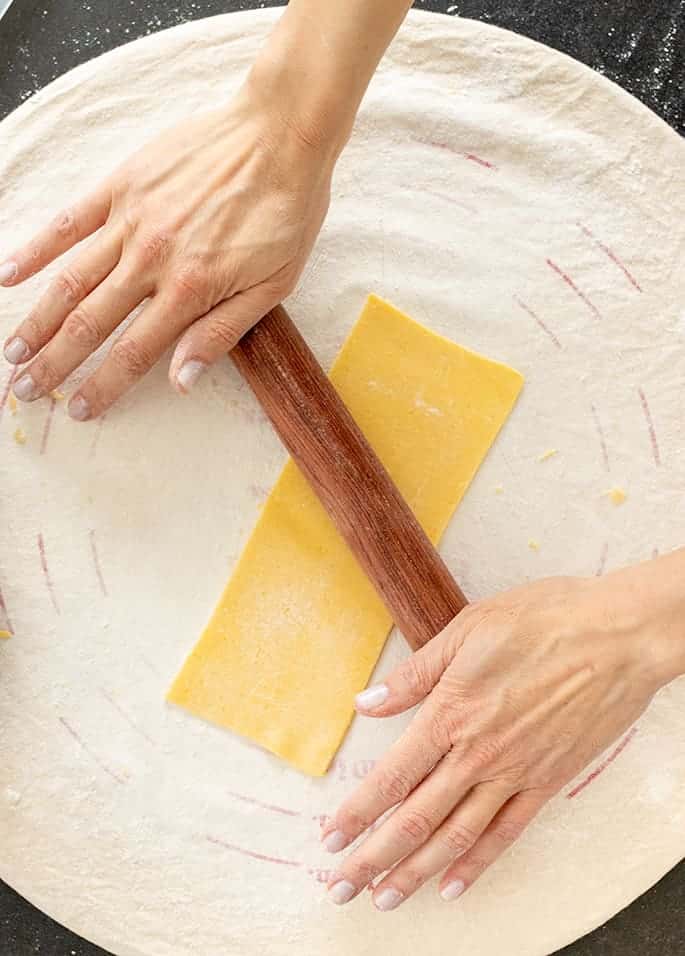 Tips for using a pasta roller
The numbers of your pasta roller machine correspond to the distance between the roller bars. Begin with the lowest number (which may be "0" or may be "1") for the rollers in the position farthest from one another.
Go step by step, decreasing the distance between the rollers one at a time. Don't skip any numbers.
Dust the dough repeatedly with more tapioca starch/flour as you go. If it begins to feather on the edges, it's likely too wet—or you've rushed the process.
Dust the dough, and go step by step. And then try serving them topped with gluten free Swedish meatballs, and don't skimp on the gravy!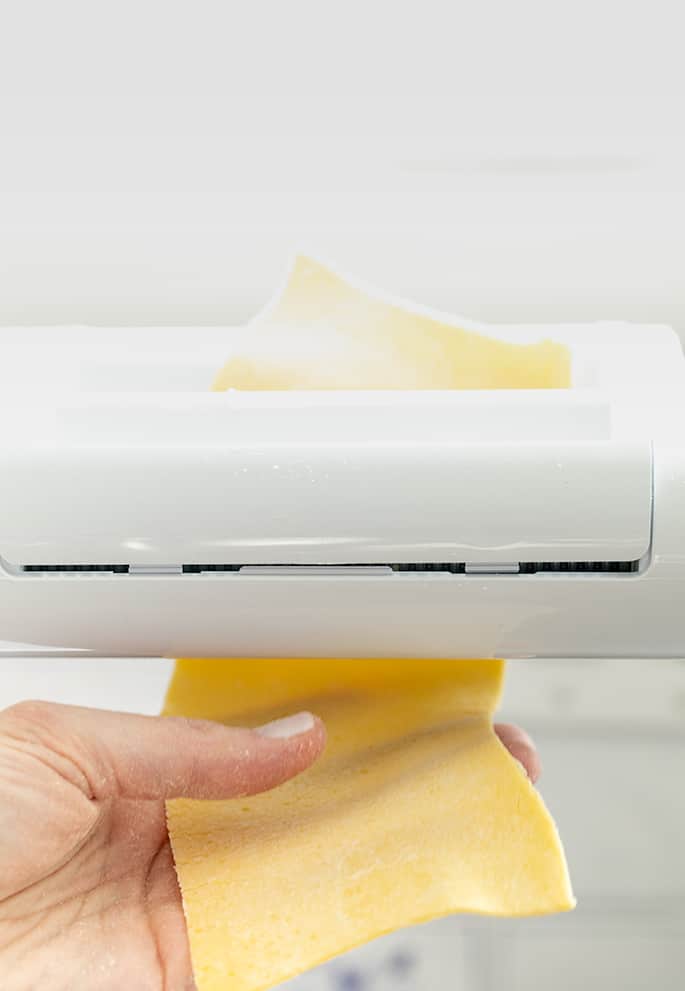 Ingredients and substitutions
Gluten free flours
This is one of those simple, basic recipes that has only a few ingredients: flours, eggs, oil. The gluten free flour blend you use always matters.
Here, the flours matter even more. I highly recommend using Better Batter, or my mock Better Batter blend (just click the link right above for the full recipe).
You can use (mock) Cup4Cup, but you'll have better results with a blend that has the fortitude of (mock) Better Batter.
Either way, you'll need the addition of tapioca starch/flour. It helps provide structure and stretch.
Yes, you still need to add tapioca starch/flour even though your all purpose flour blend contains it as an element. I don't recommend freelancing! Just follow the recipe precisely as written.
If you can't have tapioca starch/flour, then you're unable to use (mock) Better Batter or (mock) Cup4Cup either. And I'm afraid you can't make this particular recipe!
Eggs
These are egg noodles. I don't recommend trying to make them without eggs.
I'm working on a recipe for gluten free udon noodles, which won't have eggs. I promise to link to that recipe here when it's available!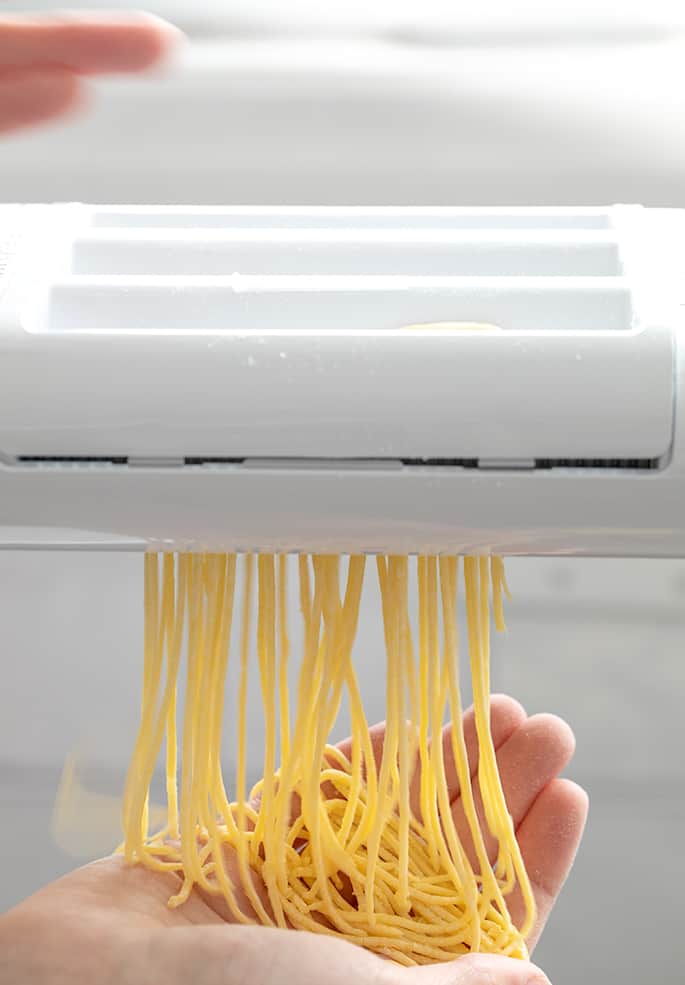 Gluten Free Egg Noodles
Ingredients
1 cup (140 g) all purpose gluten free flour (I used Better Batter, and recommend it here)
1/2 teaspoon xanthan gum (omit if your blend already contains it)
1/4 cup + 1 tablespoon (40 g) tapioca starch/flour, plus more for sprinkling
2 eggs (100 g, weighed out of shell) + 4 egg yolks (100 g), at room temperature
1 tablespoon (14 g) extra virgin olive oil
Optional special equipment
Hand crank pasta roller or stand mixer attachment
Pasta drying rack
Notes
Tips for using a pasta roller
Feathering along the edges will look just like jagged edges on the long sides of the pasta rectangle. The pasta sheets will also usually appear patchy, and will begin to tear.
Just dust the dough liberally with more tapioca starch/flour as you go. And don't jump levels, as tempting as that is!
Instructions
In the bowl of a food processor fitted with the steel blade, place the flour, xanthan gum, and tapioca starch/flour.

Place the top on the food processor, remove the hopper and add an egg or egg yolk to moisten the flours. Turn the food processor on low and continue adding the eggs and egg yolks slowly.

With the food processor still working, add the olive oil slowly. The dough will clump to one side of the food processor. Continue to process until well-combined. The dough may still be a bit sticky.

Sprinkle a flat surface lightly with tapioca flour, and transfer the dough to the surface. Divide the dough into 3 equal parts. Working with one part at a time, and covering the others with plastic wrap, knead the dough until smooth.

Instructions for rolling the pasta by hand: Roll the dough on the dusted surface into a rectangle that's a bit more than 1/8-inch thick, dusting liberally with additional tapioca starch to prevent it from sticking to the surface or the rolling pin. Move the dough frequently. The rectangle is easiest to handle if it's no more than 4-inches wide and about 14-inches long.

To cut the pasta by hand, trim any rough edges and cut into strips with a pastry cutter, pizza wheel, or sharp knife. Hang the pasta on the spindles of a pasta drying rack, or dust lightly with more flour and roll into "nests" and place on a lightly floured surface. Repeat with the remaining dough.

Pasta machine instructions: Roll the dough by hand with a rolling pin into a rectangle about 1/2-inch thick, sprinkling liberally with additional tapioca starch as necessary to prevent sticking to the surface or the rolling pin. Dust the rolled-out dough lightly with more tapioca starch, and feed the dough through a pasta machine with the rollers as far apart as possible (position "0" or "1"). Feed the pasta through the rollers twice.

Turn the dial one notch up, and repeat. Repeat the process, turning the dial one notch up each time, until you reach "4." Any time the edges of the pasta sheet begin to feather or otherwise become uneven, dust both sides lightly with more tapioca starch before proceeding. (See Recipe Notes.)

Trim the edges of the rectangle, dust lightly with more tapioca starch, and feed through the pasta roller to cut into the ribbons you've selected. Hang the pasta on the spindles of a pasta drying rack, or dust lightly with more flour and roll into "nests" and place on a lightly floured surface. Repeat with the remaining dough.

To cook the pasta: Bring a large pot of salted water to a rolling boil. Place the fresh pasta in the water and cook, stirring to prevent the dough from clumping, for about 2 minutes or until it reaches al-dente texture. Toss with some olive oil or sauce, and serve immediately. If using the egg pasta for chicken noodle soup, add to the soup and serve immediately.

Make-ahead instructions: If you are using a pasta drying rack, I don't recommend letting it dry for more than about 1 hour (less if it's very thin, like angel hair). It becomes brittle and can be difficult to transfer without breaking. I recommend boiling and eating it the same day.

If you're coiling your fresh pasta into nests, dust them with extra tapioca starch/flour, and allow them to dry completely (a couple hours). Then, place them in a rigid, freezer-safe container and freeze until ready to use. Boil right from frozen until al-dente.