Learn how to make oat flour and quick oats from old fashioned rolled oats and save money by doing the simple processing yourself. Then put that gluten free oat flour to good use in some of our best recipes.
Why you should process your own oats
We're beginning with lightly processed rolled oats, no whole oat groats. We won't be removing the husks, steaming them, and rolling them flat. Let's leave that to the professionals.
When you buy quick oats, they're only slightly more processed than rolled oats. Oat flour is just rolled oats ground into a fine powder.
If you buy them already further processed, you're paying for someone else to do that processing. Plus, you then have to keep a pantry stocked with even more flours. We just don't need that in our lives!
But oats are amazing for baking as an added ingredient for extra texture and flavor. And having lightly processed rolled oats, slightly more processed quick oats, and more processed oat flour makes them even more versatile. But there's no need to pay anyone else to do it for you.
Raw oats are chewy
Unlike most other whole grains like rice, rolled oats are chewy when raw. Have you ever tried to bite into an uncooked grain of rice? It's awful.
You can eat raw rolled oats and they're chewy. They may taste a little grassy, but they're not going to break your teeth like rice feels like it might.
Not only do rolled oats begin as chewy, but when we bake with oats, we're actually happy for their chewiness. That means that we don't need oats to be ground superfine.
What equipment do we use to make oat flour and quick oats?
I do have a grain mill to occasionally make homemade rice flour, but I never bother to use it to make oat flour. It's just not important to make superfinely ground oat flour.
How to make quick oats from whole oats
To make quick oats, you want to work in small batches, and use a food processor. That's the only way I've found to gently process your rolled oats without turning them into a powder.
If you place oats in a blender, like we do for oat flour, it's really hard to control the processing. Before you know it, you'll have oat flour.
But if you pulse rolled oats a couple times in any food processor, the bottom layer will become a bit more processed. Shake the canister to redistribute, then pulse again. Resist the urge to keep going or you'll have oat flour.
No food processor?
If you don't have a food processor, you can make sorta-quick oats by scattering rolled oats on a cutting board and roughly chopping them. Don't use your blender, though!
How to make oat flour from whole oats
If you want to make oat flour, you'll need a blender. Working in slightly larger batches of rolled oats, place them in your blender and process until they turn into a fine powder.
You'll know that your oats are finely ground enough when they begin to clump in the blender. If you process them too much, the oats will release oils and become a bit sticky. Don't overprocess.
Only have a food processor, but no blender?
If you only have a food processor, you can process your rolled oats for longer and they will turn into flour. You'll find a lot of orphaned larger pieces though. Just sift them out and process them again.
How to bake with oat flour and quick oats
We begin with purity protocol gluten free oats that have been grown on dedicated fields, and stored and processed in dedicated gluten free facilities. I buy mine at Trader Joe's, but GF Harvest is an only-gluten free oats brand that I would also trust.
You may not be comfortable eating oats on a gluten free diet. Or you may live in a country where no oats are considered gluten free. You'll want to learn how to substitute oats in gluten free baking.
For everyone else (me included!), this is why we're learning to store whole grain rolled oats, and process them for baking when we need them. There's no need ever to buy anything more than lightly processed rolled oats.
Can you substitute oat flour for all purpose flour?
No, you can't. Oat flour is an incredibly useful whole grain flour that you can make easily at home, and it has many uses. But it cannot be used as an all purpose flour, in gluten free or conventional baking.
Like all gluten free grains made into flour, no single flour can be used as an all purpose gluten free flour. But oat flour can be used to make its own, incredibly delicious and nutritious cookies, muffins and no bake treats.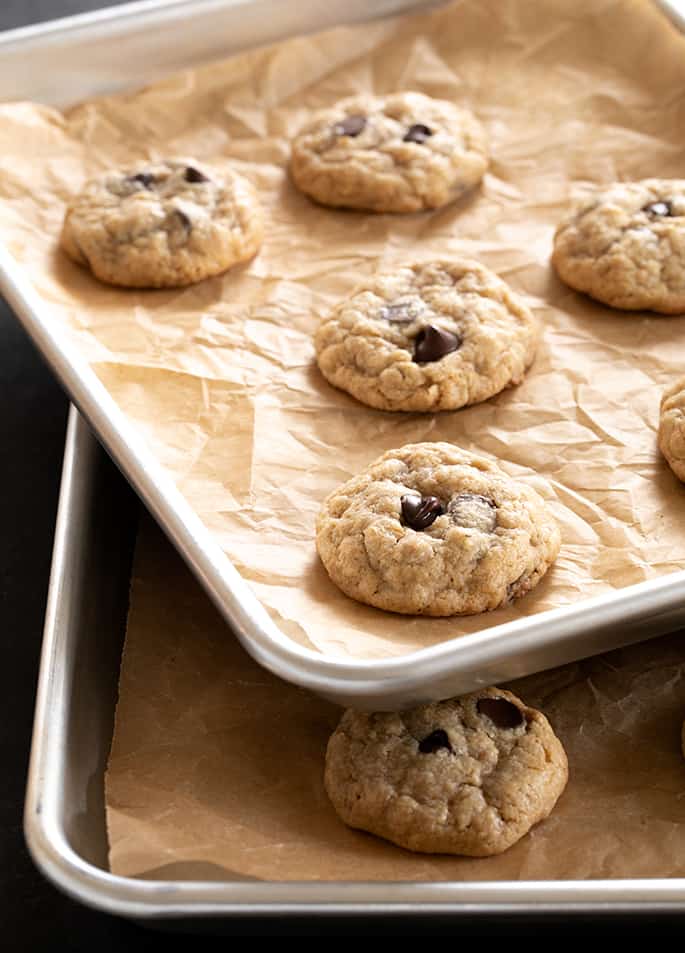 These naturally gluten free peanut butter oatmeal chocolate chip cookies are made with oats, oat flour and some cornstarch for the perfect chewy cookie. Oat flour alone isn't a substitute for a rice flour-based all purpose gluten free flour blend, but these cookies don't even need a flour blend.
These oatmeal breakfast cookies are naturally gluten free, and sweetened only with honey and a bit of applesauce. They're made with both rolled oats, and oat flour. Using oat flour really helps bind the cookies together and keep the texture lighter.
Banana breakfast muffins are made with whole oats ground into flour, but you can grind the oats before or with all the other ingredients. If you grind the oats into oat flour first, you don't have to make the rest of the batter in a blender which makes for easier clean-up.
How To Make Oat Flour | Quick Oats
Yield:
About 1 cup oat flour
Ingredients
Ingredient
1 cup + 2 tablespoons (110 g) old fashioned rolled oats (certified gluten free, if necessary)
Equipment
Simple food processor for quick oats
Simple blender for oat flour
Instructions
To make quick oats, place the rolled oats in the bowl of a food processor fitted with the steel blade. Cover and pulse the oats quickly two times, then shake the bowl back and forth to redistribute the oats. Pulse again twice more, shake the bowl again, and inspect the oats to determine if they need to be pulsed again. Transfer to a container with a tight-fitting lid, cover, and place in a cool, dry pantry until ready to use.

To make oat flour, place the rolled oats in the canister of your blender. Cover, and blend the oats until the oats turn to a powder (about 45 seconds). Continue blending until the grains of oat flour begin to fall off in clumps (about another 30 seconds). If you're concerned about any oat pieces, sift the flour. Transfer to a container with a tight-fitting lid, cover, and place in a cool, dry pantry until ready to use.