If you're looking for a way to get dinner on the table FAST, this yeast free gluten free pizza dough recipe is exactly what you need. Trust me, I'm a professional. A professional at doing things the last minute.
Everyone needs a last-minute dinner solution
I work at home developing recipes all day, every day. About half the time, I'm sitting down at the computer developing new recipes and writing them up.
The other half I'm up and around the kitchen cooking, baking, photographing, and shooting a video. But I still struggle to get dinner on the table at the last minute. OFTEN.
And I still dread dinnertime, quite often. How can that be? Because this is not a hobby blog. It's work—and as work, it doesn't revolve around me and my family.
It's really about you and your family. What recipes haven't I published yet that you might need.
And sometimes, it's dinner. But often, it's not dinner since most dinners are naturally gluten free.
If you've ever wondered why there are more recipes for cakes than dinners on this blog, that's why. And since you can't serve your three children cake for dinner and keep your self-respect (I've tried), when all you've made all day is cake.
You're scrambling to make dinner. And you need a quick solution. A gluten free flatbread recipe always saves the day.
This quick gluten free pizza is the last-minute gluten free pizza that can really save my sorry behind. When we have nothing planned for dinner but still have a hungry family waiting, this is the recipe to turn to.
How to make this gluten free pizza recipe—two ways
The method that we use to make this yeast free gluten free pizza is very similar to the method we use to make yeasted gluten free pizza—but the rise here comes from baking powder instead of yeast.
There's less flavor because there's no yeast development, but there's no need to allow the crust to rest in the refrigerator for at least 12 hours like with traditional gluten free pizza.
All I did to create this recipe was take the yeast free pizza crust recipe from GFOAS Quick & Easy, and combine it with the gluten free bread flour blend from GFOAS Bakes Bread. The result is nothing short of a dinnertime miracle.
To make this recipe, you mostly just dump the ingredients into a mixer and mix until it's all well-combined. One of the methods of making this recipe calls for the specialized gluten free bread flour blend from Gluten Free on a Shoestring Bakes Bread.
I prefer this pizza when it's made with the bread flour blend since it still crisps up like a champ on the bottom and browns beautifully. But if the extra ingredient seem overwhelming, this isn't the time to use them.
The purpose of this recipe is ease. So you can absolutely make it with one of our all purpose gluten free flour blends. The dough just needs some more water, and it won't be as easy to handle.
Chill the dough
With either flour blend (the straight-up all purpose GF blend or the GF bread flour blend), you'll need to chill the dough for about 10 minutes in the refrigerator. It isn't necessary for yeast development of course since this recipe has no yeast.
A quick rest in the refrigerator makes this pizza dough significantly easier to shape. You'll find yourself using less flour in shaping, which keeps the dough properly hydrated. That means it will the proper crisp-tender pizza.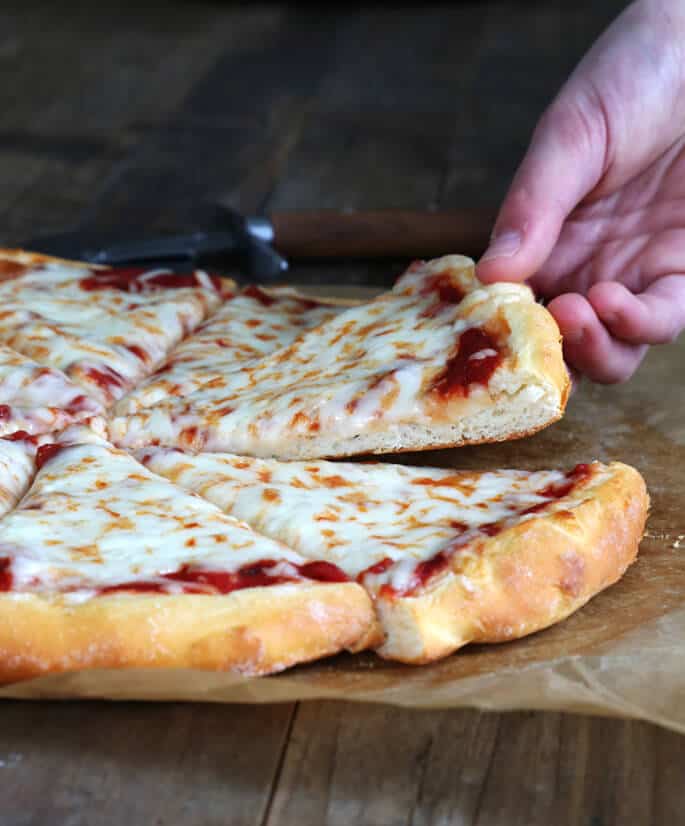 The point is this: you can make yeast free gluten free pizza. It can be done at the last minute—and it can be delicious.
Next thing you know you'll be paging through the rest of our gluten free pizza combinations, wondering which you'll make next with this crust recipe! And with any luck, you too can become a professional—at last minute dinner-making, just like me. :)
Oh, and by the way, you can also make gluten free bread without yeast for sandwiches. Will wonders never cease?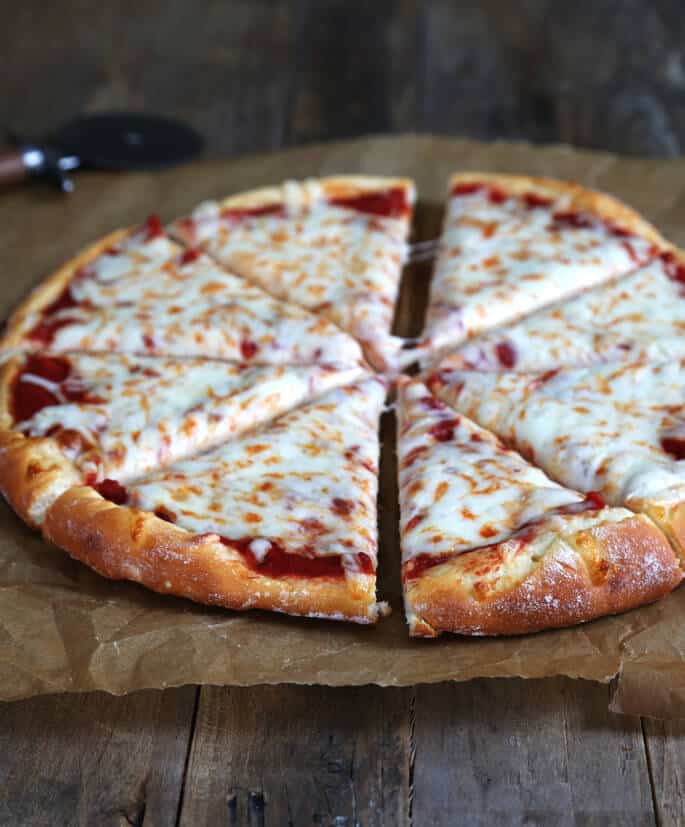 Ingredients and substitutions
There aren't many ingredients in this recipe. In that way, it's similar to our Weight Watchers-friendly gluten free pizza recipe. There aren't many additional allergens in the recipe, as it's already naturally egg-free and nut-free. It is worthwhile to discuss a few of the ingredients, in case you have questions:
Dairy
The recipe for the crust is naturally dairy free—unless you're using using the gluten free bread flour. That calls for the addition of milk protein.
If you are dairy-free, I recommend using the all purpose gluten free flour, not the bread flour blend. For toppings, use your favorite dairy-free shredded cheese. I like Daiya brand and Violife brand.
Honey
If you'd like to avoid using honey, you can substitute an equal amount of brown rice syrup. You can even use light corn syrup.
I don't recommend using maple syrup. That has a different consistency and an incompatible flavor.
Olive oil
In place of olive oil, you can use almost any neutral oil, like vegetable oil, canola oil, or grapeseed oil. Olive oil does lend a nice flavor, so it's preferred.