Light and fluffy, healthy gluten free banana pancakes are made with 4 simple pantry ingredients (plus salt) in minutes. They don't even need any added sweeteners!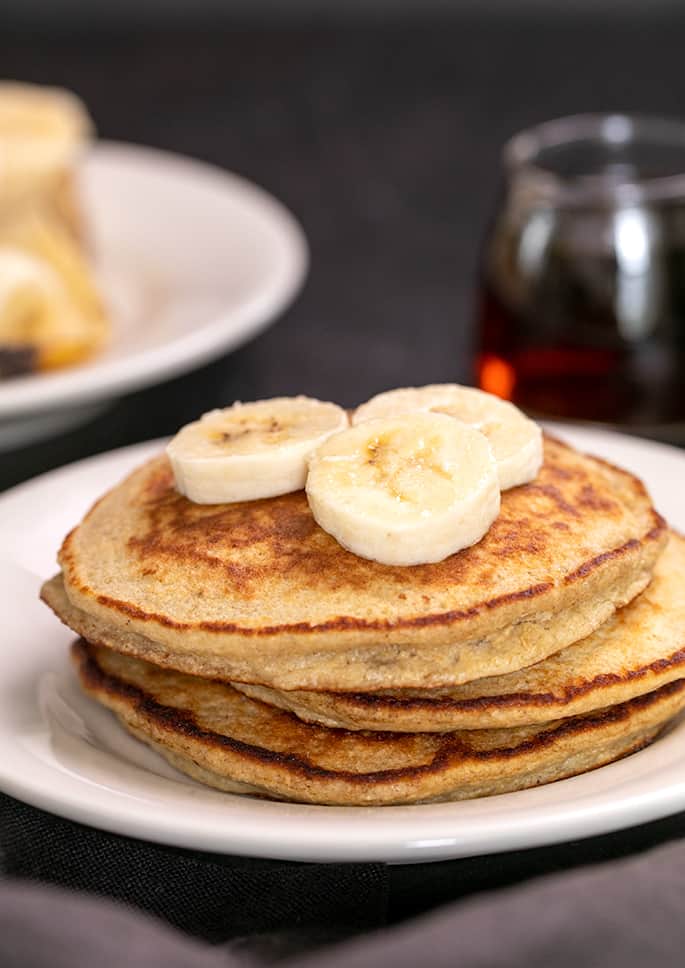 What makes these pancakes special
There's no shortage of "pancake" recipes on the Internet. But these are classic gluten free banana pancakes, no air quotes.
They aren't just classic pancakes served with a few bananas on top of the stack. They're also more than just pancakes with bananas baked onto one side of the pancake as the other side cooks.
Mashed banana is one of the 3 main ingredients in these pancakes, providing sweetness, flavor and even structure. If your banana is ripe enough, the pancakes will be plenty sweet. I say that as someone with a sweet tooth that I honor and cherish.
Banana oatmeal pancakes are not 2-ingredient banana pancakes
I have tried The-Internet-Said-So "recipe" of 1 mashed banana and 1 egg. So. many. times. It tastes like a sweet egg.
Mixing a banana and an egg and cooking as if it were a pancake does not, in fact, make it a pancake. It's like a non-chewy, non-boiled round roll with a hole. That's not a bagel.
These gluten free banana pancakes are made with 3 essential ingredients: ground oats (or a substitute; see below), mashed banana, and eggs. But the 4th ingredient, baking powder, is really important to texture.
There isn't a ton of baking powder in this recipe, but it makes a much fluffier pancake. It also helps the pancakes stay fluffy as they cool.
Flavor variations
These are simple pancakes, made without an all purpose gluten free flour blend or even any starches. Each of the ingredients provides its own flavor and texture.
But there are plenty of other flavors that go well with banana oatmeal pancakes. Here are a few suggestions:
⦿ Try adding 1/2 teaspoon of your favorite flavor extract to the pancake batter. Vanilla extract works great, but so does almond extract.
⦿ You can flavor these pancakes with cinnamon very easily. Just add about 1/2 teaspoon of ground cinnamon to the batter at any stage.
⦿ Add about 1 ounce miniature chocolate chips to the batter for a chocolate chip banana pancake. I prefer to scatter the chips on the raw side of the pancake batter right after pouring the pancakes. But you can also add them to the batter.
Ingredients and substitutions
Dairy
There's no dairy in the pancake batter, but I like to grease my griddle or skillet with butter. It provides tons of flavor—and gives the pancakes those speckled brown tops.
If you can't have dairy, the best substitute is vegan butter (I love Miyoko's Kitchen and Melt brands). You can also use coconut oil, or essentially whatever you like.
Oats
I don't ever buy oat flour. I grind certified gluten free oats into oat flour. But if you don't eat even purity protocol gluten free oats, you can replace them with 1/3 cup (40 g) blanched almond flour (not almond meal).
You can also try using quinoa flakes, ground into as fine a powder as possible. Quinoa flakes, in my experience, typically work as a substitute for oat flour.
Eggs
There are 3 essential ingredients in this recipe, and eggs are one of them. In fact, there are as many grams of eggs as there are of mashed banana.
I'm not optimistic that you can make these without eggs. If you'd like to make gluten free pancakes entirely without eggs, I recommend our recipe for vegan gluten free pancakes.
Banana
Even though these are banana pancakes, I've made them with smooth, commercially-prepared applesauce in its place. The results aren't precisely the same, since applesauce is thinner and more watery than bananas.
Applesauce is really more useful here if you have a banana that, when peeled, doesn't measure quite 100 grams, as required by the recipe. Use a bit of room temperature, smooth applesauce to bring that number up to the required 100 grams.
Gluten Free Banana Pancakes | 4 Ingredients
Yield:
4 pancakes (easily doubled)
Ingredients
1/2 cup (50 g) certified gluten free oats ground into powder (See Recipe Notes)
1/2 teaspoon baking powder
Pinch kosher salt
2 eggs (100 g, weighed out of shell) at room temperature, beaten well
1 peeled, ripe banana (100 g), mashed very well
Butter, for cooking (optional)
Notes
For the oats
If you need or want to replace the oats, this recipe also works with 1/3 cup (40 g) blanched almond flour (not almond meal). You can also try using quinoa flakes, ground into as fine a powder as possible, which typically work as a substitute for oat flour.
Instructions
In a medium-size mixing bowl or measuring cup with a pour spout, place the ground oats (or substitute), baking powder, and optional salt. Whisk to combine well. Add the beaten eggs and mashed banana, and whisk vigorously until uniform in texture.

Heat a griddle to 350°F or place a nonstick, heavy-bottom skillet over medium heat until hot. Grease the hot surface with a bit of the (optional) butter.

Whisk the pancake batter once more to ensure uniformity, and pour it onto the hot, greased skillet in scant 1/4-cup portions. Allow the pancakes to cook, undisturbed, for about 2 minutes or until golden brown on the underside.

Flip the pancakes and allow to cook for only about 30 seconds or until set. Remove from the skillet or griddle and repeat with any remaining batter. Serve warm.

Leftover pancakes can be wrapped tightly and refrigerated for up to 3 days or frozen for longer. Defrost at room temperature, unwrap, and place on foil. Sprinkle lightly with water, then reheat in a 300°F oven or toaster oven until warm before serving.