These gluten free calzones, packed with all your favorite fillings and flavors, are the ultimate comfort food. They even reheat beautifully.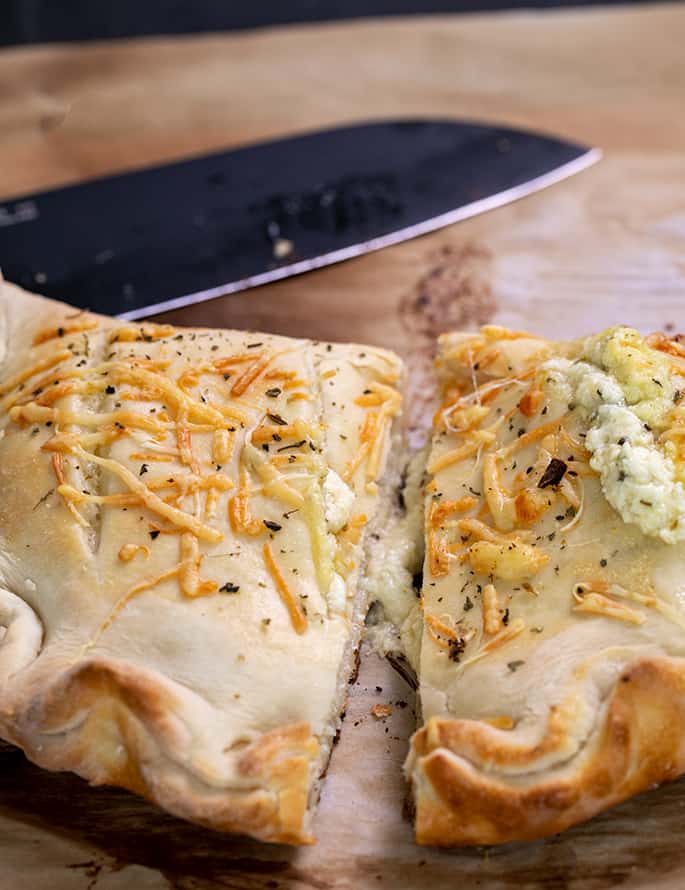 What makes this gluten free calzones recipe special?
Once you have a reliable recipe for gluten free pizza dough, there's an argument to be made that you don't need a separate recipe for calzones.
But if you've ever seen most of the glutenfree calzones recipes out there, you'll notice that they're too pale, and the dough is just too thick.
I make calzones for my family with a just-right crust, in the just-right way. It browns deeply, and the filling shines.
When the crust is too thick, the filling gets overwhelmed. That's just not the way I remember calzones from the pizza place.
This is the way I remember calzones were. The way they should be…
The gluten free pizza crust that works best
If you're interested in the science of gluten free baking, read this section. Otherwise, keep scrolling for the recipe.
Like any bread-based recipe, using a pizza crust recipe with the right hydration ratio is super important. The hydration ratio is the ratio of water to flour weight in bread.
(Remember that 1 fluid ounce (volume) of water is equal to 1 ounce (weight) of water. And 1 ounce = 28 grams.)
The higher the hydration number, the more water is in the dough, and (typically) the softer it will be. Gluten free baking typically calls for higher hydration values overall, since our flours soak up more water in general. But there's still a range.
Our recipe for basic gluten free pizza crust would work, of course, but it would make a crust that is slightly thicker than perfect—and still drier. That recipe has a hydration ratio of about 60%.
Remember that we're making a pizza pocket. Calzones are like a whole pizza, folded in half, so the crust is doubled in every bite. You don't want just a mouthful of dough.
Our recipe for NY style pizza crust is lovely, but it's way (way) too soft to shape into a calzone. Its hydration ratio is 84%. That's high.
The pizza recipe here is in the middle, at 70%. It's just right. We can shape it, and it rises beautifully in the oven—but it isn't doughy.
Tapioca starch/flour and sweet white rice flour
I've always loved baking with tapioca starch/flour. Its only flaw is that it is sometimes referred to as tapioca starch, other times tapioca flour, indiscriminately.
But tapioca starch is unique among starches, as it gives gluten free baked goods stretch and bite. It also helps them crisp in the oven.
Plus, it's inexplicably Paleo, so it makes all my Paleo recipes better. By the way, yes that seems ridiculous, but I don't make the rules.
What is sweet white rice flour?
Sweet white rice flour is also known as glutinous rice flour, but as long as it's milled properly and not contaminated, is gluten free. It's made from short grain white rice.
Traditional white rice flour is milled from long grain white rice. It's the basis of all of our all purpose gluten free flour blends.
When you ask if you can eliminate it in my recipes, the answer is always no. Removing rice is like removing gluten. It turns everything completely upside down.
But sweet white rice flour, since it's made from short grain white rice, behaves a bit like tapioca starch. I've been making homemade rice noodles, and tapioca starch and sweet white rice flour seemed nearly interchangeable in that application.
Cheers to a sometime substitute for tapioca starch. Tapioca starch, I still love you very much.
Ingredients and substitutions
Yeast
You cannot make this pizza dough without yeast. Try using our recipe for yeast free gluten free pizza dough in its place.
If you'd like to replace the instant yeast with active dry yeast, you'll need to use 25% more yeast (multiply the amount of instant yeast by 1.25) and hydrate the yeast separately. Then, add it to the rest of the dough ingredients.
GF Flour/tapioca starch
Be careful, as always, when selecting your all purpose gluten free flour blend. Please click the link in the ingredients list and familiarize yourself with what works and what doesn't.
I highly recommend using Better Batter (or my mock blend) in this recipe. But my other all purpose blends should work.
I've tested this recipe with superfine sweet white rice flour, gram for gram, as a replacement for tapioca starch/flour. I'm happy to report that it works quite well. Please see the full discussion above.
Dairy
There is quite a lot of dairy in the filling, but none in the pizza crust. You can try using dairy-free versions of all the ingredients, if you have access to them.
I really like Violife dairy free cheeses, especially since they have so many available varieties. Their smoky cheeses actually taste quite similar to their conventional counterparts.
Egg
I include an egg in the filling because it really helps hold the ricotta cheese together in the oven. Otherwise, the cheese is more likely to leak out.
If you can't have eggs, try using much less ricotta, and less filling over all. Eliminate the egg. For the egg wash, just use cream.
Gluten Free Calzones
Ingredients
For the pizza crust
2 cups (280 g) all purpose gluten free flour (Better Batter highly recommended)
1 teaspoon xanthan gum (omit if your blend already contains it)
1/4 cup (36 g) tapioca starch/flour, plus more for sprinkling (See Recipe Notes)
2 teaspoons (6 g) instant yeast (See Recipe Notes)
1 1/2 teaspoons (6 g) granulated sugar
1 teaspoon (6 g) kosher salt
1 cup (8 ounces) warm water (about 95°F)
2 tablespoons (28 g) extra virgin olive oil
For the filling
1 cup (248 g) ricotta cheese
1 egg (50 g, weighed out of shell), beaten
1 ounce grated Parmesan Cheese
6 ounces part skim mozzarella cheese, freshly grated
1/2 teaspoon ground dried oregano
1/8 teaspoon freshly ground black pepper
Egg wash (1 egg + 1 tablespoon water, beaten)
Notes
For the tapioca starch/flour
I've tested this recipe with superfine sweet white rice flour (also known as glutinous rice flour), gram for gram, in place of tapioca starch/flour. It works quite well.
For the instant yeast
If you only have active dry yeast, you'll need 25% more yeast. Just multiply the grams of instant yeast called for in the recipe by 1.25.
You'll have to hydrate the active dry yeast in some of the water in the recipe first. Then, add it to the remaining water and proceed with the recipe as written.
Instructions
In the bowl of your stand mixer fitted with the paddle attachment or your food processor fitted with the metal blade, place the flour, xanthan gum, tapioca starch, yeast, and sugar, and whisk to combine with a separate, handheld whisk. Add the salt, and whisk again to combine well.

Add the water and olive oil, and mix on medium speed in your stand mixer or pulse in your food processor until the dough begins to come together. Turn the mixer to high speed or your food processor on and process for about 2 minutes. Transfer the dough to an oiled container with a tight-fitting lid or a greased bowl and cover tightly. Refrigerate the dough for at least an hour and up to 3 days.

When you're ready to make the pizza, place a pizza stone or overturned rimmed baking sheet in the oven and preheat it to 425°F.

In a medium-size bowl, reserving a generous pinch of the grated Parmesan cheese and of the dried oregano, place the filling ingredients and mix well. Set the filling and the reserved ingredients aside.

Remove the dough from the refrigerator, uncover it, and divide it into two equal portions. Work with one at a time, and place the other back in the container and back in the refrigerator.

Sprinkle the dough lightly with tapioca starch, and knead it a bit until it's smoother. Place the dough on a piece of parchment paper. Sprinkling with more tapioca starch as necessary to prevent sticking, roll the dough into a round about 10-inches in diameter. Keep the dough moving frequently, sprinkling lightly as necessary to prevent sticking. Dust the parchment free of any excess flour.

Place half of the filling ingredients on one half of the 10-inch round of dough in a half-moon shape, leaving a 1-inch clean border along the edge. Lift the clean half of the dough from the edge and carefully place on top of the filling. Pinch the edges to seal, pressing out any air trapped in the pocket. If you're fancy, crimp or twist the edges like a pie.

Using a pizza cutter or sharp knife, slice three vents in the top of the calzone. Using a pastry brush, coat the top and sides of the shaped calzone liberally with the egg wash. Sprinkle evenly with half of the reserved grated cheese and herbs.

Repeat with the other half of the dough, remaining filling ingredients, egg wash, etc. Using a pizza peel or other large, flat surface, transfer the two calzones to the hot oven (on top of the hot pizza peel or overturned baking sheet). Bake for about 25 minutes, or until puffed and lightly golden brown all over. Remove from the oven, allow to set for a few minutes, then serve hot.

Make-ahead instructions: At this point, you can cool the calzones completely, wrap very tightly in freezer-safe wrap, and freeze for about a month. Defrost mostly at room temperature, unwrap and sprinkle lightly with water, and warm in a 300°F oven before serving. Do not freeze the unbaked yeast dough, as freezing may kill the yeast.