Making fresh gluten free pasta at home is a labor of love. It's a simple process. All it takes is the right recipe—and a little time. Find out exactly how to do it!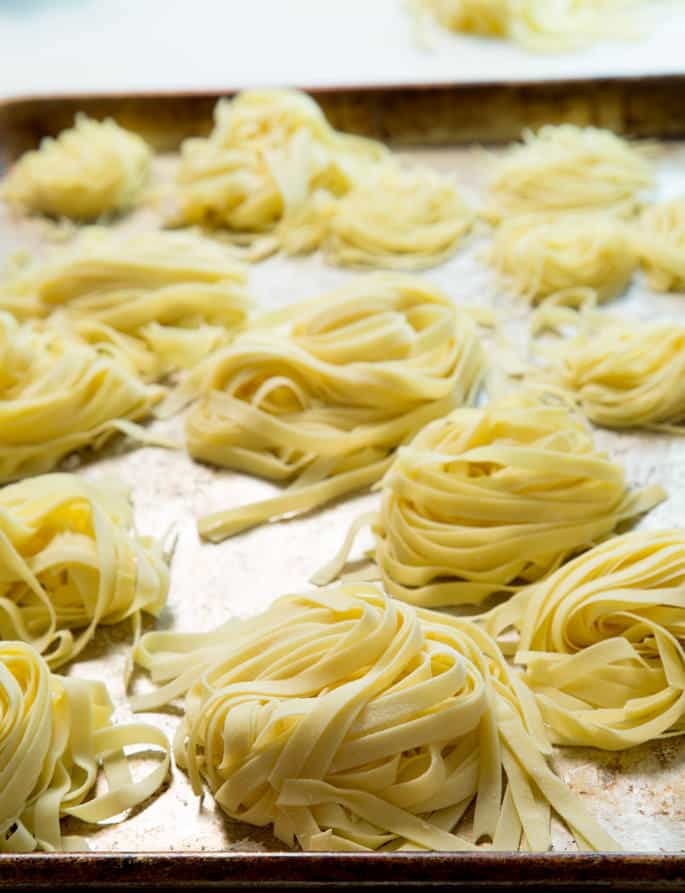 Why make homemade fresh gluten free pasta?
The first time I shared a recipe for homemade gluten free pasta here on the blog was in 2009. I was concerned that I was creating unrealistic expectations for my children.
It was one of the first times that my son made the connection between scratch cooking and, well, cooking not-from-scratch. He was 5 at the time.
My kids see me boiling store-bought dried pasta all the time. No biggie. But when they first saw me make fresh pasta, my son started thinking. When he finished his dinner of homemade ravioli, he asked, "Hey, Mom, wouldn't it be cool if you made your own water?"
Now, years later, I still I don't make homemade pasta very often. I have other recipes to develop and cookbooks to write.
And there's the rest of life, that simply gets in the way. But when I do make homemade gluten free pasta? My son, now 16, doesn't wonder if I'll be making my own water next. Or water into wine.
Instead, he asks, "why would you do that, when you can just buy it?" Ah, the blessings of having children… Oh, and if you love the idea of making fresh pasta but just can't swing it right now, here are 8 excellent brands of gluten free dried pasta to try.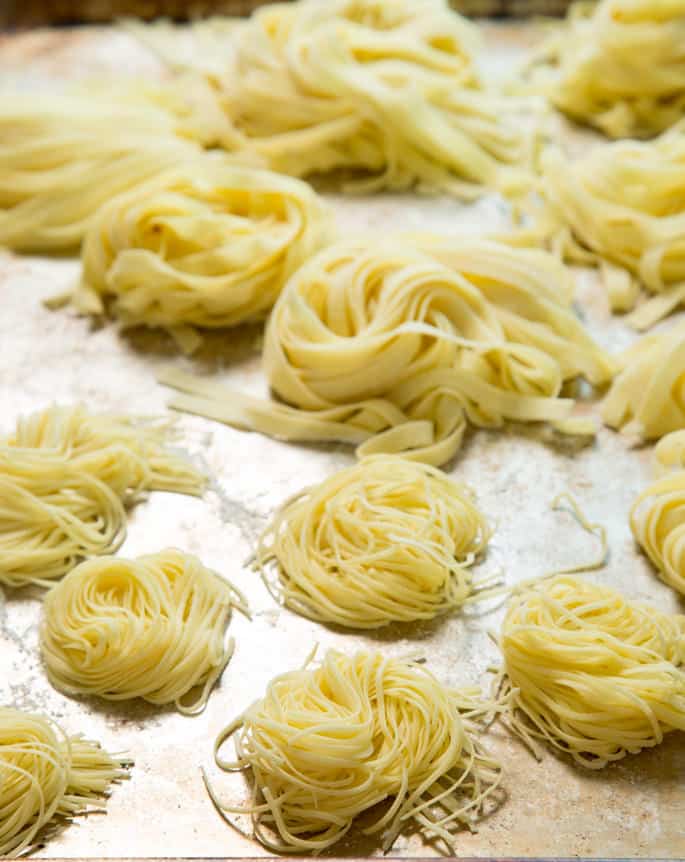 It is, indeed, a fair question. Why would anyone make fresh pasta when dried pasta can be had at every grocery store—even when you're gluten free?
Fresh pasta is just really really special. There are a couple varieties of fresh gluten free pasta that you can buy, mostly at Whole Foods. I admit, I'm sometimes tempted to try just one package.
But at over $15 for 9 ounces, it just isn't happening. You don't need a pasta machine to make this gluten free pasta recipe, although I do have one.
Sometimes, I use it, and sometimes I don't. But with the holidays approaching, if you're feeling ambitious, you should know how to make it.
Oh, in case you've ever wondered how to take that pasta and shape it into fresh gluten free tortellini…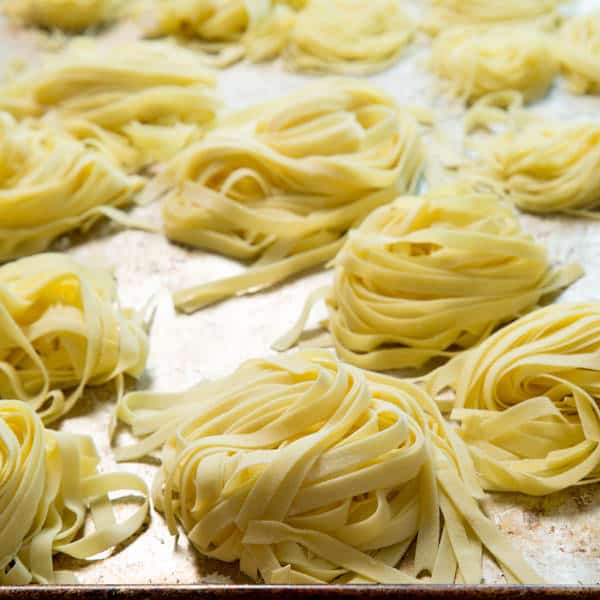 Homemade Gluten Free Pasta Recipe
Ingredients
2 cups (280 g) all purpose gluten free flour, plus more for dusting (I like Better Batter here)
1 teaspoon xanthan gum (omit if your blend already contains it)
5 tablespoons (45 g) Expandex modified tapioca starch (or replace with an equal amount of tapioca starch/flour)*
1/2 teaspoon kosher salt
2 eggs (100 g, weighed out of shell) + 2 egg yolks (50 g) at room temperature, beaten
1 tablespoon (14 g) extra virgin olive oil
1/3 to 2/3 cup (2 2/3 to 5 1/3 fluid ounces) warm water, plus more as necessary
*For information on where to find Expandex, please see the Resources page. For information on how to replace Expandex with Ultratex 3, readily available in most countries outside the United States, in the gluten free bread recipes in GFOAS Bakes Bread, scroll to #6 in Resources. I have not yet tested Ultratex 3 in this recipe, but I would recommend trying 15 grams Ultratex 3 in place of Expandex, and adding an additional 30 grams of Better Batter to the recipe. Ultratex 3 is at least 3 times as strong as Expandex.
Instructions
In the bowl of a food processor fitted with the steel blade, or a large bowl, place the flour, xanthan gum, Expandex (or tapioca starch/flour), salt, olive oil, eggs and egg yolks, and pulse until combined. If not using a food processor, whisk together the dry ingredients before adding the oil, eggs and egg yolks, and mix to combine well. Add 1/3 cup water, and process (or mix) until moistened.

With the food processor on, remove the hopper and add more water very slowly until the dough clumps to one side of the food processor. In a bowl, add water about 1 teaspoonful at a time, mixing constantly until the dough holds together well. If the dough feels stiff, add more water until pliable.

Transfer the dough to a lightly floured surface and divide it into 4 parts. Work with one part at a time and cover the others with plastic wrap to maintain moisture. Knead the dough until smooth and roll into a rectangle. Divide the dough in half, and roll each half into a rectangle about 1/4-inch thick. Trim the edges, dust the rolled-out dough lightly, and feed each piece through a pasta machine if using. I don't like to roll the dough any thinner than the "5" setting on my machine, or it begins to tear. Otherwise, simply roll each piece as close to 1/8-inch thick as possible, as evenly as possible. Cut into shapes using the pasta machine or a sharp knife.

Bring a large pot of salted water to a rolling boil. Place the fresh pasta in the water and cook, stirring to prevent the dough from clumping, for about 2 minutes or until it reaches an al-dente texture. Toss with sauce and serve immediately.

This recipe was originally posted on the blog in 2009. Recipe tweaked, photos and video all new, text new.