Gluten free pancakes mix that's perfect for everything from pancakes and muffins to breakfast bakes. Ditch that box and D.I.Y. a better pancake!
Can you make gluten free pancakes without xanthan gum?
Gluten free pancakes are one of the few recipes that simply are better made with a super-simple 3-ingredient blend of gluten free flours (superfine white rice flour + potato starch + tapioca starch/flour). And even a wee bit of xanthan gum if you're willing.
You can make pancakes with one of my all purpose gluten free flour blends, but they all have way more xanthan gum than we need here. That leads to a less delicate result than you'd expect from good pancakes—and pancake batter that is difficult to pour or spread into a round pancake shape.
Plus, the process of making pancakes with a lot of xanthan gum becomes a race against the clock. Xanthan gum absorbs lots of moisture and will continually cause the pancake batter to thicken as it stands. You'll need to keep adding more milk.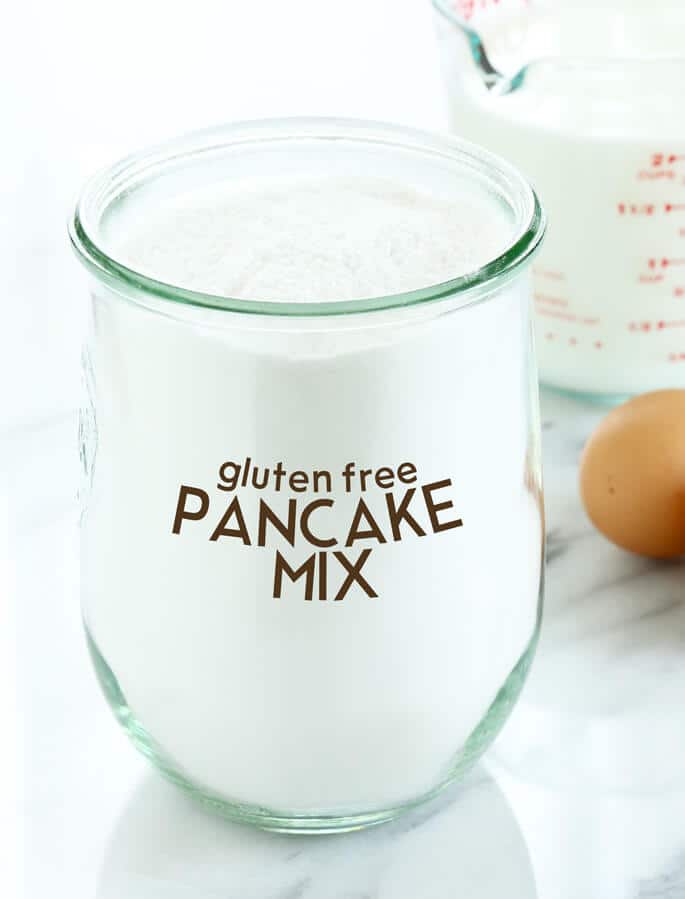 A little added xanthan gum can help with "feathering"
So you have two choices to make a lovely mix for gluten free pancakes. You can add 1/4 teaspoon xanthan gum for every 1 1/2 cups of the 3-ingredient flour blend (technically, 1/6 teaspoon per cup of flour blend), and have essentially the most perfect pancake mix ever that can be used anywhere you'd use a pancake mix like Bisquick.
You can skip the xanthan gum altogether. Just use a bit less milk in general and have thinner, slightly more delicate pancakes.
I've made this recipe every which way. I believe that using the optional xanthan gum in the basic 3-ingredient flour blend is the way to go.
That bit of xanthan gum makes for the perfect, pourable pancake batter that isn't too thick and isn't too thin. The pancakes hold their shape with no "feathering" around the edges, and they're not too thick, not too thin.
If you prefer thinner pancakes, add more milk by the tablespoon until you get the batter just the way you like it.
How to use this mix
A pancake mix like Bisquick is generally considered quite versatile, for all sorts of gluten free breakfasts. And this mix works just like the store-bought kind. Bisquick does make a gluten free mix, actually, but it's gritty and really awful.
I've tried nearly all of the available gluten free pancake mixes and come up with a list of my favorite store bought gluten free pancake mixes.
How to make pancake bites or muffins using this mix
Use it to make these little pancake bites, which are simple but delicious mini muffins. You can leave the pancake bites plain, or scatter each with some toppings.
I like a teaspoon of chopped fresh strawberries, sliced bananas, miniature chocolate chips (!) or a simple granola-type mix. They all bake at the same rate whether they have toppings or not, so you can alternate toppings—or even make them into larger muffins.
They all bake at the same rate whether they have toppings or not, so you can alternate toppings—or even make them into larger muffins. Or maybe you had a favorite recipe that you made with Bisquick before you went gluten free. Use this mix in that recipe.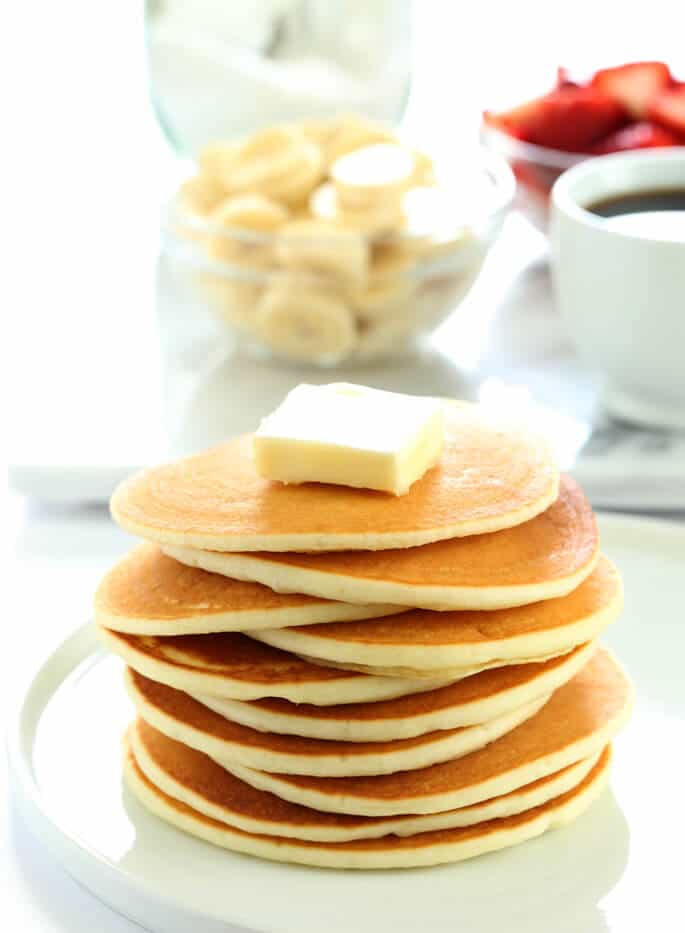 How to make classic pancakes using this mix
Making pancakes from this mix is as easy as making pancakes using any mix. Just add milk and an egg to the dry ingredients, pour on a hot, greased griddle and wait to flip.
If you're adding a touch of xanthan gum to the recipe, as I prefer to do, you'll need a bit more milk as directed in the recipe instructions below. The recipe doesn't call for enough xanthan gum to thicken the batter so much that it's no longer pourable, but you'll still find that the batter thickens as it stands.

If you prefer slightly thicker pancakes, continue to whisk the batter and wait about 7 or 8 minutes before pouring the batter onto the griddle. For thinner pancakes like you see in the photo just above, have the hot, greased griddle waiting and begin to pour it soon after everything is fully combined.
Looking for more gluten free baking mixes?
Did you know that my second book, GFOAS Quick & Easy, with a whole chapter on Make-Your-Own mixes for everything from gluten free cakes and cookies to muffins, scones, and brownies?
Here on the blog, we've made a Jiffy-style gluten free corn muffin mix that is super versatile, too. And the recipes for gluten free cupcake mixes, chocolate and vanilla, are also published here on the blog.
Since I believe in the power of easy breakfast ideas, not to mention a good breakfast-for-dinner night now and again, this recipe for a simple mix for gluten free pancakes comes in very, very handy. Make the easy dry mix ahead of time, add just two ingredients and you'll have simple, classic pancakes in minutes.
Ingredients and substitutions
Luckily, this recipe only calls for a few ingredients: a 3-ingredient flour blend (white rice flour, potato starch, tapioca starch/flour), (optional) xanthan gum, baking powder, baking soda, salt, granulated sugar (just a touch, but you can actually leave it out if you prefer), milk, eggs, and butter (if making pancake muffins/bites). Here are my suggestions for how to replace some of those ingredients, if you have additional dietary restrictions:
Dairy
In the pancake recipe, the only dairy is cow's milk. Simply replace the cow's milk with your favorite non-dairy milk from a carton (not a can). My favorite is unsweetened almond milk.
In the pancake bites, there is also some melted butter. That can easily be replaced with Earth Balance buttery sticks, Spectrum brand butter-flavored nonhydrogenated vegetable shortening, or virgin coconut oil, each melted and cooled.
Eggs
If you're egg-free, I'd actually recommend that you use a different pancake recipe. You can of course still use the dry mix, as it's naturally egg-free.
For egg-free pancakes, I think you'll really love my vegan gluten free pancakes recipe. You could also use that vegan recipe to make pancake bites in a similar matter to that directed here.