Lightly sweet, low-fat gluten free morning glory muffins are packed with goodness like shredded carrots, apple, and coconut. For a good GF morning!
"These are good, they taste healthy."
I hadn't made morning glory muffins in a long time when I decided to freshen up this recipe here on the blog. My teenage son barely remembered them, but they smelled and looked good so he was ready for a muffin or two when I offered them.
When they're baking, they just smell like any flavorful muffin—but they're not quite the same as our basic gluten free muffin recipe. They're like a cross between those basic muffins and our carrot cake cupcakes—but with coconut and dried fruit.
When you bite into one, you taste the sweetness of the carrots and the shredded apple, plus the coconut chips and dried fruit. The oat flour adds some chewiness, too, and reminds my kids of their favorite make-ahead healthy breakfast muffins.
So when my son said, "these are good, they taste healthy" wasn't the lukewarm comment it sounded like. It was an accurate statement—and it counts as a compliment from a teenage boy.
A bed and breakfast special
If you didn't grow up eating morning glory muffins, you might not even know the name. But they're the type of muffin you've almost certainly had if you've ever stayed in a bed and breakfast.
They're almost like a cinnamon apple cake, but with shredded carrots, too. They're made with a mix of all purpose flour and ground oats, with the warmth of brown sugar and cinnamon.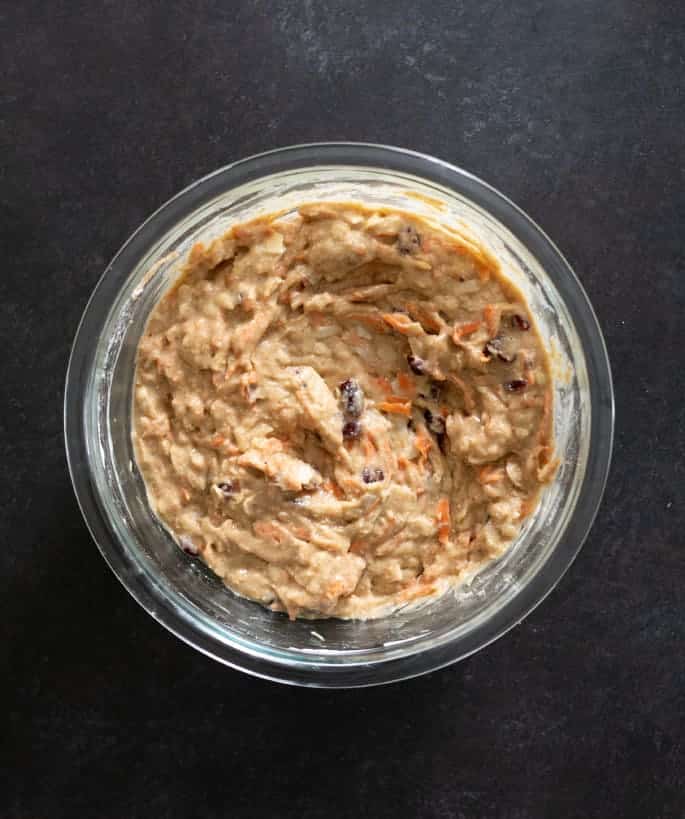 How to make these hearty, morning glory muffins
I generally prefer to make cake, muffin, and quick bread batter in a single bowl. For this recipe and many others with oil instead of butter, you definitely do not need to use any sort of stand mixer or hand mixer to beat the wet ingredients.
You do want to beat the wet ingredients together really well, though, so it's best to use two separate bowls—one for dry (including the shredded carrots and apples), and one for wet (oil, eggs, vanilla, and sour cream). There are quite a lot of ingredients in the recipe below, but don't be put off! It's only because there are so many mix-ins, which is what makes them so satisfying.
After whisking together the dry ingredients in a large bowl, add the shredded carrots, apples, coconut chips and mix to combine. Be sure you've broken up any lumps in the brown sugar, too, or your muffins will leak melted sugar and may stick to the muffin tin.
Then, whisk the wet ingredients together really well until they're creamy and smooth. Add that mixture to the dry ingredients, mix until just combined, and divide the batter among the wells of the muffin tin.
Ingredients and substitutions
Dairy-free: Since these muffins are made with oil instead of butter, they're quite simple to make dairy-free. Replace the sour cream with dairy-free sour cream, if you have a brand you like. If you don't have dairy-free sour cream available, strain plain dairy-free yogurt until it's the consistency of sour cream or Greek yogurt.
Egg-free: There are 3 whole eggs in this recipe, so it's quite difficult to replace them with an effective substitute. You can try using 3 "chia eggs" (each 1 tablespoon ground white chia seeds + 1 tablespoon lukewarm water, mixed and allowed to gel), but I'm not certain how well that would work. I'm afraid you'll have to experiment.
Oats: Although certified gluten free oats are appropriate on a gluten free diet, some people still can't have them or don't feel comfortable eating them. Since we discovered how oats can be replaced in gluten free baking, I always know there's a good replacement if you can't have oats.
In this recipe, the oat flour can be replaced with quinoa flakes. Just omit the few sprinkled whole oats on top of the muffins. I never purchase oat flour, by the way. I grind old fashioned oats in a blender until they're a fine powder. Since oats are chewy, not gritty, a superfine grind isn't important.
Coconut: The coconut chips are for texture and flavor, but you can't just omit them since they also create bulk in the muffin batter. If you don't want to use coconut chips, which are just wide, flat pieces of dried coconut, you can replace them with an equal amount by volume of old-fashioned oats or more dried fruit.
Dried fruit: Like the coconut chips, the dried fruit adds texture and flavor to these muffins. It doesn't change the chemistry of the muffin batter much as it bakes in the oven, though, so the dried fruit can be replaced with anything that adds bulk and texture.
If you really hate raisins, try chopping up some dried apricots to about the size of raisins. You could even try miniature chocolate chips in their place, or just double up on the coconut chips.
Gluten Free Morning Glory Muffins
Ingredients
1 1/2 cups (210 g) all purpose gluten free flour (I used Better Batter)
3/4 teaspoon xanthan gum (omit if your blend already contains it)
2/3 cup (80 g) certified gluten free oat flour
1 teaspoon baking soda
1/2 teaspoon baking powder
1/2 teaspoon kosher salt
2 teaspoons ground cinnamon
1 cup (218 g) packed light brown sugar
2 cups (180 g) shredded carrots (about 4 medium carrots, shredded)
1 cup (110 g) peeled, cored & shredded apple (any variety)
1/2 cup (90 g) dried fruit (raisins, dried cranberries or dried blueberries)
1/2 cup (40 g) dried unsweetened coconut chips
5 tablespoons (70 g) neutral oil (like grapeseed, peanut, or canola)
3 eggs (150 g, weighed out of shell) at room temperature, beaten
1 teaspoon pure vanilla extract
2/3 cup (150 g) sour cream, at room temperature
1/4 cup (25 g) whole certified gluten free old fashioned rolled oats, for sprinkling on top (optional)
Instructions
Preheat your oven to 325°F. Grease or line the wells of a standard 12-cup muffin tin, and set it aside.

In a large bowl, place the flour, xanthan gum, oat flour, baking soda, baking powder, salt and cinnamon, and whisk to combine well. Add the brown sugar, and mix, breaking up any lumps in the brown sugar. Add the shredded carrots, shredded apple, dried fruit, and coconut chips, and mix to combine. In a separate small bowl, place the oil, eggs, vanilla, and sour cream, whisk to combine well. Create a well in the center of the large bowl of dry ingredients, add the wet ingredients, and mix to combine. The muffin batter will be thick but soft.

Fill the prepared wells of the muffin tin completely full with the muffin batter, then shake the pan back and forth to distribute the batter evenly in each well. Sprinkle the top of each muffin with the (optional) whole oats. Place the muffin tin in the center of the preheated oven and bake, rotating once, until the muffins are lightly golden brown and a toothpick inserted into the center comes out clean (about 22 minutes). Remove the tin from the oven and allow the muffins to cool in the tin for at least 5 minutes before transferring to a wire rack to cool completely. Repeat with the remaining batter.

Store muffins in an airtight container at room temperature for 2 days. Freeze any leftover muffins tightly wrapped in a freezer-safe container for up to 2 months.

Originally published on the blog in 2013. Photos, video, most text new; recipe largely unchanged (method altered a bit).