Turn your favorite fruit of the season into a show-stopping dessert with this master gluten free crumble recipe.
(This recipe works best for less fibrous summer fruits, like fresh berries and stone fruits. If you'd like to make an apple crumble, I have a separate recipe for that.)
Crisp or a crumble
Fruit crisps and fruit crumbles are basically the same things. Each is a deceptively simple dessert with a fruit base and a crisp-tender buttery topping baked together to perfection.
Originally, a fruit dessert was considered a crisp only if it had oats and/or nuts added since they would "crisp" during baking. A crumble was denser and nubbier. But they both have crisp edges and tender centers, and each can be made with or without oats, so the names tend to be used interchangeably now.
Crumble topping recipe
Many of the crumble topping recipes that you'll find are made more like a pastry, with cold, grated or diced butter in the mixture. I find that the easiest way to make a crisp topping with plenty of lumps of different sizes is to melt the butter and mix it into a mixture of flour, oats, sugars, and salt.
When you mixed melted butter into the dry ingredients and sugars, and then refrigerate the mixture, you can break up the crumble topping into whatever sizes and shapes you like. I like the topping to have very small crumbs, slightly larger ones, and some really large pieces.
How to make a berry crumble
A berry crumble can be made with any type of berry, but strawberries, blueberries, and raspberries work best. I don't love baking with blackberries since the seeds don't soften that much during baking, and the added texture can be unpleasant.
To make a berry crumble when berries are in season, use fresh fruit if you can. Taste each type of raw fruit, and see how sweet it is.
If you're in the heart of berry season and the fruit is super ripe and juicy, feel free to reduce the amount of sugar in the recipe. If your fruit is nearly overripe, you can still use it but add another tablespoon (9 g) of tapioca starch to the filling recipe.
You can still make a berry crumble in the middle of the winter using frozen fruit. Frozen fruit is often of the very best quality since it's frozen right when it's at its peak.
Don't defrost frozen fruit before using it, though. The filling is best when the fruit melts quickly in the hot oven. When you're using frozen strawberries, avoid the largest berries since you won't be able to slice them in half before adding them to the filling.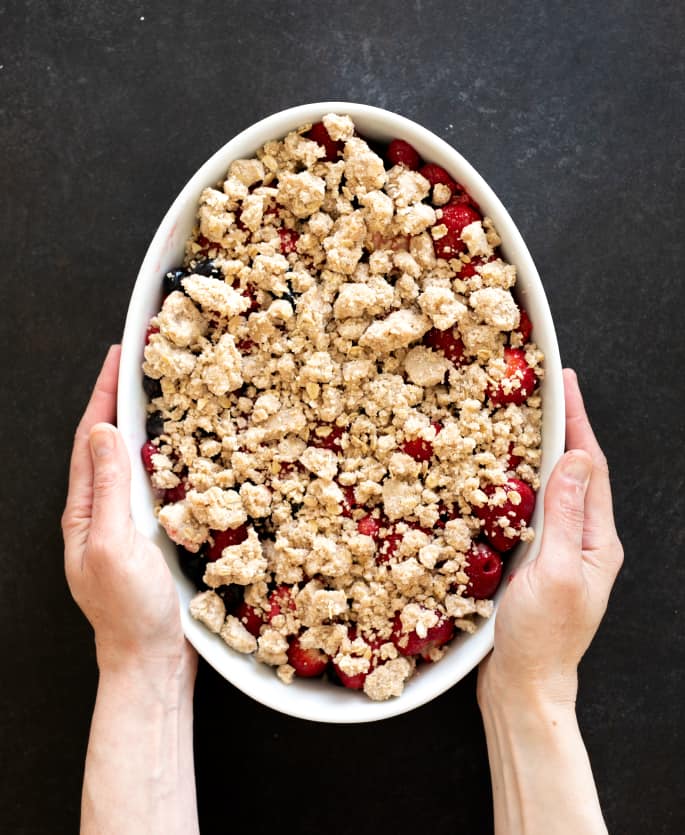 How to make a stone fruit crumble
I don't ever remove the skin on stone fruits before baking with them. After having made fresh homemade baby food for all 3 of my kids for years, I know how time-consuming that process can be—and the skin of stone fruit like peaches, nectarines, and apricots is very soft and tender when the fruit is raw, and even more so after baking.
In this recipe, I used mostly peaches and apricots, with some plums. The skin of plums is tougher than other stone fruits, but it softens significantly after baking.
You really can use any combination of stone fruits you like, and frozen stone fruits work just as well (if not better) than fresh. Like in a berry crumble, don't defrost the fruit before baking or it will release too much of its liquid.
Pay particular attention to the sweetness of your stone fruits by tasting them raw. If they seem overly tart, add some more sugar to the filling.
Taste with a clean spoon as you go, and make sure you'd eat the filling raw as the flavors will only intensify during baking. Peaches are generally better for baking than nectarines since they tend to be softer and sweeter, but nectarines will work, too.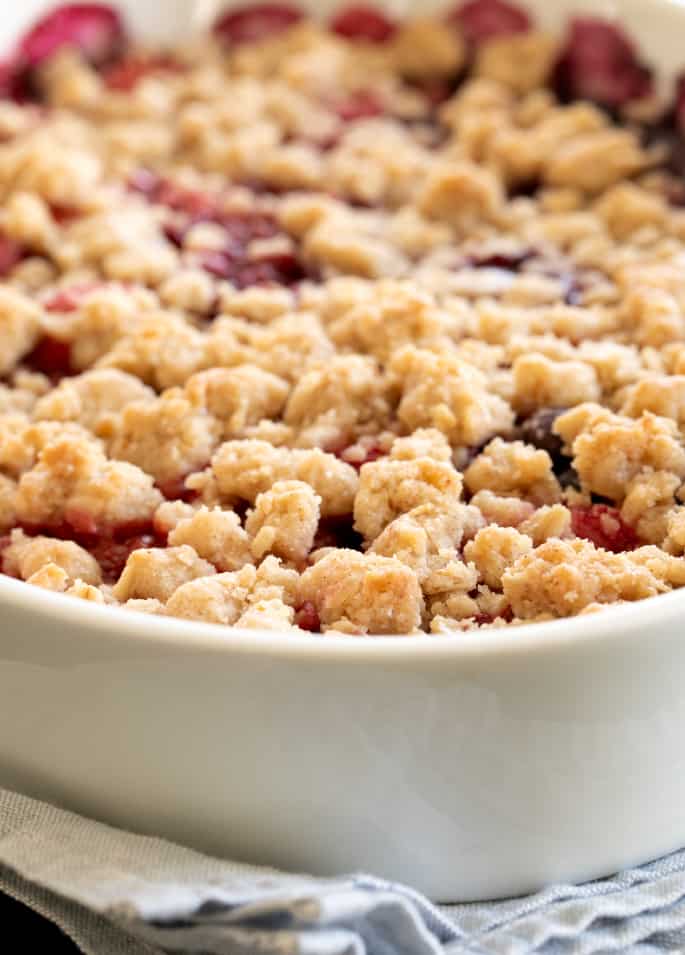 Ingredients and substitutions
Dairy-free: The only dairy in this recipe is in the butter that is used to make the crumble topping. Butter does a great job of creating a nubby, bumpy crumble that is crisp and tender but holds its shape.
If you were to use Earth Balance buttery sticks in place of butter, it would probably melt too much during baking. I'd recommend trying a mix of Earth Balance and Spectrum brand nonhydrogenated vegetable shortening.
Tapioca starch: Tapioca starch is the best thickener to use in the filling recipe, to help absorb some of the juices that the fruit produces as it bakes. You can use cornstarch in its place, but cornstarch tends to leak when it cools so I prefer tapioca starch.
Gluten free oats: Certified gluten free oats are safe on a gluten free diet. They add great texture and some chew to the topping recipe.
If you can't have oats or want to avoid them for any reason, you can replace the oats in this recipe with an equal amount, by weight, of chopped pecans or cashews. Softer nuts will help add bulk and texture, like oats.
Master Gluten Free Crumble Recipe
Ingredients
For the crumble topping
3/4 cup (105 g) all purpose gluten free flour (I used Better Batter)
1/2 teaspoon xanthan gum (omit if your blend already contains it)
1/4 cup (25 g) certified gluten free old-fashioned rolled oats
1/4 cup (50 g) granulated sugar
1/4 teaspoon kosher salt
1/4 cup (55 g) packed light brown sugar
6 tablespoons (84 g) unsalted butter, melted and cooled
For the Fruit Filling
3 tablespoons (27 g) tapioca starch/flour
1/4 cup (50 g) granulated sugar
Pinch kosher salt
For a berry filling
8 ounces blueberries
8 ounces raspberries
1 1/2 pounds strawberries, washed and hulled
For a stone fruit filling
1 3/4 pounds sliced and pitted stone fruits
Instructions
Preheat your oven to 375°F. Grease an 11-inch x 7-inch rectangular or oval baking dish (or a 9-inch x 9-inch square pan) and set it aside.

First, prepare the crumble topping. In a medium-sized bowl, place the flour, xanthan gum, oats, granulated sugar, and salt, and whisk to combine. Add the brown sugar, and mix to combine, working out any lumps in the brown sugar. Add the butter, and mix to combine well. The mixture will be thick. Place the bowl in the refrigerator to chill for about 10 minutes or until firm (or the freezer for about 5 minutes).

To make the filling, in a large bowl, place the tapioca starch, sugar, and salt, and whisk to combine well. Add the berries or stone fruit, and toss to coat. Transfer the filling to the prepared baking dish, and spread it into an even layer. Remove the crumble topping from the refrigerator and break it up into large chunks with a fork. Scatter the topping in an even layer all over the top of the fruit filling. Press gently on the crumble topping to ensure that it adheres.

If you're making a berry crumble, place the uncovered baking dish in the center of the preheated oven and bake for about 30 minutes, or until the fruit is bubbling and the crumble topping is lightly golden brown. Remove from the oven and serve warm.

If you're making a stone fruit crumble, spray the underside of a piece of aluminum foil with cooking spray, then cover the baking dish tightly with the foil. Place it in the center of the preheated oven and bake for 20 minutes. Remove the foil and continue to bake until the crumble topping is golden brown and the fruit is fork tender (about another 15 minutes).