Learn to make homemade vegan white chocolate with this easy recipe. Just 6 simple ingredients!
White chocolate has its lovers, and its haters. Which one are you?
If you're a hater, I get it. Most commercial white chocolate tastes like, well, sweetened wax. It most certainly does not taste like actual chocolate. That's because most white chocolate isn't made with any cacao butter.
Cacao butter is simply the creamy, cocoa fat that is separated from the fiber of cocoa beans. Without it, you can forget about anything having the smoothness of chocolate of any kind.
When you see a percentage, like 72% or 56%, on a bar of chocolate, it's referring to the percentage of cocoa solids. The darker the chocolate, usually the more cacao solids it has.
Better quality white chocolates will also have a fair amount of cacao butter. They will also almost always contain milk, as milk helps create a lovely, creamy taste and feel. Instead of milk powder, I add cashew butter for the same effect. Almond butter also works fine, but with only a slight added taste.
How to make white chocolate
It's so easy to make your own vegan white chocolate at home. The only ingredient that you may not already have is cacao butter. When you open a bag of cacao butter and inhale, you may believe that you've already got some white chocolate. It smells so rich and chocolatey already!
But if you try to eat just plain cacao butter, you won't enjoy it. There are plenty of recipes floating around for "fat bombs" for ketogenic dieting. They contain large amounts of cacao butter with just another ingredient or two.
We're making actual white chocolate, though, for eating and baking. To the caca butter, we're adding a true sweetener plus a stabilizer. Here, the stabilizer is cashew butter to keep the recipe vegan, but the stabilizer is typically nonfat dry milk. If you'd like to use nonfat dry milk in place of almond flour in this recipe, you certainly can but keep in mind that it won't be vegan—or even dairy free any longer.
I've also made this recipe with (affiliate link) powdered coconut milk, and it's worked really well, too. There are a number of brands of coconut milk powder available now, and competition usually leads to better products at a better price.
All you really need to do to make homemade white chocolate (vegan or not) is to melt cacao butter, with or without some shortening to keep the chocolate from being too rich, add your stabilizer and sugar plus salt and vanilla as flavor enhancers.
Pour the thick liquid mixture into molds, and wait. I used silicone molds in cute little shapes here, but anything flexible will do. I even have a set of silicone measuring cups that I've used. Or any regular ice cube tray works just fine.
Where to buy cacao butter
There are a number of brands of cacao available online and at health food stores. I really like this cacao butter (aff link) for a great combination of price and quality. Cacao butter is naturally gluten free, but check labels to be sure that yours hasn't been exposed to gluten in manufacturing.
Rather than using 100% cacao butter, I prefer to add nonhydrogenated vegetable shortening (aff link). Although you can make white chocolate with all cacao butter, the results tend to be too rich-tasting for most people (including me!).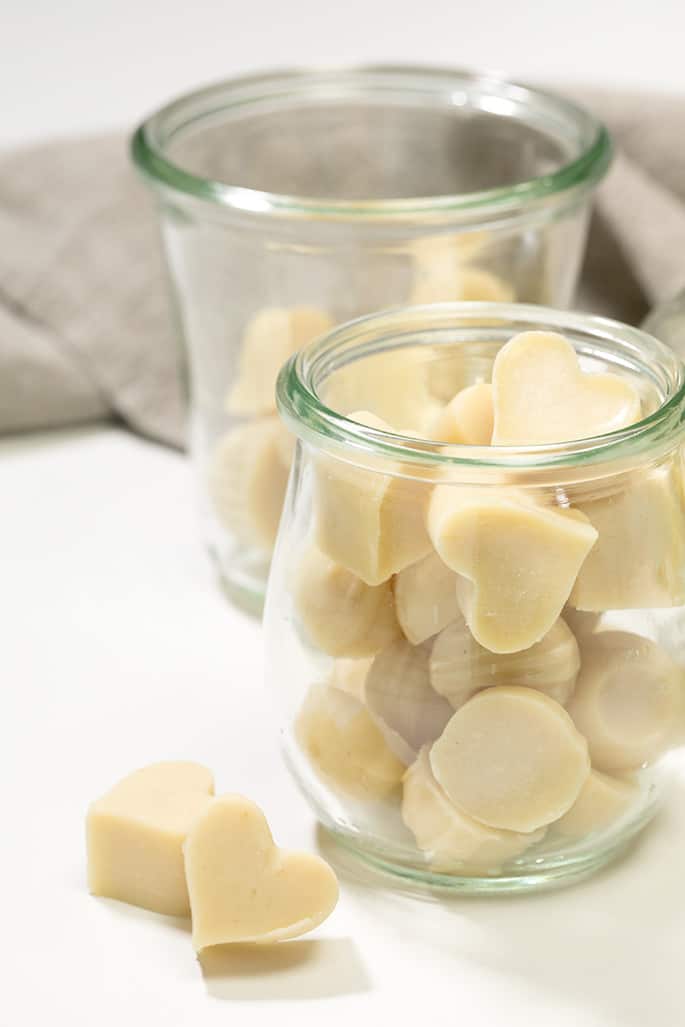 Paleo Option
Since cacao is a superfood, it's a shame to add regular confectioners' sugar to it. I've taken coconut palm sugar and ground it as fine as possible, adding 1 teaspoonful of arrowroot powder or tapioca starch to it to prevent clumping.
You can make vegan white chocolate with this version of Paleo confectioners' sugar, but the sugar has a tendency to settle out of the mixture. Heat the mixture a bit longer, and stir until it is as fully dissolved as possible before pouring into a mold.
Vegan White Chocolate
Yield:
About 10 ounces chocolate
Ingredients
4 ounces (112 g) edible raw cacao butter, chopped
4 tablespoons (48 g) nonhydrogenated vegetable shortening*
1 tablespoon (16 g) smooth natural cashew butter (almond butter is fine, too)
1 cup (115 g) confectioner's sugar
1/4 teaspoon kosher salt
1 teaspoon pure vanilla extract
*You can replace the shortening with an equal amount, by weight, of cacao butter. The resulting white chocolate is much richer.
Instructions
In a medium-sized heat-safe bowl, place the cacao butter and shortening. Heat indirectly by placing the bowl over small pot of simmering water, making sure that the bowl doesn't touch the water. Allow the cacao butter and shortening to melt, stirring occasionally. The mixture will be thin.

With the mixture still over the simmering water, add the nut butter and mix to combine. Add the confectioner's sugar, salt and vanilla, and mix until smooth. Remove the bowl from the pot and allow to cool briefly before transferring the mixture to a measuring cup for pouring into molds.

Pour the mixture into silicone molds (really any flexible container will do) and refrigerate (or leave at room temperature) for about 30 minutes, or until solid. Remove from the molds and serve.

Originally published on the blog in 2012. Recipe tweaked slightly, photos, video and text new.