Gluten free peach cobbler is one of summer's simple pleasures. Packed with lightly spiced fresh fruit and topped with an easy biscuit dough, no one can say no to this family favorite!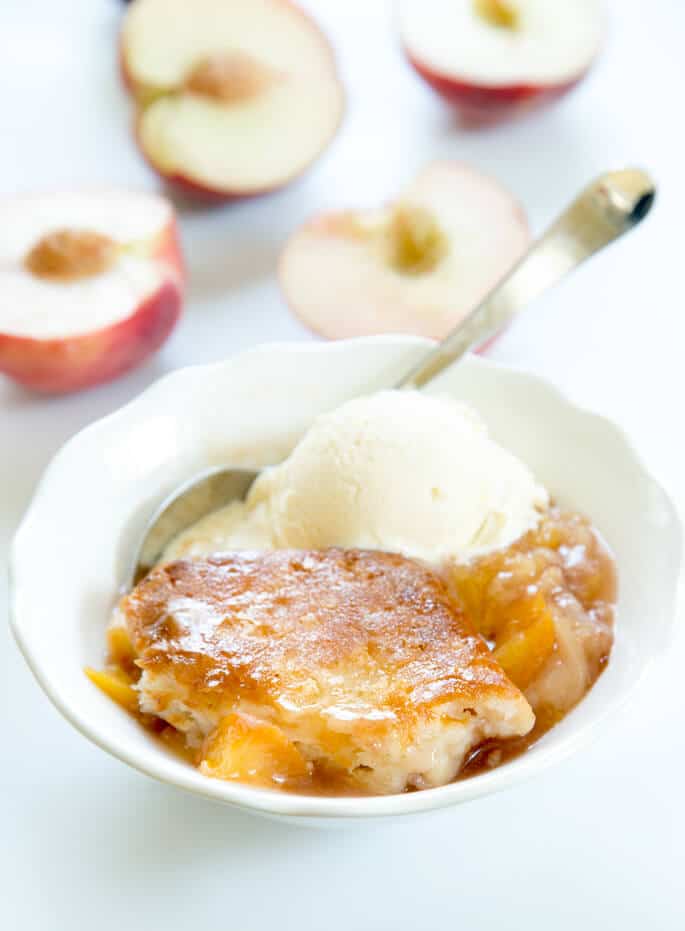 Peaches have begun turning up in grocery stores and farmer's markets (when I'm lucky enough to find such a market), and I for one couldn't be more pleased. Stone fruits are one of summer's best offerings, coming as they do but one season a year.
You may be able to get serviceable grapes and bananas year round, but for stone fruits… we must wait. And I think we can all agree, they're worth it.
Although peaches can be split, brushed with butter and grilled to perfection with ease for the simplest of desserts, making a peach cobbler isn't much more work. The biscuit topping can easily be prepared ahead of time and stored in the refrigerator for at least 5 days (in the freezer for longer).
Don't peel the peaches!
Not only is there no need to peel the peaches, I'd even argue against it entirely. Leaving the thin, tender skins on your fruit before baking means that no one will ever mistake your cobbler filling for anything other than freshly made.
Leaving the skins on also doesn't negatively affect the taste or texture at all. Plus, it makes the simple task of preparing the filling that much easier.
Cooking the peaches in the pan alone a bit before putting the topping in place and completing the baking ensures that the fruit is entirely soft, tender and deliciously fragrant and flavorful in plenty of time for the topping to turn just golden brown. No need to overbake at all.
Links:
Guide To Baked Fruit Desserts (buckles, crumbles and crisps)
Gluten Free Apricot Crumble Bars
Gluten Free Drop Biscuits
Gluten Free Peach Cobbler
Ingredients
For the pastry topping
1 1/3 cups (187 g) all purpose gluten free flour (I used Better Batter), plus more for sprinkling
1/2 teaspoon xanthan gum (omit if your blend already contains it)
3 tablespoons (27 g) cornstarch (or try arrowroot; if you are using a starchy all purpose flour, like Cup4Cup, in place of the starch, use more of your all purpose flour)
2 1/2 teaspoons baking powder
1/8 teaspoon baking soda
1/2 teaspoon kosher salt
1/4 cup (50 g) granulated sugar
6 tablespoons (84 g) unsalted butter, chilled and grated on a box grater
3/4 cup (6 fluid ounces) buttermilk, chilled
For the peaches
2 pounds (about 8) ripe fresh peaches, pitted and cut into 3/4-inch cubes
1/2 cup (100 g) granulated sugar
2 teaspoons (18 g) cornstarch (or try arrowroot or sweet white rice flour)
1/8 teaspoon kosher salt
1/2 teaspoon ground cinnamon
1/8 teaspoon freshly grated nutmeg (optional)
1 teaspoon pure almond (or pure vanilla) extract
1 tablespoon (14 g) unsalted butter, melted with 1 tablespoon (21 g) pure maple syrup
Instructions
Preheat your oven to 375°F. Grease an 8-inch square baking dish lightly and set it aside. This is one of the very few instances where a glass baking dish works quite well, but you can use any square baking dish you like.

First, make the biscuit dough. In a large bowl, place the flour, xanthan gum, cornstarch, baking powder, baking soda, salt and sugar, and whisk to combine well. Add the grated butter, and toss to combine, breaking up any clumps of butter. Create a well in the center of the dry ingredients, add the buttermilk and mix until just combined. The mixture should be relatively soft for biscuit dough. Turn the dough out onto a large piece of plastic wrap, press together and wrap tightly. Refrigerate the biscuit dough for at least 10 minutes and up to 5 days. Once the dough has chilled, turn it out onto a lightly floured surface, sprinkle lightly with more flour and roll out into an approximately 8-inch rectangle. Cut out a 1/2-inch square or other shape in the very center of the dough (to allow steam to escape during baking), place it on a flat surface and then in the freezer to chill while you prepare the filling.

Prepare the peach filling. In a large bowl, place the peaches, sugar, cornstarch, salt, cinnamon, optional nutmeg and almond (or vanilla) extract, and toss to combine completely. Transfer the peaches to the prepared baking dish and spread into an even layer. Place the baking dish on a piece of foil, then on a rimmed baking sheet and place the baking sheet in the oven. Bake for 10 minutes to begin to soften the peaches.

Top the peaches and bake. Remove the baking dish from the oven and place on a heatproof surface. Remove the pastry topping from the freezer and place it on top of the peaches in the baking dish. Return the dish to the oven and bake for 15 minutes. Remove the dish from the oven, brush the top evenly with the melted maple syrup and butter mixture, and return to the oven to finish baking (about 20 minutes). The dish is done when the filling is bubbling and the top is golden brown all over. Remove from the oven and allow to cool for 15 minutes before serving with vanilla ice cream (of course).

Method and styling adapted from Serious Eats.