Gluten free peach cobbler is one of summer's simple pleasures. Packed with lightly spiced fresh fruit and topped with an easy biscuit dough, no one can say no to this family favorite!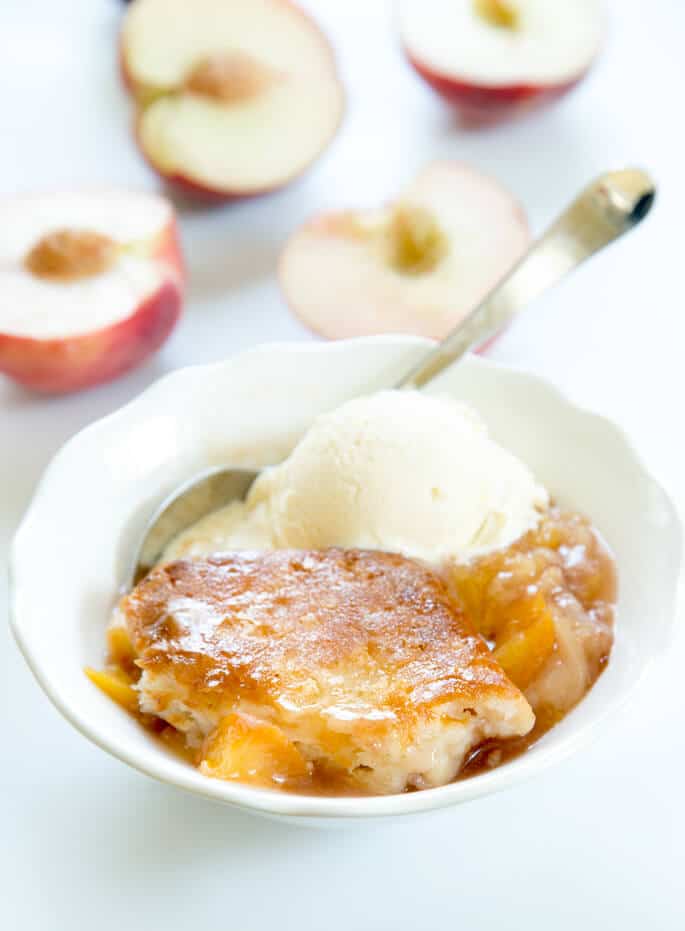 Peaches have begun turning up in grocery stores and farmer's markets (when I'm lucky enough to find such a market), and I for one couldn't be more pleased. Stone fruits are one of summer's best offerings, coming as they do but one season a year.
You may be able to get serviceable grapes and bananas year round, but for stone fruits… we must wait. And I think we can all agree, they're worth it.
Although peaches can be split, brushed with butter and grilled to perfection with ease for the simplest of desserts, making a peach cobbler isn't much more work. The biscuit topping can easily be prepared ahead of time and stored in the refrigerator for at least 5 days (in the freezer for longer).
Don't peel the peaches!
Not only is there no need to peel the peaches, I'd even argue against it entirely. Leaving the thin, tender skins on your fruit before baking means that no one will ever mistake your cobbler filling for anything other than freshly made.
Leaving the skins on also doesn't negatively affect the taste or texture at all. Plus, it makes the simple task of preparing the filling that much easier.
Cooking the peaches in the pan alone a bit before putting the topping in place and completing the baking ensures that the fruit is entirely soft, tender and deliciously fragrant and flavorful in plenty of time for the topping to turn just golden brown. No need to overbake at all.
Links:
Guide To Baked Fruit Desserts (buckles, crumbles and crisps)
Gluten Free Apricot Crumble Bars
Gluten Free Drop Biscuits