These homemade protein bars are no-bake, endlessly customizable energy bars. Just like Luna and Power bars, and made with your favorite protein powder.
This recipe is not like those other fussy, confusing recipes out there!

The case for protein bars
My kids play a lot of sports. That means that we're often on the run, so they eat a lot of protein bars.
And of course, each kid has his or her own favorite variety of bar. But all those packaged protein bars have one thing in common: they're crazy expensive.
This recipe for homemade protein bars started out as something I was just making for my family, and that was that. After much hesitation, I had finally purchased some Vega Essentials protein powder.
I mean, they even sell protein powder at CVS now! I could use a coupon! I was just playing around with it.
That's the kind of experimenting I rarely get to do anymore, where I just throw a bit of this and a bit of that into a recipe. Very few notes, even fewer apologies.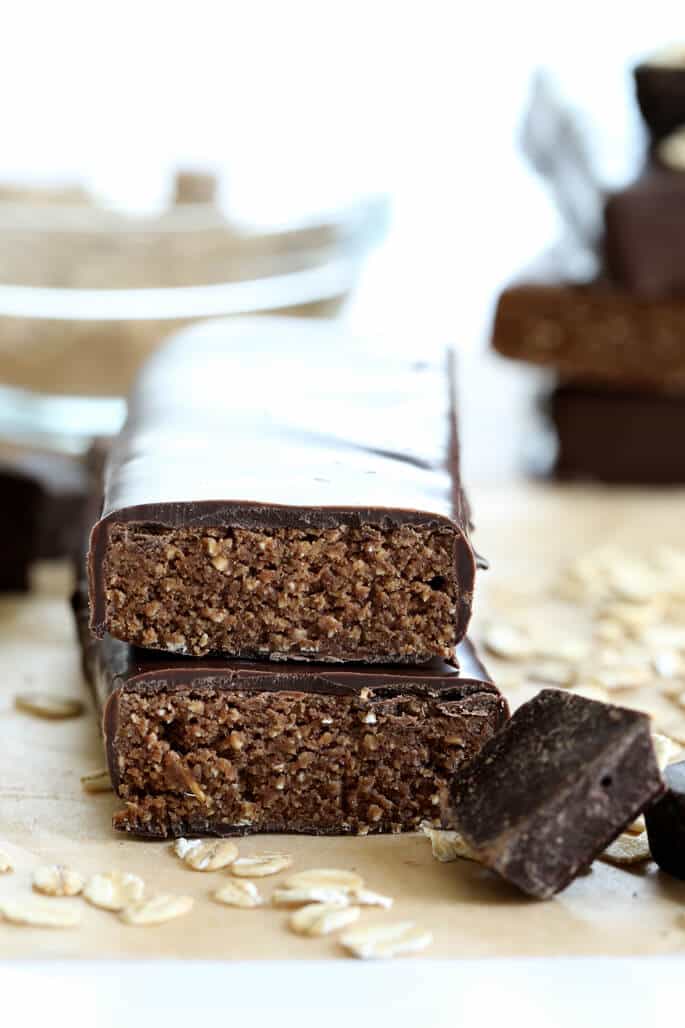 The homemade protein bars were better than packaged
My kids couldn't get enough of these bars. They had even gotten good enough that my husband mentioned them out of the blue one day.
"You know, those protein bars were really good." That's high praise for him.
My kids had started asking, "Are those bars hard to make?" That's code for "please make them again."
They have the soft texture of a brownie, and they're not too sweet. For something more cookie-like, give my classic protein cookies or my peanut butter protein cookies a try. :)
I also get "are these bars good for you?" That's also code for "can I eat them all day every day and be healthy?" I also get the same sort of questions when I make my protein pancakes!
Two recipes, endless options
Have you ever noticed that most of the recipes out there for homemade protein bars are so specific? I am a fan of baking recipes being specific, since baking is chemistry. But these are no-bake.
Those other recipes either rely on one specific type of protein powder, call for a million different funky ingredients I've never heard of, or they are one flavor and one flavor only. So frustrating!
Medjool date version
So I've included two basic recipe formulas for homemade protein bars below. One is made with super soft, packed-with-fiber, deliciously sticky Medjool dates to hold the bars together and sweeten them, of course.
I buy those dates by the pound at Trader Joe's, and they're essential for recipes like my healthy Paleo fudge. You can include unsweetened melted chocolate in the mixture, or not.
It really helps the bars hold their shape and gives them a richer flavor. If you prefer a more neutral-tasting bar, use a vanilla or unflavored protein powder, and leave out the melted chocolate.
Nut butter version
But I realize that you may not know where to buy Medjool dates. Or you may think they're too sweet. So I've also formulated another recipe with nut butter and no dates.
I like this version best made with cocoa powder and melted chocolate. I do still include plenty of options for making it more neutral-tasting (including making it with cashew butter).
I've tried these bars with every single variation I recommend. They each work just as well as one another.
Our favorite protein bar variation
My favorite way to make these bars is the "date version." I always include the melted unsweetened chocolate—and with just a drizzle of melted chocolate on top, at most.
Without the full chocolate coating, the bars are much easier to handle and transport. Including the melted chocolate in the bar itself makes the bar richer in taste and more firm for easy handling.
You can use any flavor protein powder you like in the date version and leave out the melted chocolate, and you'll change the flavor profile to suit your tastes. If you have another favorite protein powder, use that!
If you prefer a dairy protein powder, try whey protein. For now, yes, you do need to include the oats. There's no substitute!
Replacing the oats
I have finally successfully replaced the oats in this recipe, and every other oat-filled recipe on this blog (and in my cookbooks!). You can read all about how to substitute oats in the gluten free baking, and finally make this grain-free!
The TL;DR version for this recipe is that you use wide, flat coconut chips. Since this recipe is no bake, the coconut chips take up a similar amount of space to the oats.
If you're looking for a bite-sized version, try my no-bake peanut butter energy bites. They don't have protein powder at all, and there's no food processor involved.
You do have to roll all those little bites, though. :) There's a grain-free version, too!
Some flavor suggestions
A more neutral flavor
Try using cashew butter as the nut butter for a more neutral flavor that really lets the chocolate flavor shine.
A fruity version
Try replacing the cocoa powder with a freeze-dried fruit powder. You can either buy it as a powder, or buy freeze dried fruit by the bag and grind it into a powder.
If you have a dehydrator, you can make any fruit into a powder. You can also dehydrate fruit on a baking sheet in a 200°F oven for hours. I do not have that sort of patience.
A no flavor protein powder version
Instead of protein powder, try using collagen powder for a huge nutritional boost with no added flavor at all. You can use whey protein isolate, like in our gluten free bread flour.
I also really like Vital Proteins Collagen Peptides. That's an affiliate link, feel free to shop around for the best price.
I've also started experimenting with Perfect Hydrolyzed Collagen Peptides (affiliate link). I've used that brand in my new protein granola, and I might just like it better. Plus, it's less expensive.
There are affiliate links in this post. We are a participant in the Amazon Services LLC Associates Program, an affiliate advertising program designed to provide a means for us to earn fees by linking to Amazon.com and affiliated sites.