There's no simple answer to the question, "is rice gluten free?". The simplest answer is yes, rice is naturally gluten free.
But wait!
In theory, yes, all types of natural rice are gluten free, including brown rice, jasmine, red, wild, and basmati. However, some may have cross-contact contamination. And processed rice products often contain wheat or other gluten-containing ingredients in sauces, spice blends, and as a filler.
Which rice is gluten free?
All plain, unadulterated rice is naturally gluten free, like all plain rice noodles are gluten free when they're made with rice and water. Whether you're just sensitive to gluten or have celiac disease, rice is likely an important part of your diet, as it's often a substitute for wheat flour in gluten free food.
Processed rice mixes like some rice pilaf products or Rice-A-Roni are not gluten free foods and should be avoided on a gluten free diet. Luckily for you, I've got a delicious gluten free Rice-A-Roni recipe right here.
And, some rice that appears totally natural and unadulterated may have been packed in a factory that also processes gluten-containing products, as we'll explore below. So, to be safe, make sure you choose rice that's certified gluten free.
If you're new to a gluten free diet, I recommend reading our guide to the Basic Rules of a Gluten Free Diet, where we answer other related questions about avoiding gluten. You'll find lots of basic information there, including short answers to questions like, "are potatoes gluten free?".
Is all rice gluten free?
In it's natural form, yes, all rice is gluten free. However, it may have been cross-contaminated if handled in a factory that also processes gluten-containing ingredients.
The only way to be certain is to choose a pack of rice that's certified gluten free or explicitly states that it's gluten free.
For rice that's processed in any way, it's really, really important that you check the ingredients before you buy to make sure there's no random wheat flour or other gluten-containing product in there. While it might not seem likely, gluten is added to add kinds of things.
Because it's just habit after so many years of a gluten free diet, I checked the ingredients on a pack of hundreds and thousands for a friend's celebration cake and yep, wheat flour was listed – in sugar sprinkles!
Which brands of rice are gluten free?
While it's always a good idea to check the labels, just in case the formulation, ingredients, or packing facility changes, these brands are among the most popular gluten free rice brands at the time of writing:
Bob's Red Mill
Lundberg Family Farms
Minnesota Grown
NOW Foods
Reese
RiceSelect
Thousand Lakes
Zatarain's
Plant Rice
Seeds of Change
Ben's Original
Nishiki
Is minute rice gluten free?
Yes, plain minute rice is gluten free, unless it has any flavorings added or it's packed in an environment that also handles gluten. Minute rice is just regular white rice that's partially cooked, then dehydrated and packed so that it only take you five minutes to finish cooking it.
Cross-contamination
Yes, plain, natural rice is gluten free. But cross-contamination is a significant concern for anyone on a gluten free diet, whether you've got a mild wheat sensitivity or celiac disease.
If the rice has been prepared in a processing facility that also handles grains that contain gluten, then even though the rice is naturally gluten free, there's a distinct possibility that cross-contamination can occur unintentionally.
Therefore, the only way to be certain that there's no cross-contact is to purchase certified gluten free products to you can safely and confidently get back to eating rice (preferably the more nutritious brown rice) alongside your favorite gluten free Chinese recipes or a deliciously rich gf curry and a tasty gluten free naan.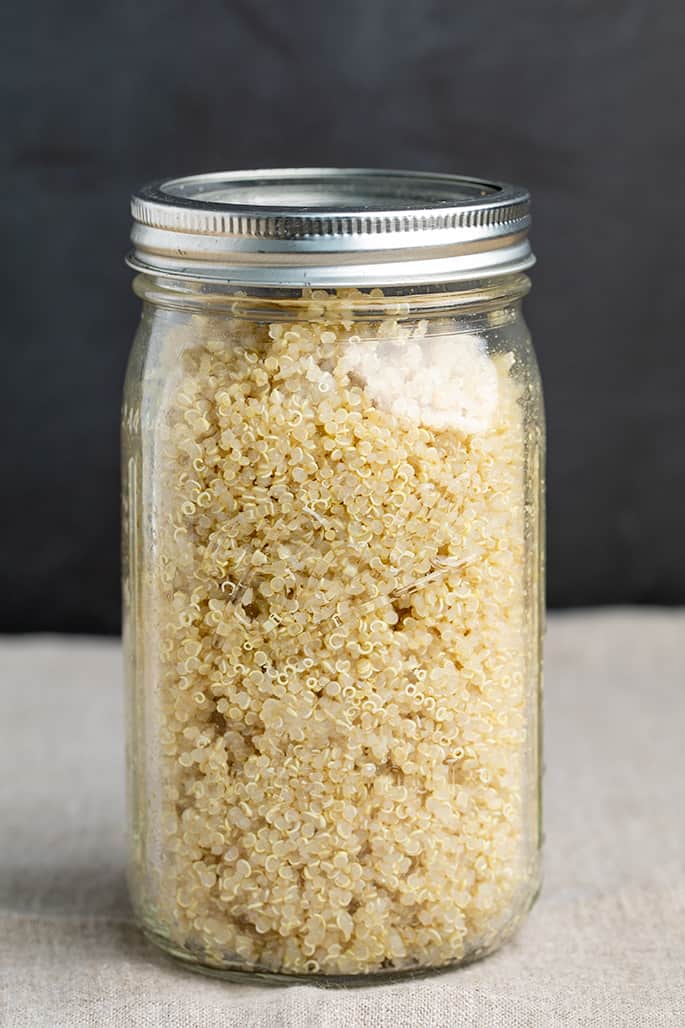 Best gluten free rice alternatives
The gluten free diet can be a bit rice-heavy. So, even though all plain rice is gluten free, sometimes you want to mix things up a bit. And it definitely doesn't hurt to add some different ingredients, and therefore different nutrients, into your diet. A few of my favorites are:
Quinoa: This little seed is packed full of protein, fiber, and antioxidants, and it's comparatively low on the glycemic index, so it's a tiny nutritional powerhouse. Plain quinoa is gluten free, like plain rice, and works great as a rice substitute if you cook it in chicken, beef, or vegetable stock.
Riced cauliflower: Cauliflower is the perfect gluten free rice substitute if you need something low calorie, low carb, and low on the glycemic index. If you're counting calories, consider that a half-cup serving of riced cauliflower has just 13 calories, compared to the 100 calories in a half cup of cooked white rice. And you can make riced cauliflower into a really delicious low carb fried rice.
Millet: A naturally gluten-free grain, millet is a great rice substitute, loaded with fiber, protein, and antioxidants. It also has more calcium than any other cereal and has a high concentration of essential amino acids. This ancient grain can be used whole as a rice substitute, or ground into flour and used for baking.
FAQs
Is jasmine rice gluten free?
Yes, jasmine rice is gluten free. It's a long grain rice that's fluffy and light when cooked. Red, blue, and purple rice are often jasmine rice varieties that are packed with important phytonutrients.
Is brown rice gluten free?
Yes, brown rice is gluten free. Eating brown rice as part of a gluten free diet as a substitute for gluten containing grains, or just as plain brown rice, is great for you.
Brown rice is more nutritious than white rice, containing high levels of magnesium, manganese, phosphorous, zinc, copper, selenium, thiamin, niacin, and iron. It's nutrient-dense and higher in fiber and has a fair amount of protein. And, because of its high fiber, nutrient-packed make up, brown rice is better than other rice types for controlling blood sugar and aiding in weight management.
On top of that, brown rice has a high concentration of phenols and falavonoids – potent antioxidants that help right inflammation and protect you at a cellular level from free radical damage.
Is wild rice gluten free?
Yes, wild rice is gluten free and, unlike many rice types, doesn't contain arsenic. However, because you often get wild rice as part of a rice mix with white rice or brown rice, sometimes flavorings or other "enhancers" get added, too, so it's extra-important to check the ingredients before you buy.
Wild rice, also known as black rice, isn't a true rice. It's a semi-aquatic grass with an edible grain that's native to North America and is particularly abundant in the Great Lakes region. This type of rice takes a bit longer to cook than regular rice and swells to three times its original size. It's got a nutty, earthy flavor and is a great substitute for breadcrumbs in stuffing and meatballs. Its nutritional profile is similar to brown rice, but wild rice also contains high levels of vitamin B6 and folate.
Is fried rice gluten free?
The plain rice itself is gluten free, but fried rice often contains gluten in the form of sauces or seasoning mixes. For example, many fried rice dishes contain soy sauce, which has gluten. You can make your own gluten free fried rice easily enough, though, by simply substituting the soy sauce with gluten free soy sauce, coconut aminos, or tamari.
Is rice pilaf gluten free?
Rice pilaf is not always gluten free. Rice itself is gluten free unless it's been cross-contaminated during processing, but the ingredients in rice pilaf vary a lot and often contain things like couscous or vermicelli, which are both gluten-containing pastas.
Some stock and broth products also contain hidden gluten, as do seasoning mixes, all of which are common ingredients in rice pilaf. But it's easy to customize a rice pilaf recipe to be gluten free. The dish is so versatile, you can use pretty much any ingredients you like.
Is basmati rice gluten-free?
Yes, basmati rice gluten free. Available in both brown and white varieties, basmati rice is a fragrant rice that is fluffy and not sticky when cooked. With a similar nutrient profile to jasmine rice, white or brown basmati rice are popular because they contain the least traces of arsenic of all the true rice varieties.
Is rice vinegar gluten free?
Yes, rice vinegar is gluten free in its purest form. It doesn't usually contain any grains, so rice vinegar is safe for people with a wheat allergy or celiac disease. However, be sure to check the label, as some brands do add grains to the vinegar. And note that rice vinegar is commonly used in sushi, so be sure to check if it's gluten free rice vinegar before you eat it.
Is rice paper gluten free?
Yes, rice paper is gluten free, in theory. However, as with most products, it's worth checking the packaging and, where possible, only purchasing it if it's certified gluten free. And if you're planning on trying to use them for egg rolls or wontons, use my easy, versatile gluten free wonton wrappers recipe instead.
Is malted rice gluten free?
Malted rice is gluten free, as long as it doesn't contain any other grains. Even though we mostly associate malt with barley, which is a gluten-containing grain that must be avoided by anyone with a gluten sensitivity, malting is actually a process, not an ingredient. Although barley malt is definitely the most common, rice malt and corn malt are also available for those of us living the gluten free life.
Malting simply refers to the process of soaking a grain in water, waiting until it germinates, and then drying it out. This can be done with any grain, including rice or other gluten free grains. However, if the ingredient label you're looking at simply says "malt", then be sure to avoid it, as that means it's made from barley, not rice or corn.
Is glutinous rice gluten free?
Yes, glutinous rice is gluten free. Yes, "glutinous" sounds like the rice may contain gluten, but it doesn't. In this instance, glutinous refers to the texture of the rice when cooked. Available in brown or white rice varieties, glutinous rice is sticky rice or sweet rice. It's a short, round-grained rice that goes thick and sticky when cooked
Is Uncle Ben's rice gluten-free?
Some Uncle Ben's rice products are gluten free, but some are not. Always, always check the packaging before you buy these products, as ingredients lists change regularly.
Most of the Ready Rice product lines are gluten free at the time of writing, but not all are certified gluten free, and still others have gluten-containing ingredients listed.