This gluten free bread flour is the blend that works best to make bread dough that behaves the most like you remember. Make shaped breads with a taste you'll love.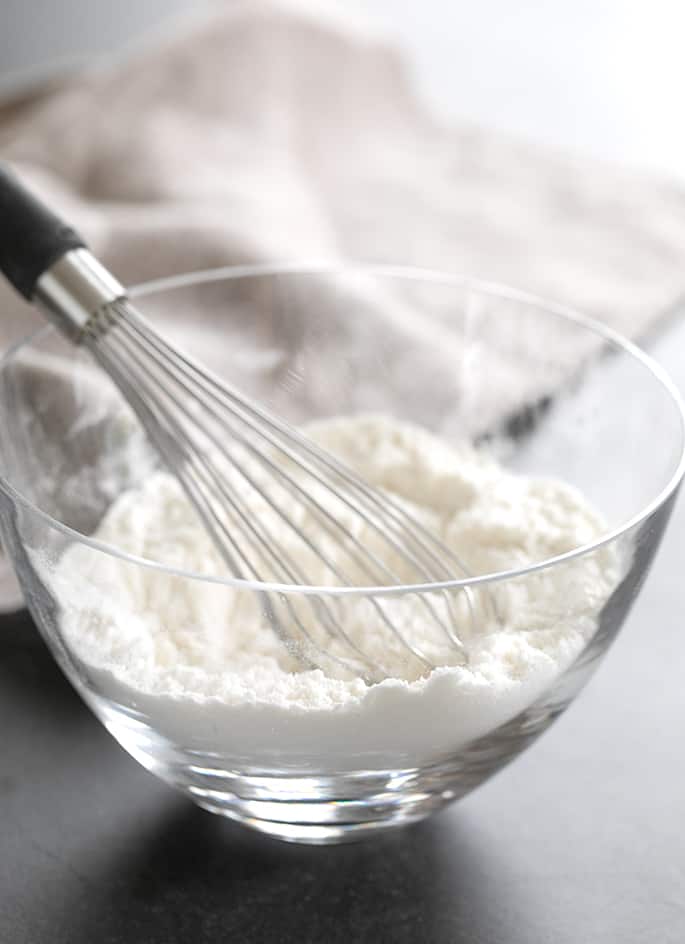 How to make this gluten free bread flour blend
My gluten free bread flour is made by combining 3 ingredients. They are whey protein isolate, Expandex or Ultratex 3 modified tapioca starch, and a strong all purpose gluten free flour.
The right all purpose gluten free flour
I began using Better Batter all purpose gluten free flour many years ago. It has superfine rice flour so it's never gritty and always combines properly with other ingredients. It's properly balanced to create baked goods that brown, rise, and taste like they should.
I know that not everyone can or is willing to buy Better Batter. That's why I created a "mock" Better Batter recipe, for you to make your own approximation that will work in every recipe I create that calls for an all purpose gluten free flour. I've repeated that recipe below, for convenience.
Since that mock Better Batter blend calls for quite a number of ingredients, I have also tested my bread flour using my "Make It Simpler All Purpose Gluten Free Flour" blend. That blend contains only 4 ingredients.
Although I do urge you to use Better Batter or create the mock blend, the bread flour will work with the Make It Simpler blend. Suddenly, I find myself really wishing I had come up with a better name for that simpler blend.
Whey protein isolate
Whey protein isolate is an unflavored protein powder that is nearly 100% protein. It is distinct from whey protein concentrate, which has more fillers, less protein.
To make bread flour, you'll need whey protein isolate. Each 28 grams (1 ounce) of whey protein isolate should have about 25 grams of protein. Just check the label.
Be sure you are using an unflavored protein. Whey protein isolate is most often used by bodybuilders who need tons of protein in their diets.
Since they often blend theirs into shakes, there are plenty of flavored varieties. You do not want any of those flavors. Just the protein, please.
I like Opportuniteas brand grass-fed whey protein isolate (that's an affiliate link but please shop around). NOW Foods brand also makes an unflavored whey protein isolate, but not everyone is comfortable that it is strictly gluten free.
Modified tapioca starch
Expandex is a chemically modified tapioca starch that helps create amazing stretch and chew to gluten free breads. Since it is chemically (not genetically) modified, it is not the same as and cannot be replaced with regular tapioca starch/flour.
When I first started publishing recipes using it in 2013, Expandex became very difficult to find very quickly. Since then, it's become more widely used in gluten free baking. With that, it's become more widely available.
I keep an active list of sources for purchasing modified tapioca starch that I will link to below. Since Expandex tends to be more difficult to find outside the U.S., I've learned how to use a similar product called Ultratex 3.
Ultratex 3 appears to me to be about 3 times as strong as Expandex. To use Ultratex 3 in this blend instead of Expandex, I've modified the quantities of all 3 ingredients. I provide all of the numbers below.
Why bake recipes with gluten free bread flour?
Baking recipes that call for this gluten free bread flour is an experience much more like what you might expect when you're baking conventional yeast bread. The dough isn't overly wet like the batter-style of bread.
The batter-style sort of gluten free bread dough doesn't look or behave anything like conventional yeast bread when it's raw or even when it's baking. It has very often been described as "cookie dough."
If you've ever made a batter-style gluten free bread, which absolutely still has its place in my heart, the moment you make this bread dough you'll see how different it is. You can manipulate it with your hands without moistening them first.
Better texture, better taste, more possibilities
The breads you'll make with this gluten free bread flour appear different when raw, and taste different when baked. They can be made without enrichments like eggs and butter, because they have internal structure more like conventional bread.
If you're egg-free, this can be particularly useful. Only the breads that are naturally enriched, like brioche, will still need to be made with eggs and butter.
If you have previous experience shaping conventional yeast bread dough, all of that will come in quite handy here. With this blend, working with gluten free yeast bread dough does not have to mean weepy mounds of wet dough.
And unlike gluten free yeast bread of the past, most of these rolls have two rises. That means that the dough is easier to handle still, and there is even some flavor development in the yeast.
What breads can I make with this flour?
Below are some of the many bread recipes on the blog that are designed to be made using this recipe for gluten free bread flour. There are others, too, and of course a whole book of gluten free bread you can buy.
But you don't have to buy the book. I'm not even linking to it here. You can simply use the gluten free bread recipes here on the blog that use that blend.
Below are some of my favorite gluten free bread flour recipes. Two of them are reprinted recipes from GFOAS Bakes Bread. The rest I created after the book was already published, to share here on the blog. I love them all equally. ❤️
This gluten free chocolate pull-apart bread was created when the Internet was full of pull-apart bread recipes. I hate it when we can't bake along, so I shared a way for us to do it, too. Make it chocolate, or a cinnamon-sugar version.
These gluten free Texas Roadhouse-style rolls are tender, light and fluffy, but they're safely gluten free. Let that bread basket pass you by and try these instead!
Warm and gooey gluten free Nutella bread, filled with everyone's favorite hazelnut spread. Braided for a gorgeous presentation, it's dressed to impress!
These soft gluten free breadsticks are a homemade version of the famous Olive Garden breadsticks. Fluffy and soft inside, with a thin, almost crispy layer outside, and covered in garlic butter.
This recipe for soft and tender gluten free Hawaiian rolls makes the perfect gluten free bread for any occasion—for everything from dinner rolls to burger buns. This recipe also has some videos of me handling the bread dough, which many find useful in getting used to baking with gluten free bread flour.
You know those super squishy, soft-crusted rolls from Subway? Well, I made soft gluten free sandwich rolls in just that style.
I think Subway actually carries packaged gluten free bread now, but you know it's not the same. And I'm afraid of all the cross-contamination worries.
Ingredients and substitutions
Dairy
Whey protein isolate is the only protein powder that truly works to make my gluten free bread flour. Only casein (the protein in milk) behaves this much like gluten does in baking.
I have had limited success with rice protein isolate and pea protein isolate in place of whey protein isolate, but it just isn't quite the same at all. If you do use one of those protein powders to make the blend dairy-free, you will need to add 50% more water to the bread recipe.
That will create more of a batter-style gluten free bread recipe that just isn't as easy to shape. I think you're better off using our older style of gluten free bread recipe, like our gluten free white sandwich bread.
Those old school recipes didn't just stop working because I created a recipe for gluten free bread flour that calls for different recipes. In fact, our gluten free naan bread is made in that style, and it's one of the most popular recipes on the blog.
Potatoes
Avoiding nightshades in gluten free baking can be difficult. Better Batter uses two kinds of potato products: potato starch, and potato flour.
Although there is no substitute for potato flour, you can usually substitute potato starch. I find that arrowroot works well. So does cornstarch.
If you need to make this bread flour nightshade-free, try using the Make It Simpler all purpose gluten free flour (there's that name again!). It doesn't call for potato flour, only potato starch which you should be able to replace.
Expandex
You must use modified tapioca starch in this bread flour blend for it to work at all. You can use either Expandex and Ultratex 3 in the amounts and in the way described in the recipe below.
I keep a current list of online sources for Expandex and Ultratex 3 in the United States, Australia, the U.K., and Canada. Ultratex 3 seems to be more widely available outside the U.S. than does Expandex.