The simplest recipe for gluten free artisan bread, that can be mixed by hand in one bowl with the most basic pantry ingredients, is here. It's your everyday gluten free bread recipe.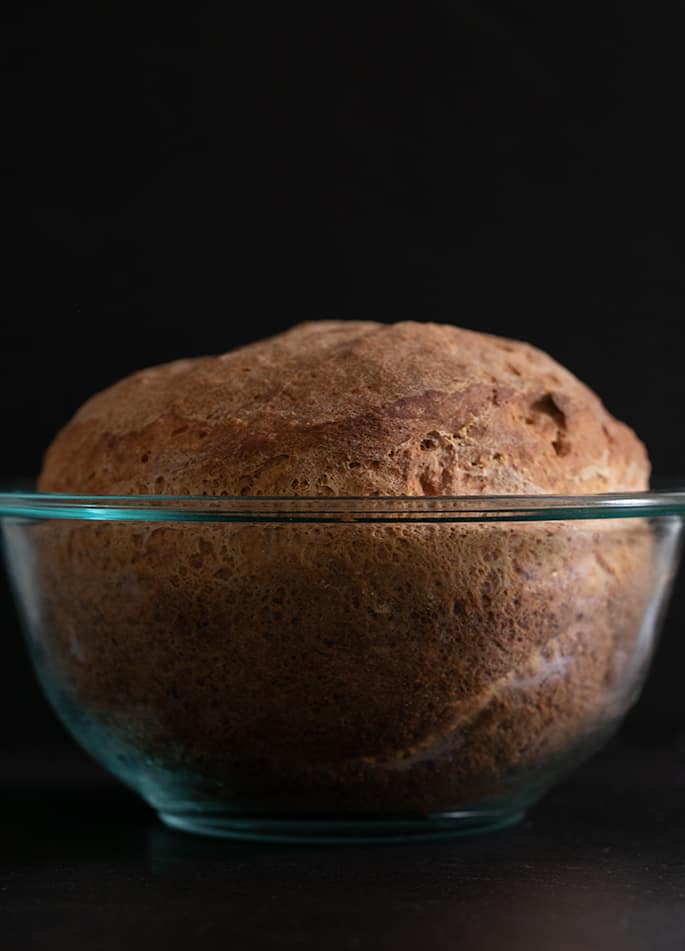 The simplest yeasted gluten free bread recipe
This is a very pared down bread recipe that doesn't call for much more than flour, yeast, a touch of sugar, salt, milk, and eggs. It's not a sandwich bread, and it's not one of our newer gluten free breads made with harder to find ingredients like whey protein isolate and Expandex modified tapioca starch.
Think of it like a table bread. It's the sort of everyday bread you can slice and make into sandwiches or slice into chunks to serve with your favorite soup. It would be perfect for making into bread crumbs, too.
The crumb is open and tender, and the crust is thick but never hard to chew. Baked in a small oven-safe glass bowl, and turned over for the last 15 minutes of baking, the light brown crust extends all around the loaf. Be sure to cool it completely before slicing or it will squish as you slice.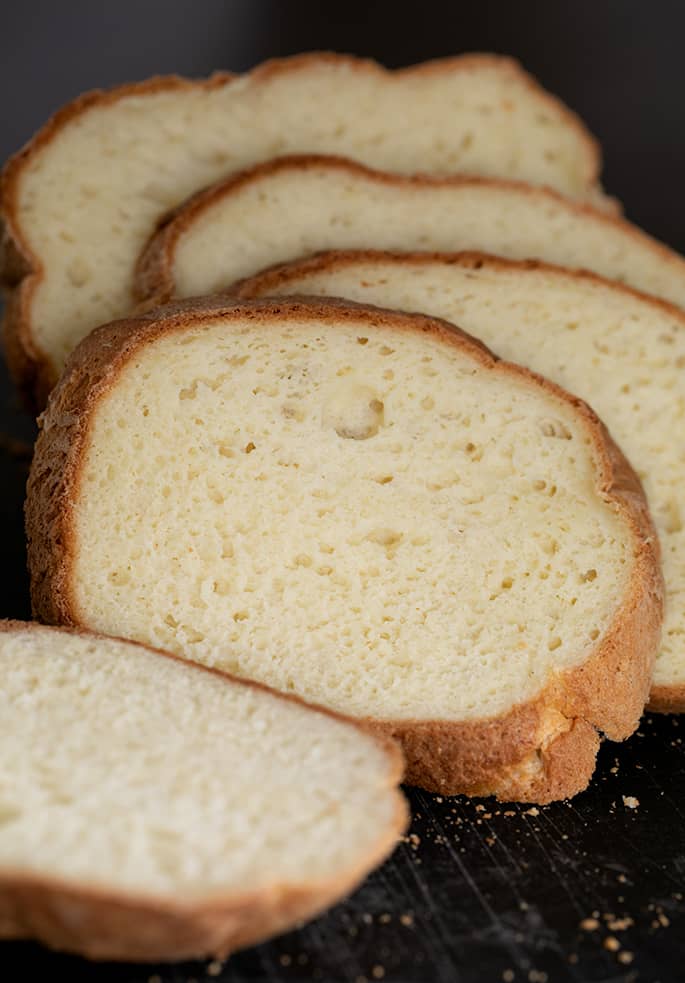 Make it in one bowl
Unlike all of my other yeast bread recipes, this gluten free artisan bread does not have to be made in a stand mixer. I do often make it in my stand mixer, fitted with the paddle attachment, because it's easier and it does tend to make a slightly higher-rising loaf.
It will rise
If you are new to yeast bread baking, especially gluten free yeast bread baking, you may be nervous that your dough won't rise properly. Please keep in mind that yeast has a very wide temperature range in which it is active, but reproduces at different rates.
At lower room temperature, it will rise, just not as quickly. At higher temperatures, it will rise more quickly. But if you place it in a hot environment, you risk killing the yeast.
Just be patient. Over-proofed bread, that breaks through and has something of a pockmarked appearance, is bread that has been left to proof after it's done. It's based upon rise, not upon time.
Ingredients and substitutions
Here are my best educated guesses for how to remove any additional allergens in this recipe you may have in your family.
Dairy: This recipe can easily be made dairy-free by replacing the dairy milk with your favorite nondairy milk. I recommend using something unsweetened.
Eggs: There is only one egg in this recipe, so it can likely be replaced with a "chia egg" (1 tablespoon ground white chia seeds + 1 tablespoon lukewarm water, mixed and allowed to gel). I've also made the recipe with 2 egg whites (50 g) in place of a whole egg, and it's a bit more dense but the recipe still works.
Tapioca starch/flour: I've also made this recipe with an all purpose gluten free flour (specifically, Better Batter) in place of tapioca starch/flour. It works, but it doesn't rise as high and the crumb is tighter.
Instant yeast: In place of instant yeast, you can always use active dry yeast by multiplying the amount (by weight) of the instant yeast (here, 6 grams) by 1.25 or 125%. Here, that would mean 7.5 grams of yeast, which is clearly difficult to measure precisely but just add a bit more after you reach 7 grams.
Active dry yeast has a thicker coating around the yeast, so you should soak it in some of the liquid in the recipe (here, milk) until it foams before adding it with the rest of the milk.
If you don't have yeast at all, I'm afraid there is no substitute in this recipe. But please have a look at the mindmap on our Baking With Limits page for plenty of yeast-free bread options.
I'm reluctant to publish information about ingredient availability that will become outdated quickly, but for now I will say that I was able to buy SAF instant yeast on Amazon.com just today. Instant yeast is also available in store at some Walmart and Target stores. If you can only find active dry yeast, grab it and use the instructions above for how to modify the recipe to make use of it.
Easy Gluten Free Artisan Bread
Yield:
1 5-inch round loaf
Ingredients
1 1/2 cups + 2 tablespoons (227 g) all purpose gluten free flour (I used Better Batter)
1 1/4 teaspoons xanthan gum (omit if your blend already contains it)
1/4 cup + 2 tablespoons (54 g) tapioca starch/flour
2 teaspoons (8 g) granulated sugar
2 generous teaspoons (6 g) instant yeast
1/4 teaspoon baking soda
1 teaspoon (6 g) kosher salt
1 cup (8 fluid ounces) warm milk (about 95°F)
1 egg (50 g, weighed out of shell) at room temperature, beaten
1 tablespoon (14 g) extra virgin olive oil
Instructions
Grease a 1 or 1 1/2 quart glass oven safe bowl and set it aside. If you don't have a glass bowl, you can use a small round pan or cast iron skillet with high sides. If using an aluminum pan that isn't dark in color, raise the oven temperature to 400°F.

In a large bowl, place the flour, xanthan gum, tapioca starch/flour, sugar, and yeast, and baking soda, and whisk to combine well. Add the salt, and whisk again to combine well. Create a well in the center of the dry ingredients and add the milk, egg, and oil, and mix vigorously. The bread dough/batter should come together and lighten a bit in color as you mix.

Transfer the dough/batter to the prepared baking bowl, skillet, or pan, and smooth the top with clean, wet hands or a moistened spatula. Do not compress the dough at all. Cover the dough completely with an oiled piece of plastic wrap. Be careful not to compress the dough, but cover the bowl securely. Place it in a warm, moist place to rise for about 45 minutes, or until the dough has increased to about 150% of its original size. In cool, dry weather, the dough may take longer to rise; in warm, moist weather, it may take less time to rise. When the dough is nearing the end of its rise, preheat your oven to 375°F.

After the dough has risen, remove the plastic wrap and place the bowl in the center of the preheated oven and bake for 30 minutes, or until the bread is lightly golden brown all around. Remove the bread from the oven and rotate the loaf in the bowl so it's upside down. Return the bread to the oven and bake until the crust has darkened slightly all around, and the bread sounds hollow when thumped anywhere, on the bottom or top, about another 15 minutes. The internal temperature of the bread should reach about 195°F on an instant-read thermometer. Turn the bread out onto a wire rack to cool completely before slicing and serving.