Blueberries are not just a superfood, they're packed with delicious flavor, especially when it comes to baking! And they're a staple ingredient in my gluten free kitchen.
Late summer blueberries are some of the best. Even the small ones tend to be sweet and tender. Here, I've pulled together the best gluten free blueberry recipes that I have had to offer over the years.
With gluten free recipes for everything from cakes and bars to muffins of all sorts and even blueberry dump cake that you don't even mix in a bowl, I can't think of a better way to celebrate summer (even if you're doing so in the middle of the winter with frozen berries).
Some of my best gluten free blueberry recipes
This is just a sampling of all of the gf blueberry recipes here on the blog. The easiest way to find all of them is just to do a "blueberry" search. Here, I'm sharing some of my favorites, including many of the classics like blueberry cobbler and bakery-style blueberry muffins.
Bakery-Style Gluten Free Blueberry Muffins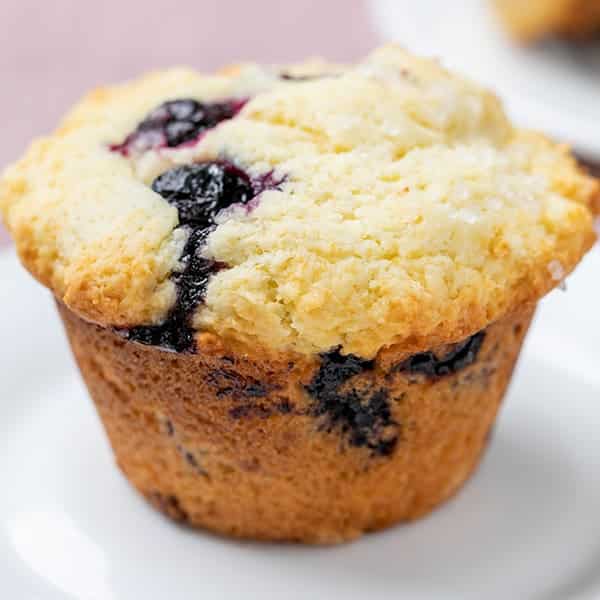 Imagine a moist, tender, and supremely flavorful muffin that's entirely gluten free. These bakery-style gluten free blueberry muffins are just that. They're packed with sweet blueberries and a hint of lemon juice, for the perfect flavor balance.
A simple recipe that only uses common pantry staples like all purpose gluten free flour, butter, eggs, fresh lemons and blueberries, these muffins are sweet, tasty, and satisfying.
Click for the recipe
Gluten Free Blueberry Dump Cake
Easy and delicious, this blueberry dump cake is a crowd pleaser. With just a few ingredients including gluten free cake mix and fresh blueberries, you have a dessert that's perfect for any occasion, especially for those spontaneous get-togethers.
There's not even a mixing bowl, much less any mixing! You just dump all the ingredients in, give it a bit of a stir, and pop it in the oven.
Click for the recipe
Gluten free lemon blueberry cake
This tender gluten free cake studded with big, bright blueberries, and filled with lemon buttercream filling. You can make it as a round cake or square, as a layer cake or not.
You just can't beat the combination of blueberries and lemon flavors, and we really make use of the whole lemon in this showstopper of a cake.
Click for the recipe
Gluten free blueberry scones
For a lightly sweet treat, you can't beat gluten free blueberry scones. Packed with fresh fruit, these slightly crumbly, satisfying pastries is made with simple ingredients you have in your gluten free pantry—and some beautiful seasonal berries.
Click for the recipe
Gluten free trifle with fresh berries and custard
Recreate a classic with our gluten free trifle recipe, featuring layers of gluten free sponge cake, creamy custard, fresh blueberries and strawberries, and whipped cream. A guaranteed hit at any gathering.
Click for the recipe
GF blueberry muffin tops
These gf blueberry muffin tops have all the best parts of a blueberry muffin, just without the "stump." Made in one bowl, these easy tender tops are packed with berries and also freeze incredibly well for a bakery-style treat any time.
Click for the recipe
Gluten free blueberry breakfast bars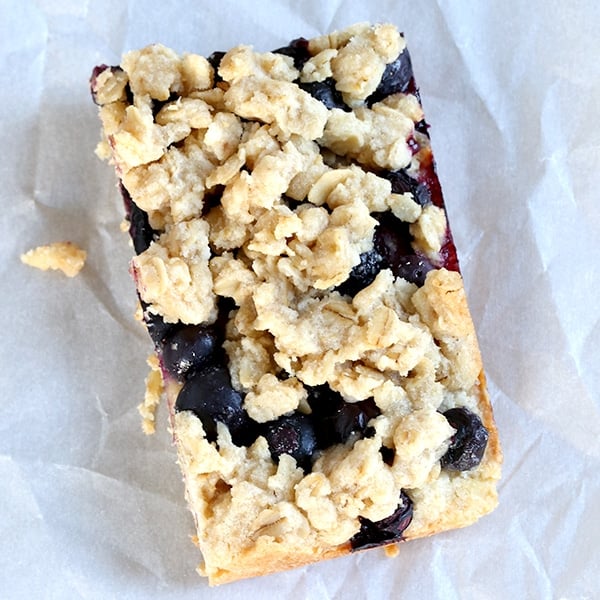 The perfect alternative to granola bars, these gluten free blueberry breakfast bars are bursting with sweet blueberries.This Starbucks copycat recipe is healthy, satisfying, and perfect for a grab-and-go breakfast. Think buttery shortbread crust, juicy blueberry filling, and a perfect nubby crumble topping!
Click for the recipe
Gluten free blueberry cobbler
Like an upside-down deep-dish pie, this easy gluten free blueberry cobbler has a thick gluten free pastry crust on top of tons and tons of blueberries. Since all the blueberries here are cooked down, you can easily use frozen berries.
Be sure to use the larger kind, not the tiny little "wild" berries since they tend to cook down too much. We want to see those berries!
Click for the recipe
Tips for baking with blueberries
Follow any of these recipes to the letter, and you'll end up with an amazing blueberry bake. But I also have a few foolproof tips for making baking with blueberries even easier.
Choose the right blueberries
Choose firm, ripe blueberries. They retain their shape and offer a natural sweetness.
Tiny tart berries aren't very good for baking, so avoid baking with fresh blueberries that you buy off-season. Instead, make the most of blueberry season and choose those big, beautiful fresh berries that look like they're about to burst. They should also smell like, well, blueberries.
Toss blueberries in flour
When berries bake in the oven, they release a lot of moisture as they burst. That makes them more likely to sink in your baked goods. Try tossing them in a bit of the flour or other dry ingredients first, before mixing them into batter, to absorb some of that moisture during baking.
Begin with a layer of berry-free batter
If you're concerned about berries lining the bottom of your muffin tins that might create a less stable muffin, try spreading a thin layer of the muffin batter in the bottom of each well before you add the berries. That way, your berries will always be sealed in nicely.
Gently fold blueberries into the batter
Gently fold your fresh blueberries into the batter to avoid crushing them. You want them to begin their baking time while they're still whole.
Add lemon
Lemon enhances the blueberry flavor. A bit of zest or juice can work wonders! Plus, adding a bit of acid to your berries will make your berries appear brighter.
And if my recipe doesn't tell you it's an option, I'd carefully consider it. But if you do have the option of working lemon into the recipe, I definitely recommend it.
Baking with frozen blueberries
I love to bake with berries all year long, as frozen blueberries are frozen at the peak of ripe perfection and are so economical.
When baking with frozen berries, never defrost them first. They may bleed into the batter a bit, unlike fresh berries, but it won't affect the flavor or texture one bit.
Don't overbake
Blueberry baked goods have quite a bit of moisture, so they can quickly turn from golden brown to burnt. To avoid this, keep an eye on your bake and take it out of the oven when it's just set.
Remember to get an oven thermometer and check the actual temperature of your oven, as what's on the dial can be wildly inaccurate. And almost every oven, even when it's been properly calibrated, drifts out of calibration.
FAQs
Can I use frozen blueberries?
Yes, you can use frozen blueberries. Just be sure to add them to your batter without thawing to prevent the colors from bleeding.
What's the best way to store my blueberry baked goods?
Store them in an airtight container at room temperature. For longer storage, wrap them tightly in freezer safe wrap, and freeze.
Can I substitute blueberries with other berries?
Raspberries or chopped strawberries are often a perfect substitute for fresh blueberries in baking. Be sure your fruit substitute is of similar size and moisture content to the original blueberries the recipe calls for.