These ten gluten free blueberry recipes offer all the very best ways to use summer's sweetest berry. Bake them with fresh fruit in season, and frozen all year long!
Late summer blueberries are some of the best. Even the small ones tend to be sweet and tender. Here, I've pulled together the best gluten free blueberry recipes that I have had to offer over the years.
With gluten free recipes for everything from cakes and bars to muffins of all sorts and even blueberry pierogi, I can't think of a better way to celebrate summer—even in the middle of the winter. I love to bake with berries all year long, as frozen blueberries are frozen at the peak of ripe perfection and are so economical.
When baking with frozen berries, never defrost them first. They may bleed into the batter a bit, unlike fresh berries, but it won't affect the flavor or texture one bit. So let's get to it!
Gluten free blueberry dump cake. This simple recipe is made with nothing more than a gluten free vanilla cake mix, frozen blueberries, butter and milk. No separate bowl for mixing. Just "dump" it all in a pan and bake. Just be careful not to overbake it, but even if you do, no one will really mind. Oh, and especially for our non-U.S. friends: sorry about the unfortunate name!
Gluten free blueberry swirl muffins. Moist and tender gluten free blueberry swirl muffins, with a simple blueberry compote baked right into the top. These are quite possibly the perfect muffin (with apologies to the other muffins below), as they don't try to be health food at all. They're just buttery and lovely, and packed with whole and cooked berries.
Paleo blueberry muffins. These Paleo blueberry muffins are the healthy, low-carb gluten free breakfast solution you've been looking for. Made with coconut flour, but they're not eggy, like baked goods made with coconut flour can tend to be.
I used to make this recipe with blueberry puree and they were bright blue. They still tasted great, but since we eat first with our eyes, I modified the recipe a bit. Ah, what we won't do for beauty!
Gluten free Starbucks-Style Blueberry Oat Bars. You know you're tired of staring sadly at all the treats you can't have in the Starbucks glass case. These gluten free blueberry oat bars, with an oat-shortbread crust, a thick layer of blueberries and a crispy crumb topping, make it all better.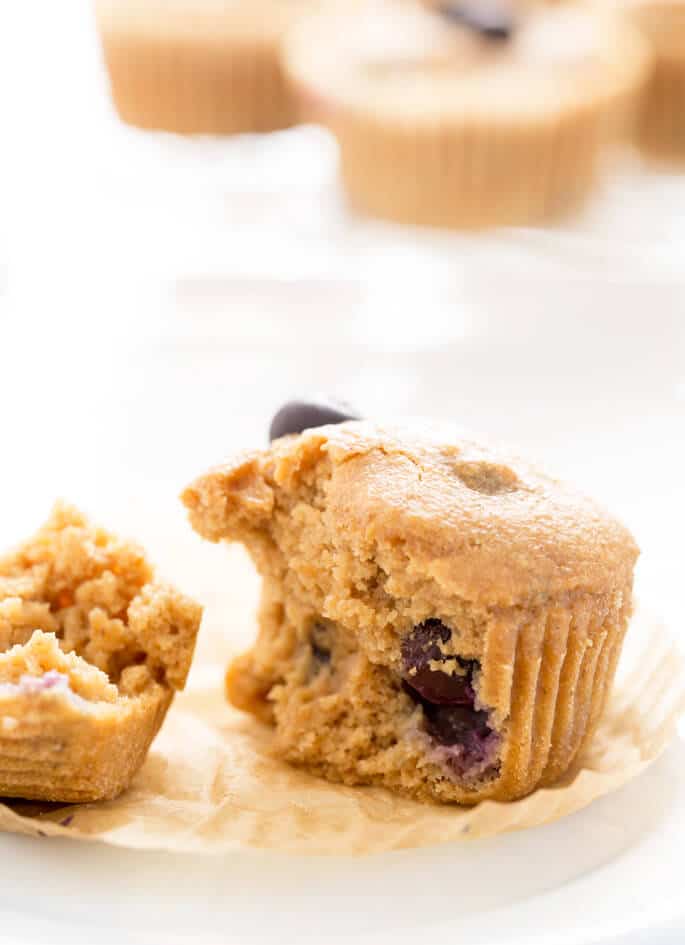 These truly healthy blueberry muffins are made with applesauce, yogurt, oats and big, beautiful fresh blueberries (or frozen of course!). Believe it or not, they have no added fat or refined sugars, but still manage to deliver all of the taste and texture of a proper muffin. With none of the guilt!
Gluten free pierogi filled with blueberries. Every once in a while, I decide that a recipe on the blog is just not necessary any more, and I go and delete it. When you've been blogging as long as I have, sometimes you feel the urge to do some spring cleaning. You know when you do that, and toss something that you realized two days later you should have kept?
This recipe for gluten free blueberry pierogi is one of those times. But never fear! All you really have to do is add about 2 tablespoons (14 g) confectioners' sugar to the pierogi dough recipe, and fill the pockets with fresh or frozen blueberries tossed generously with more confectioners' sugar. The recipe is otherwise the same. I promise!
Skinny gluten free blueberry corn muffins. These blueberry corn muffins that are very light on sugar and butter, but big on flavor. They make for a truly hearty, healthy gluten free breakfast.
Gluten free lemon blueberry cake. This tender gluten free cake studded with big, bright blueberries, and filled with lemon buttercream filling. You can make it as a round cake or square, as a layer cake or not. You just can't beat the combination of blueberries and lemon flavors, and we really make use of the whole lemon in this showstopper of a cake.
Lighter gluten free blueberry muffins. These gluten free blueberry muffins are missing none of the flavor and texture, but they're still very low in sugar and only have 130 calories per generous muffin.
Over the years, many readers have reported lots of variations on these muffins, everything from replacing the blueberries with raspberries to replacing them with white or semi-sweet chocolate chips. It's just a lovely, light gluten free muffin base. And blueberries do tend to make everything good even better.
Last but not least, gluten free blueberry cheesecake cookies. These simple cookies have all the taste of cheesecake in a neat little cookie. They're soft, but not pillowy, as they have some of the chew of a cookie. Summer perfection that you can have any time of year!