Tired of staring sadly at all the treats you can't have in the Starbucks glass case? These gluten free blueberry oat bars, with an oat-shortbread crust, a thick layer of blueberries (fresh or frozen) and a crispy crumb topping, make it all better.
Whether it's blueberry season or not (as I type this, it's no!), this recipe for Starbucks-Style Gluten Free Blueberry Oat Bars is not something you should be without for much longer. If you are going to take an Alice Watersesque stand against eating fresh blueberries out of season (I salute you!), just use frozen blueberries (don't defrost them).
The crust is like an oat-shortbread. It's buttery and kinda crumbly, with the slight chew of oats mixed in. The crumble topping is just what you'd expect from the perfect texture of a nice crumble topping—but studded with oats.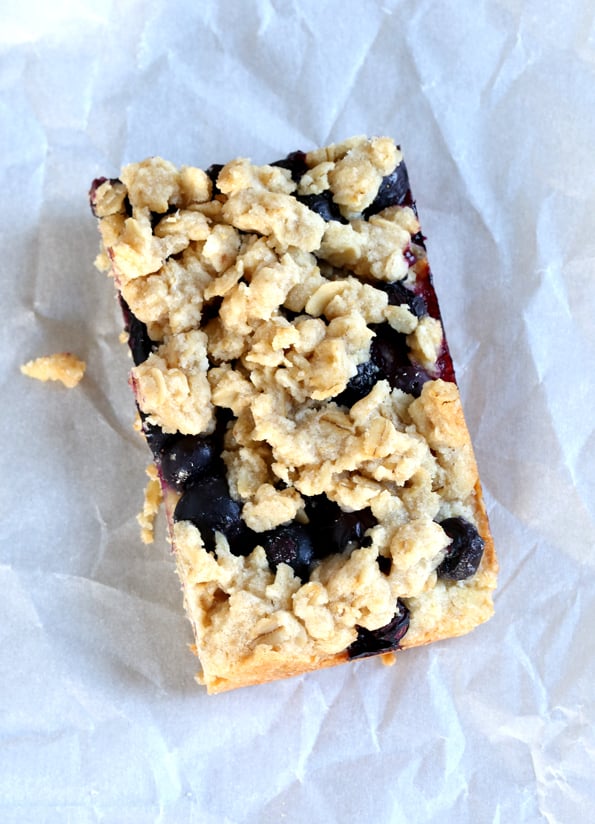 And can you see how the blueberries keep their shape? That's because the crust doesn't take long to bake. And since we want to keep the crumble topping from browning too much, we just don't bake the whole thing for too long not too long at all. Frozen berries will leak a bit more than fresh ones, but even the frozen ones should hold their shape relatively well.
This is just my imagining of what the Starbucks Blueberry Oat Bars are like. I've never actually had them myself. So I went from the ingredients … and one single photo.
If you've had these blueberry oat bars from Starbucks, I hope I did you proud. The moral of the story is always the same: If they can make it with gluten, we can make it without!