Gluten free blueberry dump cake is what you bake when you want to eat a cake, but don't feel like, well, baking. Truly as easy as just "dumping" all the ingredients in and popping it in the oven!
I put "dump" cakes in the same category as slow cookers: I know how popular they are, but I just couldn't wrap my mind around them.
There are whole books written about them both, maybe even love songs for all I know. And when we're talking about a harmless subject like how to make a ridiculously easy cake (with an unfortunate name), millions of people can't be wrong.
I am happy to report that this gluten free blueberry dump cake is indeed super easy, and makes a really nice cake that tastes like a gluten free blueberry buckle with a shortbread base. I'm honestly not sure it could be any easier, in fact—even when you make-your-own gluten free vanilla cake mix.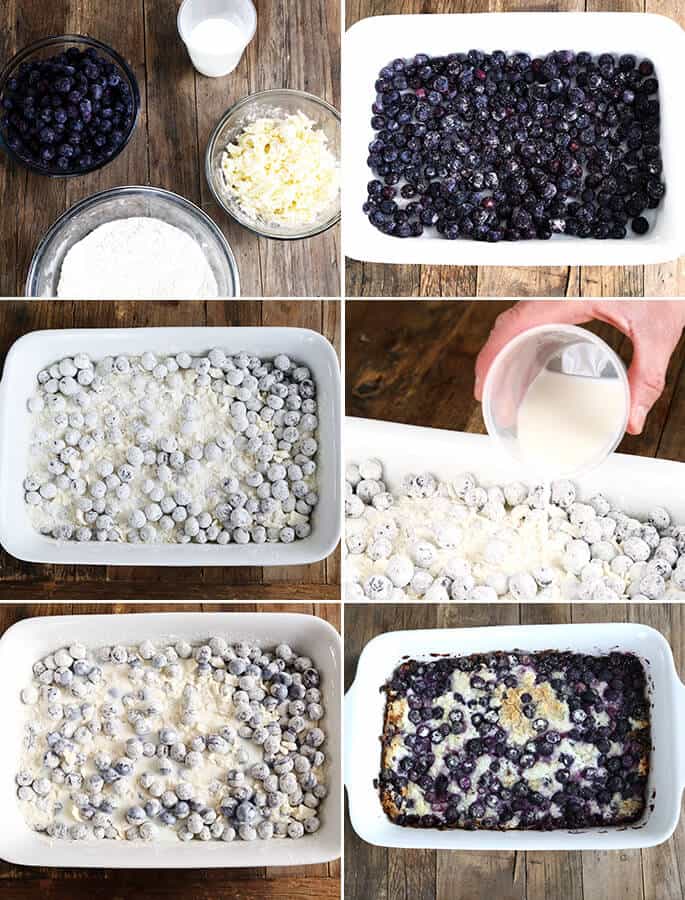 They're called "dump" cakes because, well, you just dump all of the ingredients in a pan and bake them. No mixing.
Even so, I find that the best method—by a mile—is to grate chilled butter into the cake mix. Then gently toss everything all together in the pan before pouring buttermilk over the top and baking it.
I used frozen blueberries since it's the middle of the winter as I write this and frozen blueberries are where it's at. But if you make this gluten free blueberry dump cake during blueberry season, you know what to do.
I made this cake quite a few times before settling on the proper proportion of ingredients and method, and the most important piece of advice I can give you is … don't overbake it. The bottom burns quite easily. Other than that, it really is as easy, and as delicious, as it seems!
Ingredients and substitutions
Dairy-free: In place of the butter in this recipe, try using butter-flavored Spectrum nonhydrogenated vegetable shortening (or virgin coconut oil—I think they even have butter-flavored varieties of that, too). In place of buttermilk, use unsweetened almond milk + 1 1/2 teaspoons white wine vinegar.
You'll also need to replace the nonfat dry milk in the homemade vanilla cake mix. Try using finely ground blanched almond flour, or powdered coconut milk in its place. And the whipped cream is a no-go, or it could be replaced with whipped coconut cream.
Egg-free: It's already egg-free. :)
Watch this <1 minute video of blueberry dump cake
Just push play ▶️ and watch how easy it is!
Blueberry Dump Cake
Ingredients
3 cups (about 600 g) fresh or frozen blueberries
16 ounces gluten free vanilla cake mix
9 tablespoons (126 g) unsalted butter, chilled
1/2 cup (4 fluid ounces) buttermilk (or milk), chilled
Whipped cream, for serving
Instructions
Preheat your oven to 325°F. Grease a 9-inch x 12-inch (or 9-inch square) baking dish, scatter the blueberries in an even layer in the bottom, and set the dish aside.

Place the cake mix in a large bowl. Using a standard grater, grate the chilled butter into the cake mix and, using your clean hands, toss to coat the butter in the cake mix. Break up the lumps that form in the grated butter until the mixture is uniform and looks like very coarse sand. Scatter the butter and cake mix mixture on top of the blueberries, and stir gently to mix. Pour the chilled buttermilk evenly over the top.

Place the baking dish in the center of the preheated oven and bake until the cake is puffed and lightly golden brown on top (about 35 minutes for the 9-inch x 12-inch pan, 40+ minutes for the 9-inch square pan). Do not overbake or the bottom will burn. Remove from the oven and allow to cool in the pan for 10 minutes before serving with a dollop of whipped cream.