A classic gluten free trifle recipe, made with fresh berries, gf pound cake, and easy gluten free custard, and whipped cream. Dessert as beautiful centerpiece!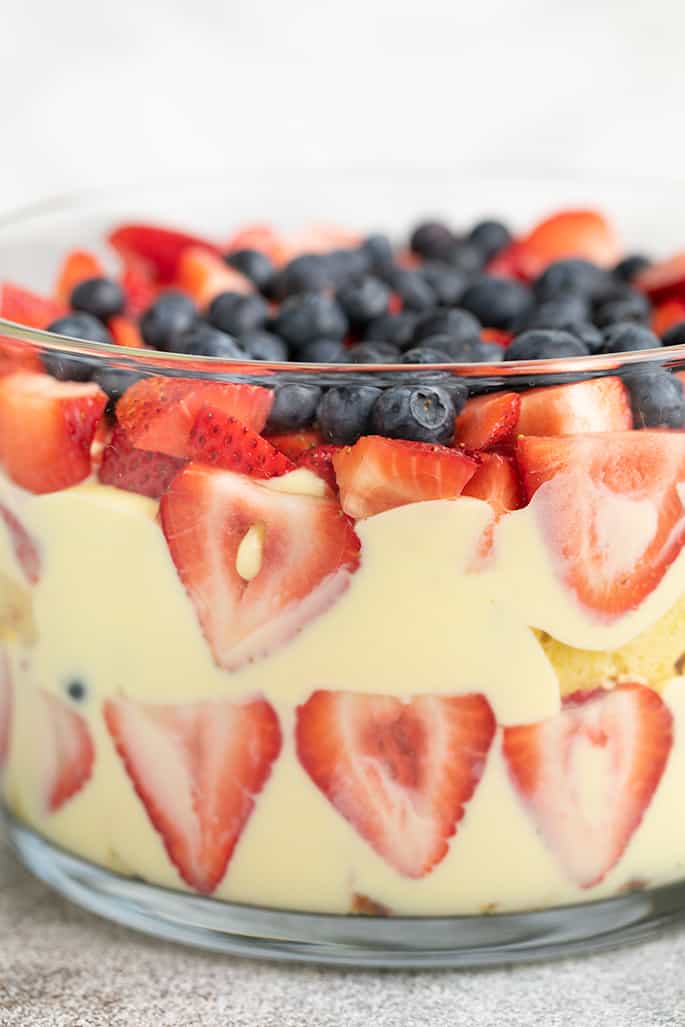 What are the layers of a trifle?
This is a berry trifle, which has 3 main layers: a cubed cake, a custard or pudding, and berries. There are also plenty of extras you can include, like a whipped cream topping, and a sauce to soak the cake.
There are many ways to make a trifle, which is simply a layered dessert that isn't so much made but assembled. When you're not gluten free, you can much more readily buy a premade pound cake from the grocery store and be done super quick and easy.
Since this is a gluten free recipe, the elements of this beautiful dessert require a bit more thought and care. But everything can be done in stages, and ultimately your homemade version will shine.
For the cake or sponge layer
For the cake layer in this gluten free trifle, it's very common to use sponge cake in a berry trifle. We have a recipe for gluten free sponge cake, also called Victoria sponge particularly if you're English, and you can absolutely use that.
Personally, I prefer our recipe for gluten free pound cake best. The cake must be able to absorb liquid from the other layers without falling apart, and pound cake has the dense texture that works best.
I would not recommend using a classic vanilla cake with an open, moist crumb like our very best gluten free vanilla cake. It would fall apart as it absorbed liquid from the custard and the berries.
You can also use our recipe for gluten free angel food cake, if you'd like something with a more open crumb, since it's sturdier (even though it looks like a cloud). I would slice the cake into cubes and let it sit open at room temperature for an hour or so first to ensure it holds up perfectly.
For the gf custard layer
The rich, creamy custard recipe we use here is really just a classic pastry cream. It's made with egg yolks, milk, and sugar, but also a thickener that's usually cornstarch or conventional flour.
Here, we use superfine white rice flour as a thickener. You can grind your own, as described in the link in the previous sentence, but it's a labor of love.
I don't grind my own rice flour, buying Authentic Foods brand instead, usually from Vitacost.com or Amazon.com. You must use a superfinely ground flour, or your custard will be gritty.
This is Food52 recipe was my guide in making this rice flour-based pastry cream. I don't generally favor using cornstarch to thicken sauces that will be served cold, as liquid leaks out of the cream once it cools.
You can serve the custard anywhere you like. It even freezes beautifully as ice pops.
Here, in this trifle recipe, you'll need the custard to be chilled. Be sure to cover the warm, strained custard right on the surface as it cools to avoid its developing a skin.
For the berry layer
A traditional English berry trifle would call for coating the cubes of cake in jam or maybe strawberry syrup, which would be delicious. I like to keep things simple by soaking the chopped strawberries in a bit of white wine vinegar.
When you add a bit of vinegar to the berries, it draws some moisture out of them and enhances their natural flavor. If you're making this recipe during strawberry season, your fresh strawberries are bright, fragrant, and beautiful, so let's just enhance them a bit.
You can of course use other berries, too. Adding raspberries in place of some other berries would be lovely.
What sort of bowl is best for this berry trifle?
A classic trifle bowl is a large, deep glass bowl with straight sides, on a pedestal. There are many brands you can buy, and they're sold at most kitchen supply stores and many online locations.
I don't have a trifle bowl. And I don't plan to buy one, because it's a single-use kitchen item that I would use too infrequently.
If you already have a trifle bowl, please use it! Nothing would make me happier.
But if you don't have a trifle bowl, I don't really recommend buying one. You can assemble this trifle in any glass bowl, even if it doesn't have straight sides.
The glass bowl is pretty important, so everyone can see the layers inside. But you can also assemble the trifle layers in individual glass canning jars.
The bowl you see in the photos and video here is a "large party bowl" made by Anchor Hocking. It has a cover, and without a pedestal, it's useful for storing pretty much anything in the refrigerator, or on the kitchen counter.
Ingredients and substitutions
Dairy
There's dairy in all parts of this recipe: the custard, the pound cake, and the whipped cream. You should be able to replace it in all 3 elements, but it will take some experimentation.
In the custard, in place of the whole milk, you can try using your favorite unsweetened nondairy milk. You will need something with fat, or the custard won't be thick and rich enough. I like almond milk.
For the butter in the pound cake, you can try using vegan butter. Melt and Miyoko's Kitchen are my favorite brands.
For the whipped cream, try using chilled canned coconut milk (just the cream, liquid discarded). Native Forest brand works great. Or try Silk brand dairy free heavy whipping cream.
You could also top each individual serving with dairy-free Reddi-Whip in the can. It's nice to have more dairy-free options than ever!
Egg yolks
You can't make the homemade custard in this recipe without egg yolks. But you can make this trifle recipe with egg-free pudding. Try our recipe for gluten free pudding mix.
You also can't make the pound cake without eggs. But you can swap in our recipe for gluten free vanilla crazy cake, which is naturally vegan.
Gluten Free Trifle with Gluten Free Custard
A classic gluten free trifle recipe, made with fresh berries, gf pound cake, and easy gluten free custard, and whipped cream.
Print Recipe
Save
Saved!
Pin Recipe
Equipment
Fine mesh sieve

Bowl for trifle
Ingredients
For the custard
8

(

200

g

)

egg yolks

⅝

cup

(

125

g

)

granulated sugar

⅓

cup

(

53

g

)

superfine white rice flour

⅛

teaspoon

kosher salt

4

cups

(

32

fl. oz.

)

whole milk

2

teaspoons

pure vanilla extract
For the trifle
1

recipe gluten free pound cake

cut into cubes

2

pounds

(

32

ounces

)

fresh strawberries

1

tablespoon

white wine vinegar

¾

pound

(

12

ounces

)

fresh blueberries

1

cup

(

8

fl. oz.

)

heavy whipping cream, chilled

½

cup

(

58

g

)

confectioners' sugar
Instructions
Prepare the custard
Place the egg yolks in a medium, heat-safe bowl. Place them to the side of the stove, within reach.

Place a separate large bowl on the side with a fine mesh sieve positioned above it.

In a medium-size, heavy bottom saucepan, place the granulated sugar, rice flour, salt and just enough milk to create a thin paste (about 1/4 cup), whisking constantly until smooth. Add the rest of the milk and whisk again until smooth.

Place the saucepan over medium-low heat and, whisking frequently, heat until just beginning to simmer. Drizzle about 1/2 cup of the hot milk mixture into the bowl with the egg yolks

Scrape the egg yolks with the added milk mixture into the saucepan. Cook again over medium-low heat, whisking frequently, just until the mixture thickens enough that the whisk leaves a visible trail in the custard (about 3 minutes).

Working quickly, scrape the custard into the sieve above the bowl. Stir to pass it through the sieve, then whisk in the vanilla extract until smooth. Don't try to pass any solid bits through the sieve.

Place plastic wrap directly on the surface of the hot custard and allow to cool to room temperature.

Refrigerate with the plastic wrap on top for at least 2 hours and up to 3 days.
Prepare and assemble the trifle
Slice the prepared pound cake into 3/4-inch square cubes, and set it aside.

Wash all of the berries and pat them dry. Set the blueberries aside.

Hull the strawberries by slicing off the greens and any white tops. Slice enough of the strawberries vertically as necessary to get 20 vertical slices to display on the edge of the trifle bowl.

Chop the remaining strawberries and place them in a separate, medium-size bowl. Add the white wine vinegar, toss to coat, and set aside.

Line the bottom of your trifle bowl with the squares of cake in a tightly packed single layer of cubes.

Remove the custard from the refrigerator, and uncover it. Whisk the custard vigorously until smooth, and spoon or ladle half of the cream on top of the cake cubes. Spread the custard into an even layer.

Stand up the strawberry slices against the side of the bowl along the perimeter, nestled into the custard. Top with half of the chopped strawberries and half of the blueberries.

Top with another tightly packed single layer of cake cubes.

Top the cake with another layer of custard, and repeat the sliced strawberry procedure.

Top with the rest of the chopped strawberries and the remaining blueberries, but reserve a few blueberries for decoration.

Cover the trifle tightly, and refrigerate the trifle for at least 2 hours and up to overnight.

Right before serving, place the cold whipping cream in the bowl of a stand mixer fitted with the wire whisk or a large bowl with a hand mixer and whip until soft peaks form.

Add the confectioners' sugar, and whip again until stiff, but not dry, peaks form.

Uncover the trifle, top with the whipped cream in an even layer, and top with the reserved blueberries. Serve chilled.