A gluten free lemon blueberry cake with lemon buttercream filling, topped with a rich lemon glaze, and all the freshest ingredients.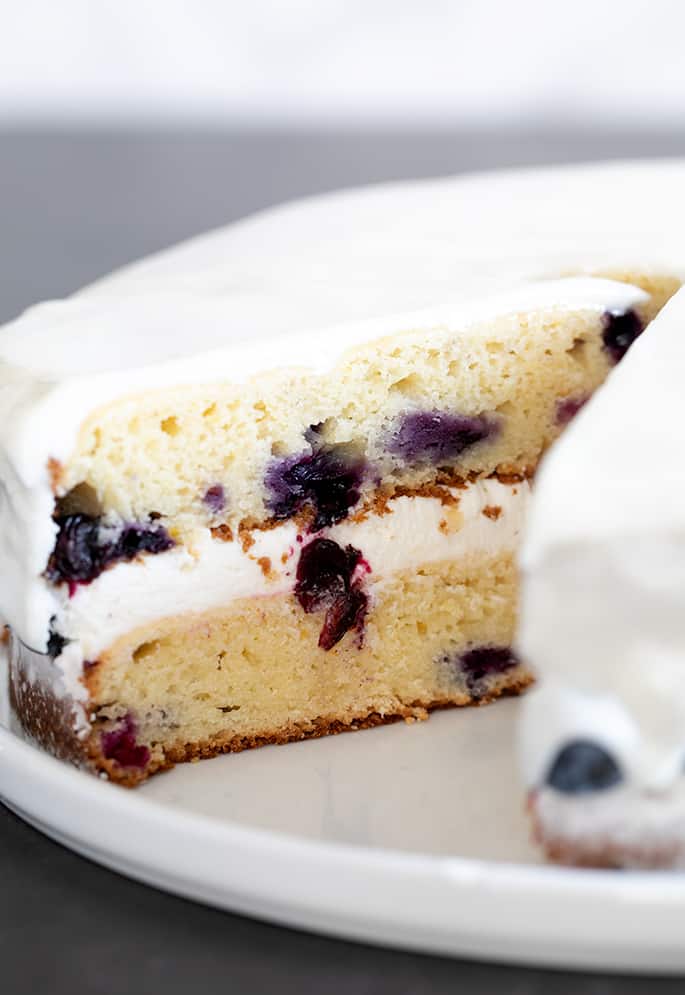 Bright lemon flavor from fresh juice and zest
Fresh lemons are available year round, even where I live in New York. But if I ever move far away from here, please please let me live somewhere that I can grow fresh citrus in my backyard ??…
Whatever you do, let it be freshly squeezed lemon juice, not the bottled kind (even that kind that people say tastes fresh!). If you're baking with lemon juice more than once in a short time period, you can of course juice all of your lemons at once and store the juice for a day or so in a sealed container in the refrigerator.
Meyer lemons are lovely
In the late winter, I can usually find Meyer lemons in my grocery store, which are thought to be a cross between lemons and mandarin oranges. They have a thinner skin, more juice, and a less sour flavor than traditional lemons.
You can use them in this recipe, or in any other recipe that calls for lemon juice or zest. Since the skin is thinner, it can be harder to zest a Meyer lemon.
Try zesting them when they're cold from the refrigerator, when the lemon is firmer and less likely to be damaged by zesting. Always zest first, juice after.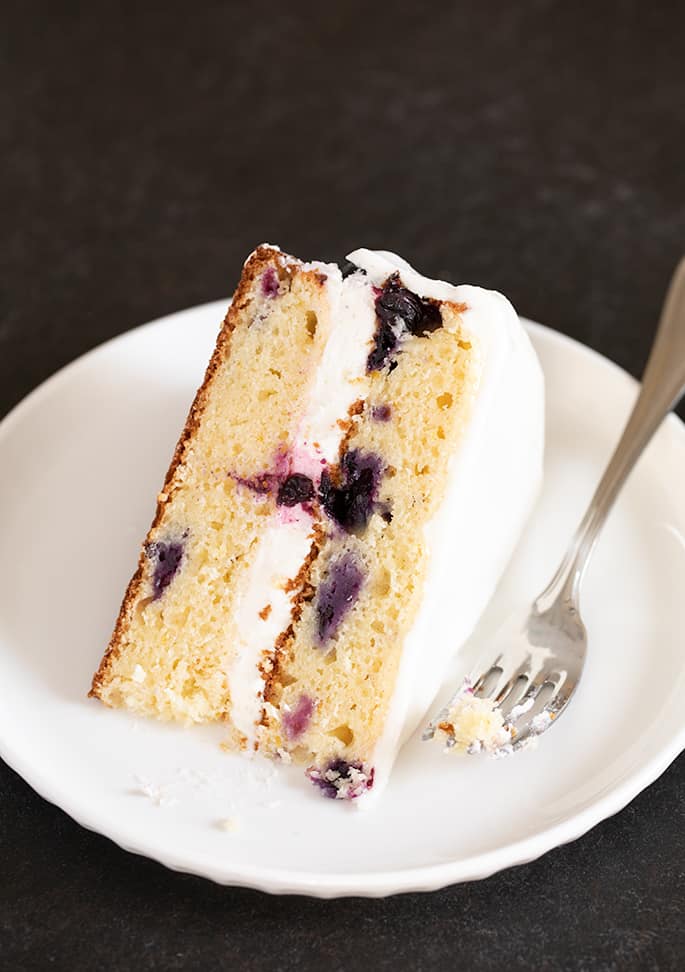 For the lemon filling and icing
The lemon buttercream filling in the center with a rich lemon glaze on top pair perfectly with the lightly sweet, tender lemon cake. If you'd rather not make a lemon buttercream filling and a separate rich lemon glaze for the top, just double up on the buttercream.
The cake itself has a fair amount of lemon juice, along with sour cream for extra tangy flavor plus tenderness in the crumb. It also has plenty of lemon zest, so the lemon flavor is prominent.
You can only use so much lemon juice in the lemon buttercream filling and icing, since you can't have too much moisture. But with lemon in all parts of the cake, the flavor is perfect.
If you'd still like extra lemon flavor, you can add a bit of pure lemon extract. Or even try adding some "True Lemon" brand crystallized lemon.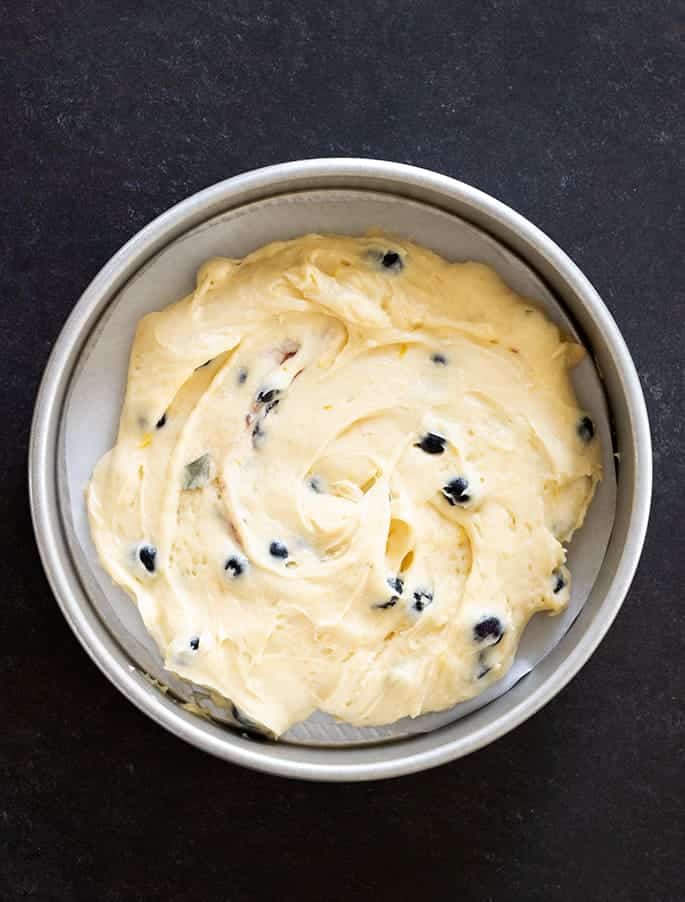 Fresh blueberries are best
I don't usually buy blueberries when they're not in season, since they're super expensive and they taste terrible. But if I'm dying to make a blueberry muffin or this gluten free lemon blueberry cake outside the season, there are usually two options.
Typically, organic blueberries are even more expensive than conventional berries, but they tend to taste fresher and have a better consistency. Look for a container with larger berries, which are less likely to be tart or have a chewy consistency.
You can use frozen berries but they will bleed a bit. To minimize bleeding of the color of the berries into the cake, don't defrost the berries.
Instead, rinse them with cold water before tossing them in cornstarch. That will help minimize the color transfer.
Above all else, resist the temptation to pack the cake with more blueberries than the recipe calls for! They'll make for a too-wet cake that rises and then sinks, leaving you with an overly wet, dense cake.
Blueberries add a lot of moisture, and this recipe is written to balance that out. If you'd prefer a lemon cake without blueberries, try our separate recipe Olive Garden-style gluten free lemon cake.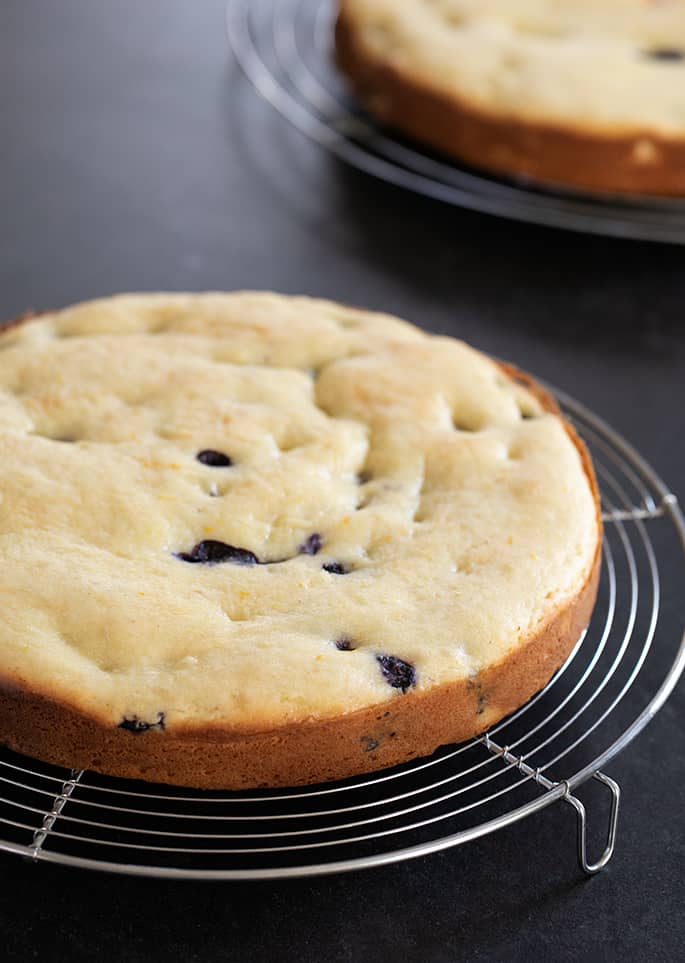 Ingredients and substitutions
Dairy: In place of the butter in the cake and in the rich lemon glaze, try a vegan butter like Miyoko's Kitchen brand or Melt brand. I don't recommend Earth Balance buttery sticks because of the high salt and moisture content.
In place of the sour cream in the cake, if you have a favorite dairy free sour cream, try using that. Otherwise, buy plain dairy free yogurt and strain it of liquid until it's the consistency of Greek-style yogurt and use that.
In the frosting, try using butter-flavored Spectrum non-hydrogenated vegetable shortening in place of butter. You can also try vegan butter, but I prefer Spectrum shortening for dairy free buttercream.
Eggs: This cake calls for 3 whole eggs, which is more than I feel confident you could replace successfully. If you need an egg-free lemon cake, try our recipe for gluten free vanilla crazy cake and replace 1/4 cup of the water with freshly-squeezed lemon juice.
Corn: The cornstarch in the cake can easily be replaced with arrowroot or even potato starch. If you can't have corn, be sure you're using a corn-free confectioners' sugar, as most brands contain cornstarch.
Gluten Free Lemon Blueberry Cake
Yield:
1 9-inch layer cake
Ingredients
For the cake
2 cups (280 g) all purpose gluten free flour (I used Better Batter)
1 teaspoon xanthan gum (omit if your blend already contains it)
1/4 cup (36 g) cornstarch
1 1/2 teaspoons baking powder
1/2 teaspoon baking soda
3/4 teaspoon kosher salt
3/4 cup (150 g) granulated sugar
Zest of 2 lemons, finely grated
1/2 cup (109 g) packed light brown sugar
12 tablespoons (168 g) unsalted butter, at room temperature
3 eggs (150 g, weighed out of shell) at room temperature, beaten
1/4 cup (2 fluid ounces) freshly-squeezed lemon juice (from about 2 medium-size lemons)
3/4 cup (180 g) sour cream, at room temperature
1 1/4 cups (150 g) fresh blueberries, tossed with 1 teaspoon cornstarch (plus a few more for decoration, optional)
For the lemon buttercream filling
16 tablespoons (224 g) unsalted butter, at room temperature
3 1/2 to 4 cups (400 to 460 g) confectioners' sugar
1/2 teaspoon kosher salt
3 to 4 tablespoons freshly squeezed lemon juice (from about 2 medium-size lemons)
For the rich lemon glaze
2 to 2 1/2 cups (230 to 290 g) confectioners' sugar
1/8 teaspoon kosher salt
3 tablespoons freshly squeezed lemon juice (from about 1 large lemon)
2 tablespoons (28 g) unsalted butter, at room temperature
Instructions
First, make the cake. Preheat your oven to 350°F. Grease and line two 9-inch square (or round) cake pans and set them aside. In a large bowl, place the flour, xanthan gum, cornstarch, baking powder, baking soda, salt and granulated sugar, and whisk to combine well. Add the lemon zest, and whisk into the dry ingredients to ensure that the lemon zest isn't clumped. Add the brown sugar and whisk again, working out any lumps. Create a well in the center of the dry ingredients and add the butter, eggs, lemon juice, and sour cream, mixing to combine after each addition, and mixing until smooth after the final addition. The batter will be thick. Add the blueberries tossed in cornstarch, and fold carefully into the batter until they're evenly distributed throughout. Divide the cake batter evenly among the two prepared pans and spread into an even layer. Place in the center of the preheated oven and bake until a toothpick inserted in the center of each cake comes out clean (20 to 25 minutes), rotating once during baking. Remove the pans from the oven and allow the cakes to cool in the pans for 10 minutes before transferring to a wire rack to cool completely.

While the cakes are cooling, make the buttercream filling. Place the butter in the bowl of your stand mixer fitted with the paddle attachment (or a large bowl with a handheld mixer) and beat on medium speed until the butter is light and fluffy. Add 3 1/2 cups of the confectioners' sugar and the salt, and mix on low speed until the sugar is absorbed into the butter. Increase the speed to medium-high, add the salt and lemon juice, and continue to beat until the frosting is light and fluffy (about 3 minutes). Add more confectioners' sugar by the tablespoon as necessary to bring the frosting to a thickly spreadable consistency.

Assemble the cake. Place one of the cooled cakes onto a cake stand or other serving platter, and spread about 2/3 of of the buttercream filling into one thick, even layer on top. Place the second cake on top of the frosting and press down evenly on top. Place the remaining buttercream on top of the layer cake and spread across the top and around the sides of the cake in a thin layer to seal in crumbs. Try adding a few lovely fresh blueberries, face out, on the filling layer for decoration.

Make the lemon glaze. In a medium-size bowl, place 2 cups of the confectioners' sugar and the salt, and whisk to combine well. Add the lemon juice and the butter, and mix to combine. Add more confectioners' sugar as necessary to create a very thickly pourable glaze. Pour the glaze on top of the layer cake and spread into an even layer on top, allowing it to drip down the sides. Allow the glaze to set either at room temperature or in the refrigerator before slicing and serving.

Originally published on the blog in 2014. Recipe method adjusted slightly; photos and video new.